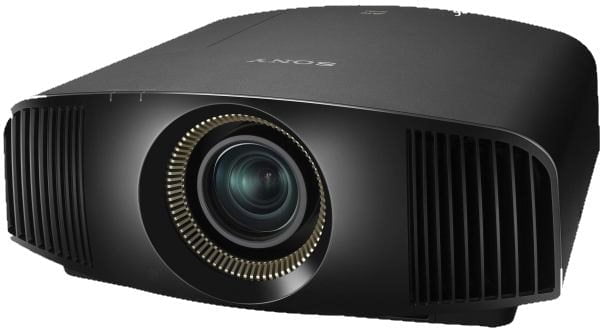 Here we are now a full four years beyond Sony's debut of the VPL-VW1000ES, the first consumer-level native 4K projector. And yet the bounty of 4K content that was promised at that time is really now just coming to fruition with an assortment of streaming options and a new Blu-ray format springing forth. In late 2015, Sony did what I'd call a mid-cycle refresh on one of our previous model, the VPLVW600ES, adding a few new features like HDR capabilities and improved contrast and brightness. But is the VPL-VW665ES the projector to buy as we head into the land of Ultra HD and all its promises?
Features
Nothing has changed here from the aesthetics and hook-up options of the VPL-VW600ES. The textured black chassis is identical, and as with the earlier model, there  are dual HDMI inputs along the side panel. Both are compatible with HDMI 2.0a, making them capable of recognizing HDR10 source material, but only one offers the critical HDCP 2.2 copyright management, and both use the now-dated 10.2-gigabit-per-second version of HDMI 2.0. This is a bit disappointing, given that some brands are moving on and including full-bandwidth 18-Gbps inputs. With this narrower pipeline, the projector can handle 2160p/24, but it's limited to 2160p/60 at only 8 bits, which is below the standard set by the new Ultra HD Blu-ray format (2160p/60 at 10 bits).
Sony continues to rely on three LCOS-based, 0.74-inch SXRD imaging chips with a resolution of 4096 x 2160. If you feed the projector that resolution, it offers no aspect ratio control or optional features like anamorphic stretch (for use with an outboard anamorphic lens on widescreen "scope" films) or frame interpolation. With the more common 3840 x 2160 Ultra HD input resolution, you gain some aspect ratio control but still no anamorphic stretch support or frame interpolation. Using a DVDO 4K test pattern generator, I tested the projector for how well it resolves a true 4K pattern using both single-on/-off pixels and vertical/horizontal lines. Unfortunately, no matter how I had the projector set up, I could never achieve anything that looked like a clear and coherent image with these patterns. This makes me wonder if something in the stages leading up to the panels is limiting the overall resolution of the projector, as these same imaging panels fared much better in testing of the Sony VPL-VW1100ES. While standard 4K content from streaming services looked fine, with no apparent issues, it seems that based on these objective tests, the projector isn't taking full advantage of the resolution capabilities that 4K brings to the table.
As with its predecessor, the VPL-VW665ES offers motorized zoom, focus, and lens shift from the remote, although Sony's implementation was a bit frustrating at times, especially with its lack of fineness in the focus control. More critically, focus consistency changed noticeably over time, and I wouldn't recommend focusing the projector until after it has warmed up for about 15 to 20 minutes. Furthermore, even with (literally) days of operation, I would often struggle to get a uniform focus across the image; despite proper setup on my screen, I generally ended up with one side of the picture lacking the tack-sharp appearance of the other side. This wasn't a problem with Sony projectors I've tested in the past, but based on some other published reports on this model, it wasn't specific to my sample, either. Fortunately, although this issue was noticeable on test patterns and menus, it was much less intrusive in normal everyday content viewing.
Sony includes a long list of preset modes to choose from. The projector's manual lists the recommended viewing conditions for each, and there are some new suggestions for viewing upcoming HDR content as well as the standard HD content we have today. For most purposes, I used the Reference preset, which I found to be the most accurate for HD and 4K sources. The projector also offers a multitude of image-enhancement features, including Sony's Reality Creation scaling and picture controls, their Cinema Black Pro dynamic iris system, and a large assortment of other adjustments. To be honest, it took me several hours of trial and error—staring at both test patterns and everyday content—to settle in on what I felt gave the best-looking image with little in the way of visible artifacts. This isn't a projector that allows you to simply turn it on, select a picture mode, and begin viewing. Most of the picture presets looked overprocessed, so buyers should be ready to take the time to really dial it in for the best image.
The VPL-VW665ES includes the same color temperature settings offered in the VPL-VW600ES, with standard 2-point adjustments for calibrating grayscale. There are also several options for color gamut, including Rec. 709 (HD) and BT.2020 for upcoming UHD content. While there is no true BT.2020 content yet, we are expecting much of the upcoming UHD content to be mastered closer to the commercial P3 (DCI) color gamut, only contained within a BT.2020 package. The VPL-VW665ES does offer a somewhat limited color management system for adjusting color points, but given the projector's out-of-box performance, it's all you'll need to deliver an accurate image (more on that later).
Sony's Cinema Black menu is also unchanged from that of the VPL-VW600ES, with adjustments for not only their manual iris but also their dynamic contrast modes. You also get access to their lamp modes and contrast enhancement features, theater room with the projector lighting up my 120-inch-diagonal Stewart Filmscreen StudioTek 100 screen (1.78:1 aspect ratio, 1.0 gain). The projector was approximately 15 feet back from the screen, and my seating distance was a little more than 13 feet back.
It's always a pleasure to set up and calibrate a Sony projector. I'm a stickler for an accurate image, and Sony's presets are always close out of the box, with only some minor touchup needed to get very accurate results. Using the D65 preset resulted in a relatively good baseline—and with only a few minor tweaks, I was able to achieve very accurate grayscale tracking. Unfortunately, Sony doesn't offer any adjustments of their preset gamma curves in the user menu (Sony told us later that the company's Projector Calibration Pro software, available to installers and calibrators without charge, is required for that). It's also unfortunate that they use larger jumps for each setting, with 2.2, 2.4, and 2.6 offered but not 2.3, which may have been the best option. I used the 2.4 gamma preset, which measured closer to 2.44. This is a little darker than I would prefer with a projector with this type of contrast performance.
Using the Rec. 709 color profile gave the most accurate color gamut for playback. The out-of -box gamut was slightly oversaturated at the primaries, which is what you hope for, as it gives the best starting point for a calibration or using an outboard video processor. Again, just a few tweaks to the color management system delivered a very accurate image, with all colors falling below the visible spectrum of error. I also tested Sony's BT.2020 mode to see how much of both the BT.2020 gamut and the P3 gamut it covered. In the BT.2020 mode, the projector's gamut covers about 85 percent of the P3 gamut, with the green primary shifting outside and toward yellow, which also pulls cyan in. This couldn't be corrected with the color management system. This gamut also represents about 60 percent of BT.2020 overall. I was hoping to see full coverage of P3, given the early indications that most of the upcoming Ultra HD Blu-ray content will be mastered to this standard, but that wasn't the case.
As noted, getting the best image possible from this projector took more time than usual. Since most of today's content is 1080p, you're forced to rely on the Sony's scaling. Thankfully, their image processing was up to the task. The default Reality Creation settings are a bit hot out of the box and add a little more visible ringing than I prefer, but I settled for a Resolution setting of 2 and a Noise Filtering setting of 7 for the best results with test patterns and content. I also set the Sharpness control to 20. This didn't add any artificial ringing to test patterns or content and gave a very sharp image overall.
Sony's Cinema Black mode, which controls the dynamic iris, wasn't quite as impressive as what I remembered from the VPL-VW600ES. While I did see some improved performance in the measured contrast numbers, I also noticed the dynamic iris more in everyday viewing, including image pumping. It wasn't overly distracting, but in the past the Limited mode I used for Sony's iris was nearly imperceptible in normal viewing. And the dynamic iris mode is a must, due to the rather low native contrast performance of the SXRD panels (in this case, about 6,000:1 native contrast), if you want the best contrast performance (nearly 70,000:1 dynamic!) from the image. The dynamic Full mode didn't offer any additional contrast performance and was too aggressive in its changes, resulting in even more obvious operation in darker materialand fade-in and -outs.
Overall contrast performance was solid, though. The Sony doesn't quite compete with my reference JVC DLA-X700R projector when handling the darkest material out there, but the super-bright, punchy image delivered fantastic visuals, with deep blacks and solid dimensionality. The Sony also doesn't suffer from the black uniformity issues we've seen from JVC models with full blackouts. I hope we'll see Sony continue to refine their SXRD panels to allow for higher native contrast numbers. This would reduce the need to be as aggressive with their dynamic system and eliminate some of that visible pumping in the image.
I watched a multitude of 1080p content during my time with the Sony VPL-VW665ES. This ranged from streaming TV shows to the latest Blu-ray releases. While I could nitpick a lot on the projector's performance with test patterns, it looked sublime with real content. The high light output of the Sony in low lamp mode delivered a captivating 22 foot-lamberts on my screen after calibration, which is a bit higher than I usually watch. But getting it down to my typical brightness (14 ft-L) would have compromised the contrast performance, so I stuck it out. I must say, it was a fun ride. Fine object detail jumped out more than I'm used to, and the colors looked incredibly rich and vibrant. I can certainly understand why people enjoy a brighter image, though some quick transitions from dark to bright in some content caused a few moans and groans from both me and other viewers from time to time.
The best images were served up from the latest Blu-ray offerings. I had a chance to look at some great ones, including Disney's recent Tomorrowland, which boasts one of the most detailed 1080p images I've ever seen. If you want to see how good 1080p can still look, this is one to watch; it makes a strong case against moving to 4K! I also had a few of Sony's own Mastered in 4K titles on 1080p Blu-ray. The VPLVW665ES's Reality Creation controls offer a Mastered in 4K mode that is said to take advantage of these titles. Unfortunately, the results weren't good. Engaging this mode with these titles produced a considerably softer image that didn't even compare with the standard Reality Creation mode I had already dialed in. This setting should be avoided, even with the Sony content made to be played on it.
Another eye popper was Pixar's recent release of Inside Out. The brighter picture levels lent a lot to the razor-sharp image and vivid colors. I viewed this one in both 2D and 3D and loved every minute of it. Incidentally, 3D performance with the new Sony seemed about the same as last time around from the VPL-VW600ES, with only some minor ghosting noticed on the most difficult material. The built-in RF emitter made setup a breeze, and the higher light output of the Sony made 3D images nice and bright (though I'm not the biggest fan of Sony's glasses). If you're a fan of 3D, you'll have little to complain about overall, though we're still seeing the performance of LCOS projectors fall short of the perfect 3D performance of DLP-based projectors.
UHD
While I've reviewed native 4K projectors before, and a few other projectors that support 4K content, this is the first review where I actually had a pretty large amount of 4K content at my disposal. Previously, I was limited to demo clips that are similar to the slow-moving, ultra-sharp content you see in store demos. While these look pretty, they don't give a fair representation of what real 4K content usually looks like with TV shows and movies.
Sony provided me with their latest 4K Ultra HD media player and supplied some test clips like those I had before, as well as a pair of clips mastered in HDR. I also picked up one of the new Roku 4 media players that offered a large selection of 4K sources, including M-Go, Netflix, Amazon, and Vudu. The quality of the clips from the streaming services varied a bit. Compared with their 1080p Blu-ray counterparts, images showed a visible improvement in over-all detail, but they also took a step back in compression quality, with visible artifacts creeping in from time to time, especially in darker images. But even with these limitations, it was clear that the added resolution benefitted my larger screen, with crisper detail in both foreground and background imagery. Netflix offers a large number of their original programs in 4K, and if you're looking for strong detail, this is where you'll find it. Their popular House of Cards was probably the highlight, followed by The Blacklist. Both had impeccable detail and depth that really showcased what gains you can expect from 4K.
For movies, I turned mostly to Vudu, which offers UHD streaming via the Roku 4. I had the chance to look at a couple of Warner's latest UHD offerings, including Edge of Tomorrow, Man of Steel, Magic Mike XXL, and The Lego Movie. Unfortunately, like most films being advertised as 4K, nearly all of my selections weren't from true 4K masters (only Magic Mike XXL made the grade), yet they still looked more resolved than their Blu-ray counterparts. Edge of Tomorrow was a standout, with great fine object detail that delivered a sharper image than the Blu-ray.
One of the key features introduced with the VPL-VW665ES is support for HDR, or high dynamic range. HDR is still a bit of a minefield to navigate, with competing formats battling it out for adoption, but the Sony includes support for the HDR10 "open" SMPTE standard that was adopted for Ultra HD Blu-ray. I could go on and on about the mess that is HDR today and the wild-west nature of the development of this new feature. But let's just say that, right now, there's little to no benefit offered by HDR to projectors. They simply don't have enough light output to take real advantage of the content, whether we're talking about specular highlights or increased color luminance. Ultimately, the only advantage here is that the Sony recognizes and supports HDR at all, though in an uncertain manner since there's no clear standard in place (as of the end of December 2015) for calibration or proper playback. Sony's HDR mode did look pretty good with the HDR clips provided, though, with nice contrast and bold color saturation from the P3-mastered clips. But this isn't a selling point that I would concentrate on until the dust settles on HDR and better standards and practices are in place.
Conclusion
Despite some quibbles, I can still say that the VPL-VW665ES delivers some of the best images I've ever seen in front projection. Whether with 1080p or native 4K, overall performance was stunning. But there's room for improvement. It doesn't offer the future-proofing one might want in these early stages of UHD, and I hope to see Sony continue to refine this projector in future models. And my sample's lack of perfect focus uniformity was troubling, to say the least. Still, once the movie starts, you'll find it hard to fault the image on the screen, especially with the content available on the market today and in the near future. If your budget can support it, this is one to consider when you're looking at the best of what projection can offer for today's best content.
VERDICTSony's mid-cycle refresh of the VPL-VW600ES offers decent bumps in dynamic contrast, brightness, and features. While it still lacks some key future-proofing and has a few niggling issues, its compelling native 4K imagery is some of the best we've seen from front projectors on the market today.
SPECSDimensions (WxHxD, Inches): 19.5 x 7.7 x 18.25Weight (Pounds): 313D Glasses: optional, Video Inputs: HDMI 2.0a (2, 1 with HDCP 2.2), RGB HD15Additional: RS-232 (1), 3.5mm minijack for 12-volt trigger (2), Ethernet (1).