John Archer explains why Sony's latest mid-range LED LCD TV is arguably better for next-gen console gamers than its flagship models. Read our Sony KD-75XH9005 Review.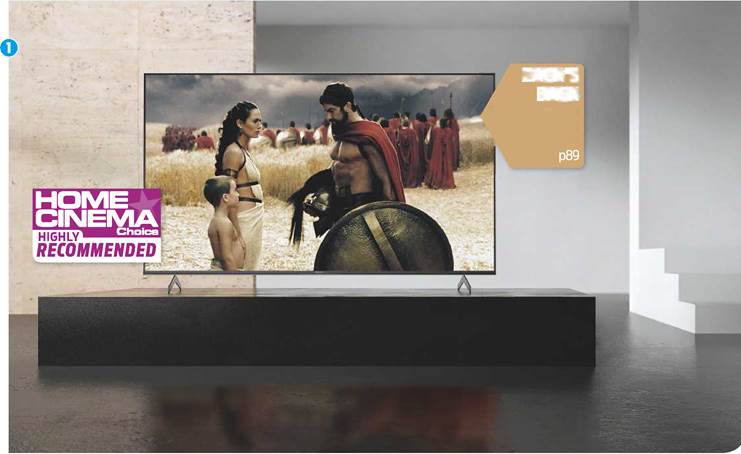 ZACK'S BACK Snyder's historical fight-fest 300  returns on 4K Blu-ray.
75in 4K HDR TV with direct LED lighting and local dimming
position: Upper mid-range on the LCD side of Sony's 2020 4K TV cycle
LG OLED65CX; Panasonic TX-75HX940
WHILE THE ORIGINAL PS4 and Xbox One consoles trailed behind TV technology when they first came out, the Xbox Series X and PS5 are running ahead of most 2020 TVs. Graphics features such as 4K at 120Hz, variable refresh rates and automatic low latency mode switching have caught the vast majority of this year's displays on the hop, including many of Sony's own models. Oddly, the only game-friendly exception in its range isn't some high-flying, megabucks flagship, but the mid-range XH9005 series.
7Review earns Amazon affiliate commissions from qualifying purchases. You can support the site directly via Paypal donations ☕. Thank you!
See also TOP Televisions
and The best OLED TV deals 2022: get an awesome OLED at the lowest price
Thanks to their carriage of the latest Mediatek chipset and two v2.1 HDMIs with 48Gbps data rate support, the XH9005s will handle all the key next-gen gaming features.
There's a 55in model selling for £, which looks likely to be a hot ticket item this Christmas for gamers. Even the more overtly cinematic 75in version under scrutiny here doesn't come with a stratospheric price tag, launching at £ and now available for around £.
I don't know why Sony's next-gen console-friendly functionality only appears on the mid-range XH9005s rather than high-end sets, but our bank balance isn't complaining.
Note that at the time of writing, the only next-gen graphics feature already working is 4K at 120Hz; the VRR and ALLM support will, promise Sony, arrive by the end of the year through firmware update. Note, too, that you have to choose between Dolby Vision and 4K at 120Hz over HDMI; for some reason you can't have both at once.
The set's HDMI 2.1 support also provides eARC compatibility, allowing the passthrough of lossless Dolby Atmos audio to soundbars or AV receivers.
Design-wise, this TV wears its monster screen quite well. The bezel is slim, and given a silver trim, while its two silver-finish feet can be positioned either wide apart (pictured) or nearer the centre if your AV furniture demands it.
Getting in the zone
There are two main areas of picture specification that define the 75XH9005 as a mid-range set: its LED backlight implementation and its video processing.
Regards the first of those, while Sony's VA LCD panel uses a direct LED arrangement with local dimming, the number of dimming zones on this model is a rather lowly 32 (compare that to the 320 zones of Sony's ZH8 8K TV – see HCC #315]. Video processing, too, comes not from the company's flagship X1 Ultimate chip, but a substantially less powerful 'X1 4K HDR' system.
Smart features are provided by Android TV, with YouView on hand to provide all the UK's catch-up services. Sony recently added the Apple TV app, meaning there's now no significant video streaming platform the 75XH9005 doesn't support.
This bigscreen's picture quality is seriously good for its price. For starters, as usual with Sony's premium sets, HDR sources look spectacularly dynamic. I measured around 700 nits brightness on a 10 per cent HDR window, and there's an almost luminous quality to Sony's LCD pictures that makes them feel subjectively brighter than they measure.
This may be down, in part, to Sony's decision to focus on delivering HDR's 'true' light values rather than tone mapping everything. There's a trade off for this in that the very brightest parts of HDR pictures can lose subtle shading. But the consistent brightness, intensity and punch of the 75XH9005's HDR playback is so emphatically eye-catching that a few lost ultra-bright subtleties seems like a fair price to pay.
Making this luminance all the more impressive is the 75XH9005's ability to also deliver deeper black colours than most rivals in its mid-range class. So, for instance, as the bright end of the sewer/tunnel spirals towards us at the beginning of Chapter Two in It (4K Blu-ray), the darkness of the tunnel starts off inky black while the bright exit looks ferociously intense.
This delicious contrast does come with a couple of strings attached. First, the bright entrance to the tunnel looks a little bleached of subtle shading, chiefly when it's at its smallest and peakiest as the sequence starts. Second, as the tunnel entrance grows in size, you can notice large areas of unwanted extra light starting to appear over dark parts of the tunnel as the TV's different dimming zones are triggered into action.
For the most part, the 75XH9005's local dimming controls actually work well given how few zones it has to play with. But it's pretty much scientifically impossible for such a configuration to deliver bright highlights with such panache and not also create any backlight 'blooming' around them. Thankfully, this occurs only rarely, during the most 'extreme' images.
Pump up the volume
The TV's high brightness helps it to unlock a much larger volume of colour than you'd expect for its money. No tones end up looking thin or discordant in even the brightest HDR shot, and this is especially apparent if you can take advantage of its Dolby Vision HDR support. The colour control extends into low-lit shots, too; there's no loss of colour subtlety in dark areas. Nor do darker colours feel muted compared to bright ones, thanks to Sony's aggressive backlight.
This 75in screen really shows off the texturing, pixel density, jagged-free diagonals and naturalism a good 4K pixel count delivers. Native sources are conveyed with brilliant detail, and Sony's Motionflow processing also plays its part, dampening excess judder and removing blur without throwing up many nasty side effects. Yet sub-4K sources aren't upscaled as cleanly and sharply by the XH9005's processor as they are on Sony models using the premium X1 Ultimate system.
I couldn't test the 75XH9005's 4K/120Hz gaming capability due to the next-gen consoles not being on sale

at the time of writing, and the Nvidia RTX 30 graphics cards being borderline impossible to get hold of. The VRR/ ALLM firmware update hasn't happened yet,
either. What I can say, though, is that it's a great performer with the current consoles, its brightness, contrast and rich colours perfectly suited to the day-glo worlds of gaming, and in Game mode it suffers only 18ms of input lag.
Sony's Acoustic Multi-Audio system, which combines tweeters built behind the top left and right edges of the screen with new 'X-Balanced' Speaker units under the bottom edge, makes an appearance here, and the numerous involving Dolby Atmos moments in It, particularly the 'projector in the garage' sequence, proved that it works brilliantly. The 75XH9005's soundstage is large, filling your room rather than just sounding like it's tucked away behind the screen somewhere. Those up-top tweeters generate a sense of height when listening to Atmos tracks (which the TV can decode), and bring better placement to specific sound effects. Its fulsome, full-range delivery doesn't suffer at high volumes either.
Sony's big bargain
Aside from the occasional backlight distraction, and colour and contrast reducing when the TV is viewed from an angle, the 75XH9005's pictures, sound and size add up to a more cinematic experience than I'd have thought possible considering the set's price and mid-tier status. Its HDMI 2.1 spec (once fully unlocked via firmware) will appeal to gamers, but even for joystick refuseniks this looks like being one of 2020's biggest bargains ■
VERDICT
Sony KD-75XH9005 Review
Aside from some rare backlight blooming, Sony's 75XH9005 delivers an outstanding all-round AV performance for such an affordable 75in TV.
Add your review
Best Sony KD-75XH9005 prices ?
MORE DEALS

See also TOP Televisions
and The best OLED TV deals 2022: get an awesome OLED at the lowest price
1. Sony' XH9005 is available at 55in, 65in, 75in and 85in
2. The TV's direct LED backlight contributes to its 71mm depth
SPECIFICATIONS
4K: Yes. 3,840 x 2,160 HDR: Yes. HDR10; HLG; Dolby Vision TUNER: Yes. Freeview HD; satellite HD CONNECTIONS: 4 x HDMI inputs; RF input; satellite input; 2 x USB; headphone jack; composite video; optical digital audio output SOUND (CLAIMED): 2 x 10W BRIGHTNESS (CLAIMED): N/A CONTRAST RATIO (CLAIMED): N/A DIMENSIONS(OFFSTAND): 1674(w) x 961(h) x 71(d)mm WEIGHT(OFFSTAND): 34.4kg
FEATURES: Built-in Wi-Fi; USB multimedia playback; X1 4K HDR processing engine; Triluminos colour; Android TV smart system; YouView catchup portal; Acoustic Multi-Audio sound system; Dolby Atmos decoding; direct LED lighting with local dimming; Google Assistant built-in; works with Alexa and Apple AirPlay; 2 x 48Gbps HDMIs for next-gen game support
PARTNER WITH
SONYPLAYSTATION5: Available in standard and 'digital' edition (without in-built 4K Blu-ray/game disc drive), Sony's PS5 console is primed to offer the high-frame-rate, low-latency 4K gaming thrills the XH9005 has signed up for.