It's technically advanced, but the Sony a6300's controls aren't in line with the high price
THE A6300 IS Sony's latest compact system camera (CSC), and an update to the a6000. That was one of 201 Vs best cameras, so the a6300 has big boots to fill.
There are quite a few similarities. They both use a 24-megapixel APS-C sensor – the same size that's found in consumer SLRs -and they're virtually identical to look at, with a slim, rangefinder-style design. There's just enough room for an electronic viewfinder, flash hotshoe, integrated flash, mode dial and command dial along the top plate.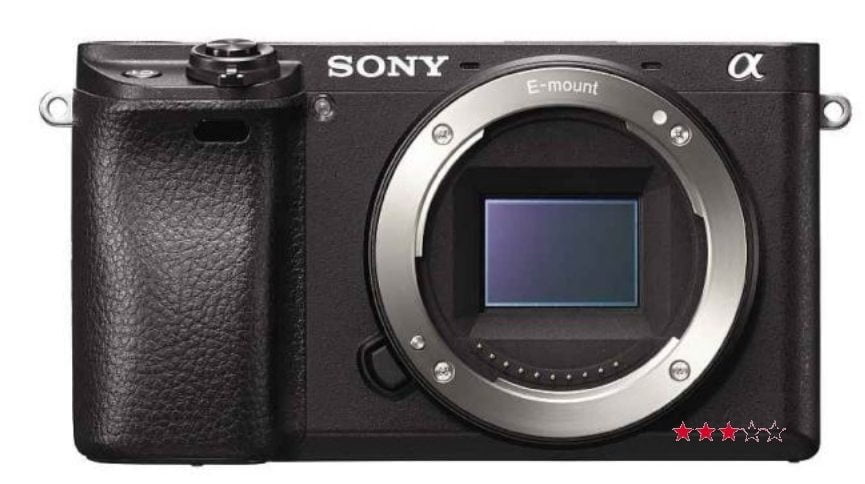 Power, shutter-release and a custom button are mounted on top of the handgrip, which is big enough for a secure fit in the hand. The rear is home to a tilting 3in screen, a wheel and a small collection of buttons.
The big news is an upgraded autofocus system with 425 phase-detect points on the main imaging sensor. It means subject tracking is extremely responsive, and the 9fps burst mode with continuous autofocus produces a decent proportion of pixel-sharp shots when shooting moving subjects. Best of all, this 9fps mode includes a live view stream with minimal blackout for each frame.
RINSE AND REPEAT
There's a decent-sized buffer, allowing up to 48 jPEGs or 23 Raw frames to be captured before continuous shooting slowed down. Shooting in the single drive mode wasn't quite so impressive, though, averaging 0.7 seconds between shots.
7Review earns Amazon affiliate commissions from qualifying purchases. You can support the site directly via Paypal donations ☕. Thank you!
This sensor has a higher maximum ISO speed, up from the a6000's 25600 to 51200. This is useful only if the sensor has the noise performance to back it up, and the a6300 delivers: jPEGs at IS01600 and above exhibited cleaner, sharper fine details than the a6000, particularly in subtle textures such as hair and skin. In fact, the a6300 wasn't far behind the full-frame Sony a7R II for noise levels, although the a7R II established a clear lead at IS012800 and above.
The other significant advance is the introduction of 4K video. This footage looked excellent, with precise details and little evidence of noise at ISO 3200, plus a pleasingly neutral colour palette that's a good starting point for colour grading in editing software. Autofocus was decisive, too, thanks no doubt in part to the phase-detect autofocus points.
KILLED OFF SCREEN
The lack of a touchscreen, however, is rather baffling. This is an extremely useful feature for moving the autofocus point when taking photos, and the only practical way to do so while recording videos. Some videographers will prefer to focus manually, but it seems daft not to allow touchscreen-controlled autofocus as an option.
The 3in LCD screen has a widescreen aspect ratio that suits video better than photo capture. However, as with other recent Sony CSCs, it was too dim to use outdoors.
A Sunny Weather setting significantly boosted the screen's brightness to help resolve the problem, but for some reason this is bypassed when recording 4K video. Perhaps colour accuracy is better without it, but that's little comfort if you can barely see the picture when shooting outside.
A microphone socket is included – a feature that was noticeably absent from the a6000 – but it's not a huge amount of use as there's no headphone socket for monitoring. It's also frustrating that memory cards must be reformatted in order to switch between NTSC and PAL frame rates. It's not a setting that gets changed often, but having to choose , between shooting at the wrong frame rate or deleting all your existing photos and videos could prove annoying.
We also have some reservations about the a6300 as a stills camera The 24-million-dot electronic viewfinder has a higher resolution than before, but its 0.7x magnification (as 35mm equivalent) is smaller than the Fujifilm X-T1 and X-T2's 0.77x. The widescreen LCD gives a relatively small view of photos compared to 3:2 and 4:3 screens used elsewhere.
OUT OF CONTROLS
The biggest drawback is the number and layout of buttons and dials, which fall significantly short of other premium CSCs and SLRs at this price, and a consequence of the slim build. The long-winded access to exposure compensation feels particularly out of place for such an expensive camera.
It's much harder to criticise the a6300's image quality. The 24-megapixel sensor produces sharp, clean photos with a rich color palette, and focus is extremely reliable. Noise levels are among the lowest we've seen from an APS-C sensor, although the JPEG processing worked better on fine details than it did on out-of-focus areas of the frame Overall, we'd place the a6300's photo quality very slightly behind the Fujifilm X-Pro2, broadly on a par with the Fujifilm X-T1 and comfortably ahead of the Panasonic GH4.

Faster Autofocus: Shoot up to 11fps with 425 phase detection auto focus points and 0.05 sec AF speed
Incredible Photography: Advanced 24.2 MP Exmore CMOS sensor expands sensitivity and minimizes noise
Electronic Viewfinder: Cameras feature a high resolution XGA OLED Tru-Finder for enhanced viewing
Last update was on: September 19, 2023 10:25 am
Faster Autofocus: Shoot up to 11fps with 425 phase detection auto focus points and 0.05 sec AF speed
Incredible Photography: Advanced 24.2 MP Exmore CMOS sensor expands sensitivity and minimizes noise
Electronic Viewfinder: Cameras feature a high resolution XGA OLED Tru-Finder for enhanced viewing
4K & HD Recording: Record professional content with multiple movie functions and full pixel readout
Compact & Durable: Dust and moisture seals protect the magnesium alloy body from harsh conditions
However, while the a6300's video capabilities are among the best around, the lack of a touchscreen is enough to make us favour the Panasonic GH4 (which also has superior ergonomics and a headphone port) for video work. It can't compete with the a6300 for photo quality at fast ISO speeds, but still has the high performance, flexible autofocus and fast, tactile controls needed for sports and nature photography as well. The more expensive a6300, by contrast, doesn't really come top in any single area, even if it remains a good CSC in most respects.
Ben Pitt
Specifications
SENSOR RESOLUTION 24 megapixels • SENSOR SIZE 23.5×15.6mm (APS-C) • FOCAL LENGTH MULTIPLIER 1.5x • VIEWFINDER Electronic (2,359,296 dots) • LCD SCREEN 3in (921,600 dots) • LENS MOUNT Sony E mount • WEIGHT 404g • DIMENSIONS 68x131x49mm • WARRANTY One year RTB


September 19, 2023 10:25 am

Amazon.com

September 19, 2023 10:25 am

Amazon.com
Last update was on: September 19, 2023 10:25 am
SONY a6300 Review
It's technically advanced, but the Sony a6300's controls aren't in line with the high price
Add your review