THERE'S A GOOD reason why Samsung is arguably the world's number one TV manufacturer. Not only does the South Korean firm offer more models within its 4K TV lineup than any other brand, but Samsung screens routinely serve up good all-round picture quality at entry-level, mid-range and high-end price points alike.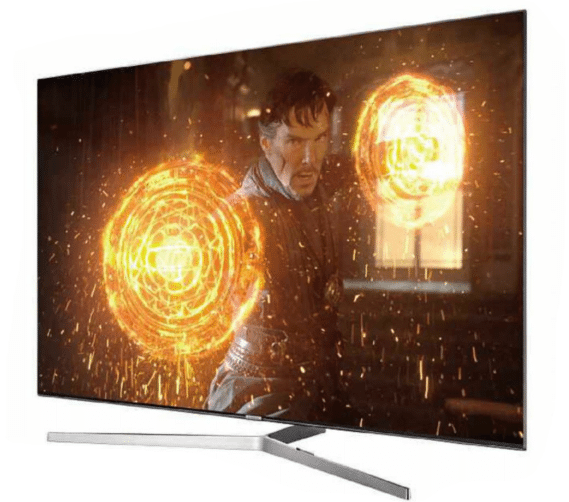 We've seen this in the company's Best Buy-winning UE49KS7000, the UE55KS9000 and the Samsung UE48jS8500, and now there's one more for the pile: the UE65KS8000, a 65in HDR-capable television that delivers UHD Premium-certification quality for a whisker.
LEVITATE MODERN
The design is attractive: the 65in flat panel is framed by an impressively slim black bezel featuring a brushed metallic trim around the sides. Together with the recessed Y-shaped pedestal stand, this almost makes it look like the UE65KS8000 is floating in the air – it would make a fine centrepiece for any contemporary living room. Even the rear looks supremely clean, too, and is free from any visible screws or rivets. Unlike some, this is a TV that's a pleasure to look at from any angle.
Extending the minimalistic theme is a breakout connection box – a Samsung trademark for several years now – that houses four HDMI ports, each of which can properly handle the latest HDR signal from 4K Blu-ray players. Two remote controls – a Smart wand and a more traditional button-laden one – are also included. Note that there's no 3D support on the UE65KS8000, as Samsung has dropped 3D across its entire TV range.
After a quick trip into the user menu to adjust some picture settings (there are quite a few of these, but Samsung stows them away under the 'Expert Settings' submenu to avoid confusing the average user), you're rewarded with beautiful picture performance. Black levels look convincingly deep for an LED LCD, and shadow detail just above black is faithfully retained. Colors appear very natural, too, maintaining good saturation without ever veering towards the overblown or cartoonish.
7Review earns Amazon affiliate commissions from qualifying purchases. You can support the site directly via Paypal donations ☕. Thank you!
As an LCD-based display, the Samsung UE65KS8000's blacks and colors become washed out once you move beyond 30 degrees off-axis. In a pitch-black room, watching the TV from the sides would also bring attention to large vertical chunks of backlight flaring surrounding bright objects against a dark background.
This is caused by the edge LED backlighting on the Samsung UE65KS8000, where the entire screen is illuminated through reflector plates from a single strip of LED modules along the bottom of the panel. For the best viewing experience, you'd be advised to always try to sit directly in front of the screen, and put on some gentle ambient lights.
RAPID RESPONSE UNIT
What the UE65KS8000 truly excels at is gaming responsiveness – a crucial benefit for gamers who play titles demanding fast reflexes, such as first-person shooters and racing games. Like almost every mid-range or high-end Samsung display since 2015, there's only around 20ms of input lag on the UE65KS8000, which comfortably makes it the fastest 4K TV we've tested.
Best of all, you can enjoy this low level of lag for playing HDR games such as Gears of War 4 or Forza Horizon 3. The only mild annoyance is that you'll have to input HDR-friendly settings into the 'Game' picture mode manually, as by default it duplicates the same settings as the TV's standard dynamic range (SDR) mode. We fully expect that Samsung will fix this in a future firmware update, though.
Another strength of the UE65KS8000 is how it handles onscreen motion – something that will immediately endear it to sports fans As a slight aside, the reason that old-school k CRT and plasma TVs still rival today's TVs , for motion clarity is because the way they display images – and more specifically, the natural decay of organic phosphors in the screen – creates blank frames, which refreshes our retinal persistence and gives the impression of smooth motion. The UE65KS8000 takes inspiration from this and offers an LED Clear Motion
option in the Custom submenu of the Expert Settings section, which inserts blank frames to create the impression of clearer motion. Those who are particularly sensitive to flicker may not like it, but you can always turn it off.
The Samsung UE65KS8000 supports HDR10 format, but not Dolby Vision, which is one of its few notable limitations. We tested the TV with a wide range of 4K HDR material, ranging from Ultra HD Blu-rays to streaming The Grand Tour on the Amazon Prime Instant Video app, and the TV did a great job, displaying the reflective glints off cars and the richer color spectrum without much difficulty.
SMART OF THE DEAL
Speaking of streaming, the UE65KS8000 comes complete with a fine selection of smart TV apps. Netflix, YouTube and Amazon Instant Video are all present and correct, along with terrestrial catch-up services including BBC ¡Player and ITV Hub. There's a built-in Freeview HD tuner, too.
In summary, while not a world-beater, the Samsung UE65KS8000 is a very good all-rounder, suitable for gamers, sports fans and those wishing to dip their toes into HDR. If you're looking for a king-sized 4K HDR TV, then this is one TV you definitely need to consider.
Vincent Teoh
Specifications
SCREEN SIZE 65in • NATIVE RESOLUTION 3,840×2,160 • VIDEO INPUTS 4x HDMI • TUNER Freeview HD, Freesat HD • DIMENSIONS 836×1,449x41mm
Jxjamp Accessories LED backlight strip(2) for Samsung UN65KS850DF UE65KS8000 UE65KS9000 UE65KS8500 UE65KS8000 UN65KS850DF UN65KS9000 UN65KS9500 (Color : 4 pieces)
as of November 28, 2023 7:49 am
Features
| | |
| --- | --- |
| Part Number | Jxjamp |
| Color | 4 Pieces |