Samsung's most affordable QLED TV delivers slightly mixed blessings, reckons John Archer. Read our SAMSUNG QE49Q60R Review.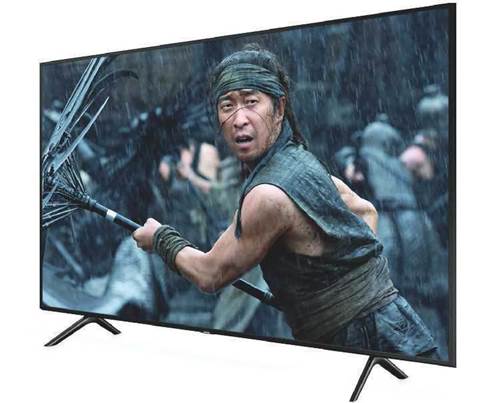 Samsung's lower-tier QLED uses edge LED lighting
av info
PRODUCT: 4K HDR QLED TV with Samsung's Eden smart platform
Position: Lower mid-range in Samsung's full QLED/LCD lineup
PEERS: Sony 49XG9005; Panasonic 50GX800
THE Q60R RANGE is the entry point to Samsung's 2019 QLED technology, and the 49in QE49Q60R is its second most affordable model (there's also a 43in version). This will likely make it a big Black Friday favourite.
7Review earns Amazon affiliate commissions from qualifying purchases. You can support the site directly via Paypal donations ☕. Thank you!
See also TOP Televisions
and The best OLED TV deals 2022: get an awesome OLED at the lowest price
Unboxing and Setup + DEMO, SAMSUNG QE49Q60R
Being a QLED set means it employs Quantum Dots to deliver colour. In principle, this means it can present a wider colour range with more brightness than TVs with standard LCD filters. Yet here Samsung doesn't push the tech as far as on its flagship sets. The QE49Q60R tops out at 580 nits in Standard mode and 490 nits in Movie mode on a 10 per cent white HDR window, versus 1,500-4,000 nits on higher-spec stablemates.
Its brightness still outguns most budget LCD TVs.
And in any case, its Quantum Dots are not its only attraction.
The TV looks reasonably cute with a trim black frame and tasteful, brushed finish. The spidery feet aren't the prettiest, perhaps, but they lift the screen high enough to accommodate a mid-size soundbar.
Buyers might not rush to do that, as the TV's integrated speakers handle dialogue well, offer a reasonable amount of audio detail, and don't suffer with serious distortions. They're not forward-facing, though, thus robbing the audio of some directness and impact.
Living on the edge
Unlike Samsung's other QLED ranges, the Q60R uses edge lighting with full frame dimming, as opposed to direct lighting with local dimming. It can still produce better black levels and a greater sense of contrast than most LCD TVs in its class. The darkness around the crashed spinners during K and Luv's watery fight in Blade Runner 2049 (4K Blu-ray) looks much less grey than expected.
It's smaller than most 4K flatscreens we see, but gets good value from its 2,160p resolution. Pictures are crisp and sharp enough to sell the 4K advantage, even after nudging sharpness down to compensate for some initial shimmering and edge-stressing noise.
Samsung's AI upscaling engine still makes an appearance at this price point, and it does
Specifications
3D: No 4K: Yes. 3,840 x 2,160 HDR: Yes. HLG; HDR10; HDR10+ TUNER: Yes. Freeview HD CONNECTIONS: 4 x HDMI inputs; optical digital audio output; 2 x USB; Ethernet SOUND (CLAIMED): 20W BRIGHTNESS (CLAIMED): N/A CONTRAST RATIO (CLAIMED): N/A DIMENSIONS (OFFSTAND): 1,101.4(w) x 637.1(h) x 59.2(d)mm WEIGHT (OFF STAND): 15kg
FEATURES: Quad-core processor; AI 4K upscaling; Quantum Dot colour system; edge lighting with full frame dimming; Ambient Mode; Bixby voice control built-in, Alexa/ Google Assistant voice control; AirPlay 2; Wi-Fi; Bluetooth headphone support
a remarkable job of interpolating detail into sub-4K content while simultaneously separating out picture noise.
The super-fine tonal shifts and natural hues of the stunning Lion King (2019) 4K Blu-ray don't seem to phase this wide-colour screen, and the set responds well if you can feed it HDR10+ , rather than just basic HDR10. This makes me rue the lack of support for the more common Dolby Vision platform.
Take time to tweak
The QE49Q60R needs care with its set up.
Be sure, for instance, to deactivate the default ambient light detection, otherwise the image becomes absurdly dark when viewed in a dark room. I'd also recommend sticking with a tweaked version of the Standard picture preset, as the other options suffer too much with issues ranging from reduced contrast to dull colours and insufficient brightness.
There are some issues that no amount of tinkering can completely fix. Unless you remove almost all brightness from the picture, backlight clouding is quite noticeable – especially in the screen's corners – in dark sequences. And there just isn't enough brightness available to make HDR look as exciting as it does on higher-end QLED TVs.
Viewing angles before contrast and colour plummet are limited, and the automatic backlight adjustments the TV makes can sometimes be distractingly aggressive.
Samsung's QLED technology and AI processor contribute here to a superior mid-range performance, but the unavoidable backlight clouding and relatively limited brightness prevent this set from earning an unequivocal recommendation
Verdict
Best SAMSUNG QE49Q60R prices ?
MORE DEALS

See also TOP Televisions
and The best OLED TV deals 2022: get an awesome OLED at the lowest price