EXCLUSIVE PREVIEW – Riva AVS Concert Alexa-based system
by Alan Sircom
This is not a review. Let's make that clear. Riva's new AVS series will be launched at IFA this year. And, while it is based on the Riva Festival Arena, there are sufficient differences in design to render the core of that review somewhat null and void. Instead, Riva's new Concert – the first in the AVS series – represents a wholly new concept in affordable audio. In the process, if the Riva lives up to the expectations, this will take on products like Sonos… and could win!
The acronym 'AVS' expands out to 'Amazon Voice Services', which means the Concert supports Amazon's Alexa service natively. This uses Riva's own app to set-up the system, but then runs independently using Alexa and services like Spotify Connect to gain access to your music. The Concert has full AVS support (so it acts like an Amazon Echo in its own right), has full over-the-air firmware update support, and can even be used fully wirelessly thanks to an optional battery with 20 hours playtime.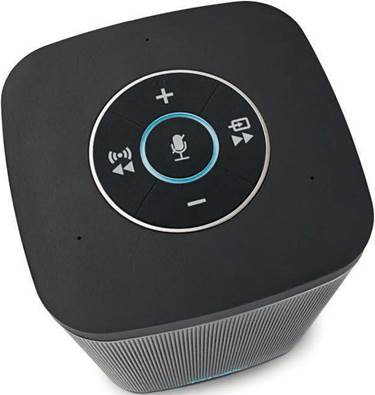 We had an exclusive preview of the Concert in late beta form.
► On the face of it, it's that battery option that sets the Concert apart from the first generation of smart speakers with embedded Alexa modules. However, Riva has also engaged in a very close working relationship with Amazon in the development of the Concert, which means some of the more clunky aspects of existing Alexa-embedded active speaker systems are being filtered out.
7Review earns Amazon affiliate commissions from qualifying purchases. You can support the site directly via Paypal donations ☕. Thank you!
See also TOP 10 Subwoofers
Riva's experience in making the Arena – the stereo in a single-chassis, mains-or-battery-powered speaker from the company – stood the brand in good stead, but where the Arena leveraged the power of Google's Chromecast, Concert has taken the next step and included full voice control. The Chromecast-driven Festival series will continue alongside Concert and subsequent AVS-based devices.
Like Arena, Concert features Riva's clever Trillium™ audio technology, which is designed to deliver stereophonic sound from a single-chassis loudspeaker. This system uses a combination of three, acoustic battles (which form the left, right, and front faces of the loudspeaker) and sophisticated custom digital signal processing. Each baffle contains one of Riva's small, yet powerful ADX drive units and a passive radiator, and the system is driven by a built-in 50 watt amplifier.
Aside from the Amazon connection, the Concert sports some surprisingly heavy lifting in the digital audio world. It supports PCM audio up to 24-bit/192kHz precision features Wi-Fi, Bluetooth, AirPlay, and DLNA connectivity. It also supports USB audio and a 3.5mm analogue input for non-Bluetooth devices and is geared to be multi-room ready soon after its launch, so you can stream your music to multiple AVS speakers or groups.
The AVS loudspeaker system also sports a Comms feature, which helps get your family all on the same page with whole home intercom, Alexa-to-Alexa device calls, text messaging to phones, audio messaging to Alexa devices, even calls to mobile phones and landlines, and the opportunity to 'drop in' on groups. These facilities are dependent on Amazon's local options and will not be available in every country at launch, but uptake and interest in these services are growing fast. It also supports the Riva Talk app, which allows for simple set up, speaker control, and music streaming. This also features a range of listening modes, tone control adjustments, and remote voice control with the app's push-to-talk function.
We had an exclusive preview of the Concert in late beta form. There will be some last-minute changes to both the DSP and the app, so those aspects of performance might be subject to change (hence the 'not a review' part), but even in its nearly-to-market guise, it's clear the Concert has a lot going for it. The interface is different from the standard Echo system, and those brands that have launched first-generation Alexa- chummy speaker systems. In most of those systems, it seems as if someone took a wireless loudspeaker and bolted on an Amazon Echo Dot. The Echo interface is excellent… for Echo devices, but not necessarily for a loudspeaker that might be used with other devices. By breaking away from the Amazon standard interface (paradoxically, only really possible thanks to working in close harmony with the people at Amazon itself) the Concert has the flexibility to work with Alexa and more.
There are little advantages that add up to a lot, here. Take the voice normalisation system, which matches Alexa's voice output to the actual volume level of the music, not independent depending on volume setting, which means Alexa periodically shouts at you. That goes away with Concert!
EXCLUSIVE PREVIEW / RIVA AVS CONCERT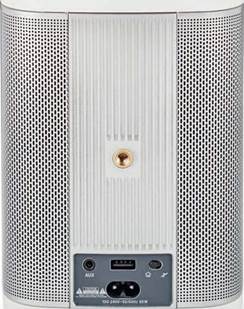 Riva AVS Concert Review: TECHNICAL SPECIFICATIONS
RIVA CONCERT Wireless Speaker Speaker system: 3x ADX drive units, with 3x passive radiators (size not specified)
Amplifier system: 50W
Wireless inputs: Wi-Fi (not specified), AirPlay, Bluetooth Wired inputs: 3.5 mm Analogue, USB Type A connector for charge out and music playback, DC Power connector, Home (Wi-Fi)/Away (Direct) switch Audio Codecs Supported: MP3, ALAC, APE, FLAC, FLAC HD, HLS, WMA Streaming, RTSP and PCM/WAV Multi-room: available end 2018 Finish: White, black
Dimensions(LxWxH): 12.7 x 12.4 x 18cm Weight: 1.36kg (optional battery pack, 0.3kgs Price: £199
Specifications subject to change
Manufactured by: Riva
URL: rivaaudio.co.uk
The seductiveness of Alexa is uppermost, of course. Whether using Amazon's own Music service or working with the companies with the best Alexa Skills (that would be Spotify), the idea of talking to your music collection is still new enough to be exciting. Both Amazon and Spotify's services have moved beyond the relatively limited early days ("Hey Alexa, play Beethoven"… "OK, I've found 'Roll Over Beethoven' by The Electric Light Orchestra and a recipe for borscht. Is that correct?"), but it's still best worked as music discovery or playlist-based. This is not a Riva-based issue; as the sophistication of Alexa Skills grow, so the speech based interactivity of services will increase. They already have moved far forward.
A unique interface might be great, but it will not make Concert a winner on its own. But the two parts that might are the wireless Riva-Riva connectivity system (the secrets of which remain closely guarded at this time, but seems to operate on an ad hoc MESH network) and especially the optional battery unit, which suddenly makes Alexa a portable device that can accompany you to different rooms in the house, to the office, the garden, practically anywhere. Most 'wireless' speaker systems actually rely on a wire connecting them to the power outlet. By adding the battery to the equation, Riva's offering becomes genuinely fully wire-free!
We think that combination makes this an important product in audio's next steps. Stuffy audiophiles who try to stifle any form of next-generation audio with "…and that lack of convenience is why I stay with CD" don't have an obvious answer to voice activation, and if this is terra incognita today, products like Riva's Concert are mapping the landscape, fast.
I expect this to be an excellent product because it looks to tomorrow and the next day. We know from the Arena just how good these devices can sound, and we expect the Concert to improve upon that sound still further. But perhaps even more importantly than sound quality (which is a tough admission for a magazine obsessed by audio quality), Concert represents the coming together of Amazon's Alexa and good audio without compromise or sacrifice on either side. And if Riva can do that, so can some of the Big Old Dinosaurs of the audio business. Hopefully.
Riva has second-guessed the audio world several times now. It 'got' Chromecast years before most of the other parts of the industry retrospectively 'discovered' the system. Now, working closely with Amazon to create the Concert, it has done it again. It faces stiff opposition from above and below, but at £, you can't help but be impressed with what we hope the Riva AVS Concert will do when it launches later this month. You heard it here first!