Predator 2: The REL's home cinema-centric subwoofer range returns, once again with a 'no-frills, all the spills' ethos. Richard Stevenson plays fast and deep with the 15in HT/1510. Read our REL HT-1510 PREDATOR Review.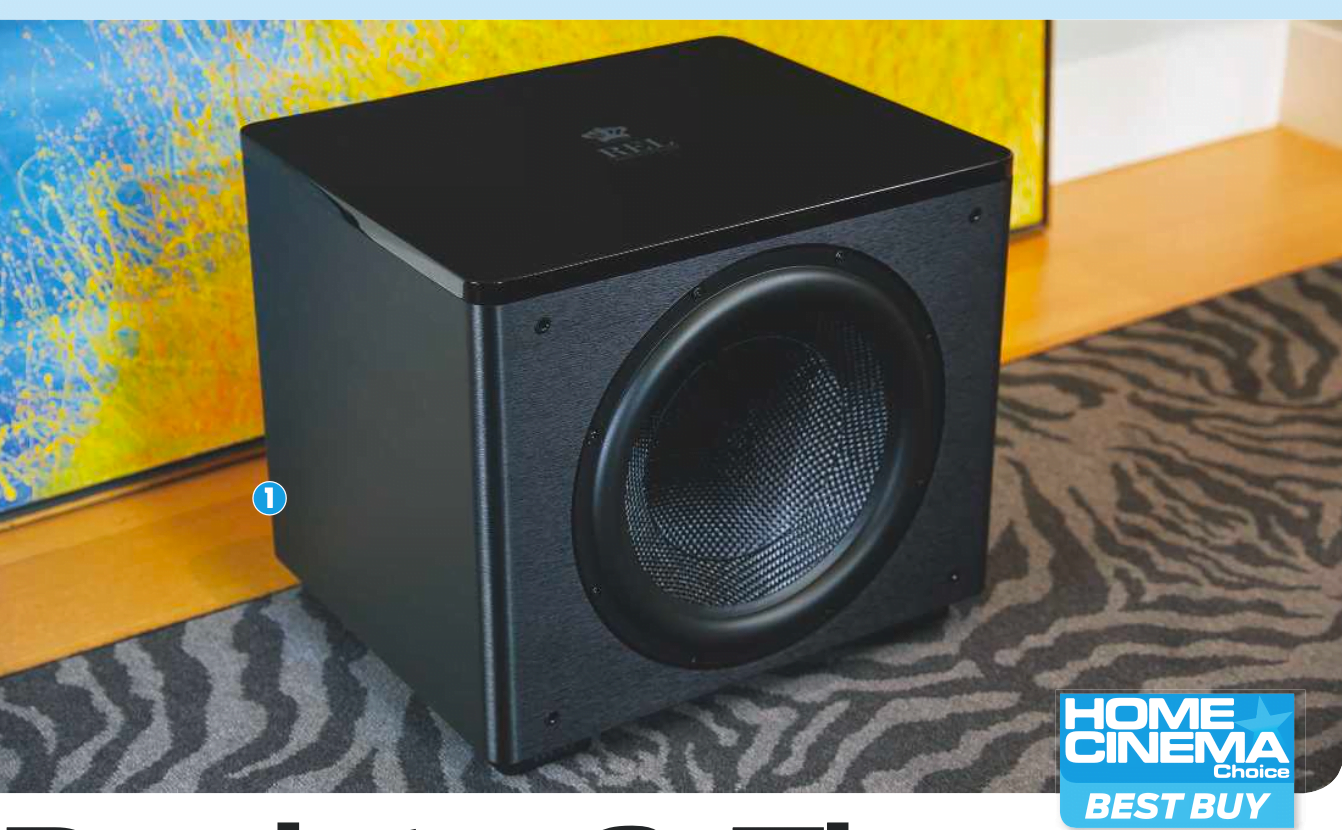 PRODUCT: Sealed 15in subwoofer
POSITION: New flagship in REL's Home Theatre Series
PEERS: Bowers & Wilkins DB4S; KEF KF92; REL S/510
REL'S DEDICATED HOME Theatre (HT) Series subs have been winning over home cinema enthusiasts for a few years now, with a three-strong lineup in 10in, 12in and 15in guises packing 300W, 500W and 800W amps, respectively. The naming protocol is genius too; HT/1003, HT/1205 and the original flagship HT/1508 (HCC #296) came to our auditoriums with the suffix 'Predator'. So in just one word the company gives you a big clue about what to expect, the HT Series models being more affordable than REL's dual-purpose music/cinema subs, and focused on maximum LFE bangs for your buck.
Enter the new HT/1510 Predator, which takes over the top-dog spot as a tricky sequel to a stunning original that delivered on its promise in spades.
From the outside, things are a little better dressed, with a neat gloss panel now across the top surface, extending the theme from the original's glossy in-lay. The paint finish is very good, with very little 'peel' in the mirror surface, and the central REL logo is a little more restrained this time around. That surface still attracts dust like a super-magnet, but at least on the new version the dust doesn't get stuck between the top and inlay panel when you wipe it.
7Review earns Amazon affiliate commissions from qualifying purchases. You can support the site directly via Paypal donations ☕. Thank you!
See also TOP 10 Subwoofers
RECOMMENDED VIDEOS FOR YOU...
A brushed vinyl wrap around the main body keeps costs down, while the heavily braced cabinet's rounded edges now run on the verticals rather than the horizontals. Size-wise, the HT/1510 is about as compact as 15in subs get, making it suited for big bass in even relatively small rooms. Like its predecessor, we are talking homely rather than pretty, but hey, the cinema room is dark.
REL's rail-like feet that run from front to back remain, now with markedly less bright front-facing logos. Grippy rubber bases stop the sub from wandering off across hard floors, but on the downside there is no adjustment, twiddly feet or spike mounts in the rails, so if you have an uneven floor, the Predator is never going to sit level (at 45kg, it isn't going to wobble, though). Should the madness take you, these rails also allow stacking of up to three HT/1510s in REL's 'Line Array' configuration.
Ready to rumble
The forward-firing 15in CarbonGlas woofer has seen some subtle revisions, too, its glass-fibre cone with considerable carbon-fibre cap now paired with a 75mm voice coil motor designed to handle a lot more power. That power is now supplied by a 1,000W-rated Class A/B amp, delivering 25 per cent more grunt than the original.
Around the back, there is, well, not a great deal. Phase, auto-power, gain and filter controls, the latter with 30Hz-200Hz roll-off, are standard for nearly all woofers. Inputs and outputs (for daisy chaining that aforementioned Line Array) are on both RCA and balanced XLR, but REL's signature Neutrik-based speaker-level connection, oft used for stereo music setups, is conspicuous by its absence. There was, I'm told, much debate at REL about including this on the MkII Predator model, but I for one appreciate the purity of dedicated, purpose-designed products, so keeping the HT/1510 as LFE-only works for me. There's also nothing stopping you from hooking up the stereo phonos to a spare stereo pre-out and dialling the REL's filters to balance with your main L/R speakers.
The price has nudged up a little to a not-insignificant £ for the HT/1510, versus the £ of the HT/1508, but given that potential 25 per cent increase in power, slam and depth, it still looks pretty good value.
The tight stuff
If there was a defining character in the earlier HT Series it was speed, and the new Predator on the block continues the theme, only with more gas. A 15in driver pushes vast chunks of air in front of it, making speedy movement a challenge, and needs to then brake hard, overcome cone momentum and go swiftly back in the opposite direction. Yet, the HT/1510's CarbonGlas driver seemingly circumnavigates the physics, offering all the alacrity of a much smaller cone and delivering bass so tight and punchy it's got edges.
The Matrix Resurrections on 4K Blu-ray sees this sub nail the brief of thoroughly entertaining LFE, underpinning every effect, shot and explosion with real grunt. To quote a line from the movie, 'it's so easy to forget how much noise the Matrix pumps into your head', and the HT/1510 runs with that theme throughout the thumping soundtrack and effects. Yet the trick here is not the sheer volume of air it's shifting or the depths it plumbs – there are 15in subs that do this better -it's the HT/1510's dynamics and articulation that set a benchmark at the price.
This model excels at conveying the percussive and highly stylised sound of the Agent's pistol fire. Each bullet gets a high-speed, chesty thump. No overhang or bloom, just LFE impact. That lack of cone 'wubba' [other descriptive terms are available – Ed] can make the LFE level feel a little too low in the mix, despite the SPL meter saying otherwise, especially if you are more familiar with traditional (ie. bigger) 15in or 18in designs.
The gut rationale is to tweak the sub-level higher, either in your AVR/processor or by a click or two of the Predator's volume knob, and the result is frankly fabulous. You get more impact, more punch and more physical support to the movie sound without the room sounding like the inside of a bass drum. Explosions are more dramatic, bullets hit home harder and musical scores cut straight to your foot-tapping senses. This is a subwoofer that takes your bass enthusiasm in its stride.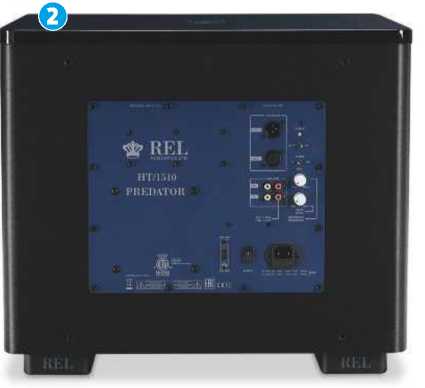 1. The HT/1510 debuts REL's new 15in CarbonGlas driver
2. Rear plate features phono and XLR outputs for subwoofer daisy-chaining
I was sent a pair of HT/1510s to try out, and with plenty of time to experiment with placements and levels they never once disappointed. A romp through the test-disc standards of Star Trek and Heat (still awaiting the 4K remaster…) resulted in ear-to-ear smiles, and Netflix's Atmos-mixed Stranger Things: Season 4 came across with all the audio pedigree of the most expensive Hollywood movie sound tracks. And pairing two HT/1510s filled in a
More, more, more
Breaking the mould of sequels to classics, this new Predator is a very worthy successor to the original. It gives you more of the same ultra-fast, ultra-tight LFE, with more headroom and the ability to go louder, all in a package that remains compact and relatively affordable. If you are going to design a tool to do a specific job with ruthless efficiency and single-minded purpose, this is how you go about it negative node at the seating position in my room nicely.
Playing music in stereo does reveal the HT/1510's slight shortcomings in terms of absolute low-frequency depth and its ability to resolve similar bass notes, but, hey, move along, this is a dedicated home theatre subwoofer. If you want a REL to do both, dig deeper of purse and look at its Carbon Special model. The HT/1510 is also a little frugal of features at the price, given the lack of remote control or any EQ system, let alone app-based tweaking.
Verdict
REL HT-1510 PREDATOR Review
REL's latest unapologetically stripped down and cinema-focused Predator subwoofer delivers ultra-tight bass and LFE with sublime impact. Grab an audition now!
Add your review
Best REL HT/1510 PREDATOR prices in the US ?

$

1,999.00
1 new from $1,999.00
in stock

Best REL HT/1510 PREDATOR prices ?
MORE DEALS

See also TOP 10 Subwoofers
SPECIFICATIONS
DRIVE UNITS: 1 x 15in custom CarbonGlas bass driver ENCLOSURE: Sealed ONBOARD POWER (CLAIMED): 1,000W Class A/B linear power supply amplifier FREQUENCY RESPONSE (CLAIMED): 20Hz-200Hz REMOTE CONTROL: No DIMENSIONS: 540(w) x 457(h) x 494(d)mm WEIGHT: 45kg
FEATURES: Stereo/LFE phono in/out; balanced XLR in/out; phase switch; autopower switch; gain control; 30Hz-200Hz crossover adjustment; compatible with REL HT-Air wireless kit; rail feet enable 'Line Array' stacking; 'BrilliantBrace' cabinet construction; Perfect Filter technology
TESTED WITH
THE MATRIX RESURRECTIONS: This much anticipated sequel doesn't knock the original off its perch, but remains a good action romp filled with set-pieces and humour. On 4K disc it offers darkly detailed visuals, stunning sonic effects, and a pulse-pounding soundtrack that will give your subwoofer plenty to dig into.