High quality from a small loudspeaker that costs little. Noel Keywood enjoys Q Acoustics 3030i. Read our Q ACOUSTICS 3030i Review.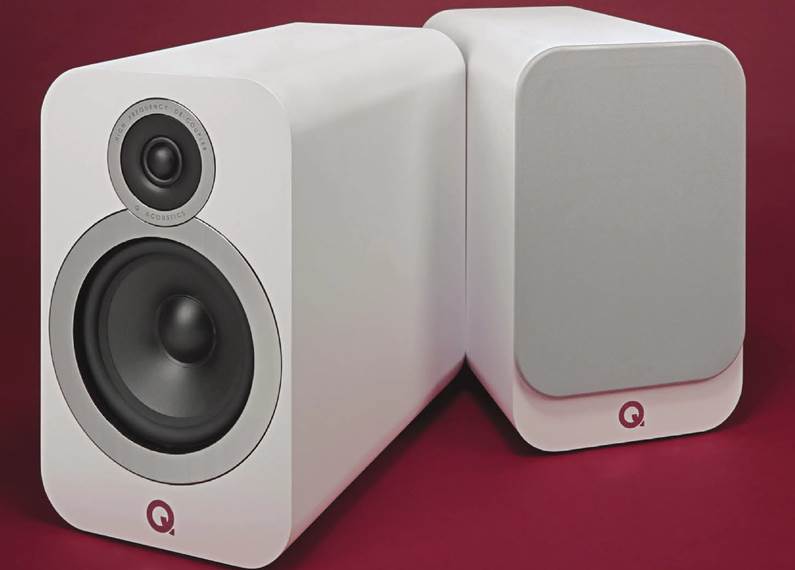 I suspect this is a loudspeaker that won't be easily spotted for the fine proposition it is, amongst a herd of rivals that swarm around its low £ price point. Not easy to make a small two-way loudspeaker stand out, visually or sonically – but that's the point with Q Acoustics 3030i. Rather than stand out as an acoustic hooligan, it's a model of poise and correctness.
The design approach used by Q Acoustics is entirely conventional, mounting a bass/midrange unit and tweeter in a compact cabinet measuring 200mm wide, 320mm high and 313mm deep, the grille and rear terminals adding 16mm. With spade or bare wire connection depth is unaltered, but 4mm banana plugs protrude rearwards as always. With a rear port a small amount of room needs to be left behind in any case, but not much – a few inches or centimetres will do.
I liked the smooth Graphite Grey finish of our samples and the neat, polished alloy trims around the drive units when the grille, held by invisible magnets, is removed. The grille affects frequency response little, just a tad more treble is available with grille off. Measurement showed the 3030i has broad dispersion so the cabinet can be pointed straight down a room or toed-in toward the listening position without obvious difference between the two.
The 165mm bass/midrange unit has an impregnated and coated paper cone, Q Acoustics say, and closely above it sits a 22mm tweeter that looks like a cloth dome to me. I thought it was ring-dome, but perhaps not. All the same, measurement showed it has a smooth response and wide dispersion for even tonal balance. No sharpness here.
The cabinet is sturdy, weighing 6.4kgs. In addition to the Graphite Grey of our review samples, Arctic White, English Walnut or Carbon Black are available.
7Review earns Amazon affiliate commissions from qualifying purchases. You can support the site directly via Paypal donations ☕. Thank you!
See also TOP 10 Subwoofers
SOUND QUALITY
I drove the 3030is from our Creek Evolution 100A amplifier, connected by Chord Company Signature Reference cables. CDs were spun by our Oppo BDP-205D Universal player connected direct by XLR cables. Also, I brought in a Chord Electronics Dave DAC to play CD, the Oppo acting as a transport in this case.
Reason for Dave? Primarily because Chord Electronics DACs are more vivid than the ESS ES9018 DAC in our Oppo player, appropriate when reviewing "darker sounding" loudspeakers like the 3030is. The Oppo is a very safe player to use for review purposes; it is smooth, minimising digital nasties, suiting modern loudspeakers because most come with raised upper mid-band and treble.
I felt Dave would better suit the 3030is that are not artificially enhanced – but I was not exactly right. Our Oppo represents today's sound as far as CD is concerned, ESS DACs being dominant and it was used mostly.
Just about whatever I spun, the overall impression was the same. Holly Cole sang laconically against a dark background, in the Train Song, is if the recording was made at night. There was a comforting warmth yet no lack of detail. In fact, her voice was sharply clear, stable and well etched as an image. The slow bass line was fulsome, even in our large listening room (6550 cu ft). where small loudspeakers can sound lean. This surprised me; the 3030is came over as big bodied and obvious in the bass, even though measurement suggested otherwise.
As CDs slipped by I latched onto the consistency of this big­bodied sound. Bass lines were large and almost plummy with the Oppo, where Dave pulled lows back, tightened them up and added in detail. With a dry sounding CD player,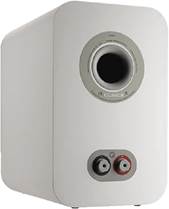 A large port loads and damps the bass/midrange unit.
No bi-wiring available at this price, so just two loud­speaker terminals, well made.
as older ones are, the 3030is suit, but perhaps less so with a CD player like the Oppo that has its own version of warmth. With Willy De Ville singing Spanish Harlem the 3030is showed their poise and sophisti­cation however: I could hear the sibilants coming from his close-miked vocals, which I know are in this live recording, but they were just there, rather than offensive.
The 3030i sound has depth to it, making the choir and soloists in Beethoven's Missa Solemnis seemingly stretch far back. The various solos were well identified on the stage too; again I enjoyed very stable and assured imaging.
Whilst these 'speakers sound big bodied and bass strong, the low-end rumblings at the start of Loreena McKennit's Gates of Istanbul were not so rumbly – we're not talking Tannoys here – but I didn't feel robbed. The effect was still well conveyed.
With heavy bass lines, such as Flur Feat 'You and I', the 3030is became a tad plummy and box bound, in their enthusiasm to convey low end weight. But at least I heard the effect and felt it where most other speakers of the size would just lose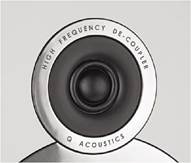 A neat little 22mm fabric dome tweeter with good dispersion. It gave smooth treble.
it. The 3030is work hard to sound big – and for the money do it well, if not perfectly.
CONCLUSION
Q Acoustics 3030is were smooth and poised, dark sounding and deep. They take a different approach to many – no shrill treble, no inaccurate emphases. What you get here is a well honed performance with excellent imaging, oodles of detail and a sense of weight that adds to visceral impact. Their sonic size is far greater than their physical size. I found them thoroughly enjoyable – and more than a little impressive for just £.
MEASURED PERFORMANCE
Frequency response of Q Acoustics 3030i closely followed the 0dB datum across the audio band, our third-octave analysis of pink noise shows, extending from 100Hz up to 20kHz (grille on). Removing the grille brought a small 1dB lift in upper treble, barely enough to be audible, but the front panel has been well finished to look good without the grille.
The tweeter works from 2kHz
FREQUENCY RESPONSE
Green – driver output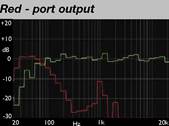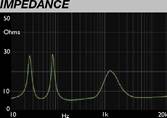 upward our impedance trace shows, and it had wide dispersion, frequency response changing little from on-axis to off-axis. The tweeter has been placed very close to the bass/midrange to improve vertical phase alignment.
Below 100Hz output rolls down progressively to measure -5dB at 40Hz, below which output drops rapidly. This is a response tailored for near-wall mounting in a small-to-medium room, up to approximately 15ft long. The port is tuned to 45Hz, the dip in the impedance trace shows, and it extends output down to a low 30Hz, applying good bass damping, as the breadth of the red port output trace shows.
Sensitivity was fairly typical for a small loudspeaker, measuring 86dB from one nominal Watt of input (2.8V), impedance measuring 6.5 Ohms with pink noise, 4.2 Ohms (d.c.r.) being the minimum. Amplifiers of 60 Watts will be sufficient for high volume, but 40 Watts will still go loud.
Q Acoustics 3030i is notably smoother in response than most and will likely sound even and refined. With good sensitivity and no weaknesses, plus well damped bass suited to small-ish rooms, it measured well all round.
OUTSTANDING – amongst the best.
VALUE – keenly priced.
Q Acoustics +44 (0)1279 501111 www.qacoustics.co.uk
Q ACOUSTICS 3030i Review
A small loudspeaker with a large, smooth and accurate sound. Lovely.
PROS
big, deep sound
smooth and accurate
well finished
CONS
plummy bass at high vol
a little box bound
Best Q ACOUSTICS 3030i prices in the US ?

$

549.00
1 new from $549.00
in stock

Best Q ACOUSTICS 3030i prices in the UK ?

£

237.26

£349.00
8 new from £237.26
in stock


£

269.00
6 new from £269.00
in stock

MORE DEALS

See also TOP 10 Subwoofers