Jon Myles listens to PSB's new T20 Tower and comes away impressed. Read our PSB Alpha T20 Review.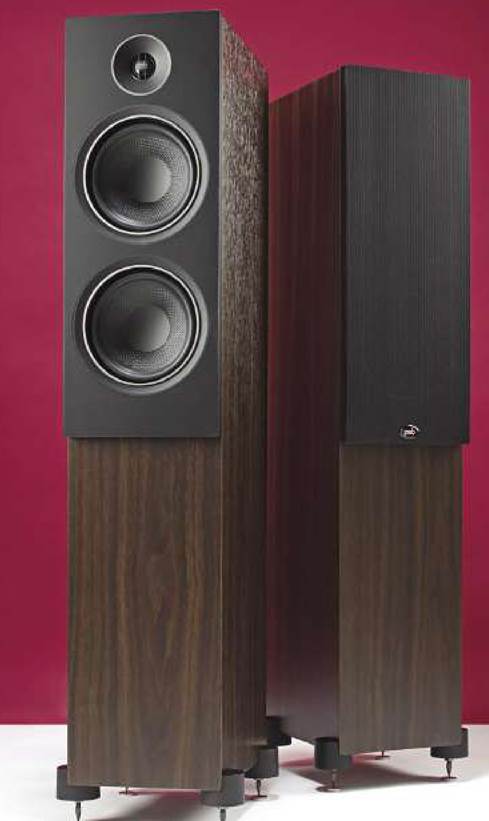 Hard to believe but PSB first introduced its first Alpha loudspeaker range way back in 1991. They became a massive success for the company and have become something of a benchmark for affordable 'speakers with good sound quality.
They're also a best-seller for the Ontario, Canada-based company. But that as it may be, 18 years is still something of a long time for any product series to go without any major revisions to the overall design. But now that wait is over with the launch of a redesigned Alpha series that brings a major redesign of the original.
There are four models in the range – two standmounts, a centre channel and the T20 Tower on review here.
It's a floorstander measuring 170mm x 825mm x 243mm (WxHxD). And at a weight of 11.9kg each they're not too heavy to manoeuvre into an ideal listening position.
Take off the magnet-secured grille at front – that PSB says makes no difference to sonic performance – and you'll find three drivers. At top is the tweeter, a proprietary 0.75in (19mm) black anodized aluminium dome the company says extends high-frequency response further than any Alpha ever before, while lowering distortion – and housed in a waveguide to aid performance.
Below are two 5.25in (133mm) textured polypropylene mid/bass drivers with rubber surrounds augmented by a rear-firing reflex port. Also on the rear panel are dual five-way gold-plated binding post 'speaker terminals for bi-wiring, plus links for
7Review earns Amazon affiliate commissions from qualifying purchases. You can support the site directly via Paypal donations ☕. Thank you!
See also TOP 10 Subwoofers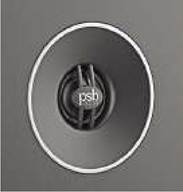 The proprietary 0.75" (19mm) black anodized aluminium dome
tweeter sits in a shallow wave guide and has a phase plate in front to smooth response.
mono-wiring.
The cabinet has been upgraded using a special MDF material and a unique combination of wall thickness and bracing, to help control resonances. Out-rigger feet are included to ensure stability.
Aesthetically the T20 Tower is an elegant package – especially considering its moderate price tag – less than some standmounts nowadays.
SOUND QUALITY
The T20s may look relatively compact but don't be fooled by looks alone. The sound they produce is big and full-bodied with a good, solid soundstage.
Connecting to a Creek Evolution I00A integrated amplifier and queuing up Massive Attack's 'Safe From Harm' the vibrant, pumping bass that opens the track had a fulsome quality but retained its rhythmic pace. There was no thump or undue emphasis on offer – just the sense of a controlled low-end.
PSB claim their twin woofers will go down to a low 30Hz – and hearing this track it was easy to believe (but see our Measured Performance for definitive details).
Shara Nelson's vocals were sweet and projected well into the room. PSB's tweeter does indeed have extended response, sounding smooth and refined. It integrated well with the two main drivers, with no sense of discontinuity between them.
Most impressively the PSBs were capable of unravelling the music so I could hear essential elements. Gang Starr's latest 'One Of The Best Yet' release (24bit/96kHz) is a complicated collection featuring old-school booming beats, old vinyl samples plus manipulated orchestral samples. It's an eclectic mix of various genres which some other loudspeakers at this price could turn into a bit of a mish-mash. But with the PSBs all was woven into a coherent whole – everything clear and easy to listen to.
The only thing to beware of is that these are not loudspeakers to give you room-shaking sound. On Led Zeppelin's 'When The Levee Breaks' the sheer bone-shaking power of John Bonham's drumming lacked the impact a true rocker would desire.
Also, turning volume up there was evidence of vibration from the cabinets – nothing too alarming but there nonetheless.
That said, these are not loudspeakers designed for massive power in large rooms. They're built for small to medium spaces where sound quality at a sensible price – with a design that fits into a domestic environment – is required.
And that's what they achieve very, very well indeed. Take them for what they are and they cannot help but impress.
Well designed, evenly balanced with a bass that belies their size but never over-imposes itself. Add in a refined high-end and for £ the PSB T20s make a great case for themselves.
As proof I gave a run-through of Mahler's 'No 4' and was impressed by the scale conveyed. The soundstage was wide – images thrown well beyond the edges of the cabinets – while individual instruments were clearly delineated. Overall, this performance was a joy to hear, showing how talented the PSBs can be. Use them within their limits and you'll find them a delight.
CONCLUSION
Excellent floorstanders at £ can often seem an exercise in costcutting. Not these PSB T20s. They combine good looks with excellent sonics. Use them in the right room at sensible volumes and I guarantee you'll be impressed. I was.

The rear panel carries bi-wiring 'speaker binding posts. Above sits a reflex port that adds low-end extension.
MEASURED PERFORMANCE
Frequency response of the PSB Alpha series T20 loudspeaker was acceptably flat to current standards from 60Hz to 16kHz our third-octave analysis of pink noise shows, at 20 degrees off-axis. On- axis, treble lifted by +3dB so the T20 is best pointed straight down a room and not toed-in to point at listeners. The tweeter's shallow flared horn has good off-axis dispersion and gave the result
FREQUENCY RESPONSE
Green – driver output
Red – port output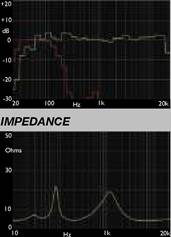 shown consistently. There's some slight treble lift of +2dB to ensure highs are obvious, but not so much as to make the sound sharp or bright.
Strong output above 2kHz and a lack of classic crossover dip around 3kHz will give the T20 a strong sense of detail retrieval: this will be a forthright sounding loudspeaker.
There is a steady rise in output below 300Hz to add warmth and body to the sound, but bass cuts off below 40Hz. The small rear port reaches 30Hz and applies broad acoustic damping but will not provide much acoustic power low down, so subsonics will not be obvious.
Sensitivity measured 86.5dB from one nominal Watt of input (2.8V) which is about as expected from a small floor stander lacking deep bass (that influences measured sensitivity). Impedance measured 5.7 Ohms, using broadband pink noise; amplifiers of 60 Watts or so will suit.
PSB's Alpha T20 measured well in all respects. It will be on the forward, revealing, bright side like so many others, not soft and easy going, but bass looks well controlled and in good balance.
PSB T20 TOWER
PSB T20 TOWER Review
OUTSTANDING - amongst the best. VALUE - keenly priced. Sounds clear and nicely balanced. Excellent value.
PROS
design
controlled bass
good treble
price
CONS
needs right room
won't go overly loud
Add your review
Best PSB Alpha T20 prices in the US ?

$

599.00

$799.00
2 new from $599.00
in stock

Best PSB Alpha T20 prices ?
MORE DEALS

See also TOP 10 Subwoofers
PSB Loudspeakers www.psbspeakers.com