Distinguished from the rest of Pro-Ject's huge range of turntables by the new S-shaped tonearm, the Debut III S Audiophile is based around a superbly finished gloss plinth, which is available in black or white. The sub-planer has a stainless steel bearing shaft, which spins in a brass housing and is driven by a flat belt from the motor. The aforementioned aluminium tonearm is 8.6in long and easy to set up and fine time. Available adjustments even include azimuth, as the arm tube can be rotated about its axis in the bearing housing after loosening a screw. It comes pre-fitted with a moving-magnet cartridge that is based on an Ortofon OM10 and dubbed the Pick-IT 25 A. However, internally, the coils have been replaced by pure silver types, which Pro-Ject claims: "Opens up the transparency of the cartridge" and offers better quality and dynamics.
See also: TOP 15 Turntables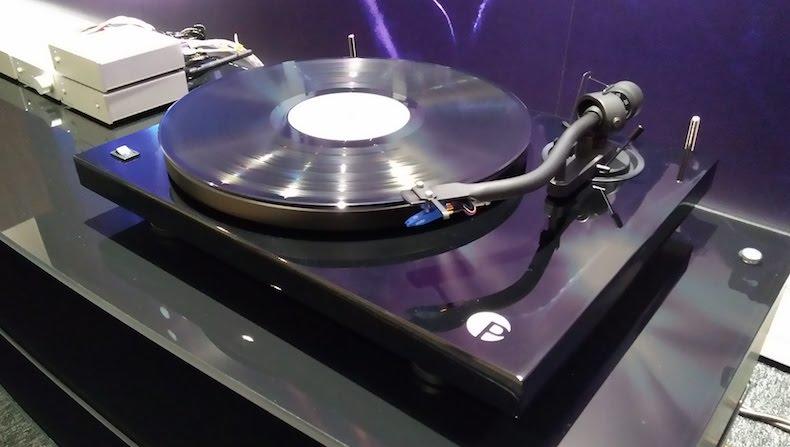 The deck's output is via stereo phono sockets at the rear and a Connect-IT E cable is bundled.
The final new feature is to be found underneath in the form of three feet constructed from Aluminium and TPE (Thermoplastic Elastomer) to offer better levels of insulation against vibration. Exotic feet like this are usually found on more expensive decks, whereas I tend to be of the opinion that they make more sense on budget designs that are less likely to find themselves sat on a proper audiophile support.
Sound quality
Bass performance is impressively weighty, which immediately puts the Pro-Ject a step ahead of its peers. There is a caveat here, as bass notes occasionally outstay their welcome a little. Happily, switching the supplied felt mat for a Pro-Ject Leather-IT  sees a much tighter and better controlled response.
7Review earns Amazon affiliate commissions from qualifying purchases. You can support the site directly via Paypal donations ☕. Thank you!
See also TOP 15 turntables
Across the midband it does a fine job of capturing instruments and singers vividly. Budget designs often tend to blur the finer aspects of the soundstage, but this separates individuals out well. It images very competently and has good depth perspective, giving a fair sense of atmosphere to recordings.
Ultimately its lateral perspective is rather curtailed and central image stability could be stronger, but it's important to remember its three- figure price tag. All things considered, it turns in a very fine performance bearing in mind its price.
At the top end, however, it is clear that the newly developed cartridge is working its magic. I'm very fond of the old Ortofon OM series, but am well aware that it is a little soft around the edges. This isn't the case
DETAILS
PRODUCT Pro-Ject Debut III S Audiophile
ORIGIN Austria
TYPE Belt-drive turntable
WEIGHT 5kg
DIMENSIONS (WxHxD) 415 x118 x320mm
FEATURES
33 & 45rpm •8.6in S-shaped aluminium tonearm
Pro-Ject Pick-IT 25 A moving-magnet cartridge
DISTRIBUTOR Henley Audio Ltd.
TELEPHONE 01235511166
WEBSITE henleyaudio.co.uk
REVIEWED HFC 437
with the Pick-IT 25 A. Those silver coils imbue just the right amount of sparkle upon proceedings, but without ever straying into harsh territory. As a result, violin strings are vivid but without screech and the cymbals backing Outlaw Man by the Eagles shimmer delicately off into the distance. Out of curiosity,
I dig out an Ortofon OM10 for comparison. While the rich, smooth tones of the OM10 are like an old friend, the sound becomes a little soporific and loses its sense of keen musicality. As a result, I'd definitely stick with the cartridge as supplied, which balances the combination of deck and cartridge superbly.
Conclusion
Even though the Pro-Ject Debut range might already be a little daunting, the Debut III S Audiophile is a welcome addition to the family. It takes the best of the existing models and adds a dash of extra sophistication and poise to their performance. The individual changes add up to a convincing package, and it is clear that this is a design that has been properly thought out. The whole is most definitely greater than the sum of the parts, but be sure to budget for a better mat.
OUR VERDICT
Recommended
Pro-Ject Debut III S Audiophile Review
A highly capable hi-fi turntable package at a great price point
PROS
Stylish S-shaped tonearm
Cartridge
Effective isolation
CONS
Supplied felt mat limits performance
Add your review
Best Pro-Ject Debut III S Audiophile prices ?
MORE DEALS

See also TOP 15 turntables