The VSX-933 caters to all your wireless music needs but is a fine home cinema amp too, says Mark Craven. Read our PIONEER VSX-933 Review.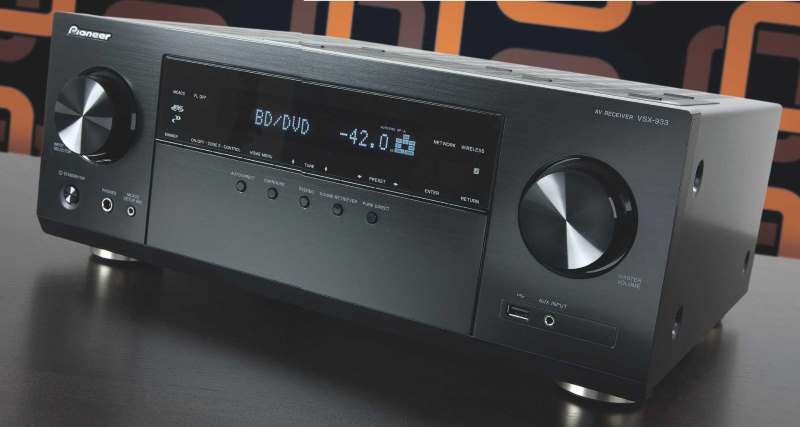 1. The redesigned remote makes the AVR easy to use
2. Pioneer hasn't changed the VSX styling much…
The term 'AV receiver' used to denote a multichannel amp with a built-in radio tuner. It's even more apt now, with modern AVRs accepting any wireless source you can think of. Pioneer's VSX-933 is a case in point.
It may be affordable, but it's blessed with rich functionality.
7Review earns Amazon affiliate commissions from qualifying purchases. You can support the site directly via Paypal donations ☕. Thank you!
Wrapping your head around the receiver's audio capabilities takes some time, because Pioneer has adopted a broad brush approach. Most traditionally, the VSX-933 features an onboard FM/AM tuner (there's no DAB), plus media file playback via USB or a home network, including 24-bit/192kHz FLAC, WAV and ALAC, plus DSD 5.2MHz. There's also built-in Bluetooth, for streaming from any BT device.
In addition to this, Pioneer handily adds Chromecast Built-in, enabling easy hookup of compatible apps.
There's also Apple AirPlay, and a level of integration for those with Sonos Connect hardware. Pioneer's Remote App, meanwhile, introduces Tidal, Deezer and Spotify streaming services.
As for multiroom, the VSX-933, like the rest of the Pioneer stable, is a bit confusing. While Denon, Marantz, Yamaha and Sony all, to an extent, have developed their own ecosystems, this receiver can work with DTS Play-Fi speakers (a platform that will get a shrug from most UK buyers, as most compatible models are from US brands).
It also supports the FlareConnect standard (as do AVRs from stablemate Onkyo). You may not have heard of FlareConnect. Pioneer offers its own MRX-5 and MRX-3 speakers, and says 'other brands will be offering FlareConnect in the near future if they are not already doing so.'
Seventh heaven
The meat and potatoes of this AVR is, of course, its multichannel movie side. It's a seven-channel design, allowing for 5.1.2 Dolby Atmos/DTS:X setups, straight 7.1, or 5.1 with an additional second zone. Nine speaker terminals provide flexibility for switching between installations.
Seven channels isn't cutting-edge when it comes to home cinema sound, but realistically is as immersive as most AVR buyers probably want to go. The VSX-933 also caters to those with even more minimalist aspirations, offering a Dolby Atmos Surround Enhancer tool to add a faux L/R surround effect to a 3.1.2 configuration.
The receiver looks much like any other mid-range model, with its symmetrical fascia and central display panel. Yet Pioneer has chosen not to hide its front inputs behind a drop-down flap, instead scattering them left and right. There are USB, mic, headphone and 3.5mm terminals here, but no quick-fire HDMI (unlike the previous VSX-930 receiver). All six of the VSX-933's HDMI inputs, plus its singular output (again, this series used to have twin HDMI outs), are housed on the rear, joined by an adequate selection of digital and analogue audio ports, and twin subwoofer pre-outs.
AV INFO
PRODUCT: Seven-channel Atmos/DTS:X receiver
Position: Mid-range – and currently Pioneer's only seven-channel model
PEERS: Denon AVR-X2500H; Yamaha RX-V485
Handy handset
Pioneer's new remote can feel a bit lightweight in the hand but I'm a fan of the stripped-back design. For too long affordable receivers have been supplied with button-heavy zappers that are simply too confusing for their target audience.
For calibration, you get the brand's mic-assisted MCACC setup suite. This is a fairly quick process (supporting a single listening positioning measurement), involving ear-bothering test tones. Once finished, you should certainly double check its speaker distance measurements, as I had to tweak one that was inaccurate.
While an affordable model, the VSX-933 still comes with a moderate level of user control that may or may not appeal – the MCACC EQ results can be altered on a per-speaker level, with up to three personal setups then saved. And in use, the AVR offers easy access to tone control, centre and sub level (useful), Dynamic Range Control for late-night/low-level listening and more. And then there are the usual DSP modes to sample – Action, Rock, Pop, Sports, Drama, etc. The impact of MCACC can be flicked on/off, but there are no different presets offered, beyond a 'Theater Filter' that alters high-frequency roll-off.
Multichannel muscle
Laced up to a Focal Sib Evo 5.1.2 Atmos system, this receiver shares similarities with affordable Pioneers of yore. It sounds muscular and attacks film sound mixes with glee, making up for a lack of high-frequency nuance and insight with a full-blooded approach. Most importantly, it sounds well-oiled, not the least bit sluggish.
The failed terror attack in Justice League (Sky Cinema, Dolby Atmos) gives it plenty to do. Danny Elfman's Batman-throwback score bounces around the soundfield, perky and playful, while panicked screams echo in the background. When Wonder Woman crashes through the door, the Pioneer's Direct Energy amps go to the well for this dynamic surge, joined by a delicious crack of wood and one of Hollywood's trademark bass swells. Although you wouldn't want to use this bargain-priced receiver to drive power-hungry, largescale speakers or fill a cavernous cinema room, it has enough for its likely end user.
Lowering the subwoofer level from that set by MCACC gave me a better balance; beyond that I was happy to leave Pioneer's EQ left on. In truth, though, there wasn't a night/ day difference.
Ol' fashioned 5.1 surround sound can still get the juices flowing, as evidenced by this Pioneer chewing on the DTS-HD MA 5.1 Predator soundmix (Ultra HD Blu-ray).
The ambience of the jungle is well-crafted, the alien's idiosyncratic noises resonant in the soundfield and the AVR's robust mid-range delivery works wonders with Alan Silvestri's score.
A minor criticism is the VSX-933 falls somewhat short when a scene is quieter and the onscreen visuals call for a delicate approach. It's a receiver that's happier with the bombast and bruising bass of a blockbuster Blu-ray, nailing the drama and excitement of, say, Fast & Furious 5's bank vault drive-away (Blu-ray), while needing a little more airiness and an enveloping approach to convey the rich ambience of the naturalistic soundscapes of The Revenant (Ultra HD Blu-ray).
A word on the VSX-933's menus. The overhauled homescreen/user interface is a success; sharply presented, colourful and quick to get to grips with. Yet the onscreen display window, called up via the AV Adjust button on the handset (which you'll probably use quite regularly) looks like it's fallen out of a ZX Spectrum.
Fire up and enjoy
There's a lot on offer here when it comes to streaming audio, and a cinematic sound performance that is fun if a little unrefined, and for £ warrants few complaints. Pioneer has improved usability via its new remote and UI, but limited system flexibility a tad by whipping out the front HDMI input and second output of previous 93x models. While the basic MCACC implementation won't wow EQ freaks, it does make this an easy receiver for AV novices to fire up and enjoy.
VERDICT
Highly Recommended
PIONEER VSX-933 Review
Thrilling with blockbuster movies and well-specified when it comes to streaming audio, Pioneer's seven-channel receiver is worthy of consideration.
Add your review
Best PIONEER VSX-933 prices ?
MORE DEALS

3. The nine speaker terminals let you wire up for both 7.1 main and stereo second zones
SPECIFICATIONS
DOLBY ATMOS: Yes DTS:X: Yes THX: No MULTICHANNEL INPUT: No MULTICHANNEL PRE-OUT: No MULTICHANNEL OUTPUT (CLAIMED): 7 x 135W (6 ohms, 1 kHz, 1.0% THD, one channel driven) MULTIROOM: Yes. Zone 2 AV INPUTS: 2 x digital inputs (1 x optical and 1 x coaxial) HDMI: Yes. 6 x inputs; 1 x output COMPONENT VIDEO: Yes. 1 x input VIDEO UPSCALING: Yes. To 4K DIMENSIONS: 435(w) x 173(d) x 370.5(h)mm WEIGHT: 9.6kg
FEATURES: Dual-band Wi-Fi; Bluetooth; Ethernet; USB; MCACC auto calibration; AM/FM tuner; Pioneer Remote App; Spotify, Tidal and Deezer streaming service integration; Apple AirPlay; TuneIn 'net radio; hi-res file playback includes 192kHz/24-bit ALAC, AIFF, FLAC and WAV, plus 5.6MHz DSD; 384kHz/32-bit AKM DAC; HDR passthrough including Dolby Vision; DTS Play-Fi; FlareConnect
PARTNER WITH
DEEZER HI-FI: This goes one up on Spotify by delivering CD-quality FLAC streams, albeit for a £ monthly premium. You'll find the majority of tracks are offered lossless, and the 'Flow' function is a good tool for discovering new music.