Samsung has delivered the first 8K TV – John Archer ignores the price tag and focuses on what it can do to his UHD disc collection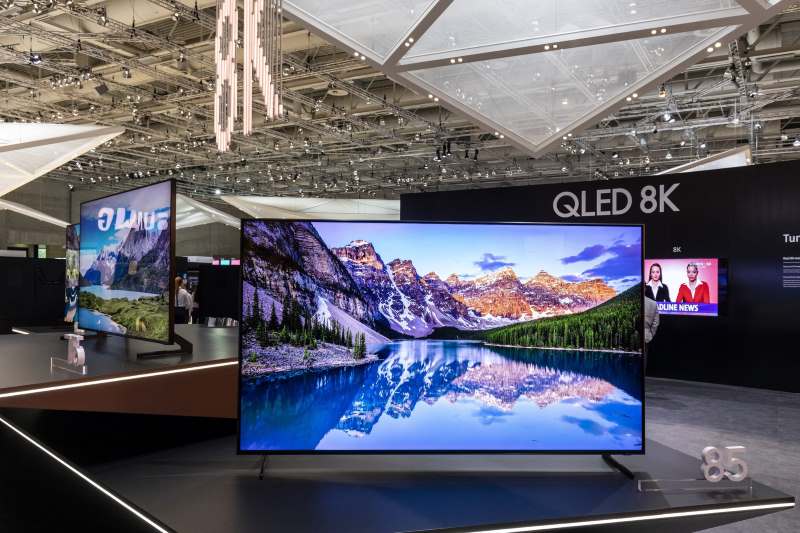 Just as when 4K displays were first announced, the early buzz around 8K TVs has been predominantly negative. 'Who needs 8K when 4K content is still barely a thing?' has been the cry. Often followed by, 'I bet you can't see any difference between 4K and 8K anyway.' But I've got news for all the naysayers, having spent time with Samsung's QE85Q900R: 8K TV is absolutely brilliant.
85in direct-lit QLED TV with local dimming and 8K resolution
Position: Samsung's flagship flatscreen for 2018
PEERS: Samsung 75Q9FN; LG 77OLEDC8; Sony KD-75ZD9
Right from the off this cutting-edge display makes an impact thanks to a mammoth 85in screen. The format's 33 million pixels will always have more impact on a bigger canvas, so it's probably no surprise that Samsung has chosen to kick off its 8K campaign in such king-sized style, although there are also 75in and 65in variants.
7Review earns Amazon affiliate commissions from qualifying purchases. You can support the site directly via Paypal donations ☕. Thank you!
See also TOP Televisions
and The best OLED TV deals 2022: get an awesome OLED at the lowest price
The size of this TV will, of course, limit the QE85Q900R's appeal. As will its £ asking price.
That said, 85 inches is squarely in home cinema territory. And, actually, £ is not as crazily expensive for such a groundbreaking (and big) TV as might have been expected.
Making a connection
Aside from its size, the set's main design features are its external One Connect box (which means just one cable goes into the screen), and its low-power Ambient Mode. This lets you put one of your own digital photos or a digital artwork/screen saver on the screen when you're not watching it, so you're not left with a gaping 85in black hole in your room.
The One Connect box's connections chiefly comprise four HDMI ports, three USBs, and the now de rigueur Bluetooth and wired/wireless network connections.
There is a catch with the HDMIs, though: none are built to the HDMI 2.1 standard. So while they somehow handle some HDMI 2.1 features, including Auto Game mode and Variable Refresh Rate (VRR) gaming support, they can't convey 8K at more than 30 frames a second.
Samsung is, however, working on a new One Connect box that will carry an HDMI 2.1 port. This will ship with Q900R TVs at some point next year, and will also be made available to people who've previously bought a Q900R without the HDMI 2.1 input. The company can't yet confirm, though, the terms on which current buyers might obtain the upgraded box – considering the £ price of this 85in model in particular, you'd hope it might be a free swap.
It turns out that the QE85Q900R is not only a picture quality flagbearer because of its next-gen resolution.
This set also hits brightness levels not witnessed before on any consumer television. In fact, while Samsung claims 4,000 nits for the TV, I measured nearer 4,800 in its Dynamic mode (although this drops to around 2,500 with the Movie picture preset selected).
Such high peak brightness means the 85Q900R should take HDR images to all levels of dynamism. 4K Blu-rays mastered to 4,000 nits, meanwhile, ought to spool without needing Samsung's silicon to overtly modify tones and detail in the brightest parts of the picture.
The 85Q900R is one of Samsung's QLED models.
In layman's terms this means it produces colour using proprietary Quantum Dots encased in metal 'suits' that enable them to push brightness and colour range.
1. At 85in, this isn't the sort of TV you'll slip unnoticed into a living room
The detail, clarity, depth and colour resolution in this TV's native 8K images is beyond anything I've seen before
Sticking with HDR10+
The TV's operating system is the same found on the brand's 4K range – no bad thing given how easy to use it is and full of content options. Only catch, however, is that there's no support for Dolby Vision HDR; as usual with a Samsung TV, the 85Q900R 'sticks' at HLG, HDR10 and HDR10+.
Samsung has, though, developed a new Quantum 8K processing engine for its latest flagship TV, which includes arguably the 85Q900R's most important feature: an 8K AI upscaler. This draws on a built-in (and updatable via firmware) image database to calculate how to insert the tens of millions of extra pixels required to map 4K and even HD and SD pictures to the screen's native 7,640 x 4,320 resolution. And it works better than I'd imagined possible.
With 4K sources, such as the beautifully clean 4K Blu-ray of Ant-Man and The Wasp, this upscaling is pretty much flawless. It makes images look significantly more detailed and crisp without colour errors, or typical upscaling side effects such as double-edging, shimmering and an unnatural grittiness. Source noise is almost removed during the upscaling process, while even the faint traces of jaggedness around curved edges you can get with 4K TVs are essentially completely blitzed by the tiny 8K pixels. Just make sure you turn off the TV's Digital Clean View feature with 4K sources, as this can soften some of the detail away.
Even more impressively, the TV's upscaler can handle HD and SD sources well enough to make them look better, rather than the messy horror shows I'd expected.
I'm not suggesting here that HD sources gain an 8K appearance. But they do look tangibly more polished than straight HD images would, with the 8K AI engine removing MPEG compression noise and jagged edges.
Some user input is advised, though. I'd set the Digital Clean View NR tool to Low for HD sources, and switch it to Auto with SD material. And with the latter content, you should only expect the upgrade to look like something just beyond HD rather than 8K.
On the hunt for 8K
I looked first at the 85Q900R's performance with sub-8K sources rather than heading straight for native 8K because, well… native 8K content is pretty much nonexistent right now. Anyone who buys a Q900R in 2018 will be almost completely using it to watch 'regular' sources.
Samsung itself could only provide around six minutes of especially commissioned native 8K footage for review purposes. Yet this actually proved more than enough to establish that genuine 8K looks nothing short of sensational. The amount of detail, clarity, depth and colour resolution present in the 85Q900R's native 8K images goes far, far beyond anything I've seen with even the best 4K experience.
What's more, these various advantages are visible from a perfectly reasonable/typical viewing distance of 4-5m. You don't have to stand there with your nose pressed to the screen. Doing so, however, can help you understand why 8K looks so much more like reality than a simple TV picture, as even up close you'll struggle to make out any of the pixel structure, noise or jagged edging.
Presumably the impact of 8K will be less spectacular on the 65in and 75in Q900Rs Samsung is launching. However, the dots-per-inch effect that's made resolution a relevant feature even on smartphones will surely still have some impact. As will, it must be said, the efficiency of your own peepers…
Less clear cut is whether 8K will look as sumptuous on any old TV. After all, on this Samsung all those pixels are backed up by an outstanding squad of supporting picture features.
Contrast, for instance, is immense. The set uses a direct LED lighting system with 480 zones of local dimming to ensure that its searing brightness is partnered with impressive black levels. In fact, despite its size and brightness, it can produce peak HDR picture elements against a near black backdrop – such as the lift that goes up from Churchill's war rooms after his first radio speech in the Darkest Hour 4K Blu-ray – with no trace of backlight clouding or blooming at all. The 85Q900R seems even better in this respect than Samsung's Q9FN 4K range.
Backlight management differs from those 4K stablemates in two other ways. First, this model uses a higher base brightness level, allowing you to see more shadow detail in dark areas. This lends HDR images a more balanced and three-dimensional feel. It also leads to another, less positive difference: less deep general black levels.
It's noticeable, too, when running the 85Q900R alongside a Q9FN, that the 8K model takes more brightness out of small HDR highlights than the 4K set, presumably to minimise blooming. However, with bigger bright objects the 85Q900R looks substantially punchier than the Q9FN – still without causing blooming.
Holy colours Batman!
The substantial general brightness means colour volumes are extremely impressive, particularly with Samsung's QLED system on hand to help saturations keep pace. This leads to a new level of expression with the wide colour technology found with most HDR sources. For instance, I've never seen The LEGO Batman Movie (Ultra HD Blu-ray), which was made with a deliberately overblown colour palette, look so riotously rich and dynamic.
With 4,000-nit masters such as It and Mad Max: Fury Road on 4K Blu-ray, the TV copes uniquely well, presenting copious detail in the image's brightest areas.
It's not always a peerless picture, however. Every now and then, with relatively dark sequences that contain a complicated mix of light and dark content, such as some of Darkest Hour's war cabinet meetings, the screen's backlighting can cause colour tones to become a little thin, and some sudden blooming can creep into the black bars above and below wide aspect ratio pictures. And I found you have to be quite careful with the 85Q900R's settings if you want to get a balanced, natural SDR picture that doesn't exaggerate source noise, too.
Finally, the 85Q900R's sound is disappointing. It's free of distortion and displays a decent dynamic range, even with the rich dynamics of Ant-Man and The Wasp's 'Quantum Realm' scenes. But the sound always appears to be coming from behind the screen, rather than taking over the room and immersing you in the action. This is a cinematic display that should be tethered to a home cinema sound system from day one.
Ambitious move
The little list of niggles above reveal that the 85Q900R is not quite perfect. But that doesn't change the fact that this megascreen takes TV picture quality to resolution (and dynamic) places it hasn't gone before – regardless of whether you're watching the native 8K sources of tomorrow or the lower-resolution sources of today. It's an ambitious move from Samsung, and one that should satisfy well-heeled early adopters
VERDICT
SAMSUNG QE85Q900R Review
The 85Q900R doesn't just rely on its 33 million pixels or native 8K content to create a stunning spectacle. Yes, it's expensive, but it's also a reference-grade display.
Add your review
Best SAMSUNG QE85Q900R prices ?
MORE DEALS

See also TOP Televisions
and The best OLED TV deals 2022: get an awesome OLED at the lowest price
2. The TV claims a best-in-class 4,000- nit peak brightness
3. Samsung's twin- foot stand has to be rugged enough to carry the TV's 56kg weight
4. The set's LEDs fire from behind the panel, combined with 480-zone dimming
SPECIFICATIONS
3D: No 4K: Yes. Actually 8K – 7,640 x 4,320 resolution HDR: Yes. HLG; HDR10; HDR10+ TUNER: Yes. Freeview HD; satellite HD CONNECTIONS: 4 x HDMI inputs (currently 2.0, but one with 2.1 support will feature on One Connect boxes next year); 3 x USB; Ethernet; RF input SOUND (CLAIMED): 60W BRIGHTNESS (CLAIMED): 4,000 nits CONTRAST RATIO (CLAIMED): N/A DIMENSIONS (OFF STAND): 1,905.2(w) x 1,094.2(h) x 35.2(d)mm WEIGHT (OFF STAND): 56.1kg
FEATURES: Built-in Wi-Fi; multimedia playback; Quantum processor 8K; 8K AI upscaling; QLED technology; Eden 2.0 smart platform; direct LED array with local dimming (480 zones); Bluetooth headphone output
PARTNER WITH
M&K SOUND IW150: Sit the Samsung screen in a dedicated room and partner its 8K visuals with cinematic sonics. M&K's premium in-wall speakers deliver a detail-rich and dynamic performance, while blending into any room.