This flagship network audio player boasts a formidable spec sheet. Ed Selley listens in to see if it has sonics to match. Read our Pioneer N-70AE Review.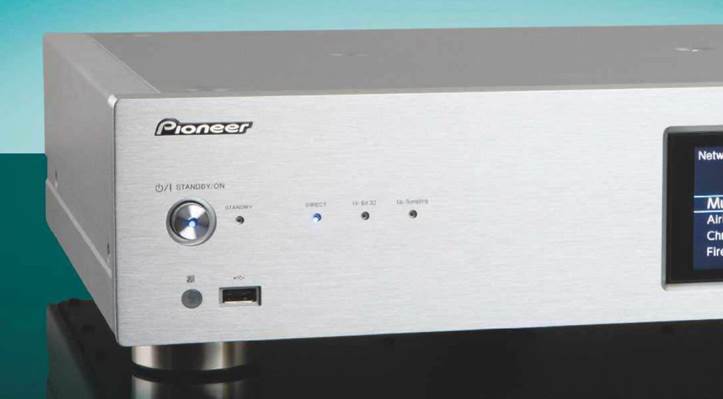 Japanese manufacturer Pioneer has become rather prolific in the world of networked audio players of late. The N-70AE represents the flagship of its four dedicated streamers – alongside a networked all-in-one system with CD player and DAB on board that claims 2 x 50W power output into 4 ohm.
As befits any model being at the top of the tree, Pioneer has ensured that the N-70AE wants for nothing in specification terms. The decoding platform is built around a streaming solution that works via wired and wireless connections and is compatible with 24-bit/192kHz PCM and up to DSD256. Decoding is handled by a pair of ESS Sabre 9016 DACs and runs in dual mono and fully balanced configuration, available to coaxial, optical and USB Type-B digital inputs. The USB betters the streaming section and is 32-bit/384kHz capable and there are coaxial and optical digital outputs as well as analogue RCA and XLR.
As well as network content, the N-70AE is able to natively access Tidal, Deezer and Spotify alongside internet radio services. If you want to listen to a streaming service beyond those already on board, there's AirPlay and Chromecast support while Flare Connect allows Pioneer – as well as components from sister brand Onkyo – to work together in a multi-room setup. DTS Play Fi is also
DETAILS – Pioneer N-70AE Review
PRODUCT: Pioneer N-70AE
ORIGIN Japan/Vietnam
7Review earns Amazon affiliate commissions from qualifying purchases. You can support the site directly via Paypal donations ☕. Thank you!
TYPE Network music streamer with DAC
WEIGHT 11.4kg
DIMENSIONS (WxHxD) 435 x 121 x 364mm
FEATURES
• 32-bit/384kHz and DSD256- capable DAC
• Wi-fi and Ethernet streaming
• Digital inputs: 1x USB-B; 1x coaxial; 1x optical
• Digital outputs: 1x coaxial; 1x optical
• Integrated Tidal, Spotify and Deezer support
DISTRIBUTOR Pioneer & Onkyo Europe
WEBSITE pioneer-audiovisual.eu/uk
on board, but uses Pioneer's own dedicated app available for iOS and Android. It can also read content off USB sticks and drives directly.
A dedicated headphone amplifier complete with its own volume control is also included on the front panel.
The performance of the N-70AE is usefully adjustable too. It benefits from Pioneer's own PQA jitter suppression system and a 32-bit upsampling option. One of the more technically intriguing widgets lurking in the menu system is a lock range adjustment system. This narrows the permissible variations in sample rate that it will accept in the pursuit of higher performance within that reduced range. Of course, if this strikes you as a little bit too tweaky, you can press a direct button and allow the N-70AE to simply do its stuff. The only notable omissions from the specs are Bluetooth wireless connectivity and the ability to operate as a preamp – although given that Pioneer makes neither power amps nor Bluetooth speakers, this doesn't come as too much of a surprise.
As well as boasting this formidable spec, the N-70AE looks and feels the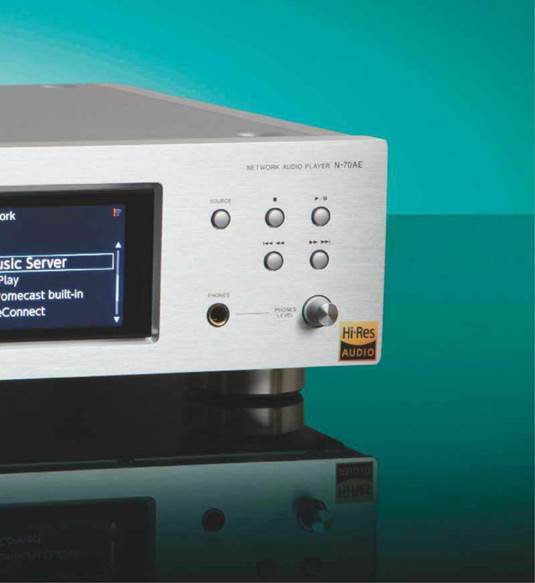 part too. The overall design is quite handsome and the fairly clean front panel manages to look contemporary and elegant at the same time. The casework is built on the Rigid Base system and provides a stiff and well damped underpinning for the casework with isolated digital, analogue and power supply sections. There is a 3.5in screen that displays artwork, artist and album information
and time elapsed as well as details of Pioneer's myriad setup menus. The control app takes the strain in terms of control, although a remote handset is additionally supplied and the player itself feels extremely comprehensive and nicely assembled.
Sound quality
Connected to a Melco N1A (HFC 397) NAS drive via Ethernet and a Naim Supernait 2 integrated amplifier via RCA, the N-70AE's sound in many ways mirrors its appearance. The 16/44.1 rips of the slowly building Neighbourhood #1 (Tunnels) by Arcade Fire shows this to good effect. The sound is clean and effortlessly neutral in its overall presentation.
What is particularly impressive, though, is that this calm neutrality doesn't tip over into sounding dull or sterile. Win Butler's vocals display all the emotion and richness that they should and there is an almost analogue quality to the way that the piece flows.
Where it leaves all but the most top-notch analogue equipment standing is the bass response. The most notable aspect of this is not the
It delivers a superb performance with standard-definition and hi-res material
absolute depth on display – although listening to the 24/96 download of Underworld's Ova Nova is seismic – but more the texture, detail and control from the lower midband down. The iconic opening bass riff of Nirvana's Come As You Are has weight, texture and a sheer realism that is one of number of threads that the N-70AE effortlessly ties together to form a believable performance.
This is helped in no small way by there being a completely consistent and compelling sense of three dimensionality to the manner that it delivers material. Ali Farka Toure's superb guitar work in Savane hangs in free space, divorced from either loudspeaker and locked slap bang in the middle. There is also a real perception of depth to the sound as well. This ability is completely unaffected by the scale of what you
Connections

1 Analogue XLR output (left)
2 Digital optical and coaxial outputs
3 Digital optical and coaxial inputs
4 Ethernet port
5 USB Type-B input
6 Analogue RCA output (right)

Slick design combines with simple operation play on it and even the full blown 24/96 download of Max Richter's interpretation of Vivaldi's Four Seasons doesn't faze the N-70AE, with the full orchestra being beautifully rendered.
The good news is that the N-70AE carries over this fundamental ability to make music in a believable and compelling way across the many and varied ways it is capable of receiving the raw data. The handling of Tidal material is impressive. A curated playlist of the rising lights of the London Jazz scene give it an ideal opportunity to show its tonality and
There's a completely consistent and compelling sense of three dimensionality
spaciousness off and it adds an unforced but well-judged sense of timing too. Compared with my resident Naim ND5 XS (HFC 352), it might not feel as propulsive, but crucially it never sounds sluggish or lacking in control.
The only real issue that bedevils the N-70AE isn't a sonic one. With such wide-ranging functionality, it is very dependent on its control software, and the app doesn't feel quite as solidly hewn as the player does. Navigation can be slow and during Tidal playback in particular, periodically stops altogether. Its flexibility partially comes to its rescue here. Using it as a USB DAC with the Melco via a generic third-party app is completely stable and Tidal via AirPlay is also entirely reliable (and has a better interface on the iPad too), which neatly circumnavigates any stability issues. The problem is that the N-70AE is heading into a price point where some rivals don't suffer from the same issues (see How it compares box out).
The good news is that software niggles of this nature can be fairly easily corrected and, as noted, there are ways to bypass them with the facilities on board. If you listen to albums rather than playlists and are more likely to use the app to infrequently select the next candidate, it is going to be less of an issue.
If you are a regular headphone user, the N-70AE's internal headphone amp is something of a star. Connected to Audio-Technica's ATH-A2000Z headphone (HFC 412), the performance shares the same qualities as the line outputs and has enough power and headroom to make the full-size home headphone sound big and convincing. Only the lack of volume control on the remote stops it from being a near-perfect addition.
Pioneer N-70AE Review: Conclusion
In fact, 'near perfect' is a good way of looking at the N-70AE as a whole.
This is a player that is superbly specified and that is capable of delivering a performance with both standard-definition and hi-res material that is deeply impressive, even when the strength of the competition at the price point is taken into account. When you add the excellent build, handsome appearance and general levels of thought and care that have gone into the way it is assembled, the appeal only grows. Depending on how sensitive to software you are, you might find that the N-70AE just misses the mark, but for many network audio fans this will be too strong a proposition to ignore
Pioneer N-70AE Review: OUR VERDICT
Recommended
Pioneer N-70AE Review
Well specified streamer with great all-round performance, but some app issues
PROS
Refined, accurate and powerful sound
Excellent facilities and build
CONS
Clunky interface
Fractional lack of excitement
Add your review
|
Read reviews and comments
Best Pioneer N-70AE prices ?
MORE DEALS

Q&A
ES: What would you say are the main differences between the N-70AE and its predecessor?
KSR: The N-70AE takes the basic platform of the original N-70 – itself a very well-specified device – and incorporates a range of changes that we feel make it both more capable and user friendly. Performance has been boosted by the addition of PQFA (Precision Quartz for File Audio) circuitry that allows us to apply jitter noise reduction to the USB and network inputs. These revisions are combined with fully balanced analogue signal processing for improved performance 'front to back.' We have added a selection of features to make the product more user friendly too. It is now possible to write files to an external hard drive; we have integrated Chromecast and Tidal; moved to TuneIn internet radio support; and developed a new control app. Finally, we have also added integrated dual-band wireless networking.
Does Pioneer see customers using the USB DAC input in addition to network streaming?
The Pioneer Product Planning team believes there are three types of customers. The first two types use both the USB DAC input and network streaming, but will use one or the other the majority of the time. The third type is solely focussed on network streaming.
Where does Pioneer see its hi-fi range in the future?
The belief is that network playback will eventually become the norm, but until that day arrives Pioneer will continue to support USB DACs and disc player sources alongside network components in its hi-fi range.
HOW IT COMPARES
The Pioneer costs around £5 less than the Auralic Altair (HFC 428) and in some ways the facilities it offers are similar. The N-70AE is a line-level device while the Auralic is able to function as a digital preamp as well – although it works as a line-level device too. The option of adding an internal drive is an interesting addition to both, but where the Auralic has the edge is the control interface. Its Lightning app is fast, flexible and stable in a way that the N-70AE's comes up rather short. Some improvements in this area would close the gap, though, making the Pioneer a close rival at a more attractive price.