Richard Stevenson runs the rule over a new Paradigm subwoofer with advanced room EQ built-in. Read our Paradigm XR 13 Review.
The XR 13 is the larger of two new subwoofers from Canadian brand Paradigm, wilfully skipping standard 10in or 12in driver sizes for fully bespoke units of Ilin and the bigger 13in auditioned here. Selling for a cool £, it's dripping with tech and cosmetic cues from the Founder Series loudspeakers, including the satin walnut finish on our review sample, making them natural room-share candidates.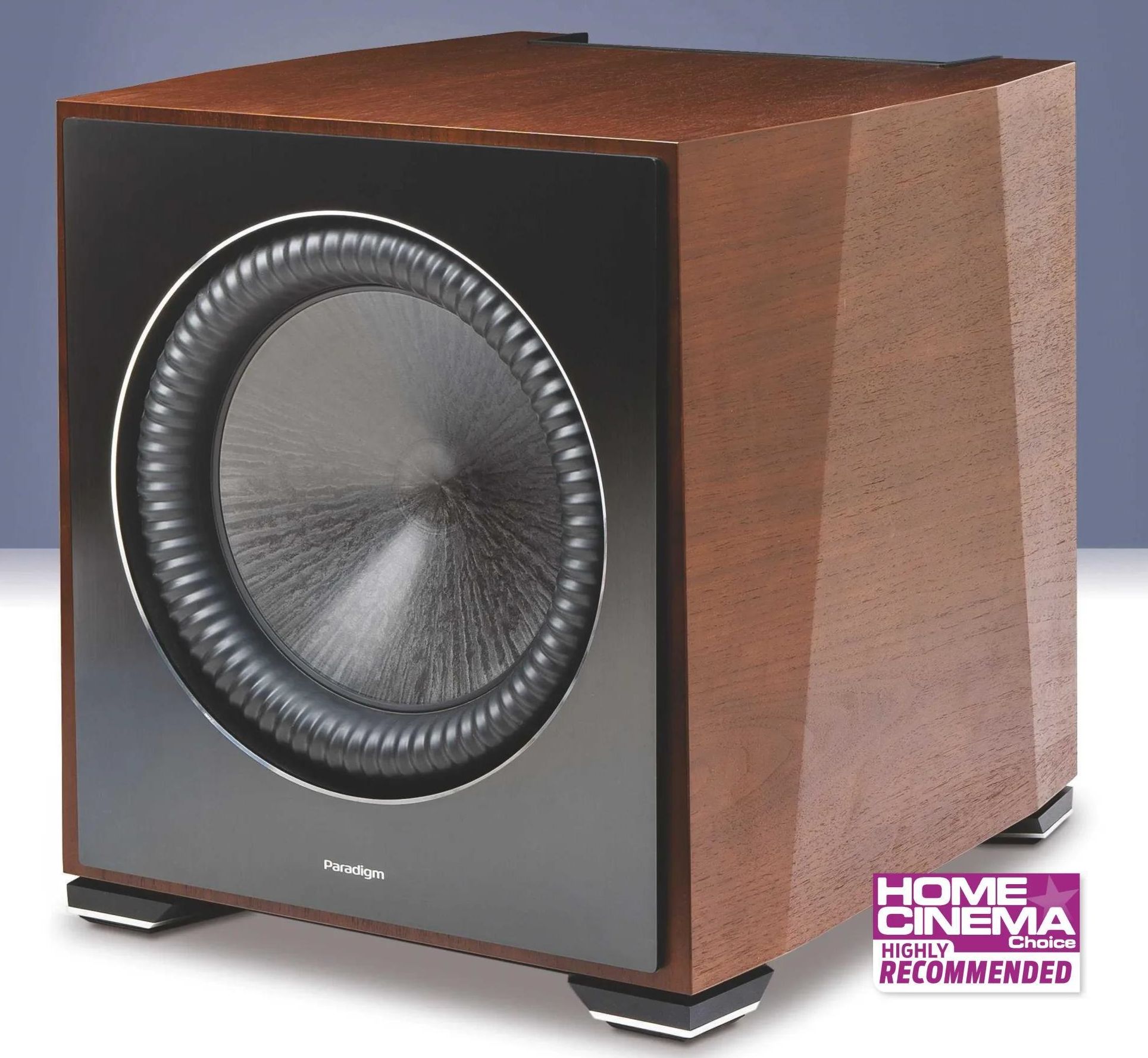 AV INFO
| | |
| --- | --- |
| Product | 13in active subwoofer with ARC Genesis EQ |
| Position | Larger of the new XR models |
| Peers | REL 212/SX; B&W DB1D; Perlisten R212s |
| Website | www.paradigm.com |
Like the speakers (see HCC #325), Paradigm's XR subwoofers are relatively svelte and compact considering their driver complement, with even the mighty XR 13 coming in at a 'sensible-for-UK-rooms' size of under 50cm in all three dimensions. This makes its 47kg mass even more of a surprise on your lumbar region when it comes to unboxing and room positioning.
The mass burden is largely a function of the 13in driver's truly enormous ferrite motor, which is not much smaller in diameter than the cone itself, and the heavily braced, sealed cabinet that's crafted from fibreboard thick enough to use as a fire door.
The driver is an upscale edition of the Founder Series' ultra-high-excursion bass units. It gets Paradigm's innovative dual-motor Trilinear Suspension, which claims to deliver 'clean linear motion' while 'pushing the envelope' in terms of excursion; a smooth and rather handsome profiled Carbon-X Unibody cone; and an 'overmoulded' ART (Active Ridge Technology) roll-surround. All in, Paradigm says its XR woofers took three years to perfect.
Amplification comes courtesy of 2,200W of Class D power, with DSP controls and sound options to be found in the partnering Paradigm Subwoofer app.
Dial it up
While such a feature list would tick all the boxes for a lot of subwoofers at this price point, the XR 13 dials up the count even further. There's a smooth touchscreen volume control set into the top panel, and the ARC Genesis room EQ system from sister brand Anthem is built in – with no additional software costs to pay. The XR 13 is even supplied with a dedicated high-quality microphone, mic stand, and the necessary cables, so all you need to do is add a PC/ laptop and you can get going.
7Review earns Amazon affiliate commissions from qualifying purchases. You can support the site directly via Paypal donations ☕. Thank you!
See also TOP 10 Subwoofers
RECOMMENDED VIDEOS FOR YOU...
The XR 13's build quality is absolutely top-notch from feet to finish. This sub exudes a rare solidity and inertness that makes it feel almost like a solid chunk of the timber from which the walnut finish was hewn.
Aesthetics are always going to be a matter of opinion and while this unit is fairly compact, it's not subtle on the eye, particularly with the grille off. Furthermore, the traditional wood finish is far too 'Welsh dresser' for my liking, and the faceted cheek panels really tweak my OCD even though I know they're designed this way to improve cabinet rigidity. Your aesthetic mileage will vary, of course, and the XR 13 is also available in piano black, satin black walnut and a very sweet gloss midnight cherry finish.
Control at your fingertips
The impression of high-quality engineering continues around the back. The massive plate amplifier, neat connection panel and large heat sink are superbly put together. A nice design touch is the recessed connections, which makes getting the XR 13 closer to the wall easier than most subs. The connection count covers the bases with balanced XLR and unbalanced RCA LFE feeds, plus stereo RCA line-level and stereo speaker-level inputs. The lack of loop outputs for additional subwoofers is perhaps a small omission, but with AVRs coming with ever more sub-out channels, it's not a biggie.
Aside from the ARC Genesis EQ and the glorious top-panel volume, control of the XR 13 comes via the neatly executed Paradigm Subwoofer app. Connecting to the sub over Bluetooth, it is intuitive, bold, and informative with individual modes for RCA and XLR inputs (Movie, Music and Night); the option to adjust the type of low pass filter (3rd or 4th order); 0-180 variable phase; and 'Deep Bass' enhancement should your room's foundations need compacting. A word of caution for itinerant tweakers, though: the micro-adjustable volume, in 1 per cent increments, could drive you mad. Skipping through Dolby Atmos music on Tidal, I found myself nudging the sub gain one way or another a few per cent on every track!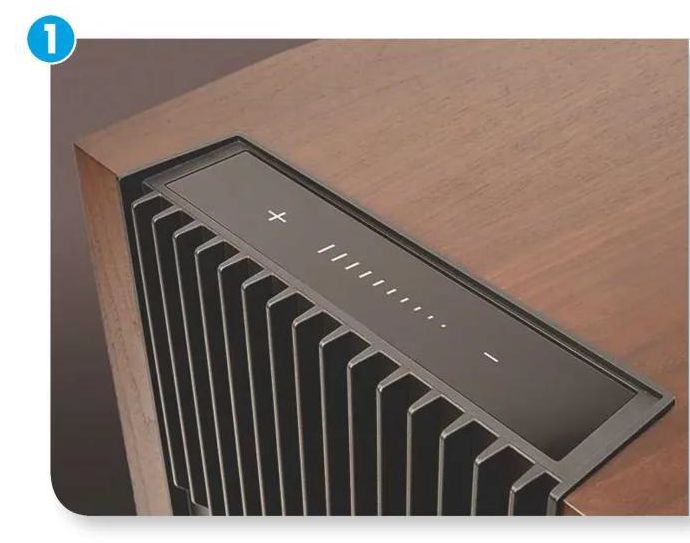 1. At the back of the top panel is a touch-sensitive volume control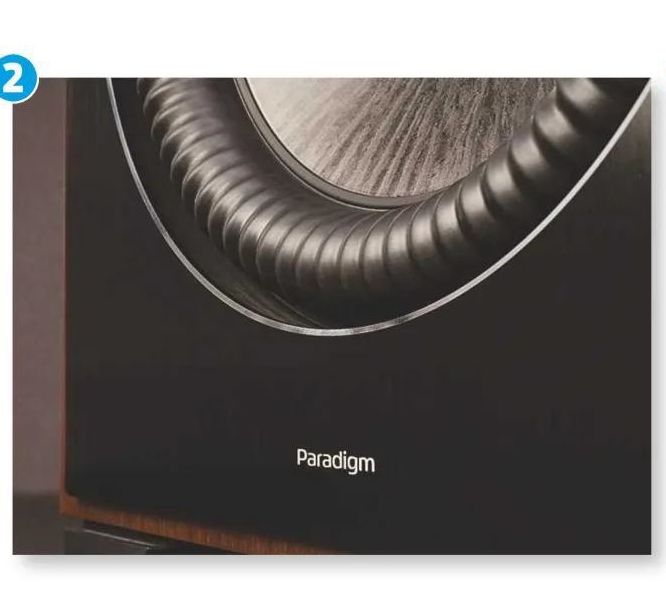 2. The 13in woofer gets Paradigm's 'Active Ridge Technology' roll surround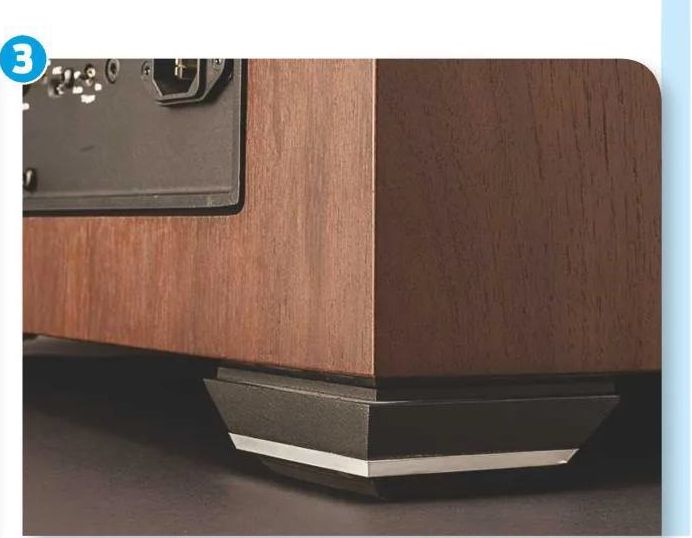 3. Another innovation borrowed from Paradigm's speakers are the multi-layered 'Advanced Shock-Mount' Feet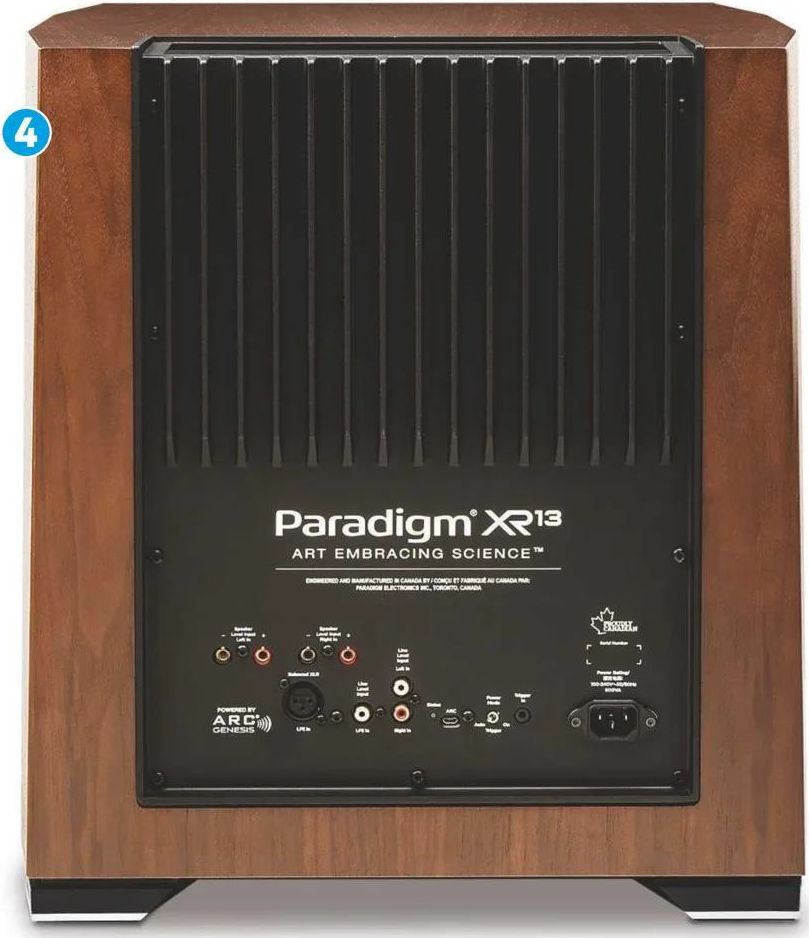 4. On the XR 13's rear, connections are recessed and mounted beneath a sizable heat sink
Installing the XR 13 proved to be a little more challenging than anticipated, starting with its weight and feet that literally anchor to the carpet, conspiring to ensure lifting and lugging is required to find a suitable spot. Side positions seemed to hook up across the width of my room and threatened to quite literally blow the bloody doors off, and corner placement got my room very excited. I eventually settled on the front wall beneath the screen and just off-centre.
'The Expendables' punches, crunches and gunfire played to the XR 13's momentous dynamic strengths'
As initial 'raw' tests found the XR 13's output to be rather big, boisterous and boomy, ARC was the obvious next step. I am not sure the size of room Paradigm expects this sub to grace, but the 3m supplied sub-to-laptop USB cable was too short to get to my sofa. That meant laying on the floor with the laptop, adding to the reach required for the computer-to-mic USB cable, which at 2.5m barely got to the back of my sofa for the rear measurements. It's a cheap fix, but two 5m USB cables would be a whole lot more functional.
Visceral impact
The first few sweeps of ARC showed a whopping great spike in my room at 30Hz, some 15dB louder than 50Hz and above… ahh, that would be the 'boomy' bit. I ran the most basic five-measurement sweep around my two-seater cinema sofa, let ARC crunch the numbers and uploaded the result to the XR 13.
The result was absolutely night and day! The huge deep-bass bloom had gone, revealing thunderously powerful LFE with stupendous visceral impact. Suddenly, this super-powerful sub integrated smoothly with my front speakers, delivering chest-crushing levels of dynamic punch that had me nipping straight to the shelf to find The Expendables on Blu-ray.
The third act fight scene in the catacombs is a festival of punches, crunches and gunfire that played to the XR 13's momentous dynamic strengths, rattling the sofa with each blow. With material such as this, Paradigm's sub creates a huge LFE soundstage that will most likely get you nudging back on the gain as family and neighbours complain.
Netflix's thriller series Night Agent has a rather more refined soundmix, the opening sequence of the first episode featuring deep bass that mirrors both the train sound and an increasing heartbeat as a bomb is discovered. Each beat was delivered clear and distinct, with enormous weight, as ARC calibration stopped my room from playing too big a part in the audible action. And when the bomb exploded, the XR 13 delivered a deep and impressive thud that filled the room with sound pressure.
Whole lotta LFE
Paradigm's new bassmaker is for those who like LFE to be a major part of the AV fun, and probably in a room larger than my 20sqm. I have not heard a single-driver 12in or 13in model hit so hard and so deep, and while I have heard rather more articulate bass for music listening, very little can touch the XR 13's mesmerising power and impact with movie LFE.
This sub manages to merge the air-shunting power of a larger design with the dynamic agility of something smaller, from a compact, low-resonance cabinet. It then adds top-notch room EQ, a funky onboard touchscreen volume controller and slick app control for good measure. That is a whole lotta LFE goodness
SPECIFICATIONS
| | |
| --- | --- |
| DRIVE UNITS: | 1 x 13in Carbon-X Unibody woofer with Trilinear Suspension and Active Ridge Technology surround |
| ENCLOSURE: | Sealed |
| FREQUENCY RESPONSE (CLAIMED): | 17Hz-140Hz (+/- 3dB) |
| ONBOARD POWER (CLAIMED) | 2,200W (RMS) Class D |
| REMOTE CONTROL: | No. But control via the Paradigm Subwoofer app |
| DIMENSIONS: | 438(w) x 478(h) x 493(d)mm |
| WEIGHT: | 47.1kg |
| FEATURES: | XLR and RCA LFE inputs; stereo RCA input; stereo speaker-level input; top-mount touchscreen volume control; Paradigm Subwoofer app (Bluetooth); ARC Genesis room EQ with mic/cables included; Music/Movie/Night DSP settings; adaptable filter slopes; auto power on/off; sweep test tone mode; phase control; Advanced Shock Mount feet |
VERDICT
Recommended
Paradigm XR 13 Review
Paradigm's incredibly potent XR 13 is for those who like their LFE with an ASBO. ARC room EQ and an excellent control app help justify the premium price.
Add your review
Best Paradigm XR 13 prices ?
MORE DEALS

See also TOP 10 Subwoofers
TESTED WITH
THE EXPENDABLES: The film that kicked off Sly Stallone's action franchise (a fourth is incoming) is a tribute to the more-is-more school of audio mixing. There's monumental LFE throughout, so played with the XR 13 set to Stun (sorry, we mean 'Movie') it's pure home cinema heaven. Pick it up on BD (with DTS-HD MA) or 4K BD (Atmos).