Panasonic's SC-HTB900 is a cracking 3.1 audio system, says Steve May, but should you expect more? Read our PANASONIC SC-HTB900 Review.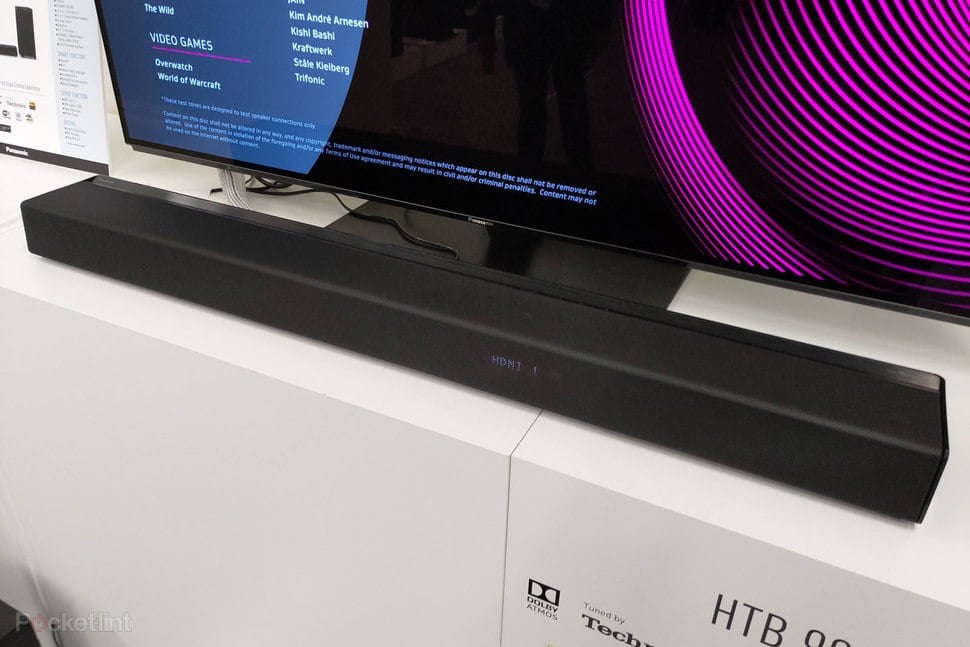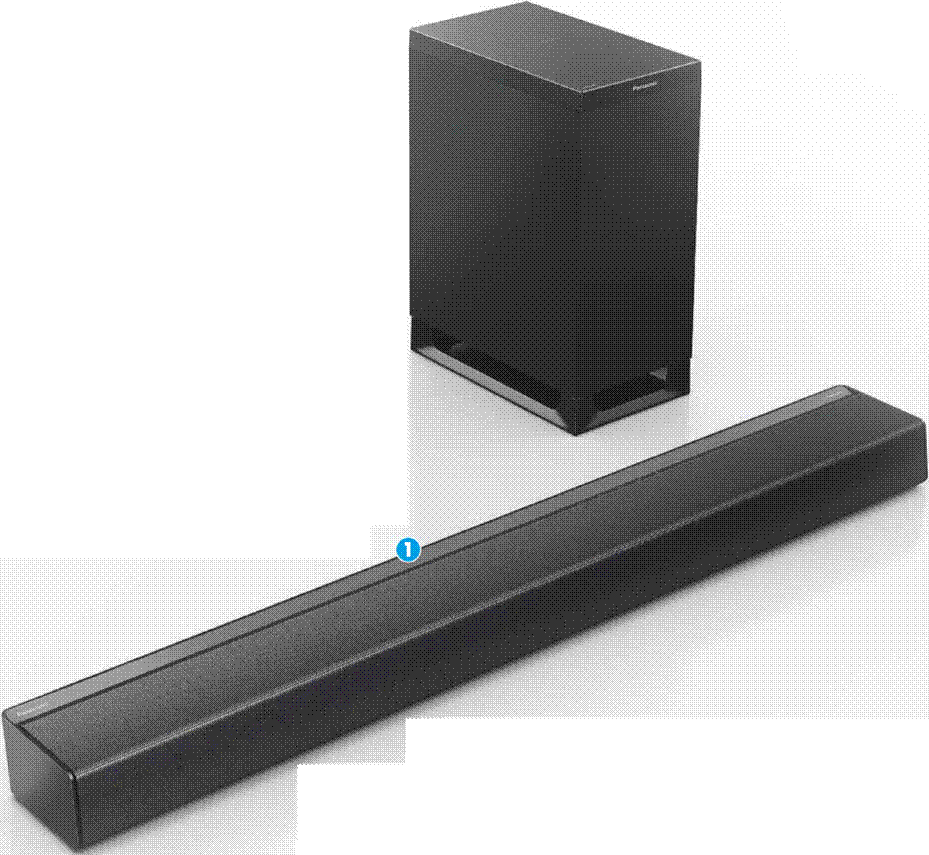 3.1-channel Dolby Atmos soundbar
Panasonic's top-of-the-range soundbar system
Sony HT-X8500; LG SK10Y
IN MANY WAYS, the SC-HTB900 is an unlikely flagship Dolby Atmos soundbar. It doesn't utilise any upfiring drivers to deliver sonic height and it can't be expanded with optional wireless rears. Immersive audio it offers not.
7Review earns Amazon affiliate commissions from qualifying purchases. You can support the site directly via Paypal donations ☕. Thank you!
See also TOP 10 Soundbars & Soundbases
Given that Dolby Atmos has long been a movable feast, in so much as the listening experience on one device won't necessarily be reflected on another, caveat emptor abounds.
But Panasonic has loaded the SC-HTB900 with some decent technology, and perhaps more importantly, persuaded engineers in its Technics division to help fine-tune its performance. The implication is that this 'bar serves hi-fi as well as movies. Is it time to rethink what a high-end soundbar should offer?
Audiophile promise
The SC-HTB900 looks the right side of posh. A smart curved grille and touch controls for power, volume and input offer a slice of style. A 'Tuned by Technics' badge promises audiophile authenticity.
The soundbar actually uses an iteration of Technics' long-standing JENO Engine, which is employed here to reduce jitter from connected HDMI sources. There are two HDMI inputs, plus an HDMI ARC output, all 4K-enabled. However, they only convey regular HDR10 – there's no HDR10+ or Dolby Vision passthrough.
Other inputs are optical digital audio, an IR blaster connection, and an Ethernet port as an alternative to Wi-Fi. To set the bar 'up wirelessly, you need to employ the Google Home app; I opted to use a hardwire connection instead, as it was a good deal quicker. Chromecast Built-in brings support for Spotify, TuneIn, Deezer and Google Play Music, while Bluetooth v4.2 is provided for mobile device streaming.
Behind the soundbar's grille sits a front-facing, eight- driver left/centre/right array. The stereo channels each get a pair of 2.5in woofers and dome tweeter, and two more full-range 2.5in drivers handle centre duties. The partnering wireless subwoofer is a relative lightweight at 5.4kg. But it's compact, which makes it easy to accommodate, and uses a downward-firing 6.25in driver, raised off the floor by a moulded plastic base.
A mounting bracket is included in the box if you want to position the soundbar under a wall-mounted TV. Measuring a shade over a metre wide, the SC-HTB900 is well-suited to screens 55in and larger.
Setup takes no time at all. There's no system calibration required, it's just plug and play. A link indicator lets you know when the wireless subwoofer has hooked up (if the subsequent thumps aren't a giveaway).
Usability is kept simple. In place of any onscreen menu, Panasonic provides a bright LED display readable through
A heck of a lot of fun to listen to – full-bodied, not thin, with fine vocal definition for movie dialogue and music
the soundbar's grille itself. A credit card-style remote control offers volume, input and Bluetooth pairing buttons.
As I've hinted, if you pick up the SC-HTB900 for immersive audio, you're in for a disappointment.
It may support Dolby Atmos and DTS:X, but it can't cocoon you in sound as you might expect from an AVR.
To give it its due, Panasonic correctly describes it as a 3.1 system. Play a Dolby Atmos mix, and the soundbar will direct rear surround and height information through its left/right speakers.
The 'bar compensates with a variety of sound presets, including Standard, Stadium, Music, Cinema, News and Straight. The latter is effectively a Pure option, keeping two-channel delivery for stereo content, and deciphering multichannel sources as 3.1.
There's some software chicanery on offer – a 3D Surround effect endeavours to push sound upwards, but the effort doesn't amount to an awful lot. I spun through a selection of reliable Dolby Atmos sequences and found all cemented to the front soundstage.
But there's a but – a big but. While the SC-HTB900 doesn't get jiggy with height or wraparound sonic FX, it does sound undeniably great on its own terms. Full-bodied, not thin, with fine vocal definition, both in terms of movie dialogue and musical performance, it's a heck of a lot of fun to listen to.
Revving up Baby Driver (Sky Cinema, Dolby Atmos) allows the 'bar to really strut its stuff. That opening bank robbery is presented as a wide, detailed soundscape – the soundstage is far wider than the physical confines of the system might imply – and exhibits an appreciable level of slam.
The soundbar has a tad more physical volume than we've seen from Panasonic in the past, allowing midbass to be handled without a need to cross over high to the subwoofer (it's set at 100Hz, which is relatively low for this category of kit). As the soundtrack pumps hard and fast, this system does everything it can to get the adrenaline flowing.
In many ways, the subwoofer proves to be the biggest surprise of the show. While the soundbar looks the part, its bass buddy seems comparatively token. But there's some DSP cleverness at work here. This little sub can rumble when it needs to, starting to stir air at around 31.5Hz, and really kicking into action at 50Hz. The crossover is nicely judged too. There's ample opportunity to over-act during
Kingsman: The Secret Service (Blu-ray) but the system never draws unwanted attention to its constituent parts.
Feature tweaks include an adjustable dialogue enhancer, and 'Dialog Control', which only works with DTS:X content. Other options include Dynamic Range Compression, which maintains dialogue clarity at low listening levels, and Auto Gain Control to iron out unexpected peak volume levels.
Given that there's no sonic clue as to what you're listening too, it helps that there's a mode which confirms what format is being played. Hold the Sound button down for four seconds to confirm the container.
The system's total power output is rated at 505W (3 x 85W across the front, and 250W driving the sub). As is the way with soundbar specs, these numbers are designed to sound ridiculously big, and shouldn't be taken too seriously. However, in an average-sized room, the SC-HTB900 had no problem making itself heard.
Fine-sounding package
The SC-HTB900 is ultimately something of a curiosity. What it's not is a Dolby Atmos soundbar with the ability to befuddle the senses and give the illusion of immersive audio. It's not particularly HDR-friendly either.
It is, however, a fine-sounding 3.1 package that's exciting to listen to in all the right ways. It boasts a surprisingly visceral bass performance (even overly boomy at times), has a fluid mid-range and exhibits a decent sense of rhythm for streaming music services. It's more than worth an audition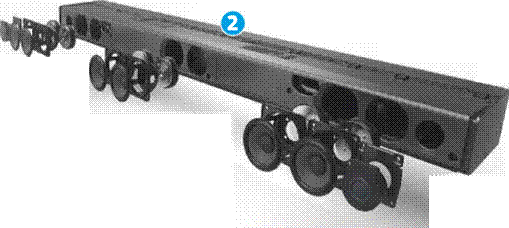 VERDICT
PANASONIC SC-HTB900 Review
While not quite what it appears to be in terms of audio immersion, this Technics-tuned 3.1 system is a consistently entertaining listen.
Add your review
|
Read reviews and comments
Best PANASONIC SC-HTB900 prices ?
MORE DEALS

See also TOP 10 Soundbars & Soundbases
SPECIFICATIONS
DRIVE UNITS: 4 x 2.5in woofers; 2 x 2.5in full-range drivers; 2 x dome tweeters ONBOARD POWER (CLAIMED): 3 x 85W CONNECTIONS: 3 x HDMI inputs; 1 x HDMI output (ARC); digital optical audio input; Ethernet; IR input DOLBY ATMOS/DTS:X: Yes/Yes SEPARATE SUB: Yes. 6.25in woofer/250W amp REMOTE CONTROL: Yes DIMENSIONS (soundbar): 1,050(w) x 129(d) x 78(h)mm WEIGHT (SOUNDBAR): 6kg
FEATURES: Wi-Fi; Bluetooth v4.2; supplied wall bracket; Standard, Stadium, Music, Cinema, News and Straight sound presets; 3D/Virtual Surround; WAV (192kHz/24- bit), FLAC (192kHz/24-bit), AIFF, ALAC, AAC and MP3 file playback; Chromecast Built-in; subwoofer level adjustment
PARTNER WITH
PANASONIC TX-58GX800:
Larger iteration of the 50in GX800 4K LCD TV reviewed in HCC #302. Stable backlight handling, impressive HDR brightness and a slick smart platform make this mid-ranger stand out.
1. Panasonic's 6.25in subwoofer connects to the 'bar wirelessly
2. There are pairs of 2.5in drivers for each channel