Mark Craven struggles to accommodate LG's top-of- the-range Dolby Atmos soundbar, but is glad he did. Read our LG SK10Y Review.
AV INFO
PRODUCT: Dolby Atmos- capable soundbar/ subwoofer combi with 4K switching
POSITION: LG's flagship 2018 soundbar system
PEERS: Samsung HW-K950; Yamaha YSP-5600
LG's SK10Y is a big, beast of a soundbar designed to partner premium 4K TVs, shove their in-built speakers aside and bring on Dolby Atmos-flavoured home cinema entertainment. Manufactured in partnership with Meridian Audio (as was the WK7 speaker), it takes the top spot in LG's 2018 lineup. It's ambitious.
There are more affordable models in the LG stable – and, of course, from rival brands – but they don't promise the premium performance offered here. Nor will they possibly cause as much installation headscratching.
'Look at the size of that thing!'
7Review earns Amazon affiliate commissions from qualifying purchases. You can support the site directly via Paypal donations ☕. Thank you!
See also TOP 10 Soundbars & Soundbases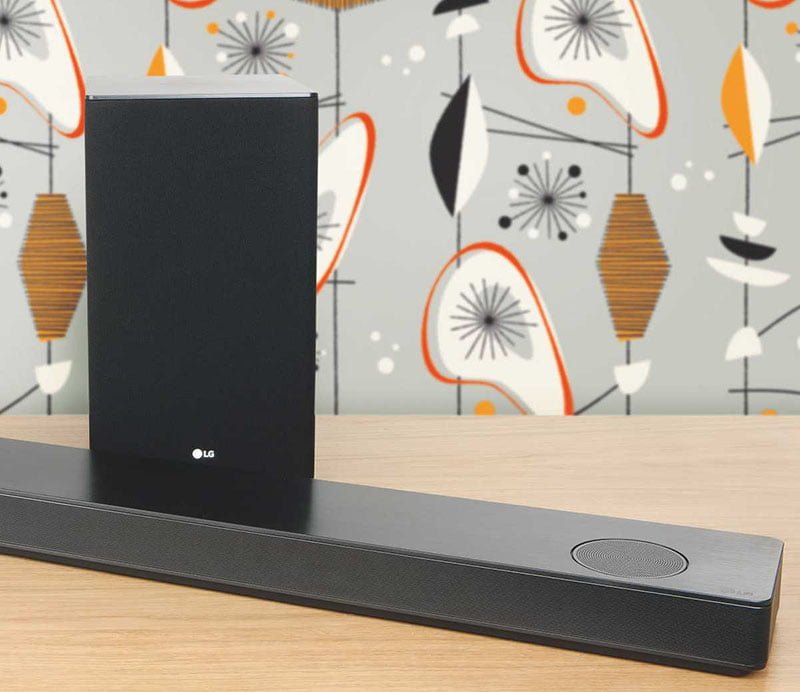 You may also like:
There's no sugar-coating it – the SK10Y is absolutely massive. It measures a monstrous 1.44m wide. I appreciate those mere numbers might not do it justice, so get out a tape measure and see for yourself exactly how long that is. It renders most typical AV furniture useless, and stands wider than all screens below 65in. So there's plenty to consider before you purchase.
Despite the size, it's not ugly. Its edges are round, and soft-touch controls take the place of physical buttons on the top plate. The metallic grey finish is on trend.
1. Full-range upfiring drivers are mounted at the end of the chassis
Visible through the grille on the front are clusters of drivers for left, centre and right channels. On the top of the chassis at either end are upward-firing units. A claimed 350W of power is shared around these drivers.
The subwoofer, which pairs wirelessly, wears a cloth grille around three of its sides, and looks neat. It's rear- ported, and offers no on-body controls. The driver is 7in, and the amp rated at 200W.
LG describes the SK10Y as a 5.1.2-channel design, by virtue of additional side-firing drivers. It also sells optional rear speakers to make a physical 7.1.2 setup.
When it comes to 3D audio, the soundbar will accept a Dolby Atmos bitstream via HDMI, and map it to its driver array (DTS:X, however, is not supported). There are two HDMI inputs, and an ARC-enabled output. Three dedicated inputs would have been better, especially at this price. During my audition, a 4K Blu-ray player and Sky Q box filled the HDMI quota and left no room for a PS4. The only option is to route a third source through your display and come in via ARC, which adds an extra level of complexity and may knock Atmos off the menu depending on your TV.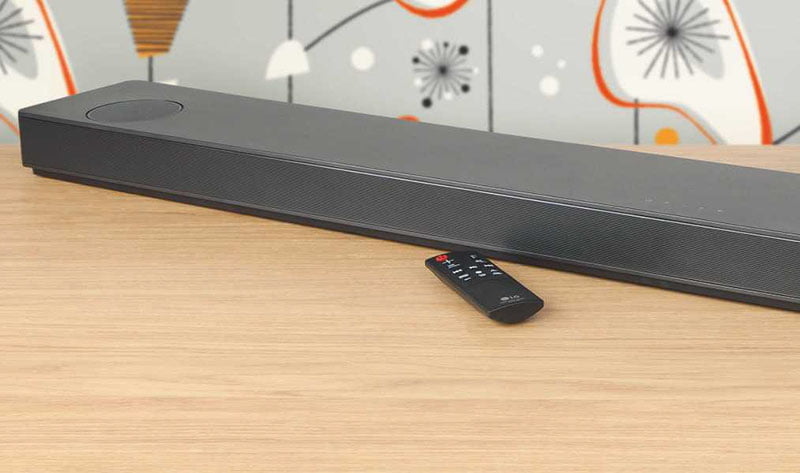 Additional specs include hi-res audio playback via a network, Chromecast Built-in, Google Assistant functionality through external hardware, and 4K/HDR passthrough. There's plenty here to separate it from the budget 'bar crowd.
A step up in scale
The soundbar is at its best with Dolby Atmos mixes.
The score of Blade Runner 2049 (via Sky Cinema in Dolby Atmos) is writ large and moody via the SK10Y's upscale driver/amp assemble. Surprisingly so, in fact – I was unprepared for the scale of the soundtrack swell, and the rich depth of the bass notes, as the film opens and we see K fly out to Sapper Morton's protein farm. It has cinematic flair, fills a room without batting an eyelid, and shows little sign of fatigue or distortion.
With Atmos tracks, the SK10Y showcases solid effect separation across its flat and vertical channels. Height details aren't lost amidst the LCR soundstage, but are clear and distinct. This is apparent in Chapter 4 of The Dark Tower (Ultra HD Blu-ray) and the moment where Jake is attacked by the house (don't ask…). There's a delicious crack of timber as the roof above him erupts.
The overall sound balance here feels better than last year's (more affordable) SJ9 – an indication, perhaps, of the LG/Meridian Audio partnership bearing fruit. Yet as with that Atmos bar, there's only so far it can go to can convey an authentic height experience from its two upfiring drivers. The reference trailers (Amaze, Leaf) on Dolby's Atmos demonstration disc offer flitting effects and failing rain, but – from a distance of around 3m and with the SK10Y sited on top AV furniture – all this action takes place in front of me. And nudging the height channel and surround channel volume controls via the remote didn't rectify the problem. Your experience in your own viewing room will no doubt differ, but I'd suggest the SK10Y is in need of an automated EQ/calibration process to help marshall its delivery.
The result is that you get something that sounds somewhat like Dolby Atmos, but isn't quite the real thing. However, I'm aware I'm coming at this from a different angle. In comparison to a traditional stereo soundbar, the sense of expanse and scale here is thrilling.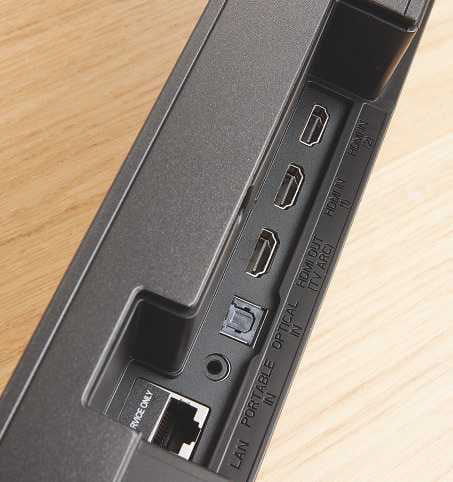 Late on in my audition, LG sent me the SPK8-S wireless speakers to play with. As you can get these for less than
The Atmos mix of Blade Runner 2049 is writ large and moody via the SK10Y's driver/amp assemble
£ if bought with an SK10Y, and that price includes a pair of speakers and wireless transmission box, I wasn't expecting them to be a tonal, dynamic match for the pricier SK10Y system. And so it proved, with localised spot effects sounding a bit underpowered. However, the addition of these extra physical speakers does make a noticeable difference to the overall soundscape, by providing a deeper field for the Atmos height channels to play around on.
It's tempting to say they are an essential optional purchase, but this introduces the usual issues of where to place them (the transmission box needs a mains power connection; the speakers need a suitable surface), and detracts from the simplified appeal or the SK10Y package.
When playing an Atmos soundmix the soundbar's Sound Effect modes are inaccessible. Switch to regular encodes (the 'bar plays out the lossy core from DTS-HD MA/DTS:X) or streamed music and you can select from Standard, Movie, Music, Bass Blast and ASC (Adaptive Sound Control) presets.
Movie brings the upfiring drivers into play, but it wouldn't be my always-on setting. Firstly, it should never be used with music, as it will turn your favourite tracks into an echoey mess. It's really quite unpleasant. With film soundtracks it's more forgiving, and has the effect of pushing the SK10Y's output deeper and higher into the room. But is it better than Standard mode? Chapter two of Fast & Furious 6 (Ultra HD Blu-ray) opens with a helicopter flying into view far left, and panning across the front.
In Standard mode there's a tightness to its chopper blades and an obvious correlation between audio placement and image. With Movie mode the helicopter has more presence, but the sound of its blades seems to jump around the screen more. It will come down to a matter of taste.
Neither is Music necessarily the best choice for your tunes, as it filters some information through the soundbar's centre channel. This lessens the purity of two-channel recordings, although I favoured its presentation over Standard. Music sounds both more open and bass-rich; integration between subwoofer and 'bar is good.
Hi-res formats up to 192kHz/24-bit are catered for, and all others are upsampled to the same. Don't expect this to work wonders with your low-res files, though.
3. Two HDMI inputs and one ARC output – is that enough for your system?
Feed me Atmos…
If I were to own an SK10Y, I doubt I'd play that much music through it anyway. Given its likeable performance with Dolby Atmos audio (and the fact you no longer have to experiment with its audio presets) I'd be trying to stick as close to an Atmos diet as possible. I'd probably budget for the additional rear speakers, too.
Usability is fine, the feature set is strong and audio performance can be breathtaking. It's not quite the finished article, though (the pseudo Atmos upmixing doesn't convince) and the price tag is considerable.
Oh, and don't forget how big it is
VERDICT
LG SK10Y Review
The size of this soundbar neatly correlates with the size of its soundstage. An impressive Atmos system, but greater EQ/ calibration options would help polish its performance.
Add your review
Best LG SK10Y prices in the UK ?
MORE DEALS

See also TOP 10 Soundbars & Soundbases
SPECIFICATIONS
DRIVE UNITS: 3 x tweeters; 3 x midbass; 2 x upfiring drivers; 2 x side-firing drivers ONBOARD POWER (CLAIMED): 350W CONNECTIONS: 2 x HDMI inputs; HDMI output (ARC); Ethernet; optical digital audio input; 3.5mm input DOLBY TRUEHD/ DTS-HD MA: Yes/No SEPARATE SUBWOOFER: Yes. 7in woofer; 200W amplifier REMOTE CONTROL: Yes DIMENSIONS (SOUNDBAR): 1,443(w) x 63(h) x 146(d)mm WEIGHT (SOUNDBAR): 7.5kg
FEATURES: Dolby Atmos decoding; compatible with wireless rears; wireless subwoofer; Standard, Movie, Music, Bass Blast and ASC modes; Bluetooth; Chromecast Built-in; HDCP 2.2; WAV, FLAC, ALAC, WMA, MP3, OGG, AIFF file support; works with Google Assistant; lip-sync; user EQ; Meridian technology
PARTNER WITH
LG SPK8-S: Find a wall socket for the SPK8-S's wireless receiver and hook this up to its two smallscale speakers and you're good to go with 7.1.2 cinema audio.