MX Linux 17.1 – Shashank Sharma's expectations of a modern-day distribution is a lumbering Goliath, which makes this distro fall squarely into the David camp.
The distribution is based on Debian Stable and can trace its origins to the coming together of the Mepis and antiX communities. Along with a lightweight and responsive XFCE environment, the USP for MX Linux is its user- friendliness and the array of basic and advanced custom tools. You'll also appreciate Solus if you like distros that come with custom tools.
According to several studies, the human brain is much quicker to form negative conclusions than develop a positive opinion. You can experience this phenomenon yourself when you try a new beer or come across yet another Nicholas Cage film. If you're impatient, you can find out this reviewers thoughts about MX Linux by glancing at the verdict box.
The latest release of MX Linux is based on Debian Stable, but the project started when the Mepis and antiX communities came together.
But don't let its ancestry cloud your judgement. The distribution ships live installable ISO images for 32- and 64-bit images. Along with XFCE desktop, the distribution boasts of a large selection of applications out of the box, including essential office and multimedia software, and even a handful of games.
You can launch the installer by clicking the icon on the desktop. The distribution features a custom installer, which asks the pertinent questions like the target location and if you choose to carve space for MX Linux, the installer launches t. You must also choose the destination for the GRUB bootloader, but that's it.
Customisations galore
The XFCE desktop features a bottom panel and a sidebar that's home to essential elements such as the volume knob and battery indicator. The launcher features a search bar to help you narrow down a specific application without having to navigate through the different categories such as Office. Multimedia and so on.
One welcome outcome of its reliance on XFCE, and perhaps its mixed heritage is that MX Linux is fast, much more so than most desktop distributions. We almost couldn't believe it when the distribution managed to run the Snapshot tool without errors, even in a severely limited VirtualBox environment with less than 2GB RAM.
7Review earns Amazon affiliate commissions from qualifying purchases. You can support the site directly via Paypal donations ☕. Thank you!
Another advantage of choosing Debian Stable as its base is that MX Linux is incredibly reliable. Even when you're horsing around with esoteric tools such as SM Tube, which can be used to search videos on YouTube. The distribution also supports playing various audio and video formats out of the box.
The distro also boasts of several important custom tools, which the official manual refers to as advanced and basic. The latter comprises tools such as package installer, NVIDIA graphics drivers installer and more, whereas complex tools such as Snapshot with which you can create a bootable ISO of your current installation, are identified as advanced.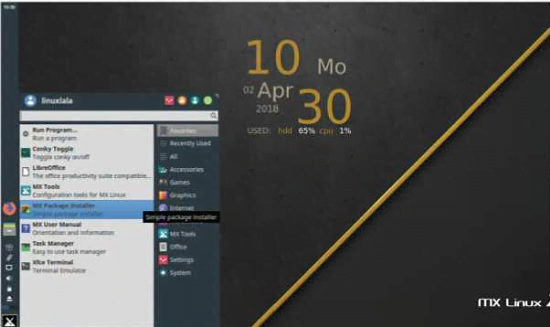 Among its many custom tools is a live USB creator tool borrowed from antiX and can be used to create USB device with persistent storage.
You can change the appearance, including the theme and the position of the panel with the MX Tweak tool.
On the MX Package Installer, installed applications are greyed out, and you can use the drop-down list at the top- right to list only the Installed. Upgradable and Not installed applications. The applications are sorted into appropriate categories such as Games, Graphics, Office and Torrent. You will find all these custom tools and more listed under the MX Tools menu.
In a departure from most other desktop distributions, MX Linux features a thorough offline manual, spanning more than 100 pages, and the project also hosts a forum board and user contributed video tutorials to help you acclimatise to the distribution. Where available, the user manual itself provides links to the video tutorials.
The thorough documentation and the default software set makes MX Linux ideal for newbies as well as seasoned Linux users. If you're looking for a quick and responsive distribution, but don't want to switch to either Arch or any other rolling-release variant, you're unlikely to find a more versatile distribution than MX Linux.
DEVELOPER: MX Linux Team
WEB: https://mxlinux.org
LICENCE: Various
| | | | |
| --- | --- | --- | --- |
| FEATURES | 10/10 | EASE OF USE | 10/10 |
| PERFORMANCE | 10/10 | DOCUMENTATION | 10/10 |
This speedy, fully featured distribution, complete with solid support on- and offline, is a masterclass in user-friendliness.
» Rating 10/10