Most emails are just a few kilobytes in size. But if you've been using an email account for several years, you'll know that your mailbox can creep up to unmanageable proportions – with photos and other large attachments swelling it further still. This can eventually cause problems. If you use an online webmail account, for example, it's likely to have a strict storage cap – Gmail's limit for free account holders is 15GB. And, in traditional email programs, large mailboxes can clog up your hard drive and cause performance problems. That's where MailStore Home comes in. It can help you reduce the size of your mailbox by safely archiving your old messages.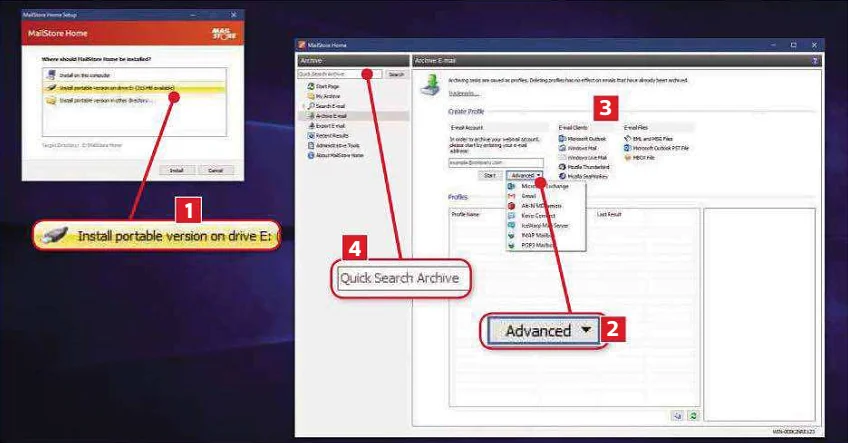 It's possible your current email program or webmail service may have a built-in way of archiving emails, but it's likely to be fairly basic and MailStore has a number of key advantages. The tool supports a wide range of webmail and email account types, including Gmail and standard POP or IMAP mailboxes, as well as many popular programs, such as Microsoft Outlook and Mozilla Thunderbird. Archives can be easily searched if you want to read an old message or retrieve an attachment. Plus, MailStore Home provides built-in backup tools and a simple restore function that puts old messages back where they were if necessary.
Version 11 is a major new release that adds even more features, including advanced recovery tools. The archive search tool has also been speeded up and tougher encryption is now employed to protect your emails.
MailStore Home is safe to install and doesn't load any junk during installation. You can, however, opt to install the program to an external drive (see Step 1 below), which is useful if you want to create a portable email archive.
1 If you want to install MailStore Home on to an external drive instead of your PC's hard drive, connect your drive, then run the installer and select the 'Install portable version on drive…:' option.
2 To archive an email account click 'Archive E-mail' on the left. For webmail accounts, type the address, click the Advanced dropdown menu and select your account type if it's listed, or click Start and follow the prompts.
7Review earns Amazon affiliate commissions from qualifying purchases. You can support the site directly via Paypal donations ☕. Thank you!
3 If you're archiving messages from an email program or from a file, click the relevant icon under either 'E-mail Clients' or 'E-mail Files' and follow the prompts.
4 To search your email archive for a message or an attachment, click in the Quick Search Archive box, type a keyword and click Search. For advanced search options, click 'Search E-mail' in the left-hand menu.