Mission has evolved its tremendous LX-2 Mkll standmount into a fascinating wireless system. Ed Selley judges the results
The demarcation between 'separate' and 'system' was never a terribly distinct one, but in recent years it has become increasingly blurred. What you see here is a relative of the Mission LX-2 MkII standmount speaker, but where that is a conventional, passive two-way design, the LX Connect is a self­contained system with some fairly radical variations in how it functions.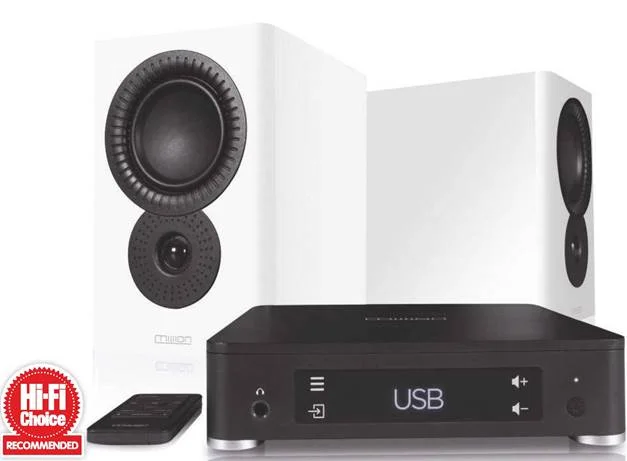 The critical difference is what happens behind the drivers in the speakers. These are unchanged from the LX-2 MkII and comprise a 130mm composite fibre cone, with complete secondary cone behind it that the coil and motor assembly acts upon, crossing over to a 25mm microfibre dome tweeter. In time-honoured fashion, this is placed below the mid/bass driver to help with time alignment. The crossover is also fundamentally unchanged too.
details
PRODUCT Mission LX Connect
ORIGIN UK/China
TYPE Wireless streaming all-in-one system
WEIGHT Hub: 1.75kg, Speaker: 6.55kg each
DIMENSIONS (WxHxD)
Hub:
225 x55 x231mm
Speaker:
200 x305 x250mm
FEATURES
• 32-bit/384kHz DSD256-capable USB port
•  Inputs: RCA line; coaxial; optical: USB
• AptX and AAC Bluetooth
• 6.35mm headphone jack
DISTRIBUTOR IAG Ltd.
WEBSITE mission.co.uk
What has altered is that the crossover dispenses with conventional terminals and instead, each speaker has a 60W Class D amplifier added. With this comes the ability to adjust the bass output via a three-position switch to help with placement. Aside from this and a switch to tell the speaker if it is the left or right channel, on the back of each cabinet there is no connectivity beyond a mains plug.
This is, of course, because the LX Connect wirelessly sends audio from an input collating hub (helpfully called the 'Hub') to each speaker. This is a proprietary system that straddles the 5.8 GHz commercial frequency and sample rates up to 32-bit/192kHz can be transmitted without any compression. The presence of those left/right switches is handy as it means the Hub doesn't need to be positioned relative to the speakers; they know whether they are left and right by dint of that setting rather than the Hub needing to be between them.
The connectivity of the Hub is usefully comprehensive too. It's fitted with an analogue RCA input (although, some form of analogue-to- digital conversion will be needed to ensure onward transmission to the speakers), an optical, coaxial and USB input (with Roon certification) that is joined by Bluetooth 5.0 with the full suite of aptX standards and AAC. There is additionally an HDMI ARC connection, making the LX Connect ideal for use with a TV. The decision not to add an actual streaming module might be an annoyance to some, but there is no shortage of ways to get audio into the LX Connect. This connectivity can be looped out via RCA, which can be set to fixed or variable and there's a 6.35mm headphone socket too.
Mission has called upon the services of fellow IAG stablemate Audiolab to help with the Hub. It is built around an ESS ES9018K2M DAC and proprietary circuitry to maximise the effectiveness of the jitter reduction technology that the ESS hardware also possesses. The USB input can actually handle higher sample rates than the wireless system can transmit, but more pragmatically it points to a confidence that the system will handle more conventional sample rates without issue.
7Review earns Amazon affiliate commissions from qualifying purchases. You can support the site directly via Paypal donations ☕. Thank you!
See also TOP 10 Subwoofers
RECOMMENDED VIDEOS FOR YOU...
For all this, I do have some minor reservations about the LX Connect, one specific to it and one reflective of the technology involved. The specific one is that the conversion process from passive speaker to powered wireless system has taken a £ speaker and turned into something just shy of a grand. As a package, the LX Connect feels like a competitive
The Connect sounds bigger and more confident than the passive version does
offering, but it is hard to ignore the fairly significant price hike between the two devices. More generally, the nature of how the Mission works means that the wireless element of its operation needs to be balanced against both speakers and the Hub needing a mains supply, which some rivals have neater solutions to.
The aesthetics of the LX Connect are appealing, though. Available in both black and white finishes, it feels solidly assembled and sits together as a system very convincingly. The first-time setup of the wireless system works well and is unconditionally stable in use, with the speakers reconnecting to the hub shortly after power is toggled on. Nothing about the Mission feels half-hearted or cobbled together.
Sound quality
Connecting the Hub to a Roon Nucleus (HFC 439) via USB, the LX Connect does the most important thing that a wireless system can do in that it draws no attention to the wireless aspect of its operation. Listening to the brooding Blowback by Marconi Union sees the music rise from a relatively long silence at the start and there isn't the slightest trace of interference or additional noise as things climb into audibility.
Beyond low noise, the performance is consistently enjoyable too. The
Mission is impressively free from the perception of processing in the way it presents music. Agnes Obel's simple but captivating Riverside is delivered with a convincing feeling of space around the piano, Obel herself sounding delicate but never insubstantial. Some of the qualities that make the LX-2 MkII such an exceptional passive speaker have also successfully made the jump to the powered version. The live version of People Get Ready on the Brand New Heavies' Shibuya 357 is infectiously energetic and engaging. This is a fundamentally agile speaker and it responds to any time signature with commendable enthusiasm.
Something else which the Mission does with more effectiveness than almost any such system I've tried is demonstrate the benefits of higher res and better recordings. There is always the perception with any such system that needs to process the audio in the way that the Connect does that it will level things out, but the impressive 24-bit/192kHz 20th Anniversary remaster of Air's 10,000Hz Legend beautifully reflects some of the work that's gone into it. No less usefully, the Mission balances this supreme transparency by still being relatively forgiving of poorer-quality recordings while it's at it.
The move to a powered configuration has brought some necesary changes, though, and some of these are more positive than others. Even with the bass trim switch set to the neutral position, there is a perceivable extra heft to the Connect that allows it to sound bigger and more confident than the passive version does. This is only applicable up to a point, though. Push the Connect too hard and it hardens up more readily than the passive LX-2 MkII does. It's only fair to point out, though, that by the time you reach this point, the levels involved should be louder than most people are going to realistically achieve domestically.
The Bluetooth functionality works well and, while the headphone socket doesn't really compare with a dedicated headphone amplifier, the performance is more than up to some late-night listening. If you're looking for something to double as the output for a TV too, this is an absolutely superb partner, although it is worth noting, if you're using it for both music and TV, it's worth toggling between the 'movie' and 'music' modes in the menu as the former is a real bonus for film and TV but can leave music sounding a little diffuse in comparison.
Conclusion
The Connect is another compelling take on the all-in-one system that has some 'separate sensitivities' to how it works. It's well specified, a doddle to use and can deliver a level of performance that will keep many more conventional options at a similar price point honest. If you feel that the freeing-up of the speakers that the Hub and wireless system offers is of benefit to you, this is a well-executed and very capable- sounding piece of equipment •
OUR VERDICT
Recommended
Mission LX Connect Review
A capable and well implemented system that will work well in a variety of different situations
PROS
Rich, engaging sound
flexible spec
well made
easy to use
CONS
Hardens up at higher volumes
needs three mains leads
Add your review
|
Read reviews and comments
Best Mission LX Connect prices in the US ?

$

1,237.99
2 used from $1,237.99
in stock

Best Mission LX Connect prices in the UK ?

£

959.00
2 new from £959.00
in stock


£

995.00
3 new from £995.00
in stock

MORE DEALS

See also TOP 10 Subwoofers
Specifications
| | |
| --- | --- |
| Product Name | Mission LX Connect Wireless Speaker System (Walnut Pearl, Pair) |
| Ethernet Port | No |
| USB Port | USB-B |
| Aux Input | No |
| RCA Input | 1 |
| Phono Input | No |
| Digital Input | Optical, Coax, HDMI |
| HDMI Input | ARC |
| Headphone Jack | 1/4" |
| Subwoofer Output | Stereo RCA |
| Bluetooth | Built-in |
| Wi-Fi | No |
| Wi-Fi Bands | No |
| Tweeter Size (Inches) | 1" |
| Tweeter Type | Soft-Dome |
| Tweeter Material | Microfiber |
| Woofer Size (Inches) | 5 |
| Woofer Type | Composite Fiber |
| Watts RMS (Continuous) | 120 |
| Frequency Response | 58-20k |
| Max. Digital Audio Bit Depth | 32-bit |
| Max. Digital Audio Sample Rate | 384 kHz |
| Handheld Remote | Yes |
| Amazon Alexa | No |
| Google Assistant | No |
| Width (Inches) | 7.9375 |
| Height (Inches) | 12.0625 |
| Depth (Inches) | 12.4375 |
| maximum peak SPL | 99 dB |
| frequency response | 58-20,000 Hz (u00b13dB) |
HOW IT COMPARES
The Mission offers similar connectivity to the KEF LS50 Wireless II (HFC 479) and, at less than half the price, looks extremely good value. Certain aspects of the KEF's implementation are better, particularly, the use of one of the speakers as an input collator instead of having a hub. This makes for a fractionally more awkward cable installation but reduces the number of boxes (and mains plugs). The KEF also goes louder more effortlessly. Given the price disparity, it is impressive just how close the Mission runs the KEF in more day- to-day activities.