by Jason Kennedy
You might think that because they have no moving parts, solid state drives (SSD) would be inherently superior to their spinning cousins (HDDs or hard disk drives) but there is much debate about which sounds the best. Melco's new SSD-equipped N50-S38 is placed midway between the company's N100 server and its range topping N1Z EX and N10 models. It inhabits a case that's virtually identical to the outgoing N1A yet that is about the only similarity between the two, and it sticks out as being the only full-width server in the Melco range. It's worth mentioning that the Melco servers are also streamers by virtue of their USB output; all they require is an external DAC in order to form a complete digital source.
The N50 is unusual among an extensive range of music libraries, as Melco prefer to call them, in having SSD storage onboard as standard. There is an SSD variant of the N1Z EX available and it's the most expensive model in the range but that it's not always recommended above the HDD alternative. The general feel seems to be that the SSD-based N1ZS is the best option for those who largely listen to acoustic music, but that the N10 is arguably better suited to those with broader tastes.

I'm told that the N50 uses SSDs because the technology behind them has advanced significantly in recent times and Melco has removed the elements that make them a poor choice for audio. One being that they are built for speed of access which is not only unnecessary in a music server but detrimental because it produces electrical noise. Another is wear levelling, to compensate for the limited read/write cycles available from flash memory PCs use wear levelling software, in audio it's a write once read many situation so that's something else that can be bypassed.
The N50 offers a slightly odd 3.84TB of SSD storage (the reason for the S38 suffix), but the drive that was chosen not for its size but for sound quality reasons. It's cosseted in a 'rigid, layered cradle' with the aim of keeping vibration at bay. This suggests that SSDs are sensitive to vibration in much the same way that resistors, capacitors etc seem to be. Just because something doesn't move doesn't mean that its immune to its environment.
7Review earns Amazon affiliate commissions from qualifying purchases. You can support the site directly via Paypal donations ☕. Thank you!
The press release for this server includes terms like 'enhanced main [circuit] board' and the 'dynamic power supply having 25% more output', which it turns out relate to the outgoing N1A that it resembles. Essentially however it's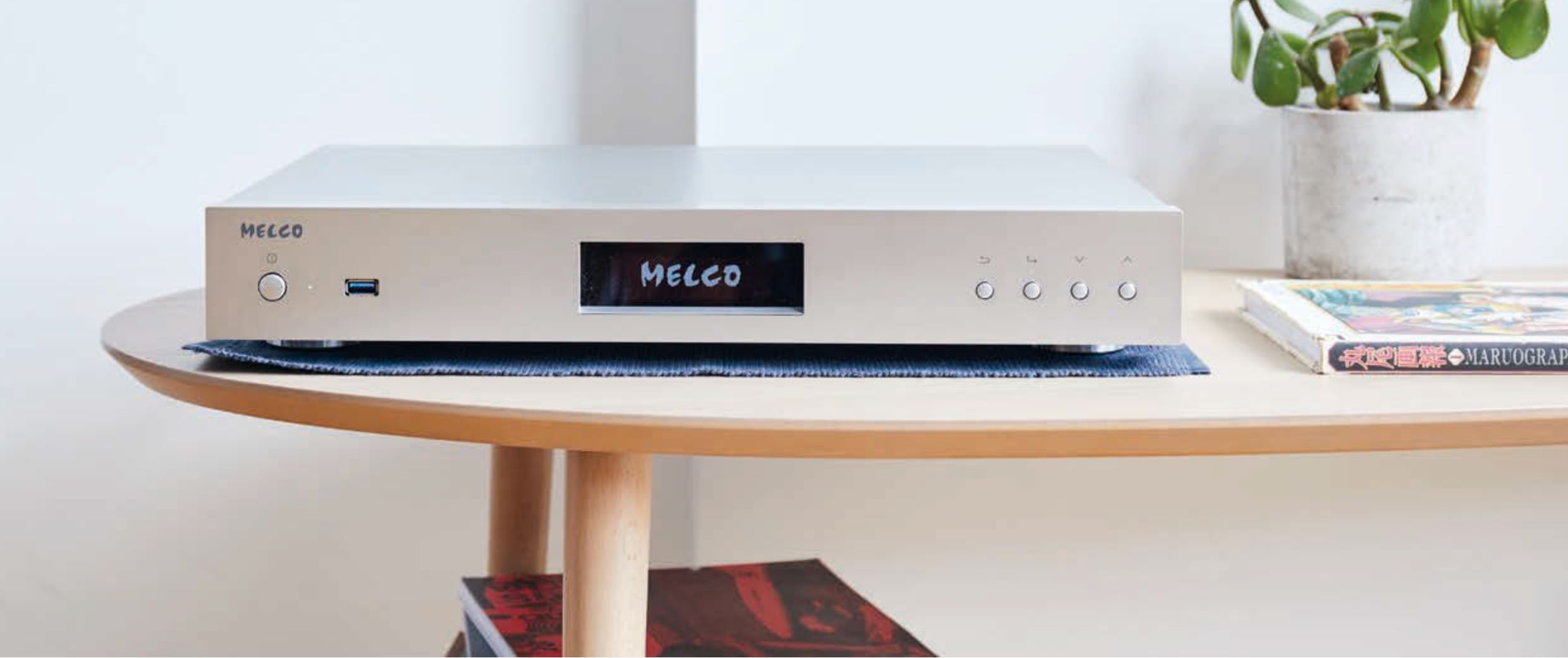 ► only the casework that remain from that model, something that becomes more apparent when you look at the back panel and discover a chunky Neutrik housing around the USB output that's dedicated to the all-important DAC connection. This was sonically at least a relative weak point of the N1A and as a result that server generally sounded better when used with a network streamer. The N1A Mk1 had USB3 DAC architecture, its Mk2 successor and the N50 have USB2. Another case of what's good for speed isn't good for sound quality.
Software wise the Melco servers have a few features that you don't often see. While the N50 is Roon Ready when you select that option via the OLED display, it can also be run from Melco's own control app. This isn't the slickest of devices but it can access Qobuz and Tidal as well as vTuner net radio which are pretty standard options. What is apparently unique to Melcos is the ability to download content directly from Qobuz and HighResAudio, the German site that's largely dedicated to classical music. Whereas you normally have to download new music files to a PC and then transfer them to a server, this approach reflects one of Melco's original goals which is to be able to manage and stream music without the need for a computer. Also you can choose between Twonky and Minim servers, the latter providing a much broader array of parameters for tagging music with a specific aim of making it easier to access classical recordings where things are not as simple as artist/album/track but extend to multiple composers on a single release by a given artist and/or orchestra. For metadata management purposes Melco include a basic version of SongKong software that offers a far greater degree of automation and tagging fields than other such systems. This latter is hugely flexible and as a result not entirely intuitive but has the potential to be a huge help when it comes to sorting a large collection of music files.
I connected the N50's USB output to an iFi Pro iDSD DAC running in non-oversampled, tube output mode with USB cables from CAD and Network Acoustics, a combination that delivered remarkably smooth and clean sound. I spoiled myself by buying the Melco N10 reviewed earlier in the year, so it was not hard to hear that this rather more affordable server was not as revealing of fine detail but it does have the same ability to push the noise floor down an awfully long way. The problem with server/streamers is that they are run by processors that are inclined to produce electrical noise which while it can't be heard directly does have the effect of masking the quieter sounds in any piece of music. It's these quiet sounds that when combined with the fundamentals of each note make the overall presentation more realistic and natural. Electrical noise also creates the hard, cold sound associated with early digital and today marks the difference between good and bad digital sources.
The Melco N50 is a very good digital source, that much became clear fairly immediately, after several hours listening that rating had to be upgraded to excellent. The speed and power it brought to Patricia Barber's 'Company' [Modern Cool, Premonition] was thrilling, the double bass in particular goes all the way down but remains articulate thanks to the resolution of this streamer and the brilliance of the player. This track can sound bombastic on lesser sources, the combination of high energy playing with even small amounts of low level noise can become tiring and aggressive. Here it was only the music that was hitting hard, the hardware itself did not intrude or exaggerate for extra dramatic effect but sat back and let the groove flow.
This is also a very revealing piece of kit, digging down into everything it streams and bringing out the fine details that make for a convincing musical experience. I love the way it
"It's a clean but not clinical sound; one where the only edges are from the attack of each note. This creates a sense of speed."

► places instruments in a precise three dimensional soundstage, making space for the harmonics of each to radiate into the room. It's a clean but not clinical sound; one where the only edges are from the attack of each note. This creates a sense of speed found on many pieces as well as the effortlessness of more relaxed works.
John Martyn's BBC Radio 1 Live in Concert [Windsong] has some lovely songs on it but the one that made a real impression with this Melco was 'Head and Heart'. Small scale voice and guitar is easier to reproduce than larger groups but it's not always this easy to suspend the sense of disbelief by merely closing your eyes. I suspect that it's about as near as we will ever get to time travel. A slightly larger performance was provided by Keith Jarrett on the London leg of his Testament album [ECM], here you often get the sense of Jarrett stamping on the stage but the N50 showed more of the character of the venue and made the playing highly engaging by avoiding any edginess, you can almost feel him rocking on the stool and leaning into the keyboard as he channels what he plays directly from a higher plain. When improvisation is this good it's hard to imagine a stronger psychic connection between performer and listener.
Those impressions were gained with PMC's remarkable Fenestria loudspeakers; later on I used the N50 with the Enleum AMP-23R and some much smaller PMC twenty5.21 standmounts, which proved to be a real greater than the sum combination. Revealing big differences between recordings and bringing out the emotional message with extraordinary ease. Tracks like Olivia Trummer's 'Sharing My Heart' [Fly Now, Contemplate] proving so moving that a lump appeared in my throat.
With the N50-S38 Melco has proved that SSD has an awful lot of potential for audio when it's managed correctly. This company is part of a much larger Japanese organisation that specialises in IT and this has given it the know how to produce a stunning server/streamer that allows users to get far more out of digital music files than they might imagine possible.
TECHNICAL SPECIFICATIONS
Type: Solid-state music server with SSD storage Storage: 3.84TB SSD hard drive
Network connection: RJ45 Ethernet
Digital Outputs: RJ45 Ethernet direct, USB 2.0 Back up connection: USB
Formats supported: DSF, DFF, FLAC, WAV, ALAC, AIFF,
AAC, MP3, WMA, OGG, LPCM
Streaming services supported: Qobuz, Tidal User Interface: Melco Music HD, Roon Ready
Other Features: UPnP server, DLNA device compatible Dimensions (HxWxD): 70 x 436 x 352mm
Weight: 7kg
Manufacturer: Melco Audio
URL: melco-audio.com
UK Distributor: ADMM
Tel: +44(0)1252 784525
URL: audiophiledigital.co.uk