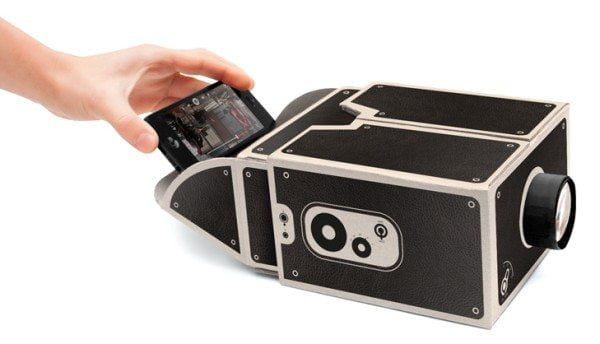 Digital projectors are complex pieces of kit, but this one goes back to basics to project an image from your smartphone for under 20 quid. First you have to build the projector, which arrives as a couple of sheets of cardboard and an impressive-looking glass lens.
The instructions (printed on the inside of the packing box) are clear, but you'll need your own glue – superglue is recommended, which seemed an odd choice for cardboard, but it worked. The card is stiff, and folds into multiple layers, so the finished item feels quite sturdy. It's constructed like a giant matchbox, with an inner section that slides in and out. Your phone fixes inside the far end on to a plate of clingy plastic material. Sliding the box lets you focus the image of the phone's screen, cast by the lens at the opposite end, on to whatever's in front, preferably a white blank vertical surface.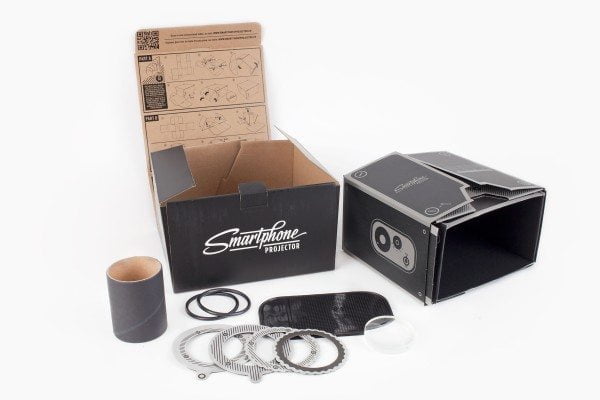 We tried it with an iPhone (though the box is too small for phablets such as the iPhone 6s), which has a relatively bright screen. Even in the darkest room we could create, the best image we got was pretty small and relatively dim. And backwards. The instructions tell you to use the 'rotate screen' option on your phone, but anyone who's done geometry at primary school knows 'rotate' is not the same as 'mirror'. Locking rotation means you can put your phone in upside-down, so the image appears right side up, but it's still reversed. We emailed the manufacturer and received a prompt reply admitting that this was just the way it worked – to be fair, the website does mention that 'any text will appear in reverse'. They offered a refund if we weren't happy. That's good service, but bad documentation: 'rotate' and 'mirror' are conflated in the instructions. Sadly, watching a film flipped right to left is too confusing to put up with to DNE EHT. This is a nice idea and a very well made kit, but it doesn't really serve any purpose except a basic demonstration of optics. Cardboard projector kit • Glass lens • Requires any smartphone up to 145x80mm • 100x210x170mm (HxWxD).