A Bluetooth turntable from Lenco. Noel Keywood checks out their budget LBT-188WA. Read our Lenco LBT-188WA Review.
The market for budget turntables is vast its seems, from the myriad of types sold on the 'net, notably from Amazon of course. Most come at eye-poppingly low prices, including this do-it-all model from Lenco, the LBT-188WA.At around £ for a two-speed belt drive with phono stage, Bluetooth wireless transmission and a USB digital output for recording purposes. Is it really hi-fi? Can you get a decent turntable at such low cost? I looked at it closely.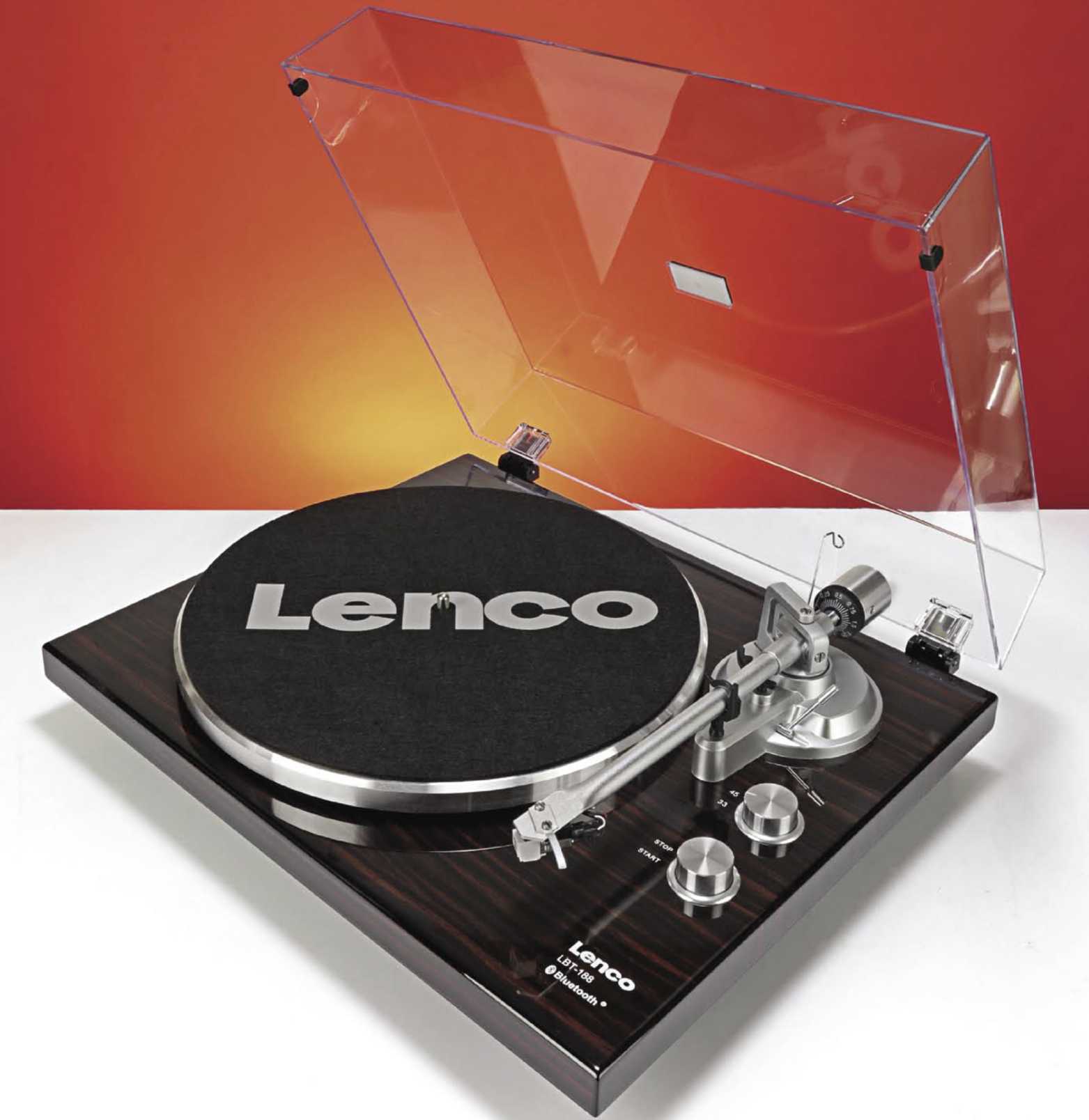 A solid deep gloss plinth of veneered MDF sits on three feet. Rotary controls provide speed change – 33rpm/45rpm – and start/stop. At right on the arm platform sits a manual cue lever with damped lowering. The controls worked smoothly.
Starting at the sharp end, Lenco fit Audio Technica's uber-budget AT-3600L cartridge that I wrote about at length in our April 2022 issue (see Rega Carbon).This is one amazing budget cartridge, good far beyond its open-market £ price tag. Not a cheap ceramic type, it is a true moving magnet (MM) with insanely good tracking, even at its 2.5gm minimum tracking force. So think: hi-fi sound quality and no damage to valuable LPs. I'll get into finer details later.
As our pictures show the LBT-188WA is a good looker, with plenty of shiny aluminium set against a gloss lacquered, dark walnut veneer plinth.To keep dust off there is a well made clear acrylic cover that moves on friction hinges. Dimensionally it is much the same as most others, measuring 420mm wide, 360mm deep and 125mm high with lid closed. Open the lid however and you need 410mm height clearance, plus a shelf 430mm deep to accommodate the lid's rear overhang. Any shelf should be a firm one but with Bluetooth, finding a suitable site is made easier – assuming you'd want to use Bluetooth: you may not.
The unit is no heavyweight, at 4.8kgs, it's three non-adjustable feet needing a level, vibration free surface, one unaffected by footfall.
This is seemingly a specialist turntable, meaning it comes with lots of bits and a surprisingly elaborate set-up process. What surprised me was the arm's antiskate mechanism, comprising weight-on-thread. Not unusual but peculiarly wrought here with what the handbook says is a "fishing line" that must be "pulled slightly" to attach it to the arm. Er – yes. I've been setting up turntables for decades and have never come across this geometry or difficulty: the angle is so acute between thread and stub that the thread slips off unless tightened to mate with groove. Got it to work in the end, but peculiarly ornate procedure for a budget arm. And the slip knot must be loosened to re-adjust bias force.
7Review earns Amazon affiliate commissions from qualifying purchases. You can support the site directly via Paypal donations ☕. Thank you!
RECOMMENDED VIDEOS FOR YOU...
See also TOP 15 turntables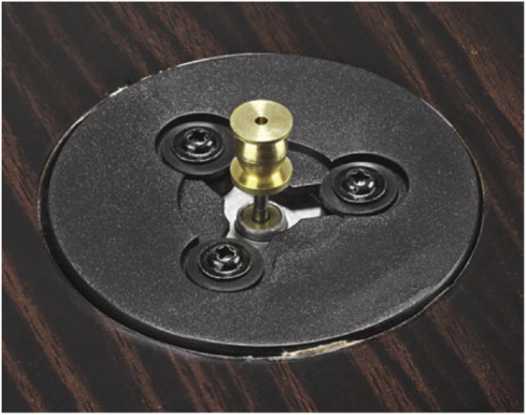 A small d.c. servo motor with single pulley diameter. Speed is electronically controlled, but not adjustable. Speed stability from this motor was excellent.
The arm is a specialised one-piece type with non-removable headshell, making cartridge changing difficult.When adjusting downforce there was slight memory-effect to movement in the vertical plane, possibly from lead-out wires, that made getting a zero setting difficult so a stylus balance gauge was necessary. The horizontal plane bearing moved freely. In all then, arm set-up was difficult for a simple budget design, but perhaps this gives a good impression.
The arm is manually controlled using a damped lift lower lever – there are no auto-mechanisms. I had no difficulty using it, being light in the hand (I manually cue) and satisfactorily rigid.
-Turning the Start/Stop knob to Start span up the light alloy platter (33/45rpm) quickly and quietly.There are no lights on front, just an on/off main power rocker switch at rear. However, the unit shuts down after 20 minutes of non-use. Drive comes from a d.c. servo-motor, lacking speed adjustment.
Power comes from an external wall-wart delivering 12V so no mains earthing, in line with latest common practice.This eliminates the possibility of a mains hum loop and all but guarantees no hum. There is an earth terminal that holds the electronics to ground but not metal parts such as arm or control knobs.The AT-3600L metal screen was earthed however, as it needs to be.
"Digital quality was poor but as a glamorous conventional analogue vinyl spinner it is good value and well worth considering"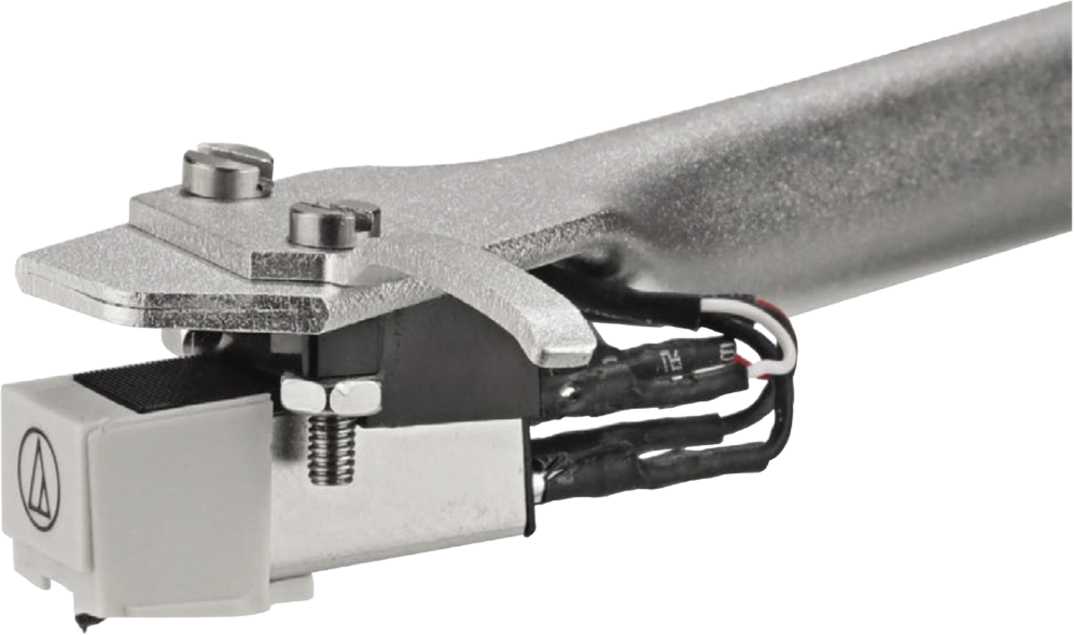 The arm has a low-mass fixed headshell that allows good warp riding. Audio Technica's AT-3600L cartridge is light too.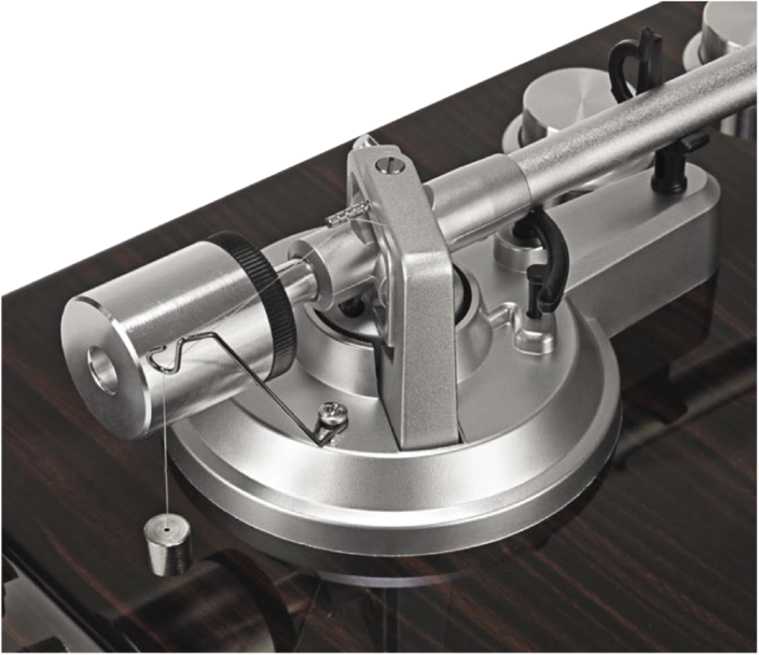 The thread holding the anti-skate weight sits an acute angle to the grooved arm peg, so it slips off unless the thread's slipknot is tightened. This makes adjustment a fiddle as the knot must first be loosened.
At rear come the parts with implications. Here the LBT-188WA gets interestingly complicated.
Lenco suggest the USB output is used to make digital recordings on a computer using the free Audacity software editor. Ha-ha! It's a great app, that's for sure if not for beginners. Lenco do their best to explain the process. It's said this is an "MP3" output but I doubt it: standard PCM uncompressed I suspect, at 16bit resolution and 48kHz sample rate my Mac tells me.The term 'MP3' is meant to connect with those who'd like to produce a file for their 'MP3 player' – now an historic term.
Budget digital outputs come via a cheap analogue-to-digital convertor (ADC) chip of poor quality.This one managed around 50dB dynamic range under test where 60dB is hoped for and 75dB decent. I've measured better ADCs even in budget turntables so this one is lacklustre.
Lenco fit a phono stage of limited gain and ability but it's adequate to get the show going. This allows connection into amplifiers lacking a Phono input, but volume will have to be turned up. A small slide switch removes this stage, delivering output from the cartridge direct to an external phono stage – by far the best option.
Lenco's User Manual states the LBT-188WA is Made in China by the Brightpower Optoelectronic Technology Co. but a web search shows them to be a manufacturer of lighting products.The d.c. servo motor, platter and bearing, and internal phono stage are much like those used in so many other turntables – including Audio Technica budget turntables sourced from China. However, the arm with its peculiar bias geometry is unlike others, so product origin is uncertain; Lenco are a Swiss company with a UK branch.
SOUND QUALITY
I used the Lenco with our in-house Creek Voyage i20 amplifier driving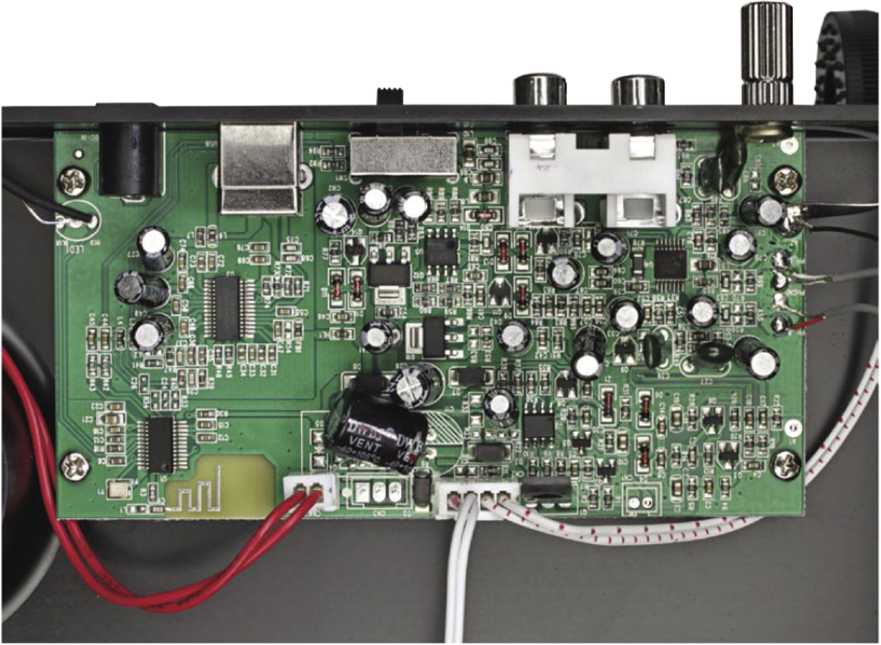 Inside lies a complex circuit board with phono stage and analogue-to-digital convertor (ADC). At bottom lie the motor control electronics, and at left a USB interface and Bluetooth section with small on-board aerial – the squiggly bit at bottom left.
Martin Logan ESL-X hybrid electrostatic loudspeakers. The Creek has its own high quality phono stage, Bluetooth and Line inputs so was able to engage the Lenco via its many outputs.
Technically intrigued by the sound of low quality ADCs – which represent the unfortunate past-history of digital – I connected up via Bluetooth first.This was a peculiar experience because my Mac (Mojave) did not see it at all yet the Creek connected after a long interval of 10 minutes or so. Not the usual link-up with handshakes and all that, but it happened. And listening to Alison Goldfrap's Lovely to CU on Supernature was a sobering experience. The music was there alright but it was a muggy generalisation with edginess from distortion. I was listening to output from the cheap ADC (rather than Bluetooth) and it wasn't nice. Recordings made via USB using Audacity were similar, when replayed from the computer through an Audiolab M-DAC+ driving Oppo PM I headphones. As measurement suggested, digital quality was poor. Anyone hoping for the vinyl sound faithfully portrayed in digital form should look elsewhere.
Moving to Line output from the internal Phono stage the sound focused up and smoothed out into a genuine vinyl experience, but I moved on fairly quickly to direct connection to the Creek's Phono input, whereupon the sound stage opened up in depth and width terms, underpinned by strong bass drive from the AT-3600L cartridge. I know its amenable sound well, one free from the clatter of an aluminium cantilever – and the LBT-188WA conveyed that quality. It has a light patina to its sound and a lack of high-end depth or focus, but then the AT-3600 is a basic MM with conical stylus and the arm below Rega standard, so that is to be expected. At the low price it was a good representation of the vinyl experience, if a tad fast in tempo.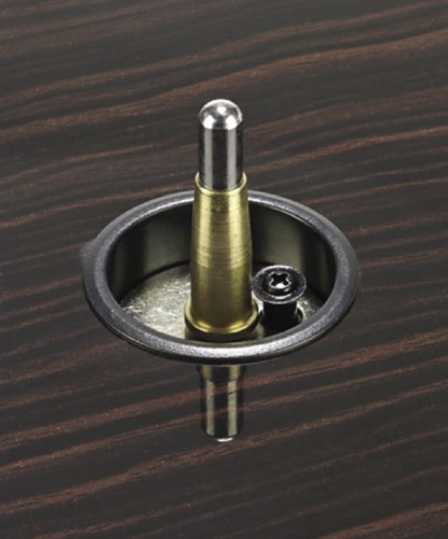 The bearing has a brass taper to grip the alloy platter. The shaft is tightly machined for little play, contributing to speed stability.
CONCLUSION
As a basic two-speed, belt drive record deck the Lenco was a good performer. It's best connected up to an external phono stage but the internal one is acceptable at the price, being similar to others found in budget turntables. Whilst the arm will accept a better cartridge I'd be tempted to leave the excellent AT-3600L in place and not expect too much more.The digital side was disappointing, spoilt by a poor digital convertor.
The LBT-188WA a mixed bag then: those wanting decent digital should look elsewhere, from Project for example – but expect to pay more. As a glamorous conventional analogue vinyl spinner though it is very good value and well worth considering.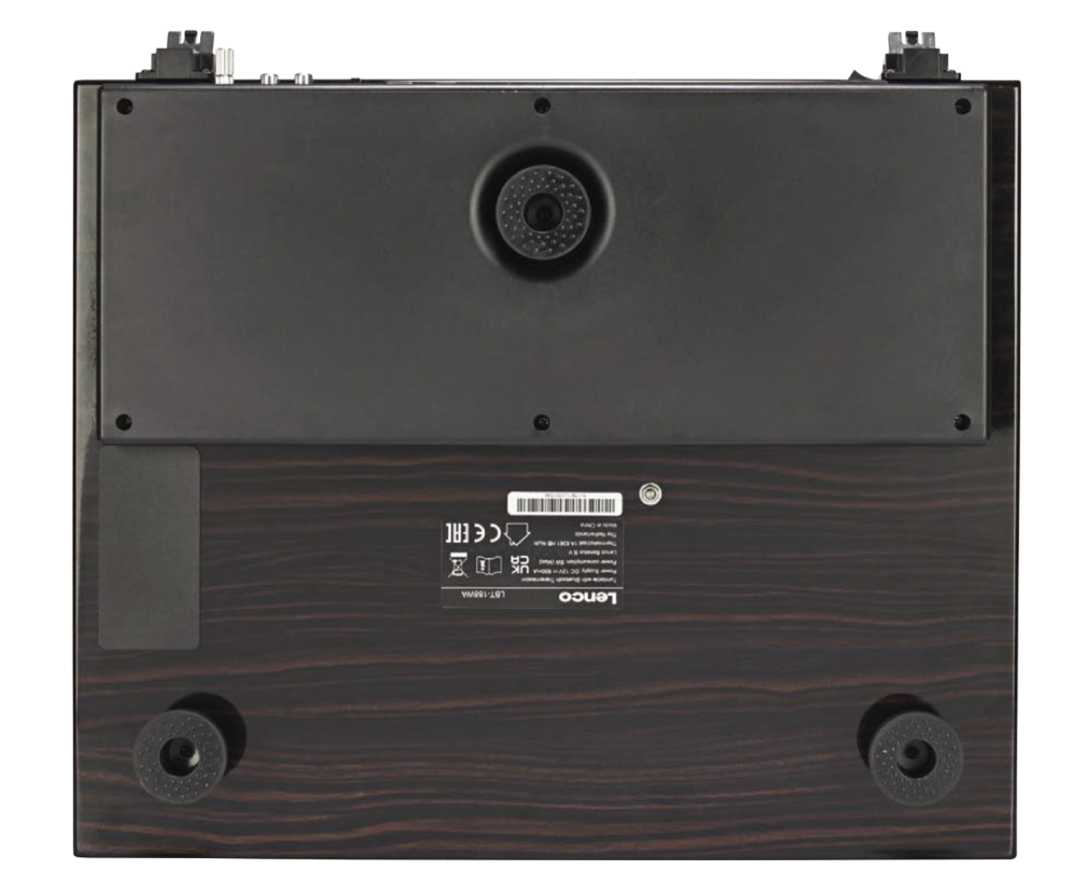 A large plastic cover hides hides the phono stage, control electronics, USB stage and Bluetooth transmitter. The three feet are not height adjustable so a flat surface is needed.
MEASURED PERFORMANCE
The 3150Hz test tone of a DIN 45-452 test disc varied from 3185-3191 Hz on our Wow&Flutter meter, giving a nominal of 3166Hz which is +1.2% fast, a large error. A value of 1% pitch error is considered the limit of audibility, suggesting the LBT-188WA will sound detectably fast. Surprisingly for a d.c. servo motor, there is no provision for speed adjustment, externally or internally, so the LBT-188WA is not for pitch-sensitive listeners.
Change of speed (wander about nominal) was low, resulting in a low DIN weighted Wow & Flutter value of 0.1%. There was little Flutter too, resulting in a low 0.08% Wow&Flutter figure (DIN wtd). So our sample was speed stable but ran fast.
The arm tube had a main bending mode at 350Hz our analysis of vibration with a Bruel&Kjaer accelerometer on the head shell shows. This is a high value, due to light weight cartridge/headshell assembly, and light stiff tube. There was some high frequency disturbance too. With a narrow peak however there's little energy here – a good result for a simple, budget arm.
Gain in the phono stage was low at x57 (35dB) like all Chinese sourced turntables and overload fairly low too at 30mV in and 1.7V out, at which level distortion was high at 1.2%. However, equalisation was accurate, resulting in flat frequency response – but where these OEM stages usually have a warp filter this one does not.
With two digital outputs, USB and Bluetooth, there is an on-board Analogue-to-Digital Convertor (ADC). Frequency response was flat and maximum record level set low to 10mV from the cartridge to maximise dynamic range from the 16bit ADC so occasional peak distortion may be heard from LPs cut at high level. Even though noise (IEC A ltd) measured a low (for a budget 16bit ADC) -86dB with shorted input (i.e. no signal) in practice signals below -50dB were barely resolved, because of quantisation noise generated by the presence of a signal. Bluetooth gave the same result.
A good if not perfect set of results, speed being fast and the ADC of low resolution. NK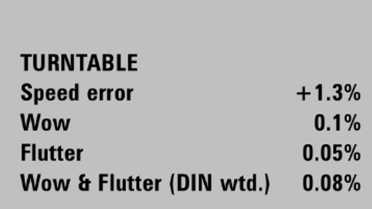 LENCO LBT-188WA £
EXCELLENT – extremely capable.
VALUE – keenly priced.
VERDICT
Lenco LBT-188WA Review
Good analogue performance but poor digital sound.
PROS
stable speed
good MM cartridge
easy to use
CONS
runs slightly fast
no speed adjustment
poor digital quality
Add your review
|
Read reviews and comments
Best Lenco LBT-188WA prices ?
MORE DEALS

See also TOP 15 turntables
Specifications
| | |
| --- | --- |
| Product Name | Lenco LBT-188 Walnut Hardware/Electronic |
| Type de Produit | Platine |
| Couleur du bou00eetier | Noyer |
| Chau00eenes audio | Stu00e9reo |
| Fonction | Platine, convertisseur audio analogique vers numu00e9rique |
| Spu00e9cifications audio | Platine rapport signal u00e0 bruit - 55 dB |
| Fonctions | u00c9metteur Bluetooth intu00e9gru00e9 |
| Vitesse supportu00e9e | 33 tours, 45 tours |
| Type d'entrau00eenement | Courroie |
| Nom de cartouche inclus | Audio-Technica AT3600L |
| Type de cartouche | Aimant mobile |
| Longueur de bras effective | 21.85 cm |
| Plateau | Mu00e9tal |
| Fluctuation | 0.15 % (WRMS) |
| Caractu00e9ristiques | Couvercle anti-poussiu00e8re u00e0 abbatant, adaptateur audio USB intu00e9gru00e9 |
| Connecteurs | Sortie de ligne audio (phono RCA x 2) - arriu00e8re USB (USB u00e0 4 broches, type B) - arriu00e8re |
| Accessoires inclus | Transformateur, cu00e2ble USB, adaptateur pour 45 tours vinyle |
| Tension requise | CA 120/230 V (50/60 Hz) |
| Consommation en fonctionnement | 5 Watt |
| Service et maintenance | Garantie limitu00e9e - 2 ans |
| Largeur | 41.5 cm |
| Profondeur | 36 cm |
| Hauteur | 12.5 cm |
| Poids | 4.8 kg |
www.lencouk.com