John Archer is very 'appy to get acquainted with the UK's first Roku-enabled smart TV. Read our HISENSE R50B7120 Review.
PRODUCT: 50in direct lit LCD 4K TV with a built-in Roku smart platform
Not a ULED model, towards the bottom of Hisense's range
Toshiba 55UL7A63; Samsung 50RU7100
While our American friends have had 'Roku TVs' for half a decade now, the Hisense R50B7120 marks the first time the renowned smart platform has shipped built into a UK set. I can't say for sure why it's taken so long for a Roku-powered flatscreen to rock up here. What I can say, though, is that many households should be very happy to see it.
If you're not familiar with Roku, it's essentially an independent smart platform designed to aggregate a huge array of apps and TV services under one easy-to-use interface. The company has been around since 2008, and in that time it's both signed carriage deals with just about every streaming platform under the sun, and perfected the art of making all that content manageable via an ultra-robust, straightforward interface.
Originally Roku's platform was only available on external streaming players and HDMI 'sticks'. But while those options are still very much out there, it's easy to understand why incorporating Roku's interface and options into a TV seems like a no-brainer. Provided, of course, that building Roku into a TV doesn't hamstring it too much.
Bitdefender | Awards Campaign LP | .com
With coupon code: 7RW20, Audio Affair will give you £20 off all orders over £250. Sales items and some brands including Audio Pro, Pro-Ject, Kanto Audio and Audioengine are excluded from the discount code .
7Review earns Amazon affiliate commissions from qualifying purchases. You can support the site directly via Paypal donations ☕. Thank you!
Not a follower of fashion Before I get into that, a word on the Hisense B7120's design. The frame around its 50in screen is fairly wide, and the rear sticks out quite a bit. The black feet look and feel rather functional, too, while both the chassis and its attendant remote control feel lightweight and plasticky.
The 50in R50B7120 – there are 43in, 55in and 65in alternatives – is not one of Hisense's 'ULED' models. This means it doesn't have local dimming for its backlight; a Quantum Dot-generated wide colour gamut; or Hisense's UltraSmooth motion processing.
In other words, Hisense has decided that the best place to debut built-in Roku in the UK is on a relatively entry-level TV. In fact, quite astonishingly, at the time of writing it was selling for just £. Which probably explains the bland styling.
The Roku smart platform isn't the R50B7120's only potential attraction. The TV uses a direct LED lighting system rather than an edge-based engine, which usually helps contrast even when there's no local dimming in play, and it's 4K (of course) with HDR playback – although unlike Hisense's latest ULED models, there's no support for Dolby Vision or HDR10+. The TV enjoys an outstanding input lag of just 12ms with the Game preset selected, and with Game mode off still musters a solid 29ms.
Connections include three HDMI 2.0 ports, and a single USB port for playing multimedia files. There's HDMI ARC, but not eARC.
Planet of the apps
The all-important Roku platform turns out to have been integrated very effectively. During initial installation, for instance, you're directed to your PC or mobile device to set up your Roku account and choose your initial apps. This is far preferable to messing about in the TV's menus.
If you do explore Roku's full app store on the TV post­installation, though, prepare for a shock. In the Film and TV section alone, for example, there are more than 900 apps to peruse. There are also nearly 300 games, as well as nearly 90 general infotainment apps, and a thousand(!) different screen savers.
Obviously many of the Roku platform's apps are niche to say the least. But compared with the home-grown smart systems of Samsung, LG and Panasonic, Roku TV is in a content-rich class of its own. And yet it still keeps access to all this stuff clean and straightforward.
Furthermore, all the big hitters are present and correct, including Apple TV, Netflix, Amazon Prime Video, Now TV, YouTube, Rakuten, Google Play, Spotify and Freeview Play.
The Roku interface treats apps, the TV's Freeview HD tuner, and each of its AV inputs equally, so that they all appear as a direct access icon on your home screen rather than in separate menus.
The interface arguably looks basic by today's standards, lacking features such as the contextual 'pop out'

1. The TV supports HDR10 and HLG HDR
2. The B7120's handset is a TV-centric tweak of the standard Roku zapper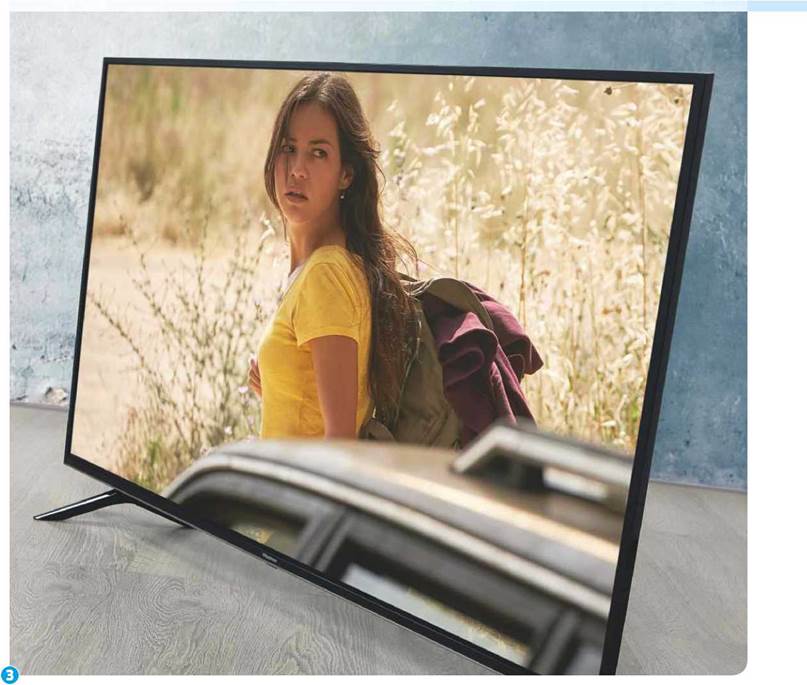 secondary tier of content links you get with competitor smart TV systems. But Roku is devoted to simplicity
– and keeping 'clutter' off the screen is key to that.
Another brilliant advantage of Roku's platform is how easy it is to run. The Hisense R50B7120 is about as far from
'HD upscaling is solid. Detail levels are healthy, colours remain natural, and source noise isn't exaggerated' a high-end TV as you can get, yet the Roku UI is slick, with no apparent bugs, and never slows down any other aspect of the TV's menus.
Roku also lets you control the R50B7120 from your smartphone or tablet via its tidy and effective iOS or Android app, which also makes it easy to share photos, music and video from your phone/tablet to the TV. The app also supports 'private listening', letting you shunt the TV's sound to your smart device headphones while the Hisense remains silent – potentially a very useful feature for some.
The app even carries expert settings (white balance adjustment, colour management, gamma adjustment and so on), rather than complicating the TV's built-in menus with such specialist-only features.
There are one or two areas of oddness. For instance, it's not helpful that calling up the settings menus requires you to press a button labelled with an asterix. A direct source selection key on the remote would be handy too, and the main navigation buttons are a little hard to locate when you've got the lights off.
A bit on the side
The Hisense R50B7120's Roku operating system is so key to its appeal that the set's picture quality feels a bit like a side show. But it's a better side show than I'd imagined of a 50in telly.
Brightness and colour, in particular, exceed expectations. The set's peak brightness, which I measured at 316 nits on a 10% white HDR window, approaches the sort of numbers seen on some TVs costing twice as much, and helps to give HDR sources a decent nudge up from SDR.
Hisense also provides plenty of flexibility over how HDR plays out, via a combination of three HDR presets and five brightness presets. Between them, these settings let you sacrifice peak brightness for a higher baseline HDR brightness, or vice versa. This is a sensible compromise to offer on a screen which (like all budget sets) doesn't have enough brightness to handle HDR material with total conviction.
When it comes to colours, even a tonally rich 4K Blu-ray title such as Spider-Man: Into The Spider-Verse doesn't enjoy much greater saturations on the R50B7120 than you'll witness with SDR content. This isn't a wide colour panel (although its 8-bit with frame rate compensation design elevates it to rough 10-bit support), so you're not seeing anything like the full potential of the 4K BD format.
The set does at least keep its colours feeling natural with HDR, however; there's hardly any of the washed-out, over-cooked or over-simplified tones some budget TVs throw up when they try to deliver HDR. Light skin tones occasionally look a touch jaundiced, perhaps, but that's pretty much it.
The TV's black level performance is less impressive. The various sewer sequences in the It 4K Blu-ray find dark areas succumbing to greyness, obscuring some shadow detail in the walls and backgrounds.
There are also noticeable vertical stripes of light down each side of dark scenes if you're running the image using the TV's brightest settings.
On the other hand, the direct LED lighting system produces less clouding than most (typically edge-lit) affordable TVs do, and the greyness isn't ruinous enough to render dark scenes unwatchable. With SDR content, where less brightness is required, the R50B7120's black level performance is markedly better.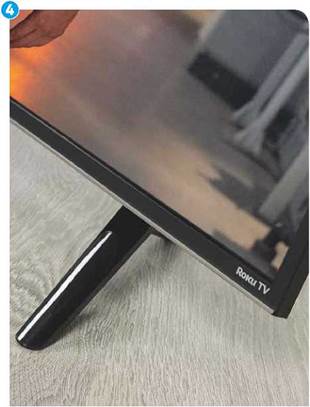 HD upscaling is solid. Detail levels are healthy, colours retain natural tones, and source noise isn't exaggerated at all.
Sharpness with native 4K sources is less inspiring, chiefly because the set isn't particularly good with motion. Fast-moving objects and camera pans cause pretty obvious motion blur and, as mentioned previously, there's no motion compensation processing to combat this.
Finally, as with all cheap and cheerful LCD sets, the R50B7120 loses both colour and contrast if watched from an angle of more than around 25-30 degrees.
The sound performance allows me to wrap up on an unexpected high. This TV set can go pleasingly loud without sounding cramped or muddy, and its soundstage is surprisingly large, too. The mid-range is open enough to handle everything from pop music and dense orchestral scores to the ebb and flow of It Chapter 2's imaginatively terrifying and dynamic soundtrack (4K Blu-ray) without sounding thin or harsh. Nor is there any cabinet rattle or speaker crackle. In fact, the R50B7120's audio embarrasses many pricier TVs.
A smart revolution?
This Hisense is great value for anyone after a big smart set – especially for a second room. But I'd argue it's actually more than just a bargain TV.
Why? Firstly because the straightforward elegance and stability of the Roku system shows just how far the much clunkier and buggy Android TV platform still has to go; and secondly because if a TV this affordable can combine a solid performance with such a comprehensive smart system for so little money, you start to wonder if there's much point in TV brands spending time and R&D cash developing their own Smart TV systems. Those on a tight budget should check it out
Verdict
HISENSE R50B7120 Review
Marrying a comprehensive and easy-to-use smart system with decent all-round performance, Hisense's debut Roku TV redefines the budget smart TV market.
Add your review
Best HISENSE R50B7120 prices ?
MORE DEALS

3. A direct LED backlight illuminates the TV's 4K panel
4. The ticket price doesn't get you a premium build or styling
SPECIFICATIONS
3D: No 4K: Yes. 3,840 x 2,160 HDR: Yes. HDR10; HLG TUNER: Yes. Freeview HD (Freeview Play) CONNECTIONS: 3 x HDMI inputs; 1 x USB; composite AV input; headphone socket; optical digital audio output SOUND (CLAIMED): 2 x 8W BRIGHTNESS (CLAIMED): N/A CONTRAST RATIO (CLAIMED): N/A DIMENSIONS (OFF STAND): 1,127(w) x 656(h) x 86(d)mm WEIGHT (OFF STAND): 9kg
FEATURES: Built-in Roku TV smart system (includes Netflix, Amazon and YouTube); control and content sharing via smart device Roku app; private listening mode; direct LED lighting; DTS TruSurround audio processing; quad-core processor; 8-bit + FRC panel
PARTNER WITH
PANASONIC DP-UB150: With the R50B7120 doing the video-on-demand heavy­lifting, Panasonic's budget (non-smart) 4K disc spinner is an obvious low-cost partner. Available for around £, it spins HDR10 and boasts a compact chassis.