Clearaudio's popular LP spinner has been updated to make it a one-stop vinyl replay package. Ed Selley gets his groove on. Read our Clearaudio Concept Active Review.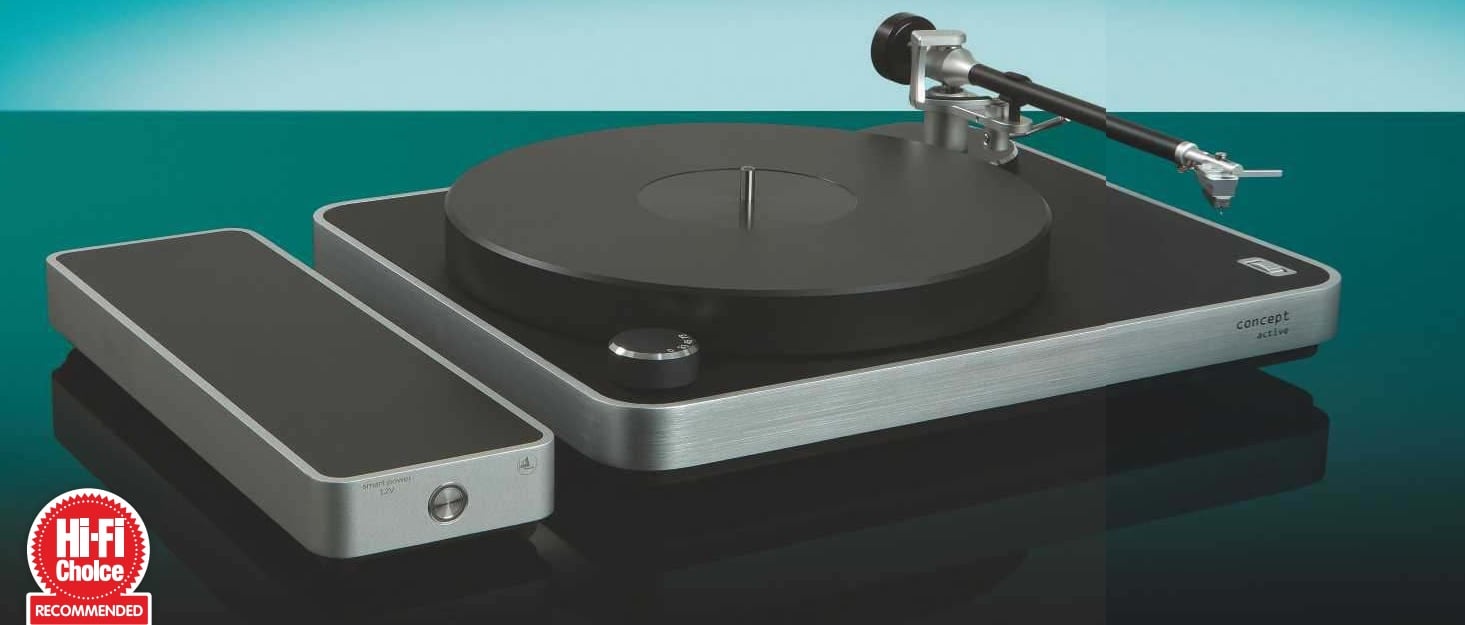 As far as convenient audio formats and music sources go, vinyl and its archaic replay system don't typically rank especially high. To make things simpler for some users, we've seen turntables with a built-in phono preamp so they can be connected to any line input without the need for an outboard phono stage. Clearaudio has taken this idea and run with it.
The Concept Active is a development of the popular Concept model that forms the entry point of its extensive range. Already a fairly convenient piece of industrial design, it has electronic speed control – including the option to spin at 78rpm – and comes supplied with either a Concept MM or MC cartridge depending on your preference. Priced from £ fitted with its MM cartridge, adding the MC option will set you back £. Our review sample comes pre-fitted with the Concept V2 moving-magnet version.
An internal MM/MC phono stage is also built in and claims 52dB and 72dB gain respectively. You can set it to provide a line-level output to your amplifier and leave it at that if you wish, although the Active offers some intriguing extra options. For starters, there's a rotary volume control that can be used to adjust the level of the rear-panel RCA outputs and allows you to hook it up directly to a power amplifier, active speaker system or plug in a set of cans via the 6.35mm jack socket mounted on the side of the plinth to listen to LPs via the built-in headphone amplifier.
What I like about the Active's functionality is that you don't have to
DETAILS
PRODUCT Clearaudio Concept Active
7Review earns Amazon affiliate commissions from qualifying purchases. You can support the site directly via Paypal donations ☕. Thank you!
See also TOP 15 turntables
ORIGIN Germany
TYPE Belt-drive turntable
WEIGHT 7.6kg
DIMENSIONS (WxHxD) 420 x 125 x 350mm
FEATURES
• Electronic speed control for 33, 45 and 78rpm
• Built-in MM/MC phono stage
• 6.35mm headphone output
• Preamp output with level control
• Optional battery- powered PSU
DISTRIBUTOR Sound Fowndations
TELEPHONE 0118 9814238
WEBSITE clearaudio.de
use it all. Clearaudio has carefully ensured that, should you wish, you can switch out the phono stage, volume control and headphone amplifier thanks to external switches and just use it as a conventional, upgradeable turntable.
The tonearm incorporates the company's sophisticated magnetic bearings to reduce friction, which feels a little odd at first but works very well indeed. Power comes via a wall-wart PSU, although an optional Smartpower 12V unit (pictured) can be added as an upgrade and
The Concept Active's efortless flow ensures that you are drawn into the music
claims to feed the motor and phono stage with a clean supply of battery- regulated DC power from its onboard NiMH battery pack.
Everything about the Active and its matching PSU feels exactingly assembled and exudes a level of design and engineering finesse that's typical of the brand. The setup procedure is pleasingly simple and the choice of black or silver plinth and wood trim finishes – some of which carry a price premium – mean it looks extremely smart. I'm not sold on every aspect, however, as there's no dustcover bundled as standard and you'll need to add £ to the overall cost to prevent its shiny black plinth from becoming a dust magnet.
Sound quality
Initial tests employ the Active as a line output device into the Kudos Audio/Exposure system on p42. The good news is that the integrated phono stage is free from hum with negligible levels of background noise while gain is extremely impressive. With the basics in place, the Active demonstrates many virtues we have come to associate with the brand.
Selecting the Minimum-Maximum live boxset by Kraftwerk, the turntable is very much in its element. The propulsive rendition of Aero Dynamik
If you can't live without the Concept Active's headphone socket, the best option is to combine Rega's Planar 6 and Ania cartridge (HFC 453) – or stretch to the Ania Pro version (p63) and combine it with Cambridge Audio's Alva Duo MM/MC phono stage/headphone amp (HFC 436). This pairing costs less than the Clearaudio and is a more emotional performer but isn't quite as elegant in execution and lacks the Concept Active's slickness.
is reproduced with all the impact and punch you could want. The effortless pitch stability and low noise floor combine to ensure that there are no distractions from the music. This means you are transported to the concert hall in Riga and into the crowd with an easy suspension of disbelief. Beyond the basic construct of timing, this is a turntable that flows. It takes a time signature and delivers it with an assurance that means you simply dial into the music. There aren't many turntables at the price that do this as effectively as the Clearaudio does.
There are some subjective quibbles, however. The bass extension is outstanding, but feels a little blunt at times. Aero Dynamik is punctuated by some seriously low notes, which are delivered with huge weight but definition and detail can sometimes be missing. Switching the phono stage out and using both the one fitted to Exposure's XM7 preamp and a Cyrus Phono Signature phono stage (HFC 408) don't significantly alter this, suggesting that the limiting factor is the Concept MM cartridge.
Switching to Sleater-Kinney's The Center Won't Hold displays composure and commendable tonal realism in the upper registers. Voices and instruments sound believable while that same effortless flow ensures you are drawn into the music. It's not the most emotive turntable you can buy at the price (see How It Compares), but it is consistently good fun. With the slower and more considered Every Kingdom by Ben Howard, the Clearaudio avoids forcing the music but keeps that same compelling immediacy.
While it's a little unusual to connect a headphone directly to a turntable, it works well. There's plenty of gain to drive Audio-Technica's ATH-A2000Z (HFC 412) to any level I fancy and the performance characteristics of the Concept Active aren't significantly altered. It's still a potent and propulsive performer, but the top end is a little harder. Provided you choose your headphone with a degree of care, this shouldn't be too much of a challenge to overcome.
My main issue with the headphone output is not whether it works well, but whether this is really how customers will choose to listen to their vinyl at the price. I cannot imagine many Concept Active owners opting to use it for desktop audio.
Conclusion
Happily if you are looking for a turntable package that's flexible enough to satisfy a range of different types of vinyl listener, the Concept Active makes a great deal more sense. Clearaudio has made a fuss-free and superbly built and specified package that delivers on the company's key strengths and makes music in a consistently compelling and entertaining way. When you also consider the upgrade potential it offers, this is a mighty fine 'concept' that's fully deserving of our enthusiastic recommendation •
OUR VERDICT
Recommended
Clearaudio Concept Active Review
An unquestionably talented packaged turntable aiming for a broad appeal
PROS
Potent, rhythmic and lively sound
build
features
easy setup
CONS
Slight lack of bass definition and emotional warmth
Add your review
Best Clearaudio Concept Active prices ?
See also TOP 15 turntables
IN SIGHT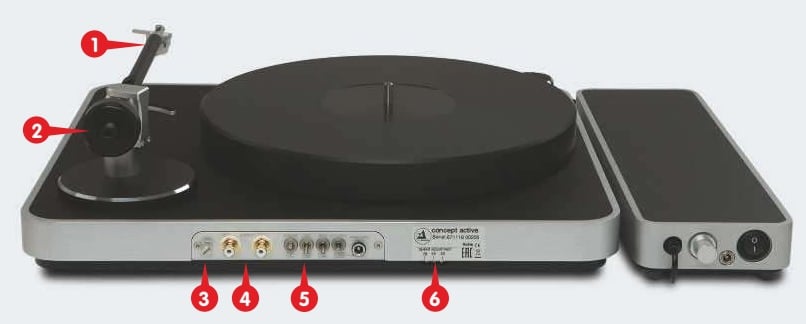 1 Moving-magnet Concept cartridge
2 Counterweight
3 Grounding post
4 RCA stereo outputs
5 Gain, mode and output selection
6 Platter speed fine adjustments