The latest Utopia flagship has improved drivers and cabinets – does the sound match its impressive presence? Review: Andrew Everard Lab: Keith Howard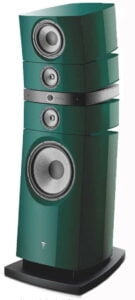 When it comes to the description of products – and not just in hi-fi – one word has become so ubiquitous that it no longer has much meaning: that word is 'iconic'. Yet Focal has dodged that particular bullet by describing its new Grande Utopia EM Evo – all 265kg, two metres and a-pair of it – and its smaller stablemate, the Stella Utopia EM Evo, as 'the most emblematic high-fidelity loudspeakers of all its collections'.
You can kind of see where the company's coming from. After all, the unusual design, with its upper section canted forward, and the range of high-gloss colour finishes – here in a choice of Ash Grey [see p43-45], British Racing Green [see p40-41]. Black Lacquer, Carrara White and Metallic Blue – has echoes through the range, down to the much more affordable Sopra and Kanta lineups. Encounter a pair of high-end Focal speakers, and you could hardly confuse yourself you're sitting in front of the product of any other manufacturer.
LOOMING THUNDER
All the same, nothing quite prepares you for the sheer visual impact of a pair of Grande Utopia EM Evo speakers, even in editor PM's relatively large listening room where we conducted both lab and listening tests. I'd experienced the same speakers a few weeks previously at a show, where they looked big in a cavernous hotel conference room: here, in Ash Grey and virtually filling the space from floor to ceiling, they were
RIGHT: Articulated cabinet can be adjusted to time-align the drivers to the hot seat. A 27mm beryllium tweeter is flanked by two 165mm midrange drivers, with a 270mm woofer on top and 400mm EM sub-bass unit in the cabinet base
"Presence" doesn't cover it: the Utopias are intimidating'
positively lowering in their storm-toned colour way. 'Presence' doesn't cover it: these speakers look just plain intimidating.
7Review earns Amazon affiliate commissions from qualifying purchases. You can support the site directly via Paypal donations ☕. Thank you!
See also TOP 10 Subwoofers
HANDS ON
It's not the first time the Grande Utopias have graced these halls: in their earlier iteration they were reviewed by the late John Bamford [HFN Sep '14] in the same room. And I'd heard that previous version in various locations over the years, from a hotel suite when they were launched through to Focal's own rather excellent listening room in Saint Etienne. However, this was the first time I was to get truly 'hands on' with the Grand Utopia EM Evo speakers, connected into a known system and in a room with which I was familiar – so expectations were high.
A word about that 'hands on' thing… Given their sheer scale and mass, this isn't a speaker you'd want to install and set up without a crew. There's another reason, too: if you've already formed an impression of complexity just from the pictures on these pages, you ain't seen the half of it.
With some pride. Focal mentions the degree to which the speakers can be customized to suit the listening space. Its 'Focus Time Adjustment' covers 1458 possible mechanical and electronic permutations. These include a series of links on the cabinet rear enabling the crossover characteristics to be altered.
Bass tuning for that sub-80 Hz woofer is also offered via a level control on the offboard PSUs that serve that big electromagnetic (EM) driver at the bottom of each 'stack'.
Mechanical adjustment involves retrieving the supplied 'starting handle', inserting it into a hole in the rear of the tweeter cabinet – the speaker is in five sections – and cranking. As you wind, the mechanics within curl, or uncurl, the top of the speaker toward the listening position, enhancing that 'emblematic' shape. A numerical readout on the cabinet rear makes the setting repeatable. Meanwhile the electrical links allow you to modify the crossover slopes and relative levels of the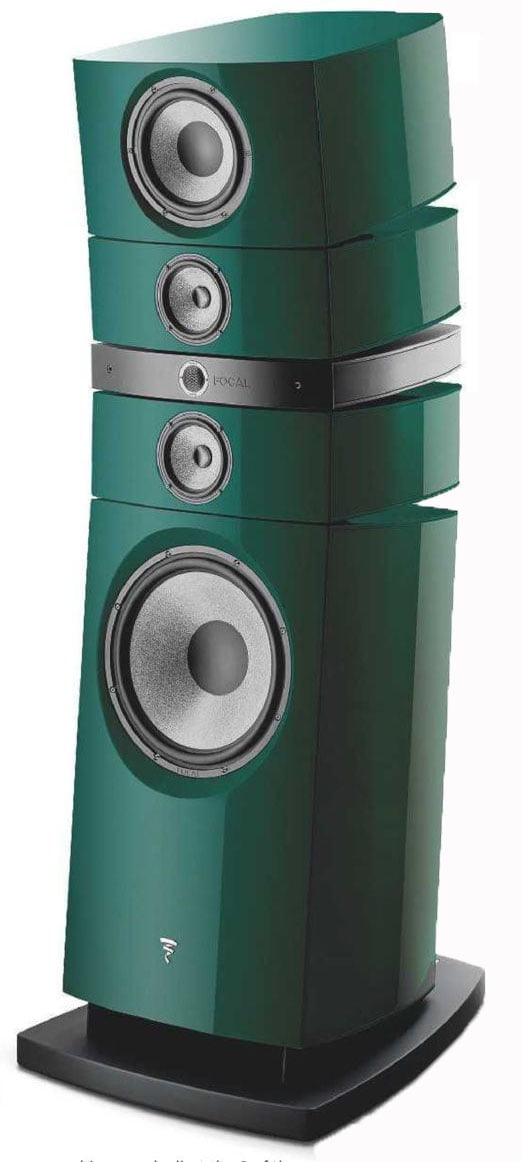 drivers, and adjust the Q of the subwoofer, which can help modify the bass delivery when used in conjunction with those sub-bass power controls. These two offboard boxes [see p43], with their multi-position switches, are PSUs for the electromagnets used in the place of conventional permanent types in Focal's big 40cm driver. In practice, dialling the power up or down has more impact on the damping of its bass than output or extension.
I found a middle setting was about right in PM's room, but it remained a juggling act between getting convincing bass and still maintaining control. But I guess it beats trying to heft 265kg apiece to different positions, listening and then doing it all again…
MADE IN FRANCE
As usual Focal goes its own way, with everything designed and manufactured in-house. So what has been Evo'd here? Well, the mid drivers have gained Tuned Mass Dampers [see KH's box out, above], and the addition of Focal's Neutral Inductance Circuit – a Faraday ring in the motor circuit of the two 16.5cm sandwich-coned 'W' drivers. This normalises the field strength, inductance and reduces distortion of the magnet assembly regardless of voice coil position.
In addition the driver mounting is strengthened with the use of milled-from-solid 'Reinforcement Rings' between the woodwork and the driver chassis. These stiffen the assembly and spread the load of the attachment. Full rings are used on the two 16.5cm drivers, with ring 'segments' for the 40cm unit.
These changes have enabled the crossover to be revised as part of the development process, improving the phase response between bass and midrange drivers. Otherwise the Utopia still uses those five drivers, an inverted beryllium dome tweeter, with 'Infinite Acoustic Loading', and a 27cm 'W'-coned midbass unit making up the complement. Each is mounted in its own 'Gamma Structure' enclosure, made from MDF up to 5cm thick and featuring a proprietary internal damping material.
The speaker is delivered in two pieces, with the topmost box, for the 27cm midbass driver, mounted onto the rest of the assembly via two locating pins that also serve to make the electrical connection across the divide. As before, reflex loading of that massive woofer is achieved with a downward-venting laminar flow port, with the speaker tilted back on a substantial base that also houses bi-wire terminals and the input for the sub-bass unit's PSU.
Completing the look is the 'Graphite Black' finish of the tweeter module, feet and the speaker chassis, which are revealed when you remove the individual grilles for each driver. Incidentally, the perforated metal grille that protects the beryllium tweeter is now a permanent fixture on the Utopia EM Evo.
SOUND OF PARADISE?
Auditioned in editor PM's listening room on the end of a system using a Melco N1ZS20 music library [HFN Jun ' 17] feeding a dCS Vivaldi One DAC/preamp [HFN Feb '18] and Constellation Taurus power amp [HFN Dec '17], the new Utopias frustrated as much as they impressed. Yes, there's so much they do well, but somehow they too often failed to come together to bring on the magic I was expecting from speakers at this level driven by such components.
However stiff you make the cone or dome of a moving-coil drive unit, ideally obviating all 'breakup' resonances within the driver's passband, the roll surround can still let the side down. It has to be flexible to allow cone movement, so is itself subject to bending resonances; and because it forms an annulus around the external diameter of the diaphragm, it represents quite a large radiating area. The most significant disruption to frequency response occurs when the surround is moving in opposite phase to the cone. Focal's novel solution is to adapt a well-known technique from other fields of mechanical engineering called TMD (tuned mass damping), in which carefully dimensioned and positioned masses act to suppress resonance. In the Utopia's midrange drivers a single 'mass' takes the form of a small rib moulded into the very edge of the roll surround [indicated by the arrow in our inset picture].
Before there were permanent magnets, the first loudspeakers utilised electromagnets. A large 'field coil', energised by hundreds of volts of DC through a second pair of connections to the driver, created a temporary magnetic field. It wasn't until after World War II that advances in permanent magnet materials, and their subsequent affordability, saw the decline of field coil drivers for consumer audio applications – although recent years have seen a resurgence of interest among audiophile hobbyists, with various driver models available for DIY speaker builders from the likes of Feastrex, Supravox, Voxativ and Lowther America. Varying the voltage to Focal's 400mm electromagnetic low-bass driver alters both its sensitivity and electromagnetic damping, allowing its output to be tuned to suit a range of different room conditions.
The ability to tailor the sound, and in particular the bass, is an attractive feature, but I never really got an entirely satisfying combination of weight and control in the low frequencies. There was never a suggestion of boom or 'room unfriendliness' but rarely was there the anticipated low-end grunt.
Having recently heard the Espen Eriksen Trio play live, augmented by saxophonist Andy Sheppard, I appreciated the analytical clarity these speakers brought to their Never Ending January set [Rune Grammofon RCD 2173 96kHz/24-bitJ. However.
I also missed the warmth and sense of the three playing together as a cohesive whole: they never really sprang free from the speakers, and there was a marked absence of an 'organic' soundstage. A bit of cranking of the old 'starting handle' tightened things up a little, but the sound never quite gelled.
Similarly with the Scottish Chamber Orchestra's recording of Wagner's 'Siegfried Idyll' [from its 40th Anniversary Edition, Linn CKD540, 192kHz/24-bit]. The sound delivered was richly detailed, with
'When these speakers are good, they're very good'
a sweet, clear presentation and striking instrumental textures, but there was not quite that tingle factor this recording can evoke, just as the soundstage was slightly two-dimensional and lacking in ambience.
FULSOME FUSILLADE
Tonally there's nothing at all wrong with the sound, but the magic is in short supply, while with a track with serious bass impact, such Diana Ross's 'I'm Coming Out' from her Diana album [Motown 530 099-2], the sheer power the speakers can deliver threatens to overwhelm the singer.
Released in 1980, the album's production, by Nile Rodgers and Bernard Edwards, is hardly shy when it comes to the rhythm section, and against the fusillade of bass and percussion Ms Ross sounds a little lost back there behind the line of the speakers somewhere. Following a little more bass adjustment and she gets just that bit more of a fighting chance, but then that's at the expense of some of the Chic-powered drive of the track.
Persisting with the more stripped-down mix of Everything But The Girl's 'Missing',
LEFT: Together with its mechanical time-alignment the Utopia EM Evo offers '1458 possible sound adjustments'. Three level settings are available each for the subwoofer, bass, midrange and tweeter, the latter with a further 'presence' adjustment
We asked Focal's Electro-Acoustic System Designer, Dr Raoul Bauer, to respond to our concerns about two aspects of the Grande Utopia's measured performance: its 'busy' cumulative spectral decay waterfall and its tough impedance [see p45].
'Waterfalls can reveal a lot of information about physical phenomena that are mainly related to resonances or diffraction. The Grande Utopia is based on a multi-box structure that can be manually adjusted to achieve perfect time alignment, but the boxes edges, especially around the midrange drivers and tweeter, can also influence waterfall tests. We feel that diffraction effects are less critical than resonances when it comes to listening.
'The Grande Utopia is far from a standard speaker. Its size, weight, price and overall performance all prove there is nothing conventional on this model. This is that's why we call it Utopia! So, we made choices that we would probably not make with more conventional speakers.
'HFN has identified that the impedance curve is quite challenging for the amplifier and this is totally correct. Yes, the Grande Utopia is a challenging speaker system, not only regarding the impedance, but also in choice of room and room positioning, source, musical content… everything. That's the DNA of our Utopia: getting the best without compromise. Also, the Grande Utopia offers a bi-amping connection solution that can significantly increase the impedance seen by the amplifier if needed.'
from Amplified Heart [Edsel/Rhino EDSK7050], the new Grande Utopia speakers are more able to show what they are made of – crank them up and they pound out the beat of the track while keeping Tracey Thorn's vocals very much front and centre. However, hit them with some even heavier bass in the form of a very vintage-sounding 1992 Shep Pettibone mix of Level 42's 'Lessons In Love' [from The Remixes, 513 085-2] and there's a hint of Mark King's thumb-slap bass taking over the room as that big woofer gets into its stride.
When these speakers are good, they're very good, delivering real live atmosphere and ferocious drive with the nostalgia of the 2012 Recorded Live At Metropolis Studios
LEFT: Base plate has two sets of binding posts and an input socket for the Electromagnetic driver's separate DC power supply. Dropdown flap reveals jumpers for fine-tuning. Note the crank!
set by Bill Nelson and his Gentlemen Rocketeers [Salvo SVX001]. Those old 1970s hits come up fresh in a sparkling live recording, and there's some superb playing going on here, even though legend has it Nelson wasn't happy with the set-up and the lack of rehearsal time. You'd never guess it with the big Focals doing their PA stack impersonation and howling out the guitars. Furthermore, what's lacking in the niceties of pinpoint imaging is more than compensated for by the sense of fine musicians just clicking together in front of a clearly appreciative audience.
C'EST LA VIE
Then, just when you think you've got their measure, these 2m-tall monoliths throw you a curveball – or maybe that's a Gallic shrug – with The Who's system-testing 'Baba O'Riley' from Who's Next [2014 Polydor Japan release, UIGY-9596]. Things start promisingly enough, but as the track builds the Utopia EM Evos make it sound, well, a little anaemic, with Keith Moon's usually cannoning drums a particular victim – hardly the anthemic album opener it has long been.
While I don't for a minute regret having spent time with the Grande Utopia EM Evo speakers, I just wish I'd found them a bit more special.
I wonder if the French have an expression for 'a curate's egg'?
The sheer amount of technology that's been brought to bear on these gargantuan speakers is as undeniable as their physical presence is inescapable. However, though I doubt this conclusion will matter to those with the space, budget and hankering for these speakers, I must say that they demand long and careful auditioning, and I sincerely hope their buyers find the magic in them, and love them more.
LAB REPORT – FOCAL GRANDE UTOPIA EM EVO
Focal claims 94 dB sensitivity for the Utopia EM Evo which loudspeakers we have measured. But our pink noise figure of exactly 91 dB is well short of that. This was obtained by measuring at 2m distance (not our usual 1m). the cabinet 'curl' maximised and adding 6dB to compensate. A further measurement at 1m affirmed this compensation and also that the responses at 1m and 2m were little different. Although 91dB is not 94dB. it's still a high sensitivity which, despite the Utopia's imposing dimensions, has required the use of low impedance.
3 ohm minimum, and we measured a low of 1.9ohm. LF phase drops the EPDR to a minimum of 1.1 ohm at 187Hz, with further outstanding at ±1.3dB. Using the jumpers [see p43], treble output can be reduced by about 2dB or boosted by about 0.8dB and midrange can be cut or boosted by about 1dB. Diffraction-
(nominal setting) to be 39 Hz (-6dB re. 200Hz). The CSD waterfall

ABOVE: Forward response is a little uneven despite a flat overall trend. Mid/treble modes also seen below

ABOVE: Cabinet resonances are dwarfed by a series of modes above 3 kHz, presumably from the mid drivers
Specifications
Sensitivity (SPL/1m/2.83V-Mean/IEC/Music) 91.2dB)91.0dB/90.7dB
Impedance modulus: minimum
& maximum (20Hz-20kHz)
17.0 ohm @ 2.4kHz
Impedance phase: minimum
-32 @ 3.3kHz
52° @ 226 Hz
Pair matching/Resp. error (500 Hz-20 kHz)
±1.3dB/ ±4.3dB/±3.9dB
LF/HF extension (-6dB ref 200Hz/ 10kHz)
39Hz / >40kHz/>40kHz
THD 100Hz/1kHz/10kHz (for 90dB SPL/1m)
0.2% / 0.6% / 0.1%
Dimensions (HWD) /  Weight (each)
2012x654x880mm/265kg