Focal use Slatefiber cones in their Chora 806 loudspeaker. Noel Keywood thinks they're great. Read our FOCAL CHORA 806 Review.
At shows you may well bump into one of Focal's Grand Utopia show-stoppers – an impressive loudspeaker that's sonically vivid. Such show-stoppers apart, Focal produce domestic smoothies like the Flax coned Focal Aria 926 we reviewed in the January 2015 issue. The Chora 806 I'm review­ing here carries that approach forward: it's a sophisticated but affordable bookshelf design.
With the Chora 806 Focal (France) use another fibrous cone material, this time aligned but non-woven recycled carbon fibres held in a thermo-plastic polymer that adds damping to the cone material. Polymer based cones, such as Spendor's EP77, give a damped sound lacking the zing of metal cones; there's a different hue to the sound. Currently, metal cones are popular with manufac­turers but I veer toward polymer mainly for its better revelation of instrumental timbre. Slatefiber, a new material introduced in 2019 Focal say, has rigidity and light weight, in addition to being well damped. It gets its name solely from slate-like appearance; there's no slate in there.
Accompanying this unique 165mm bass/mid unit and complementing its properties is a 25mm inverted dome aluminium/ magnesium alloy tweeter sitting behind a protective grille. Interesting that our measured frequency response of a similar tweeter used in the Aria 926 within the January 2015 review is almost identical in nature and balance to that of the Chora 806 I am reviewing six years later. Showing that Focal pursue a particular and identifiable design ethos without variation over the years: their loudspeakers have almost ruler-flat response accuracy; there's no attempt to raise upper midband or treble for showroom effect. So we're not looking at a bright loudspeaker here I'll note before getting onto sound quality later.
"the Chora 806s filled our large listening room with gleeful bass power"
Described as a 'bookshelf' design, with appropriate front firing port, I thought the 806 a bit large for this. It measures 43 1 mm high, 210mm wide and 270mm deep, weighing 7.35kg – quite heavy. They'd need strong shelves – unsurprising that Focal offer a stand as an alternative to shelf mounting. Finishes are "light wood", "dark wood" and "black".
As far as we could see, the veneer is artificial, but neatly applied all the same. Since real wood veneers have a matt lacquer applied these days, it's difficult to tell the difference even with a magnifying glass. There are two floorstanders using a similar drive unit array, the 816 and 826.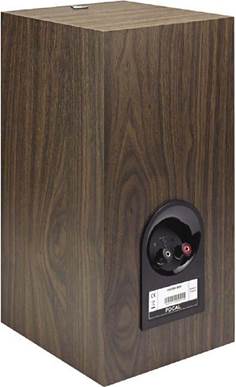 Rear connection is mono-wire only; there's no provision for bi-wiring. Focal suggest it is suited to rooms up to 215ft squared, so think around 16ft x 13ft maximum.
7Review earns Amazon affiliate commissions from qualifying purchases. You can support the site directly via Paypal donations ☕. Thank you!
See also TOP 10 Subwoofers
The Chora 806s were connected to a Creek i20 amplifier through Chord Company Signature Reference cables. Signal source was an Oppo UDP-205D CD player whose ESS ES9038PRO DAC was also used to process PCM and DSD files from a MacBook Pro running an Audirvana+ software player.
From the off, Focal's Slatefiber cone distinguished itself with a stunning sense of clarity to vocals in particular, with a washed-clean lack of colour. This made Sinead O'Connor stand out in clear space singing Foggy Dew with even softly enunciated lyrics like "Liffey's swell" being discernible; sometimes I struggle to hear it at this point. The 'speakers smooth tonal balance made for a natural rendition with body to her voice, yet at no time did the Chora 806s lack treble; they were quite brightly lit and fast in their sound.
I found out more about treble with a wide variety of other tracks where the tweeter was a tad hard edged at times, Nils Lofgren playing Keith Don't Go had his close-miked guitar strings lacerative in a "take no prisoners' delivery but this is a test track balanced toward powerful upper treble to specifically reveal tweeter quality; most recordings have less high-end sting and will not excite the Chora 806s so much.
Time to spin Safri Duo's Samb Adagio to get a firm handle on bass dynamics and power handling and this went well. Playing through a wide swathe of CDs I'd picked up the fact that the 806s have lively, punchy bass and the synth 'kick drum' beat of this recording had a fine sense of low end heft and power. As I cranked volume up to 'abandon-the-building' loud I did get to clearly hear the front ports delivering cabinet 'whoomph', something my ears had latched onto at lower levels.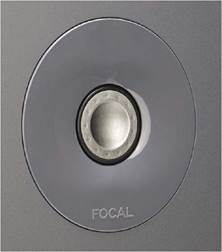 This is the reason ports commonly go on the rear panel. All the same, the Chora 806s filled our large (6550 sq ft) listening room with gleeful bass power, to give lively low- end dynamics. The front port does, however, bring box 'whoomph' into bass character, if by small degree at normal listening levels.
We all liked their dense and composed sound stage, with great insight into instruments and vocals, plus a wealth of fine detail. This worked well with classical performances like the Minnesota Orchestra playing Korsakov's Dance of the Tumblers, where instruments came over as vivid, clean and solid. Sound staging here was superb between the loudspeaker, helped by engaging sense of depth, but there was limited sense of width beyond the cabinets.
Focal's Slatefiber cones of their Chora 806 loudspeaker deliver pristine clarity from vocals and instruments, washed clean of spurious colour. Although this loudspeaker is technically accurate and apparently less bright than rivals, in use they were starkly clear, with no sign of warmth. Deeply detailed and with strong upper treble, plus firm and supple bass. I was impressed: these are loudspeakers well worth hearing, for their speed, accuracy and clarity.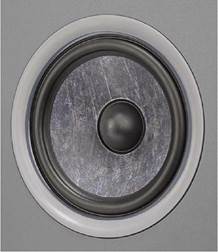 MEASURED PERFORMANCE
Our frequency response of Focal's Chora 806 shows an unusually flat result across the audio band, making this an accurate loudspeaker, more so than most. The smooth nature of the response curve suggests very low colouration due to an absence of local resonances that add unevenness and subjective colouration.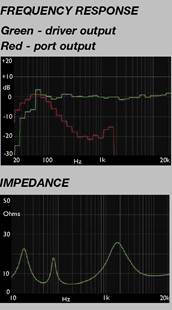 The tweeter comes into play above 2.5kHz our impedance trace shows and this can be seen as a small step at that frequency, but the tweeter is smoother in output than most, with no sign of peaking or resonant behaviour.
The bass/midrange unit works smoothly from 2.5kHz down to 60Hz, where it peaks a little to add obvious low kick. The port (red trace) is broad tuned around 50Hz to add low bass support, but the Chora 600 does not go low, rolling off fast below 60Hz.
Sensitivity was good, measuring 87dB SPL from one nominal Watt (2.8V) of input, making a 40+Watt amplifier suitable. Impedance measured 7.5 Ohms using pink noise. Our impedance trace shows a classic two-way with port dip at 50Hz and crossover peak at 2.5Hz where the tweeter starts to draw current, impedance decreasing.
The Chora 806 has been engineered to be accurate in sound balance. It will sound less aggressively forward than many rivals, but detailed and colouration free in correct manner. NK
| | |
| --- | --- |
| OUTSTANDING | amongst the best |
| VALUE | keenly priced |
| | Focal |
| | www.focal.com/uk |
FOCAL CHORA 806 Review
Fast, clear and accurate sound with strong bass. Great at the price.
PROS
Superb clarity
Deep insight
Tonally balanced
CONS
Hard sounding treble
Some box 'whoomph'
Mono wire only
Add your review
Best FOCAL CHORA 806 prices in the US ?
Best FOCAL CHORA 806 prices in the UK ?

£

599.00
1 new from £599.00
in stock

MORE DEALS

See also TOP 10 Subwoofers