Focal aria k2 906 review – Focal release an Aria 906 loudspeaker with K2 sandwich cone. Noel Keywood checks it out.
Focal like using differ­ent loudspeaker cone materials – I recall both flax (Kanta) and slate­fibre (Chora) in their loudspeakers – and they sounded good. By this I mean "neu­tral", unlike the bright sound of a metal cone for example, or the quacky sound of Bextrene. Their Aria K2 906 I'm reviewing here uses yet another material that comes from a range of K2 car speakers that have multi-layer 'sandwich' cones, an idea Leak introduced long ago using polysty­rene with an aluminium foil skin. I should note that the Aria range also use flax, and there's an Aria 906 with flax cone, but I'm looking at a K2 coned variant here.
Focal's own-design 25mm inverted dome tweeter using aluminium/magnesium for light weight and stiffness. It fires into a shallow waveguide to aid dispersion and improve sensitvity.
"the Focals had good projection, Johannette Zomer soaring out wonderfully singing Lascia chi'io Pianga from Handel's Love and Madness"
Doubtless, Focal's modern cones are slimmer, lighter and altogether more technologically sleek than that used by Leak long ago, but the idea remains: a light but stiff composite cone that doesn't colour the sound. To achieve this in the 906 it has a dual-layer 16.5cm (6.5in) diameter bass/midrange driver, Focal's spec sheet saying this is a "single skin" K2 cone with Aramid fibre layer on a "very light foam layer" for a "precise sound free from colouration".
This bass/midrange unit works up to 2.8kHz they say, crossing over to Focal's 'TNF tweeter' that has an inverted aluminium/ magnesium dome said to give better dispersion than conventional domes. It has a smaller diameter, lighter rear drive (voice) coil for improved speed.The inverted dome is a 1in (25mm) diameter unit like most, equipped with Poron memory foam suspension.This driver fires into a shallow Urethane covered waveguide for improved dispersion.
Measuring 390mm high, 225mm wide and 280mm deep the K2 906 is a large bookshelf / standmount design, coming in at a manageable weight of 8.5kgs. Focal provide it in Ash Grey finish only with an artificial leather front panel – and ours looked smart. There's a lightweight front grille frame with acoustically transparent cloth that made no difference to performance on or off, measurement showed. The rear carries mono-wire terminals only.
I drove the Aria K2 906s from our Creek Voyage i20 and alterna­tively from a PrimaLuna EVO 300 Hybrid amplifier. Sources were an Oppo BDP205D CD player with its ESS ES9038Pro convertor, and Bluetooth from the i20 to provide DSD and hi-res from an iPhone IIX, with 24bit resolution via an Onkyo HF player app.This was fed from the Creek's pre-out into the PrimaLuna.
7Review earns Amazon affiliate commissions from qualifying purchases. You can support the site directly via Paypal donations ☕. Thank you!
See also TOP 10 Subwoofers
As expected from measurement, the Arias were clinically correct in tonal balance and just about colour free. Did I get to hear the forward firing port? Yes, but only when running them loud with heavy Rock having strong bass, like the strong metronomic synth beat from Safri Duo's Samb Adagio.Then I heard boxiness and complaint, but at normal-loud levels they were clean enough.
Also as measurement predicted there was no sense of general warmth or fullness, instead a dry neutrality that was in its own way impressive. An academically correct sound I felt.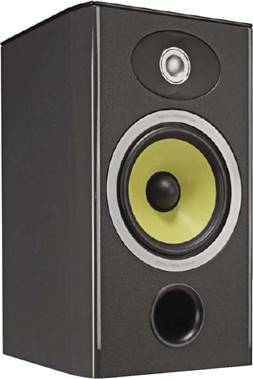 The K2 coned sandwich construction bass unit is loaded by a front firing port. This only became audible at high volume with heavy bass.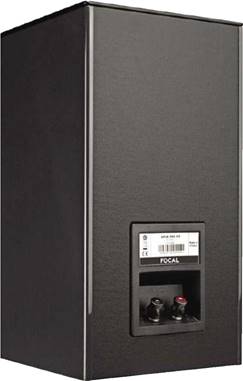 A port-free rear panel allows the speaker to be pushed hard against a rear wall. Terminals allow mono-wir­ing only.
Running my torture tracks picked out a few characteristics that measurement had predicted. Spinning Nils Lofgren's Keith Don't Go (CD) I got to hear rising treble above 6kHz from the tweeter as a sharp, thin hiss from the furiously strummed strings when volume was cranked up but for the most part – meaning with most music – this was not apparent. Higher guitar strings in tracks like Dreams from Fleetwood's Mac's Rumours (24/96) were picked out strongly though, making the tweeter's contribution obvious.
When pushed right against the rear wall of my 17ft long lounge there was fast bass, but not deep bass, even when pushed hard with Lady GaGa's Bad Romance that has big energy around 30Hz.They were refined and teased out the essence – but walls remained steady and neighbours happy. So not ground shakers.
When I moved from torture tracks to more everyday material, especially vocals, the Focals had good projection, Johannette Zomer soaring out wonderfully singing Lascia chi'io Pianga from Handel's Love and Madness (DSD). With Rock there was a fine sense of dynamic contrast, especially with the powerful sounding PrimalLuna that sympathetically energised these Focals, but this is an expensive amplifier unlikely to be used with a sub-£ loudspeaker.
Running through a gamut of classical, strings were clearly lit and well differentiated – as Bach's Concerto for Flute, Violin and Harpsichord (DSD) made obvious.
A small sense of midrange push brought the elaborate harpsichord work to the fore, underlining that the Focal is a revealing loudspeaker, in an understated fashion. It delivers massive detail within such complexity that I could sit and enjoy, without moving to the edge of the seat. Well lit, not over lit.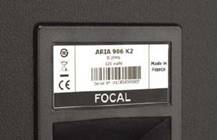 At right – cabinet and box label this 'speaker Aria 906 K2, but website and lit­erature think its Aria K2 906. Take your pick.
The Aria K2 906 was dean, clear and light on its feet. It teased out a wealth of information and projected it strongly. Not a big, warm sound so much as a dryly analytical one. They need an amplifier with bass punch to liven the cones and with this I found them impressively capable.
Focal consistently engineer their loudspeakers for flat response, avoiding the use of treble lift for artificial enhancement. And that approach can be seen in the Aria K2 906 where the bass/midrange unit reaches up to 3kHz before crossing over to the inverted dome tweeter that extends smoothly up to 20kHz. If anything there is a slight roll down up to 5kHz, enough to ensure treble does not get hard or fierce with poor quality CD. Upper treble above 6kHz does start to lift however, the tweeter rising to +2dB at 20kHz.
Output continues down smoothly to 60Hz before rolling away fast. The port (red trace) is tuned to 50Hz, also shown by the dip in the impedance trace, and this helps out a little with low bass. On balance though, whilst the 'speaker reaches low Focal don't lift lower frequencies to add warmth or body to the sound. As a result it will sound dry.
Lack of peaks and dips suggests low colouration. There is little higher frequency output (box noise) from the forward firing port (red trace), so box honk should not be obvious.
Overall impedance measured a high 8 Ohms with pink noise, the 4.4 Ohm minimum set by d.c. resistance, as our impedance trace shows. This gives lower current draw than usual, but also restrains sensitivity to 87.5dB from one nominal Watt (2.8V) of input. It's still a good figure though, amplifiers of 60W or more being suitable for high volume.
The Aria K2 906 is a well engineered, accurately balanced loudspeaker for near wall use where it will give detailed, dry sound.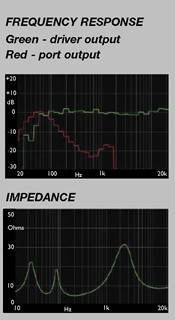 EXCELLENT – extremely capable.
FOCAL ARIA K2 Review
Clean and fast, but light bass.
PROS
reasonably even balance
detailed
clean
CONS
lack warmth
lack low bass
hard character
Add your review
Best Focal aria k2 906 prices in the US ?
Best Focal aria k2 906 prices ?
MORE DEALS

See also TOP 10 Subwoofers