FLOORSTANDING LOUDSPEAKERS Group test
FLOORSTANDING LOUDSPEAKERS – 
High life
Spending more on a floorstander opens up a world of possibilities – just ignore your preconceptions, suggests David Vivian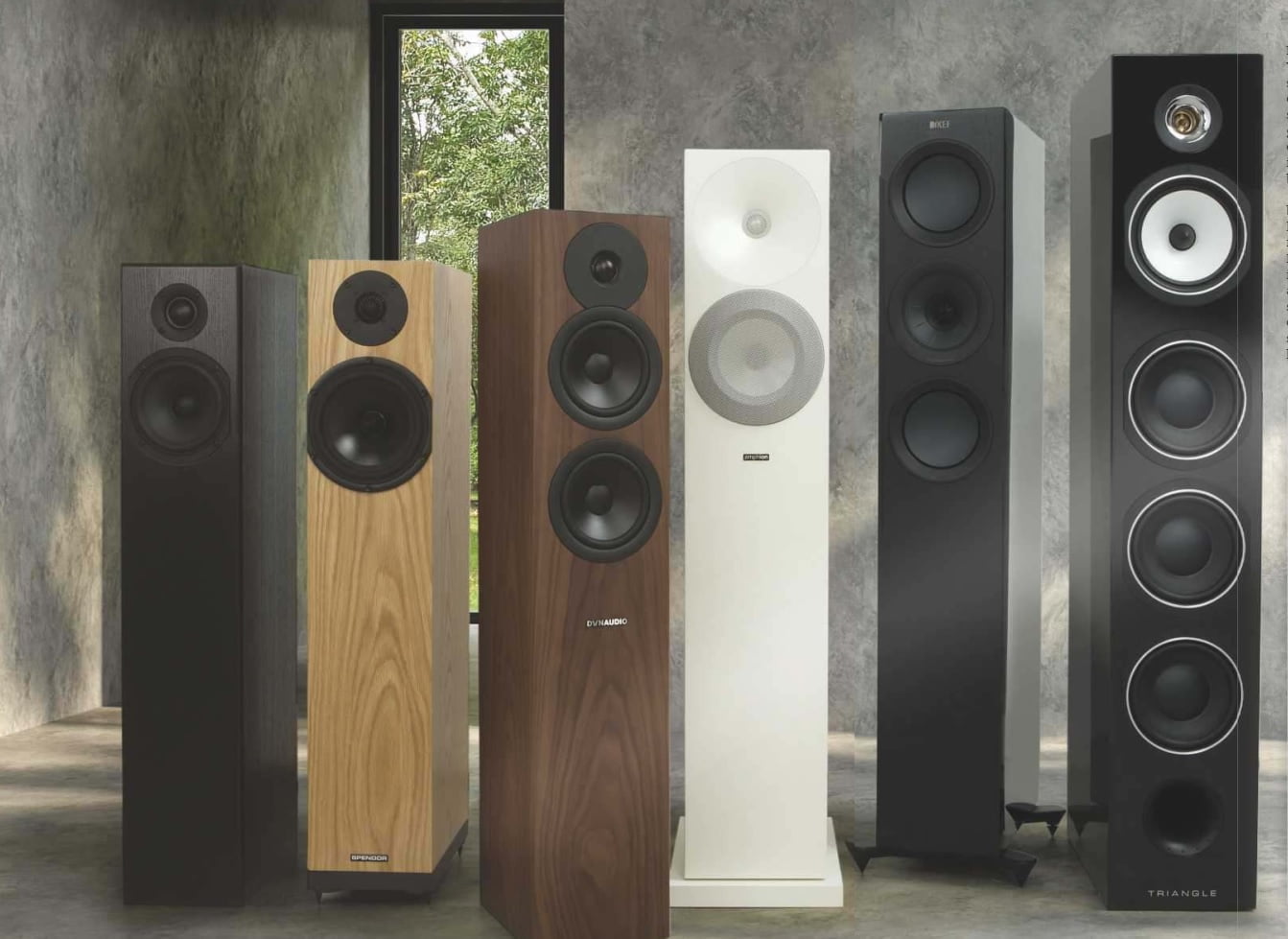 LET ME PUT
your mind at rest. You're probably wondering if spending between £ and £ on a floorstander can possibly be a smart move when there's plenty of good-looking, over achieving talent clamouring for your hard-earned cash in the £  to £ class that sits below it. The short answer is yes.
This is where things start to get a bit tasty; where speaker designers loosen up and show what they're made of. where Back To The Future's Doc Brown might have said: "Plug into any one of these beauties. Marty; and you're going to hear some serious s**t". It's where methodologies diverge and widen choice. We're still a long way from cost-no-object high-end fantasies, but not so far from the kind of esoteric techniques a larger development budget and higher asking price can indulge.
Sonic sensations
In this intriguingly diverse group, the Triangle Esprit Australe EZ's secondary (rear-firing) compression chamber tweeter and the surprising rear-facing passive radiator (substituting for a port) on the Amphion Argon3LS are examples of competing 'thinking outside the box' approaches. But there's also a disparity' in size and driver count between our contenders and I'm at a loss to understand how as the least costly speaker in the group. KEF's R5 manages to be the best finished. To discover which of these designs nail the sonic sweet spot, read on.
ON TEST
Amphion Argon3LS
Despite its domestic roots, Finland's Amphion has been making waves in the pro sector of late – good for cred ina model with such a potent Scandi lifestyle aesthetic. Dynaudio Evoke 30 No stranger to critical acclaim on both sides of the domestic-pro divide, Denmark's Dynaudio is hot on Amphioris case with this remarkable svelte and stylish speaker. KEF R5 KEF's R series looks the absolute business and is built to a standard that should have the competition breaking out in an anxiety rash, but how does the R5 sound?
Spendor A4 Spendor is all about understated quality and simple functionality. The A4 may not be big or conspicuously clever, but don't let that fool you – it could be the one to beat. Totem Sky Tower Canadas Totem enters the fray with a speaker so slim and light you'd have to assume the company knows something its rivals don't. This is a perfect way to find out. Triangle Esprit Australe EZ Tall enough to cast a shadow over the competition. Triangle's top Esprit floorstander has the tools to do some damage here, but size isn't everything.
Group test verdict
It's been a fascinating week of pitting little against large and late-night listening, but it's time for David Vivian to total up the scores and announce a winner
THIS IS ONE
of those roundups where it's possible to make a case for at least two of the contenders to just as easily finish first or last. Both the Argon3LS and Sky Tower are capable of spell-binding moments that mark them out as very special, yet they also have their own downsides. For all the Amphion's sophistication and skill, its control and poise tends to shut out excitement. The Totem can sound terrific, but only above a certain volume threshold. Quieter listening isn't its forte. Audition with care. The Spendor A4 is a more evenly
7
talented proposition with a pacey, articulate, musically engaging personality delivering all the verve and snap the Amphion lacks. It's a consistently entertaining performer that keeps hold of its musical mojo at moderate-to-low volume levels. It's just pipped for third place by the Evoke 30 which, while not quite as crisp and ebullient, is tonally richer and warmer, marginally smoother and sounds a little more rhythmically supple and fluent than the Spendor. Perhaps it's no surprise that the top spots are occupied by the two largest speakers. The first thing to say is that, aesthetic considerations apart, their size shouldn't exclude them from being used in smaller rooms. Bigger rooms are better; but neither the Esprit Australe EZ nor the R5 are fussy about positioning or will be too compromised by near-wall placement. That said, it's the Triangle that takes the second spot on the podium. Yes. it's pricey, but that money buys an awful lot of loudspeaker and sophisticated firepower. Its walk-in sized soundstage, effortlessly dynamic and easy-breathing delivery and ability to convey body and colour are just too hard to resist.
Winner
Astonishing value and beautifully built and finished, the KEF R5 is just too strong in too many areas. Capable of generating much of the Triangle's scale and dynamic generosity, it also matches the best of the rest for musical insight, flow, timing and soundstage imaging.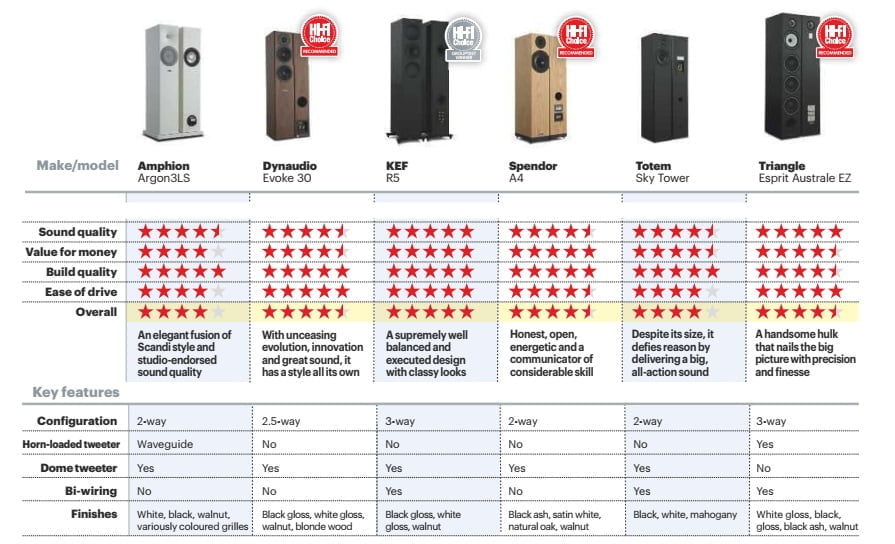 TRY WITH THESE
INTEGRATED AMPLIFIER:
Audiolab 8300A Unlike a number of amps currently on sale, the Audiolab is exclusively analogue and its clean and insightful sound will complement the talents of the incisive yet fluent KEF R5 well. STREAMER: Auralic Aries Mini The Auralic isn't the prettiest streamer going, but the level of performance that it offers is beyond anything else at the price. As well as superb sonics, you get an excellent control interface and it can even be used as a server. DAC: Chord Electronics Hugo 2 It might seem a tad expensive to team with a £ floorstanding speaker, but Hugo 2 makes a great partner for the Audiolab 6000CDT transport and there's little question the KEF R5 has the bandwidth and transparency to fully justify it