With some clear ideas about what makes a floorstander sound believable, this Finnish design certainly steps up. Read our Amphion Argon 3LS review.
| | |
| --- | --- |
| PRODUCT | Amphion Argon3LS |
| ORIGIN | Finland |
| TYPE | 2-way floorstanding loudspeaker |
| WEIGHT | 22kg |
| DIMENSIONS (WxHxD) | 191 x 968 x 305mm |
| FEATURES | • 1x 25mm titanium dome tweeter; • 1x 165mm aluminium mid/bass driver; • 1x 165mm aluminium passive radiator; • Quoted sensitivity: 85dB/1W/1m |
| DISTRIBUTOR | Auden Distribution Ltd. |
| TELEPHONE | 07917 685759 |
| WEBSITE | amphion.fi/en |
snowy white, minimalist design from Finland? Predictable, maybe, but don't think that's the long and the short of it. Yes, Scandi design has bags of showroom appeal, but it's Amphion's specific approach to acoustic engineering that will count for most in this group showdown.
First, there's the influence of the jumbo-sized waveguide surrounding the 25mm titanium dome tweeter.
Dubbed UDD (Uniform Directive Diffusion), Amphion contends that, in combination with the unusually low crossover of 1.6kHz, more of the directional frequencies we hear are emitted from a single point and benefit from the waveguide's widening and smoothing dispersion characteristics, which expand the listening sweet spot and minimise room interaction. The company also claims that by having the crossover frequency well below the ear's particularly sensitive 2-5kHz region, the leading edges of notes are much more precise and defined when compared with speakers using higher crossover points.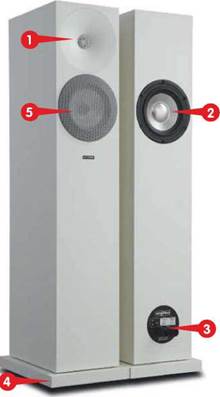 1 25mm titanium dome tweeter/waveguide
2 165mm aluminium passive radiator
3 Argento Audio binding posts
7Review earns Amazon affiliate commissions from qualifying purchases. You can support the site directly via Paypal donations ☕. Thank you!
See also TOP 10 Subwoofers
4 Integral plinth
5 165mm aluminium mid/bass driver
In addition to the advantages granted by having one of the larger cabinet volumes in the group, bass frequencies also get a helping hand from a lightweight aluminium passive radiator located in the middle of the back panel, directly behind the 165mm aluminium-coned mid/bass driver. This is in place of the more common reflex port and, as part of the sealed box system, is claimed to give a smoother and more natural low frequency response, though the remarkable quoted 30Hz (-6dB) lower limit is doubtless aided by the low 85dB sensitivity. Puny budget amps need not apply.
Build, including the integral footprint-expanding plinth, is substantial, the finish is excellent and I really like the chunky black Argento Audio binding posts.
It's a little disconcerting. I'm expecting the Amphion's pro-sector chops to deliver a slightly cool and dry but admirably neutral, honest and dynamic sound in the manner of an ATC or PMC. What I get, with Anette Askvik, is gentle grace and fastidiously ordered layers of loveliness, silky smoothness and ambient warmth. True, this is an audiophile-standard recording, young Askvik's hauntingly pure vocal and tasteful electric piano tinkling perfectly framed in an expansive soundscape delineated by beautifully rendered cello, drums, acoustic piano and sax. So nothing too raw or gritty. But the overall effect is a bit Tom Hanks, ie: irrevocably nice.
I'm counting on The Stanley Clarke Band to shake things up with Combat Continuum, a daft sci-fi themed multi-instrumental opus, by turns thunderous and tender with a wonderfully portentous voiceover by Steve Blum and some very high-speed drumming. Once again, I'm impressed and a little fazed. At both frequency extremes, the Argon3LS is superb – agile yet weighty and evenly extended in the basement, open, grainless and almost preternaturally smooth at the top. The speaker's clarity, naturalness and powers of resolution, especially through the midrange, are spookily good. Added to which, driver integration is seamless and helps promote a wide and deep soundstage with pinpoint imaging. Yet, despite rock-solid rhythmic precision, I can't help but feel strangely short changed. The composure and control never quite let go. In a nutshell, it sounds a little over damped and is just too polite to rock out with gusto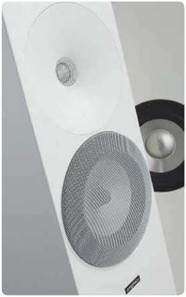 OUR VERDICT
Amphion Argon 3LS review
A lovely sounding speaker for lovely music, but lacks fire and excitement
PROS
Resolution
imaging
coherence
bass
appearance
CONS
Never really puts its foot down
Add your review
Best Amphion Argon 3LS prices ?
MORE DEALS

See also TOP 10 Subwoofers