This small battery-powered DAC and headphone amp proved both versatile in its connections and remarkable value in its performance.
DAC/HEADPHONE AMP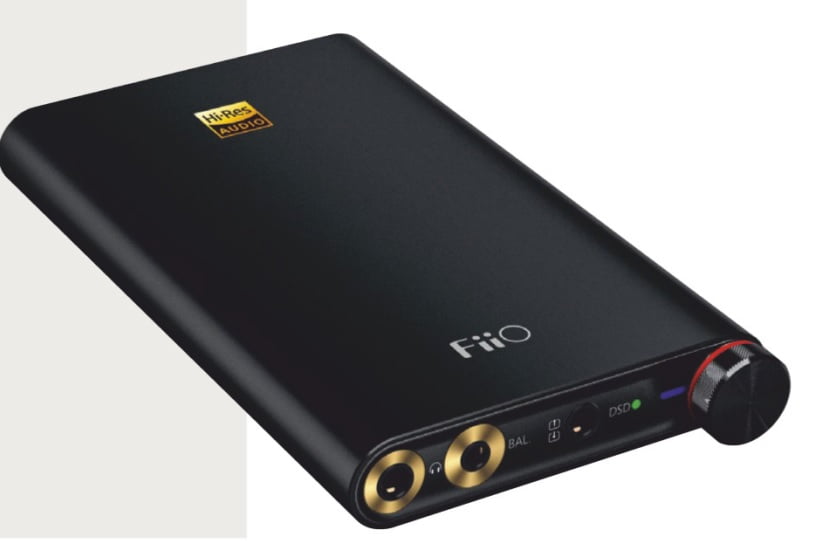 Like Astell&Kern in our previous review, Fiio also makes high-res- capable portable players. But this isn't one of them. Instead it's a different solution — a portable DAC and headphone amplifier. The goal, though, is similar, to allow you to enjoy high quality audio while you're on the road. It means having this additional box with you, but then despite its considerable capabilities and (as we'll see) excellent performance, it only costs $150. Audiophile quality is now within reach of most of us.
Most portable DACs operate from USB, and are designed to improve the sound of your laptop (laptop headphone outputs are usually poor, being built pretty much as cheaply as possible). The FiiO Q1 Mark II is certainly compatible with Windows and Mac computers in this way, but also with Android and iOS tablets and phones, with its internal battery making it much more versatile. A short Apple Lightning cable comes with the unit, in addition to the more common USB connector.
On the bottom are two small slide switches — one is a bass booster, the function of which needs no further description, and the other a gain switch with high and low settings.
At the other end (pictured below) there are three sockets, a combination rotary volume control and power switch, plus two LEDs. One of the sockets is for a standard 3.5mm headphone minijack. Next to that is the increasingly popular 2.5mm, 4-pole socket for balanced headphones. The third socket is another 3.5mm minijack socket, which can act as either a line input or a line output, rather cleverly contextually deciding which it will be, without you making a selection.
The blue LED is simply a power indicator. The green one illuminates only when a Direct Stream Digital signal is being received. That's a very useful function. Getting source equipment and software to stream DSD to an external DAC, rather than convert it to PCM, can be tricky. This LED gives the user confidence that they have it right (or informs them that they're going to have to play with their settings some more).
7Review earns Amazon affiliate commissions from qualifying purchases. You can support the site directly via Paypal donations ☕. Thank you!
Inside, the unit uses an AKM AK4452 DAC chip. This is a high-resolution DAC with support for PCM signals from 8kHz to 768kHz sampling and 32-bits of resolution, and Direct Stream Digital to 5.6MHz. It uses 256x oversampling and has selectable filter characteristics.
This DAC worked with all the PCM and DSD files we had available, including high-resolution FLAC music at up to 352.4kHz and 24 bits, and Direct Stream Digital at standard, double and quad speeds. The sound proved clean, clear and, when using suitable headphones, airy and open. And there seemed no shortage of drive available — we were able to play everything at any volume level we wanted, even uncomfortably high levels, and even quite difficult headphones, such as a 150-ohm pair of Sennheisers. We calculated the internal impedance of the headphone output to be less than 2.2 ohms, so even with low-impedance headphones where the impedance varies by frequency, there should be a minimal effect on response. Pretty much the only thing we found to criticise was that some noise delivered to the DAC via the USB socket breaks through into the analogue output. But we only spotted that from the results on our testing bench; we didn't hear it.
What we did hear was a remarkably priced portable DAC that challenges the performance and signal versatility of audiophile DACs costing an order of magnitude more. Recommended.
Fiio Q1 Mark II
Supports virtually all PCM and DSD signals
Amazing value for money
Great sound
Output has some noise from USB connection
Output: 112mW into 16 ohms Quoted battery playback: 20 hours File playback from USB: DSD128; up to 384kHz/32-bit PCM Dimensions: 97 x 56 x 13mm Weight: 100g
Contact: Addicted to Audio
Telephone: See website