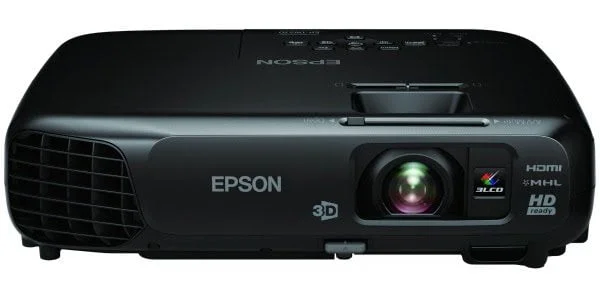 One of the first things you'll notice about Epson's entry-level projector is just how small it is. When you consider some of the monster-sized offerings that have come before it, the TW570 takes up little space on your coffee table. Although it looks unassuming, the curved edges and glossy finish offer a nice aesthetic touch.
There are a range of playback controls across the top of the projector, as well as a handy toggle to close and open the hole for the lens to project through. However, there's no real need to fiddle with the equipped controls thanks to the relatively sturdy remote that ships with it. Around the back are a plethora of ports and connections. The average user will find great use from the single HDMI port, while the D-Sub computer port will be a big benefit for those wanting to connect directly to their home PC.It's when we started actually projecting that some of the main issues appeared. No matter if we were streaming in 1080p or taking advantage of the projector's 3D capabilities, we found that the TW570 didn't cope with dark scenes in movies very well. Colours had a tendency to look washed-out and it took a lot of toggling with the settings to get a watchable picture in certain scenes. Another minor issue to note is the strange lag that the projector occasionally suffers from when moving from one scene to another, although this seemed to only happen when projecting in lower resolutions. If you're able to purchase a pair of 3D compatible glasses, this is definitely one of the cheapest ways to enjoy 3D video, however.

We certainly have to applaud Epson for bringing a feature-packed and relatively cheap projector to the market. Unfortunately there's no getting away from the fact that a nice design can't make up for the occasional picture problems that users will encounter, meaning in its current state, there are simply better alternatives on the market.When a projector struggles to achieve a satisfactory picture, you know something isn't right. Updates are needed to make this a projector we can really recommend to anyone.
• Entry-level projector
• 3D capabilities
• Built-in audio system
7Review earns Amazon affiliate commissions from qualifying purchases. You can support the site directly via Paypal donations ☕. Thank you!
See also TOP 15 projectors