This flagship loudspeaker towers over a metre tall and boasts some of the largest drivers around, Adam Smith is blown away. Read our Elipson Prestige FACET 34F Review.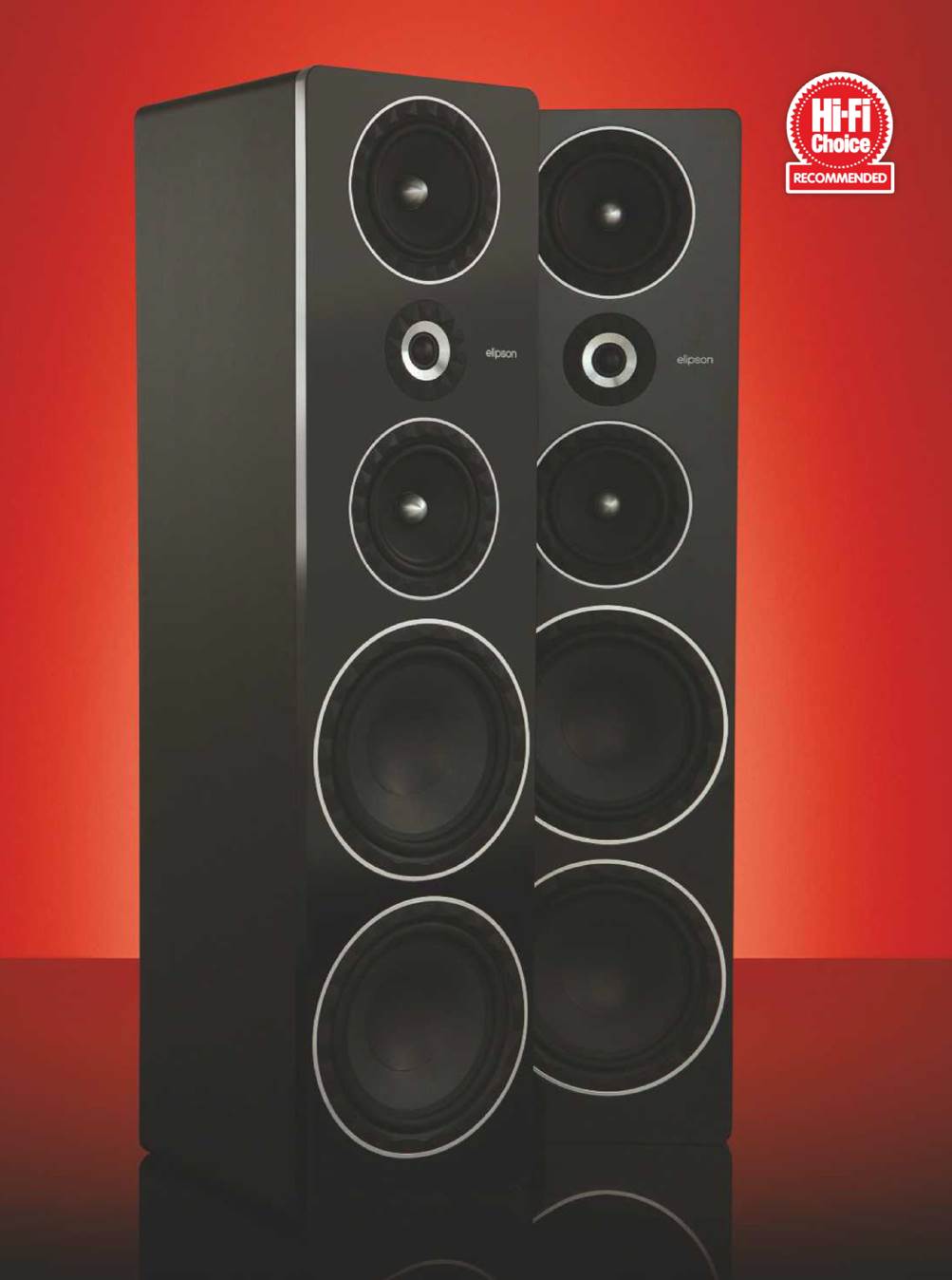 DETAILS
PRODUCT Elipson Prestige Facet 34F
ORIGIN France/China
TYPE 3-way floorstanding loudspeaker
WEIGHT 44.6kg
DIMENSIONS (WxHxD) 355 x 1,211 x 420mm
7Review earns Amazon affiliate commissions from qualifying purchases. You can support the site directly via Paypal donations ☕. Thank you!
See also TOP 10 Subwoofers
FEATURES
• 1x 25mm soft dome tweeter
• 2x 178mm midrange drivers
• 2x 254mm bass drivers
• Quoted sensitivity: 94dB/1W/1m (6ohm)
DISTRIBUTOR Avoke Ltd.
TELEPHONE 01628 857958
WEBSITE elipson.com
It is often said that the seventies were the decade that taste forgot and apart from being the era that introduced many of us to the idea of high-fidelity stereo sound, few seem to have fond memories of it. Some seventies design trends, however, are coming back into fashion and much like Wharfedale's Linton reviewed last month, there is a sign that properly proportioned loudspeakers are once again returning to popularity.
Consider for a moment, the archetypal seventies loudspeaker that many audiophiles may recall with something of a shudder. It was teak, had a wide baffle and a good choice of drive units covering the necessary frequencies. Bass units grew in size as you went up the range, but even
Instruments occupy their own space while vocals are perfectly projected
many entry-level designs boasted a 200mm main driver. Then the eighties arrived, bringing CAD modelling, laser measurement techniques, fancy drive unit materials and cabinet construction. Slim and neat became the order of the day and it turned out we didn't need those monster drive units and wide baffles after all.
Or did we? Speaking to a leading speaker designer recently, he dismissed anything less than a 254mm driver as "a mid/bass unit; not a bass driver". Speakers are gradually getting larger once again and listeners are realising that some of those seventies' designs weren't all that bad, and a big bass driver works wonders when properly implemented. So as a fan of designs that are from the big is beautiful end of the scale, the arrival of the Elipson's Prestige Facet 34F had me jumping with joy.
The Prestige Facet takes it name from the unusual 'multi-faceted' trim that surrounds each drive unit. This is made from silicon and is designed to reduce baffle diffraction to offer a smoother frequency response, particularly to listeners sitting off-axis. The 34F is the flagship of 14 models in the range that cover all manner of options from standmounts and floorstanders to surround speakers and subwoofers. It's a three-way, five-driver design with treble duties handled by a 25mm silk-dome tweeter with aluminium face plate and a large magnet assembly to give good sensitivity. The tweeter and twin 178mm midrange drivers are positioned in a D'Appolito configuration and the coated paper cone with rubber surround mid drivers employ aluminium phase plugs, which claim to increase the frequency range to make it easier to handover to the tweeter.
The two deliciously meaty 254mm bass units – again with coated paper cones and rubber surrounds – use concave dust caps that match the cone profile and are loaded by twin rear-facing reflex ports. Also on the back panel is a custom-designed circular connection panel with silver-plated binding posts, offering bi-wiring. The driver crossover circuity incorporates high-quality components, including metal film resistors, low-resistance inductors and metallised film capacitors.
Available in black, white or walnut finishes, the matt black of the review sample looks a little drab in my room. The enclosure is sturdy and well made, though, and incorporates internal damping by using different material in strategic places. Rigidity is aided by stiffening braces, both vertical and horizontal, and the baffle itself is made from two layers of inert material of different thicknesses. A knuckle-rap test only elicits a sore hand rather than any unusual noises.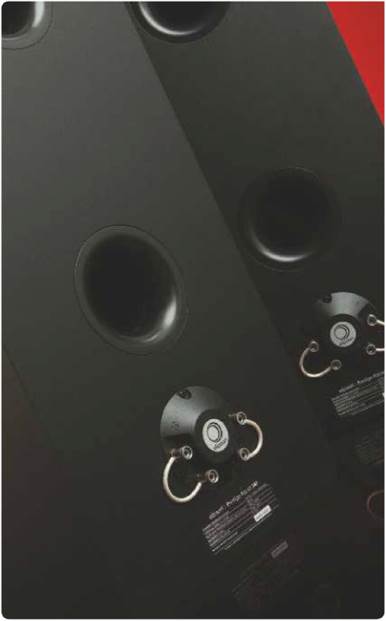 The two 254mm bass drivers are loaded by twin reflex ports
Rather than my usual listening room, each hefty floorstander is heaved into position in my lounge to give the pair a better chance to strut their stuff. Power comes from a Naim Supernait amplifier, fed by a Naim CD5 XS/FlatCap XS CD player, plus a Michell Gyro SE/SME309 with Audio-Technica AT-OC9SXH cartridge through an Anatek MC1 phono stage.
Sound quality
I know exactly what you want to know first, so I shall keep you in suspense no longer – yes, the Facet 34F has bass. Loads of it, in fact, and it's magnificent! I spend the first hour or two of auditioning simply working through my nineties dance 12in singles, some reggae and a few monster bass test tracks and am delighted to report that the 34F makes things in my listening room rattle, brings a grin to my face and sends both cats running for cover. I think my vision almost goes fuzzy when Jazzanova's Takes You Back hit its lowest notes, and all of this with the volume control on the Supernait barely a third of the way round. If the loudspeaker you require is a big, sensitive, thunderous party animal, then look no further; this one comprehensively ticks all the boxes.
IN SIGHT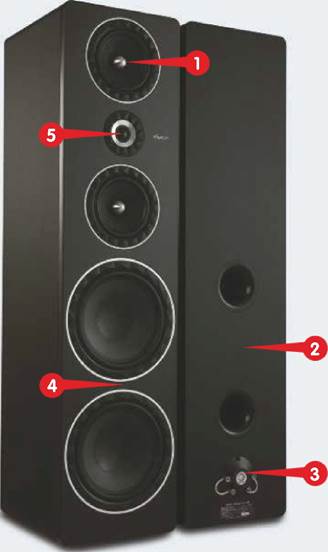 1 178mm midrange driver
2 Twin rear-facing reflex ports
3 Bi-wireable binding posts
4 2x254mm bass drivers
5 25mm soft- dome tweeter
However, this is Hi-Fi Choice and not Mixmag, so I replace my back-to-front baseball cap with my far more sensible reviewer's hat and continue.
It is now that the hard work starts. After some serious experimentation, I find that positioning is absolutely critical if you are not to end up with an unpleasant mid-to-low bass boom ruining things. I settle with each floorstander placed nearly 1.2m from the rear wall and 60cm from the sides and with reduced toe-in such that the ports are not pointing into the corner of the room. Placed here, the 34F works beautifully, with its low end strong and plentiful, yet impressively tight and tuneful.
Despite the design leaning more to natural bass talent, it's surprisingly couth at the low end. We've all heard loudspeakers that try to squeeze the last amount of bass quantity from their cabinets, sacrificing quality in the process, but the Facet 34F delivers the best of both worlds. When playing Bonnie Raitt and Delbert McClinton's glorious Good Man, Good Woman the kick drum strikes can be felt squarely in the chest, while the intricate bass guitar line that hangs behind is clean and easy to follow.
Across the midband, it continues to impress as Tori Amos really does seem to be at the other end of the room performing Pretty Good Year and every piano key strike leaps out at me with exactly the sort of force I would expect from a live instrument, particularly when Miss Amos gives it a bit of welly.
Naturally the Facet 34F's soundstage is as large as might be expected from a loudspeaker boasting such hefty proportions, but again there is real precision within. Instruments occupy their own defined space and vocalists stand clear and project perfectly out into the room. It doesn't throw images quite as wide as some rivals, but it certainly fills the space between, behind and in front so marvellously, it really doesn't matter.
Best of all, Elipson hasn't thrown everything at the bass and midrange and forgotten about the treble. The top end is deliciously sweet and insightful, but without any sense of hardness that could ruin the whole delicate balance. Admittedly, it can't quite match the ultimate purity of Bowers & Wilkin's similarly priced 703 S2 floorstander (HFC 433), for example, but there is never a sense that I am missing anything. The guitar string plucks from Nickel Creek's Reasons Why are beautifully defined and the subtle percussion effects
The multi-faceted trim surrounding the drive unit gives the speaker its name
backing Aaron Neville on Everybody Plays The Fool are present, correct and easy to distinguish.
Conclusion
There's a lot to enjoy about the Elipson Prestige Facet 34F. It might need a big area to breathe and require careful positioning so as not to over drive the room at particular frequencies, but get this right and it is a truly capable loudspeaker that can whisper subtly or rearrange your internal organs if the mood demands. Above all, it's never less than a hugely entertaining listen, which is surely what it's all about after all
OUR VERDICT
Recommended
Elipson Prestige FACET 34F Review
Muscular and dynamic sound with a surprisingly gentle touch, too
PROS
Plenty of good quality bass
Imaging and treble detail
CONS
Needs a big room and careful placement
Add your review
Best Elipson Prestige FACET 34F prices ?
See also TOP 10 Subwoofers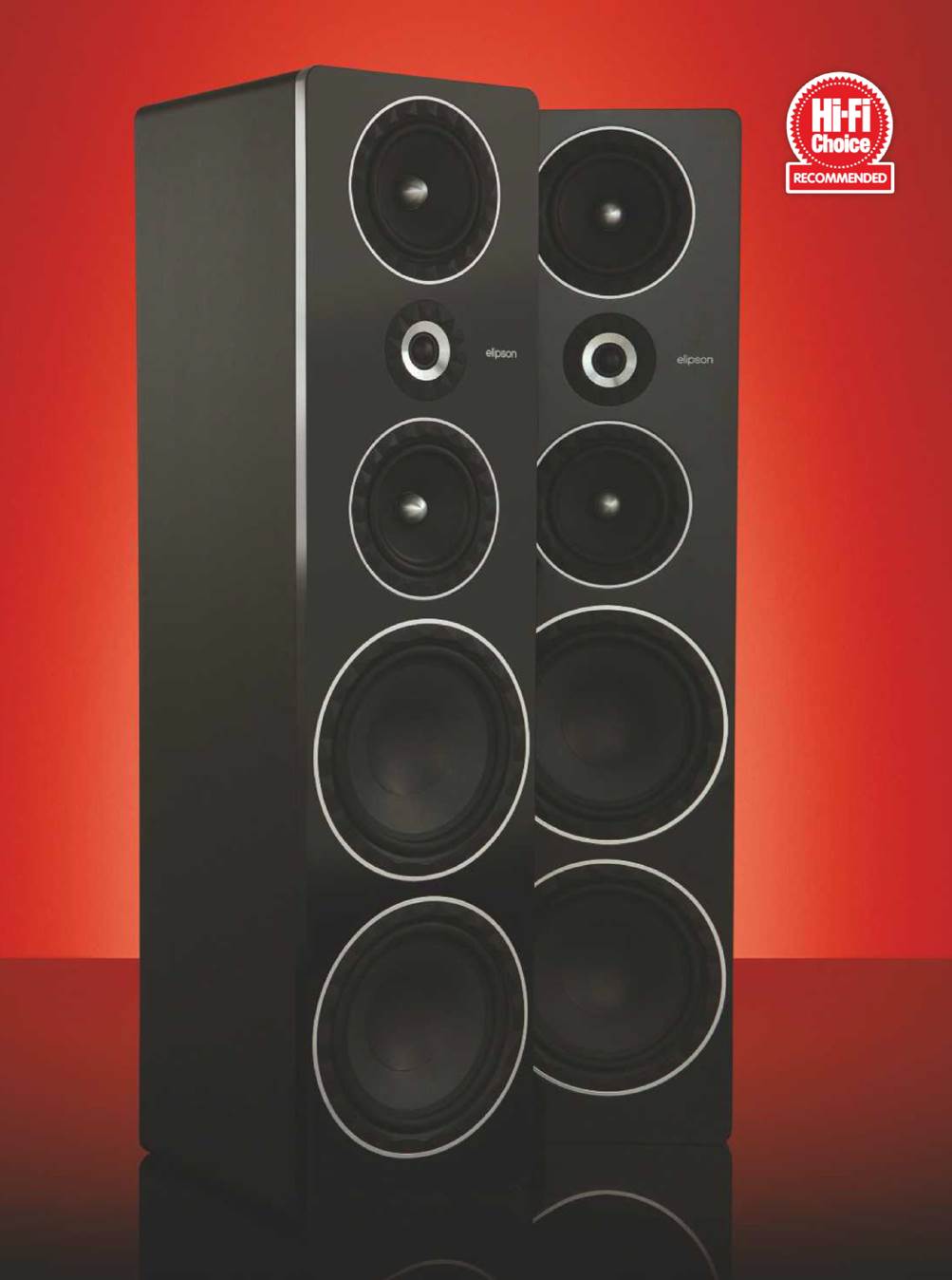 Elipson Prestige Facet 34F Speakers (Pair)
Elipson 34F joins the renowned Prestige Facet range almost two years after its launch, with same signature carved-facet crown around drivers for low baffle diffraction.
£2,495.00

HOW IT COMPARES
Bowers & Wilkins' 703 S2 is priced at (HFC 433) and boasts a wealth of technology to deliver superb sound. Equally high-tech and very capable is KEF's R7, but, both lack a certain je ne sais quoi of the Elipson when it comes to delivery of low-end power. This is not a problem for Klipsch's Heresy III, which is perhaps a little coloured in this company.