On 2017, Danish loudspeaker brand Dynaudio hit the big four-O, hence the name. The resulting loudspeaker saw the company's famed 28mm Esotar2-coated soft-dome tweeter undergoing some refinement. The even more powerful Neodymium magnet assembly now has a new pressure conduit – a specially shaped vent that allows a more spacious rear chamber and controls how the air moves from the back of the diaphragm into that space.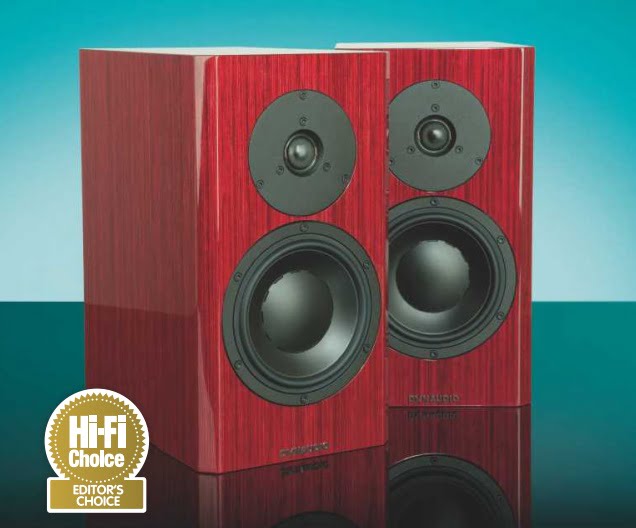 The tweeter's frequency response has been tweaked to reach down to around 1kHz – well into the midrange – for still smoother integration with what Dynaudio describes as its "best-ever 170mm woofer". Its basis is the long-running 17W75 driver, which uses the company's MSP (Magnesium Silicate Polymer) cone material, but debuts an improved 'Nomex' spider and 'optimised excursion-symmetry'. This mid/bass unit is a one-piece design, the large centre dome being part of the playing surface with a claimed frequency response extending to 4kHz. Dynaudio says that the 3kHz overlap between tweeter and mid/bass driver removes the need for steep filters and complex circuitry in the crossover to make the units' contributions mesh together seamlessly. As such, the requirement is for fine tuning rather than major manipulation and a relatively simple first-order crossover does the job.
Sound quality
Sometimes, when listening to a hi-fi system, it's the hardware's ability to deconstruct and analyse that can impose itself on what you're hearing. It isn't always a negative. Sure, it should all be about the music pure and simple, but often I catch myself listening to the electro-mechanical means of its reproduction: the grip an amp is exerting over speakers; the leading edge attack of a rim shot; the width, depth and height of the soundstage rather than what's going on within it.
The sound can be simultaneously impressive and distracting, capable of fixating listeners with a specialised, asymmetric skillset that ultimately prescribes what works and the kind of music they therefore buy.
The Special Forty is the rare product that somehow manages to reconcile all the important hi-fi performance metrics – transparency and tenacity have no quarrel – yet doesn't hype or
7Review earns Amazon affiliate commissions from qualifying purchases. You can support the site directly via Paypal donations ☕. Thank you!
See also TOP 10 Subwoofers
DETAILS
PRODUCT Dynaudio Special Forty
ORIGIN Denmark
TYPE 2-way stand mount loudspeaker
WEIGHT 8.1kg
DIMENSIONS (WxHxD) 198 x 360 x 307mm
FEATURES
170mm mid/bass driver
Quoted sensitivity: 86dB/1W/1m (6ohm)
DISTRIBUTOR Dynaudio UK
TELEPHONE 01638742427
hinder the music, however broad the church. It's a quality that's hard to describe, but unmistakable when you hear it – a serene sense of flow, perspective, order and dynamic freedom. Deep coherence. Richly textured tonality. Openness and air.
A warm balance, yes. But listen to the achingly plaintive massed strings and horns of Brothers on Randy Newman's Dark Matter album and you wouldn't have it any other way.
This overarching sense of naturalness is realised not so much as neutrality and smoothness as stunning midband resolution and aerobic capacity.
Michael McDonald's Honest Emotion bristles and breathes in open space.
It's the subtle realism that convinces the earthiness and emotion in his voice delivered without edge or hardness. Unerring listenability is bom of fascinating detail, a dynamic compass that chimes true, great bass and a tonal palette barely distinguishable from reality.
My regular standmount references ATC's SCM11 and Russell K's Red 50 (HFC 422) – are more than a grand less than the Dynaudio and could teach it a thing or two in specific areas. The ATC is more neutral and has a tauter bass. The Russell K is faster and more rhythmically explicit. But neither eclipses the Special Forty for sheer, listen-into-the-late-hours musicality. A classic in the making? No, it's there already.
Conclusion
Whatever its accountants might say, Dynaudio has done itself no harm in giving the Special Forty the full weight of its expertise and experience to play off against a cheekily understated appearance. Occasionally – what better time could there be than your birthday – it's all right to show off. And the result, in this case, is simply joyous. This is an exceptional standmount by any standard and, a conspicuous bargain.
OUR VERDICT
Highly Recommended
Dynaudio Special Forty Review
A true high-end standmount for real-world money
PROS
Thrilling musicality and transparency
Build and finish
CONS
Red birch gloss finish may divide opinion
Add your review
Best Dynaudio Special Forty prices ?
MORE DEALS

See also TOP 10 Subwoofers