Replacing the CM Series in 2017, the 700 Series draws on tech trickled down from the company's flagship 800 Series – allowing Bowers & Wilkins to offer a taste of the cutting edge at a much more affordable price point. Its 25mm 'carbon dome' tweeter tech used in this mid series aims to bridge the gap between the aluminium double dome used in its entry-level 600 Series and the diamond dome that gives the 800 Series Diamond its name.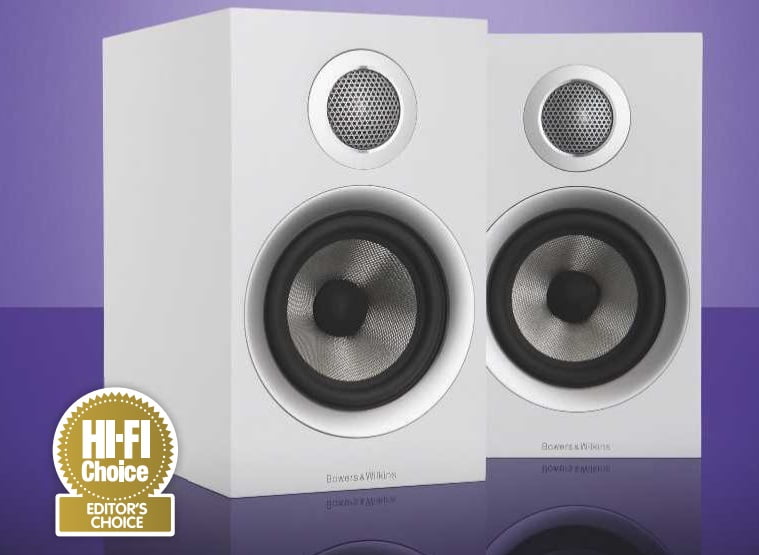 Also lifted from the 800 Series is the 'Continuum cone' mid/bass driver, albeit in shrunken 130mm form for the 707 S2. The Continuum cone is made from a new composite material that is woven in the Kevlar way and the intended upshot is a cleaner, sweeter, more open and neutral midband performance. In addition, Finite Element Analysis (FEA) is used to optimise the design of the driver's aluminium chassis and to depart from the limitations imposed on the outgoing CM Series with its heavier and less stiff zinc chassis.
The mid/bass unit further benefits from the presence of a tuned mass damper on the front face of the chassis to soak up any remaining resonance in the structure. And, adapted from the system used by the 800 Series Diamond, it also enjoys a degree of decoupling from the main enclosure, once more helping to keep the vibrations where they should be.
Sound quality
What happens next is extraordinary. The 707 S2 fills the room with music – Diana Krall's achingly beautiful cover of the Eagles' Desperado to be exact. No catch, no caveats, no kidding. Naturally, I've had small standmounts in here before. None has sounded as large, confident and open, none so authoritative and well balanced. Some slimmer floorstanders have struggled to command the room in the way the 707 S2 does, yet it seems bom to the task. Krall's dusky vocal, spare piano phrasings and lush string backdrop lean more on tonality, warmth and texture than tempo and timing, but the way these qualities are layered and anchored in a truly three-dimensional soundstage is no less astonishing.
Bass is outstandingly good on the end of the muscular Emotiva BasX PT-100/A-300 pre/power combo (HFC 329) with its high current delivery and tenacious grip. Although the large room gives low frequencies the space to properly propagate, the way these
7Review earns Amazon affiliate commissions from qualifying purchases. You can support the site directly via Paypal donations ☕. Thank you!
See also TOP 10 Subwoofers
DETAILS
PRODUCT Bowers & Wilkins 707 S2
ORIGIN UK/China
TYPE 2-way stand mount loudspeaker
WEIGHT 6kg
DIMENSIONS (WxHxD) 165 x280 x260mm
FEATURES
1x 25mm carbon dome tweeter
1x 130mm Continuum cone mid/bass driver
Quoted sensitivity: 84dB/1W/1m (8ohm)
DISTRIBUTOR B&W Group Ltd.
TELEPHONE 08002321513
WEBSITE bowers-wilkins.co.uk
small speakers combine weight and extension with a decent measure of agility and tunefulness is, frankly, ace.
Spend at least twice as much and you can buy nuggety mini monitors that possess fast, dry, meticulously pitch-perfect bass. But you tend to play at higher levels to get any real sense of weight or drive. And even then there's usually the requirement to listen in the near field for the best results.
The 707 S2 doesn't sound cold and analytical at modest volume levels, but delivers fullness, detail and dynamic expression that swells in a natural and organic way when you wind things up. Its talent for cohesion and creating the space for music to breathe and resolve is brilliantly illustrated with Alison Moyet's live version of / Germinate, which has rolling bass, a vast stadium acoustic and a delicious sense of Moyet's simmering, controlled power.
It helps that the midband combines fine focus with a feeling of presence that's almost tactile. Maybe best of all, the carbon tweeter seems to give the sound almost spookily believable texture and harmonic richness that only adds to this speaker's addictive sense of verve, scale and musicality.
Conclusion
I'm reminded of the slogan for the first Superman film with Christopher Reeve – "You'll believe a man can fly". Bolted to its dedicated stands (the FS-700 S2) and driven by a suitably capable amp, the 707 S2 seems to achieve the impossible, combining room-filling scale, proper bass and energetic rhythmic drive with remarkable dynamic freedom, natural tonality and musical insight. It might not be the fastest or most forensically detailed small speaker on the market, but I haven't heard another that marries the advantages of being small with sonic benefits previously exclusive to beefy floorstanders. It's freaky, but in a good way. A terrific standmount and outstanding value for money.
Recommended
Bowers & Wilkins 707 S2 Review
Dedicated stands and a decent amp recommended, but then prepare to be amazed
PROS
Beautiful design
Build
Engaging full- scale sound
Add your review
Best Bowers & Wilkins 707 S2 prices in the US ?

$

799.00
1 used from $799.00
1 new from $799.00
in stock

Best Bowers & Wilkins 707 S2 prices ?
See also TOP 10 Subwoofers