BY THE TIME that loudspeaker manufacturers reach that money-no-object, reference level, many of them focus solely on their hi-fi customers. This is because such models are complex and expensive to produce, and unless you see yourself selling a reasonable quantity of numerous different speakers in a range, the impetus isn't there to make them. Bowers & Wilkins is therefore a little unusual. Its 800 Series is (by a fairly comfortable margin) the best-selling range of 'high-end' loudspeakers on the planet, meaning it has long had the scope to make offering home cinema options worthwhile. And this is why, earlier this year, I found myself down at B&W's HQ, in Worthing, Sussex, to grab a multichannel listen. Read our Diamonds are forever.
The 'D4' series (so called because it's the fourth generation of 800 models to feature a diamond tweeter – the series actually dates back to the 1970s) launched last summer, six years after the previous D3 models rolled out of its UK facility. It comprises one standmount speaker, four floorstanders and two centre channel options, all with price tags that will make your bank manager wince, from the £-per-pair 801 D4 down to the £p/p of the entry 805 standmount, and all have a striking design, sumptuous build quality and the promise of superlative sonics.
Audio as art
Bizarrely, considering these speakers' price points, the D4 series isn't B&W's actual 'flagship'. That remains the company's Nautilus, which looks like a loudspeaker doubling as modern art, or one of H.R. Giger's early Alien sketches. Yet many of the engineering principles of that model are continued here; earlier 800 Series speakers informed the Nautilus, and the relationship works two ways.
And one thing the Nautilus doesn't have is that aforementioned diamond tweeter, a 25mm dome hewn from synthetic diamond that's incredibly stiff yet also lightweight, sought-after properties for a high-frequency driver. These domes are housed in Tweeter-on-Top enclosures, a long-running B&W trick that's designed to free the driver from cabinet-born diffraction, as the dome effectively outputs into free space. On the D4s this enclosure is solid aluminium, and has been lengthened to better manage the rear output of the driver. Further refining high-frequency performance is an additional (third) neodymium magnet in the motor assembly, and an improved voice coil design.
Each 800 Series speaker, apart from the two-way 805 D4, then has a dedicated mid-range driver that's 6in or 5.25in depending on model. Here, the cones are made from B&W's proprietary woven Continuum material and, again, there are numerous embellishments below the surface, including a revised mounting/damping system, new silver-plated motor, and something called a Biomimetic suspension, where the previous fabric 'spider' has been replaced by a flexible, more spindly design – a spider's web, if you will – to reduce the air pressure that can affect the mid-range performance.
On the 801 D4s and 803 D4 speakers in use in this system (L/R front and L/R surround), this mid-range unit is mounted in its own inert aluminium 'turbine head' enclosure, on top of the main cabinet that houses the 'Aerofoil' bass drivers – 10in units in the 801 D4s, and 8in in the £ 803s.
7Review earns Amazon affiliate commissions from qualifying purchases. You can support the site directly via Paypal donations ☕. Thank you!
See also TOP 10 Subwoofers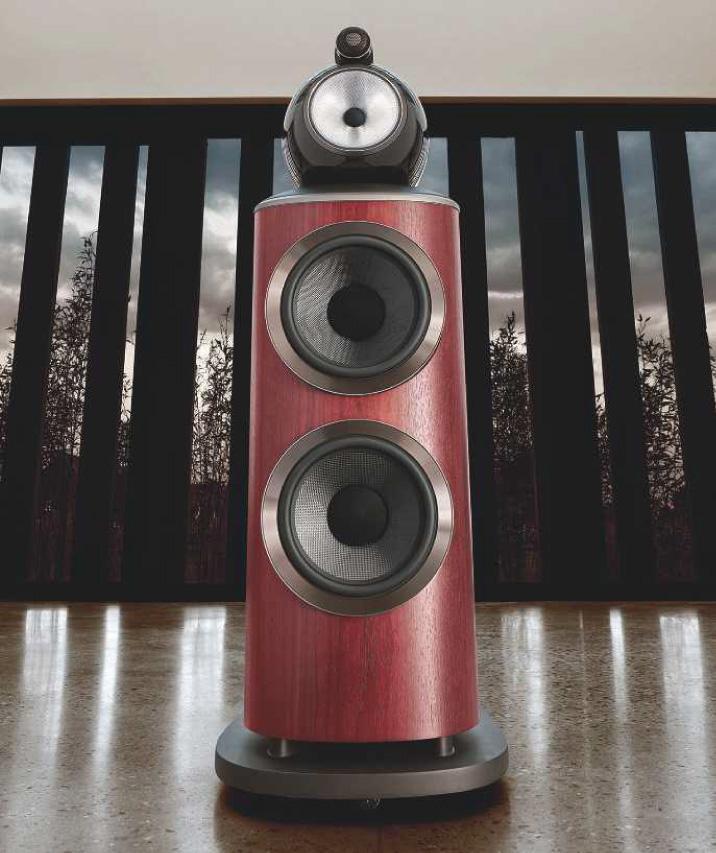 On these floorstanders, crossovers and dual sets of binding posts, which are somewhat confusingly arranged in a negative/positive/positive/negative layout, are fitted to a metal spine at the back that runs the full length of the cabinet. This is to seal it, because the cabinets are made from pressed layers of birch ply formed into immensely strong, wraparound sections, then given internal 'Matrix' bracing made from more birch ply and aluminium.
How low can you go?
The 803 D4 is recognisably a scaled down version of its larger sibling. The £ HTM81 D4 centre obviously looks a lot different, but is also closely related to the 801 D4 and has been designed from the ground up to complement it. It gets the same tweeter and mid-range, although it has to muddle through on 8in bass drivers.
You might expect that, as the 801 D4 has a claimed low-frequency response of 15Hz at +/-3dB, any partnering subwoofer will have its work cut out. Bowers & Wilkins makes the DB1D sub (£), not so much to help the 801 D4 but to ensure that the 'fill' across the LFE channel is consistent. This uses a pair of aerofoil bass drivers – 12in – and a 2,000W Class D amp stage. Reach is suggested at an invigorating 10Hz, so, yes, you can surmise that there should be enough 'fill' for most needs.
The discreet option
At this point, I'm sure some of you are thinking, 'hang on, if I'm creating a dedicated home cinema, I don't want box speakers, I want in-wall designs.' So I should stress that Bowers & Wilkins has a complete range of in-wall and in-ceiling models that use the same sophisticated drivers as the 800 Series. This is the reason there is no surround/height/upfiring speaker in the 800 Series (or in any B&W range, actually) and why, in the company's own demonstration room, a quartet of its CCM8.5D in-ceiling speakers (£ a piece) are on hand for Dolby Atmos/DTS:X playback.
Furthermore, If you envisage a system (dream or otherwise) spending as much time playing music as multichannel movie soundtracks, you would need to be a confident soul to believe there is much in the way of in-wall competitors that are going to challenge the 801 D4 as a straight stereo speaker.
This extends to how these speakers are bolted together. I won't insult your intelligence by saying that any member of the 800 Series Diamond is 'cheap' but – and hear me out on this one – they do represent strong value, because their relatively large production volumes allows for efficiencies and processes many of their 'high-end' rivals do not enjoy.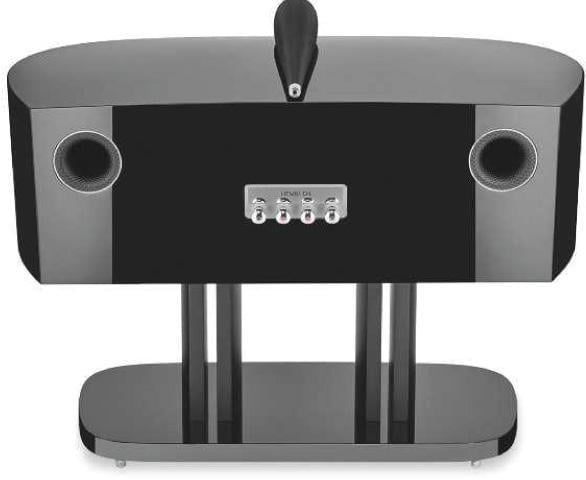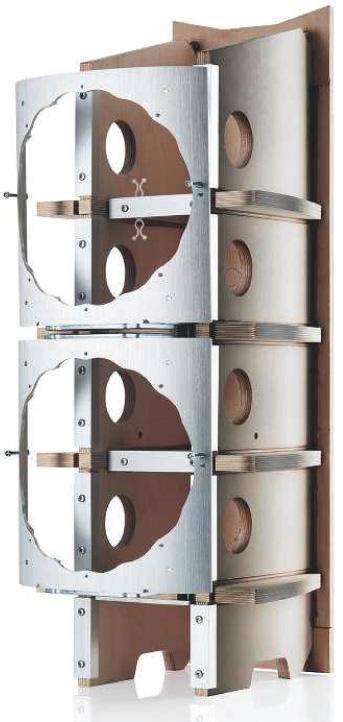 In other words, these speakers are exquisitely finished, even judged at their asking price. There's nothing remotely 'artisan' about them, instead they're built with an exacting precision and feel ridiculously solid. Perhaps they're not exactly pretty, the 801 D4 looking quite portly, but your eye will be drawn to them. There's also a new Satin Walnut finish to complement the previous Gloss Black, Gloss White and Satin Rosenut options.
While you can undoubtedly spend big bucks on partnering electronics, Bowers & Wilkins felt confident enough to run the demo of this £ approx system on a Rotel RSP-1576MkII processor (£) and triple-stack of Rotel RB series power amps costing a grand total of £. This isn't exactly bargain basement stuff, but it's still significantly less than the speakers cost.
The spice of life
Whatever the on-paper price imbalance, the results were truly outstanding.
Bowers & Wilkins' claim that the HTM81 D4 centre is a designated driver for the 801 D4 towers was ably demonstrated by the Spice Harvester rescue sequence in Dune. The effect as you sit in front of them is not that there are two 801s and a centre, or even that there are three 801s. Instead, you are treated to a vast and cohesive expanse of sound that unpicks the layers of detail in the mix in a way that is forensic but unforced. It doesn't demand you notice the sheer variety of noises that the harvester makes, or how voices creep in and out of intelligibility, but instead makes them effortlessly perceivable. The sound is just…. there.

And then there's the heft. I am aware of the arguments that a capable subwoofer negates the requirement for every speaker in a system to be full range, but this system is an elegant demonstration that it doesn't hurt if they are.
As you might expect, the movement of effects between the cabinets is gloriously seamless given the commonality of drivers in use but, more than that, when you have surround (and even ceiling speakers) with authentic low-end presence, even with them being cut at 40Hz there is a movement of air beyond the activity of the DB1D. This leaves the subwoofer to fill in the gaps, which it does with all the brilliance you might expect from a 2,000W dual-driver behemoth.
Once upon a time…
Like all truly great AV though, the 800 Series Diamond experience is not only about shock and awe (however much fun that might be). Brad Pitt's drive back to his caravan in Once Upon A Time In Hollywood remains one of my favourite test sequences, because it's laden with detail in a understated way. Here, you are in the passenger seat of a Karman Ghia as it makes its time capsule journey through Los Angeles, cocooned by sounds you have at least some recall of in reality – and these B&W speakers nail every single one. The acid test is that you can close your eyes, ignore the image on screen and the sonic world this system builds is still utterly believable. The delicacy and nuance available from these physically imposing speakers is something you'll never get tired of.
And then there are the additional benefits of a speaker package with this much performance prowess. Let me go on record as saying that I don't ever feel I'll be a true fan of music encoded in surround. The move to Dolby Atmos has improved things, as these new mixes feel less forced – they tend to use the additional speakers to build space rather than artificially jam a instrument somewhere it doesn't belong. I still don't always consider the results an improvement, but listening to the phenomenal Atmos mixes of Kraftwerk's 3-D The Catalogue through this system has been enough to make me a more enthusiastic convert.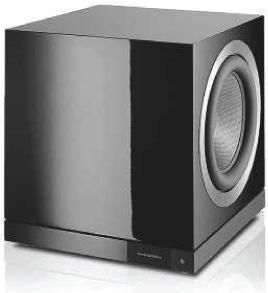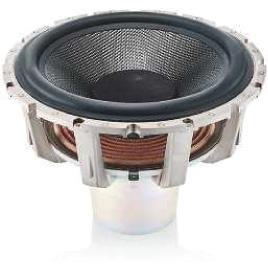 The scale that these cabinets create is notable, but that's only half the story. Often, when you listen to a speaker that mounts a 10in woofer, the simple effects of physics give an influence to the sound; a slight sluggishness that stems from the need to get that driver to change direction. The 801 D4, by contrast, has blistering transient speed and the rest of the family is no less adept. This makes the Atmos mix of Elektro Kardiogram an absolute riot. Pure, fast seismic bass you feel as well as hear underpins a joyous and wholly engaging experience. Would I swap my eight-LP vinyl boxset of the same material? Probably not, but I'd give it some serious thought.
Movie and music master
And the thing is, the whole purpose of this system is that you don't have to make any such choice. Its performance with multichannel movie material is breathtaking, the sort of delicately wielded force that very few speaker systems on Earth can achieve. Whether you want the explosive drama that redefines the ideal of 'visceral', or to simply capture the most subtle nuance of whispered dialogue, this is a system that delivers. Then, when you don't fancy firing up the projector, B&W's speakers have a mastery of music that very little else can get anywhere near.
It is this all-round ability that sets the 800 Series Diamond apart, and why, if I ever happen to be in the position to spend £ on a loudspeaker package, it would be right at the top of my list
See also TOP 10 Subwoofers