With its futuristic design, Devialet's signature wireless sound system looks like no other. Steve May discovers if it has the sonic prowess to match its style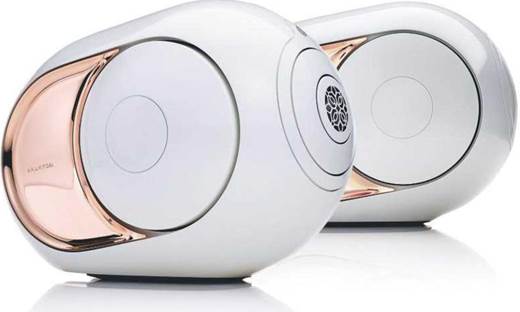 TRACE BACK THE family tree of the Sky Soundbox and you'll soon arrive at the Devialet Phantom. This premium all-in-one effectively paved the wave for Sky's soundbar (see HCC #280), and it's just as distinctive in its own idiosyncratic way.
The Phantom family has been around for a while. The Silver launched in 2015, with this gold iteration landing late 2016. Since then it's had a number of firmware updates to improve audio performance. As good a reason as any to call it in for an audition, we reckon.
The speaker is nothing if not distinctive. Curved in gloss white with golden side cheeks, it's a genre-challenging design that tips the scales at a hefty 11.4kg. The quality of the finish is stunning.
Setup is via Wi-Fi using either Devialet's Android or iOS Spark apps. I tried first with Android, which proved to be a frustrating experience requiring several resets. The iOS app worked painlessly.
7Review earns Amazon affiliate commissions from qualifying purchases. You can support the site directly via Paypal donations ☕. Thank you!
See also TOP 10 Subwoofers
Go figure.
Unsurprisingly, this is the most powerful
av info
PRODUCT: High-end wireless all-in-one sound system
Top of the range Phantom model
PEERS: Bluesound Pulse 2; Master & Dynamic MA770
of all the Devialet Phantoms. It's rated at an improbable 4,500W, and claims to muster 108dB. Quite how such a small device packs so much wallop is unclear. Clearly Devialet has discovered how to defy the laws of physics; this is the only way to explain a bass extension that's rated to 14 Hz. Those glitzy 22-carat cheeks visibly exhale as it reaches down; a titanium dome tweeter handles the highs.
While the Gold Phantom is primarily a wireless speaker, offering both Bluetooth and Wifi, it still supports hardwired connectivity. There's also an optical digital audio input for an external source, be it music player or TV.
Double it up
The Phantom isn't just a solo act. Two can be paired for high-end stereo, with the help of a Dialog Hub box. The kit price for such a system is (gulp), although that does also include a pair of Devialet's Treepod stands.
Thankfully, my single Phantom had no problem filling a room, and the audio character of this speaker is unlike anything else I've come across. The soundstage is pointed but never monophonic, the mid-range spreading out like a sonic puddle.
With Quantum Gate by Tangerine Dream, it's easy to appreciate the speaker's plunging
SPECIFICATIONS
DRIVERS: 1 x titanium tweeter; 1 x aluminium midbass driver; 2 x bass drivers ONBOARD POWER (CLAIMED): 4,500W CONNECTIONS: Ethernet; digital optical audio input INTEGRATED SERVICES: None DIMENSIONS: 253(w) x 255(d) x 343(h)mm WEIGHT: 11.4kg
FEATURES: Integrated Wi-Fi; Bluetooth; ARM Cortex-A9 800MHz dual-core processor; Devialet 24-bit DAC; Spark iOS and Android app; 22-carat rose gold-plated chassis; claimed frequency response of 14 Hz to 27 kHz (+/- 2dB)
Two Gold Phantoms can run in stereo mode bass and laser-like high frequencies.
The sound is tight and dramatic.
There's copious volume, but it never sounds stressed or overwrought. It may not be stereophonic in the traditional sense, but it did seem that the room was actually throbbing.
This sonic pattern rather limits its value as a TV sound system. Very few will have the right room configuration to make this work (the Phantom would need to be central to a large screen), but I can see that it could be quite a statement if you pulled it off.
Certainly the speaker sounds superbly clear and nuanced with speech and TV dialogue. It's dynamic too.
Perhaps because of the sci-fi aesthetic I felt drawn to playing electro rock. It seemed a natural marriage. The insistent riffing of Assault on Precinct 13's main theme was a thing of beauty here, its synth notes writ large. Fabio Frizzi's Mystery's Apotheosis, with its relentless Italian splatter beat, also suits the Phantom to a tee; similarly John Carpenter's theme from In The Mouth of Madness allows the Phantom to rock out, side cheeks pulsating furiously.
Admittedly the bass can get a little unruly – the Stooges Search and Destroy has it struggling to keep up – but fed TV action, it'll have your mates searching in vain for the hidden subwoofer.
The Gold Phantom is about as outrageous a wireless speaker as it's possible to imagine, but it's undeniably impressive. It's not a replacement for a traditional two-channel system per se, more a lifestyle statement.
It delivers a premium sound – but comes with a premium price attached
VERDICT
DEVIALET GOLD PHANTOM Review
The Gold Phantom reinvents wireless all-in-one audio. A high-science sound system for those with a champagne lifestyle.
Add your review
Best DEVIALET GOLD PHANTOM prices in the US ?
Best DEVIALET GOLD PHANTOM prices ?
MORE DEALS

See also TOP 10 Subwoofers