AV receivers ain't what they used to be. They're so much more! In addition to delivering big movie power, this Denon is a music machine, networking and streaming — it even likes a nice chat.
SUMMARY – Denon AVR-X3500H: AV receiver with HEOS
PROS:
Excellent all-rounder
Very good video processing
HEOS, Alexa and Google Assistant support
CONS:
Slightly weird DLNA DSD behaviour
No DAB + tuner
Denon offers quite the full range of AV receivers (technically, the top two are amplifiers, since they don't have built-in tuners). In the middle of the pack is the AVR-X3500H. This is, of course, a networked receiver. And with Denon these days, that means it supports the highly effective HEOS streaming and multiroom platform, plus some other advanced cool stuff.
Equipment
The Denon AVR-X3500H is a seven-channel model, with each channel rated at 105W into eight ohms at low levels of distortion (two channels driven). With a settings switch, all channels also support four-ohm speaker loads. That means it'll work properly with just about any mainstream set of loudspeakers.
Those seven channels can support two overhead (or front height) channels for Dolby Atmos and DTS:X. There are no line-level outputs for additional overhead channels, so you'll limited to a choice between 7.1 or 5.1.2. Or you can go simply 5.1 and redirect the last two channels to a second zone, to bi-amping the front speakers, or to a stereo Speaker B pair.
As you'd expect, there are a few more connections than with the next model down, the AVR-X2500H. More surprisingly, there are some connections which disappear. So you get an extra analogue audio input, bringing it up to five sets, and you get line-level outputs for all channels, not just for the subwoofer. That means you can bump up the amplification with your own, if you like, for some or all channels. There's also a dedicated HDMI output for a second zone.
7Review earns Amazon affiliate commissions from qualifying purchases. You can support the site directly via Paypal donations ☕. Thank you!
Most of the other stuff is the same: a generous set of eight HDMI inputs and two outputs, two optical and two coaxial inputs and, of course, a phono input. (How nice now to be able to say that 'of course' there's a phono input!)
But two sets of connections from the AVR-X2500H are missing here: there are no composite video outputs, nor component video outputs, even though there are composite and component inputs. But that's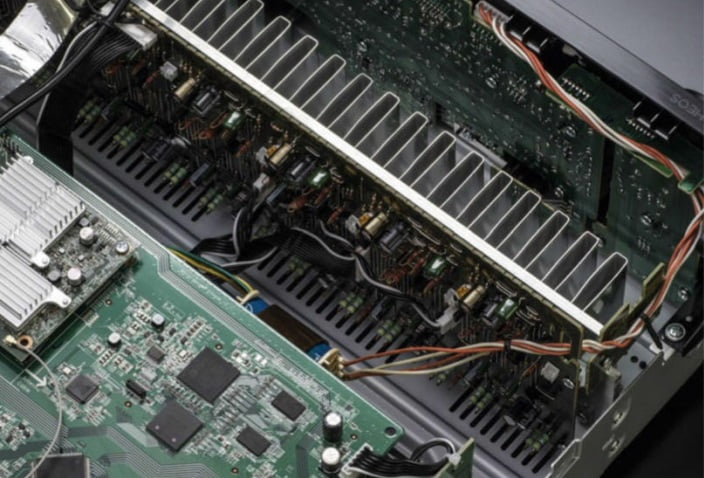 not as odd as it seems, because it points to the X3500H's additional ability to convert analogue video inputs to digital HDMI outputs. The lesser AVR-X2500H needs composite and component outputs to go with its inputs, because it doesn't have this ability.
Like the AVR-X2500H, the AVR-X3500H can scale up video, all the way to 2160p if you so choose. It comes with Audyssey automatic calibration, and a cardboard stand on which you can place the calibration microphone.
Sound
I used this receiver with the usual wide mix of material, from vinyl using its built-in moving- magnet phono input, to Ultra-HD movies via HDMI. For the former I chose either the 'Direct' or 'Pure Direct' sound setting. These cut out the EQ and subwoofer. (There's a trick available: if you want no EQ but do want the subwoofer with these modes, set the 'Bass' output to 'LFE + Main'.) These settings also make sure that the audio 'Restorer' isn't in operation. That's one of those processors that purports to 'restore' information lost during lossy compression, but which of course can at best make a guess.
Throughout all that wide range of material, including plenty of high resolution network audio, the receiver produced powerful, precise and authoritative sound. Noise in the phono circuit was inaudibly low, and it had a decent level of gain, so I didn't have to wind the level up to ridiculous levels. You can trim the relative levels of each of the inputs to allow switching between sources without surprises.
The Dolby Surround processing worked brilliantly, pulling out height information from regular 'flat' 5.1 movie audio tracks and sending it upwards. I came to use Dolby Surround (or DTS Virtual:X, its equivalent) routinely for movie playback.
Video
The receiver did a competent job converting analogue video inputs to digital output via HDMI. But more important is how well the receiver performed progressive-scan conver­sion with digital inputs. There are plenty of digital set-top boxes and PVRs that are limited to 576i50/1080i50 output. As we've seen over the past year or two, DLP-based Ultra-HD projectors tend to be pretty poor at handling interlaced 50 hertz input. So, a receiver's ability here becomes important.
By default, this receiver doesn't do any HDMI scaling or conversion, but it's easily switched on in settings. And it's well worth it. The automatic progressive-scan conversion was excellent. There was only the briefest of slips into accidental video-mode deinterlacing with the hardest 1080i/50 test clip, and none at all with 576i/50 tests.
The various receiver menus pop up over all 1080p or less content. For 2160p content the underlying picture is blanked.

Network audio
I've previously written that Denon receivers seem a bit tricky when fed Direct Stream Digital audio using third party apps. Which is a pity because the receiver clearly supports DSD at both regular and double-speed (i.e.
Ins and outs
The Denon has eight HDMI inputs and two outputs, while the analogue video inputs are converted to digital for output via HDMI. Additional audio inputs include two each of optical and coaxial digital audio, plus Bluetooth, plus the HEOS platform
Seven channels of power
The seven channels of power are matched by seven sets of speaker terminals, with versatility to run 7.1 or 7.2 channels, or to run 5.1 and use the remaining outputs for a second zone or biamping L/R channels.
HEY, DENON !
Voice control on the AVR-X3500H
You can control the Denon AVR-X3500H home theatre receiver by voice if you have either Google Assistant or Amazon Alexa up and running in your home. I went with the former since Google is taking over my life anyway. Of course, you will need the appropriate Google or Alexa device in your room too. I used a Google Home Mini.
Setting up, as with anything to do with Google Assistant, requires using the Google Home app on a phone. And, yes, you can get the app for the iPhone in addition to Android phones. You also need to sign up for a free HEOS account. These systems work by you talking to your Assistant.
It passes on things to the Google servers. They contact the HEOS servers. And the HEOS servers send commands back to your Denon receiver (or other HEOS device).
It isn't particularly hard to set up, and once set up it's fairly easy to use. You say things like, 'Hey Google, pause music on… [the name of the device]'. Why the hesitation? Well, the default network name of this receiver is Denon AVR- X3500H. That's bit of a mouthful. I'd suggest first using the Network settings in the receiver, or the device settings in the HEOS app, to rename the receiver to something easier to say. I went for 'Denon Receiver'.
As I write, the commands are limited to setting the volume or muting or unmuting the sound. If you're playing network audio (so the receiver is, in effect, the source device) you can also skip tracks (both ways), pause playback and resume, or stop playback.
But this is something that's being continuously developed.
We are really just at the start of all this voice control stuff.
Already Denon says that early this year the system will be enhanced by adding the ability to choose inputs by voice and switch the receiver on and off.
And also to 'Ask to play music (station/album/song) from a music service (only music services currently supported in HEOS app: no Spotify/Apple Music/Google Play Music)'. It also plans to add 'implicit targeting', which means not having to say the receiver's name all the time.
A couple of points on volume control. The 'Volume up' and 'Volume down' commands work in 5dB increments.
By default, the receiver shows its volume on a scale of 0 to 100. In the settings you can change this to -80dB to +18dB, which used to be the convention for home theatre receivers. That's what I do. By voice you can also set the volume to an absolute value – 'Volume 20 on Denon Receiver'. This works on the 0 to 100 scale, regardless of the setting. If you say 'Volume -20', it will set the volume to 20 on that hundred point scale.
Finally, although the receiver works with Google Assistant, it is not a Chromecast device. You can't just pipe music to it via Chromecast, nor have it act as the music device for another Chromecast speaker.
---
DSD 128) rates. You can do that easily enough using the HEOS app and a server as the source.
But when I used the BubbleUPnP app instead, the receiver reported DSD audio as running at 192kHz and 16 bits. So I went digging through the BubbleUPnP settings. First I turned off the MIME check (see grabs above right). MIME stands for Multipurpose Internet Mail Extensions. What used to be an identifier for email purposes has spread broadly throughout networking, and is used to identify all manner of multimedia content. It seems that the receiver was mislabelling its capabilities, saying to the network it couldn't decode DSD. Switching off MIME checking was necessary, but not sufficient. For some reason the app was still requiring a conversion, so I also switched off the 'FFmpeg audio decoding' function, so that the app was unable to convert the audio. Then DSD flowed smoothly through to the receiver in native format.
Of course, most people will be perfectly happy to just use the HEOS app for piping network audio to the receiver. It does work well, and it brings all network (and non-network) inputs under one roof, so to speak. In addition to the receiver's physical inputs (and remember, these can be piped to any other HEOS speakers in your home), the app supports Spotify, Deezer, TIDAL, Soundcloud, iHeartRadio and Tuneln.
For network audio, I successfully tested the aforementioned DSD64 and DSD 128, FLAC up to 192kHz and 24 bits, MP3, iTunes-style AAC, and Apple Lossless up to 24-bit/96kHz (appar­ently this works up to 192kHz as well). Spotify works using Spotify Connect, so it feeds directly from Spotify's servers, not via your phone. But you need a subscription. That said, Spotify allow to you specify the use of a higher quality stream when using Spotify Connect devices.
When I streamed content ripped from DTS CDs, the receiver failed to notice the DTS flag and consequently decoded it as standard PCM, generating noise. There are probably only a handful of people in the world who actually do that, so it's unlikely to trouble most. I only mention it because some other brands do perform this decoding properly. To be clear, the receiver is fine when the DTS is delivered via HDMI or optical from a disc. As I'm writing, a 5.1 mix of 'Days of Future Passed' by the Moody Blues is filling the office.
Conclusion
The Denon AVR-X3500H is a first-class receiver with a good balance of performance, features and price. And it's starting us on the road to futuristic home control (see panel). That stuff is still mostly a curiosity, but it's great to see that Denon is right on the leading edge. Stephen Dawson
Best Denon AVR-X3500H prices in the US ?
Best Denon AVR-X3500H prices in the UK ?
MORE DEALS

Specs
Display technology: OLED panel Tested with firmware: 2400-9142-8131-1084 Power: 7 x 105W (8 ohms, 20-20,000kHz, 0.08% THD, two channels driven)
Inputs: 8 x HDMI, 2 x component video, 3 x composite video, 5 x analogue stereo, 1 x phono, 2 x optical digital, 2 x coaxial digital, 1 x USB, 1 x Ethernet, Wi-Fi, Bluetooth, AM/FM antennas Outputs: 2 x HDMI, 0 x component video, 0 x composite video, 1 x 7.1 pre-out (2 sockets), 7 pairs speaker binding posts, 1 x 6.5mm headphone Zone: 1 x HDMI, 1 x analogue stereo, assignable amps Other: 1 x set-up mic, 1 x RS-232C, 1 x trigger out, 1 x IR in, 1 x IR out
Dimensions (whd): 434 x 167 x 341mm
Weight: 10.8kg
Warranty: Three years
Contact: QualiFi Pty Ltd
Telephone: 1800 24 24 26
Web: www.au.denon.com