DETAILS PRODUCT Cambridge Audio Edge NQ
ORIGIN UK/China
Network music player/DAC/preamplifier
WEIGHT 10.2kg
DIMENSIONS (WxHxD) 460 x120 x 405mm
32-bit/384kHz PCM and DSD256- capable DAC
Digital inputs: 2x optical; 1x coaxial; 1xUSB-B; HDMI
Analogue inputs: 2x RCAs, 1x balanced XLRs
Chromecast; AirPlay; aptX Bluetooth; Spotify Connect- Google Play; internet radio
DISTRIBUTOR Audio Partnership PLC
7Review earns Amazon affiliate commissions from qualifying purchases. You can support the site directly via Paypal donations ☕. Thank you!
TELEPHONE 0845 9001230
WEBSITE cambridgeaudio.com
Leading Edge
David Price auditions CA's ambitious Edge streaming preamp and power amp combination and discovers a considerable bargain
There's no denying the seriousness with which Cambridge Audio has approached its new Edge range of hi-fi separates. Designed to commemorate the company's 50th anniversary, the three-strong rage of higher end components sticks with the brand's value-for-money feel but at a more premium price. The new Edge NQ streaming preamplifier and Edge W stereo power amplifier you see here are the two mainstays of the range. They are the most prestigious components the company has offered since the eighties, when it sold the world's first two-box CD player in the shape of the CD1.
Cambridge Audio was acutely aware that in order to move back up into a more esoteric area of the market, it had to get Edge right first time. That's why substantial resources have been invested – not just in the audio circuitry but also styling, ergonomics and build. Edge components feel swisher and more substantial than the company's standard products, conferring a sense of quality as well as sporting a sparse, minimalist fascia. The question is: is the packaging good enough to cause badge-conscious buyers to buy into the new range? In order for this to happen, this pre/ power combination must comfortably outperform all of its rivals at its price. No pressure then…
The new Edge NQ is jam-packed with features that make it less of a preamp and more of a digital hub that also happens to play analogue sources should you wish. Cambridge Audio's technical director Dominic Baker declined to mention which type of DAC is built in but it runs from up to 32-bit/384kHz PCM and is DSD256- capable, which is accessible via its aptX Bluetooth input or its optical, coaxial or USB inputs. It has network streaming built in, plus Chromecast, AirPlay, Spotify Connect, Google Play and internet radio, all via the Edge Remote app freely available for iOS and Android devices. There are three analogue inputs, including one pair of balanced XLRs as well as three digital inputs – one coaxial and two optical – and a USB-B port and HDMI with an Audio Return Channel – meaning you can connect your TV and hear the ►
CONNECTIONS – EDGE NQ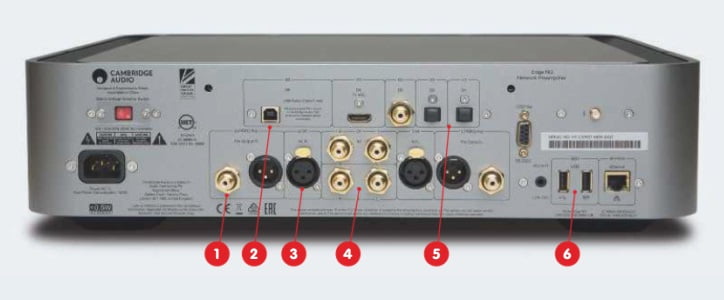 1 RCA preamp output (right channel)
2 USB-B port
3 Balanced XLR input (right channel)
4 2x RCA stereo line-level inputs
5 2x optical digital inputs
6 2x USB-A ports for wi-fi and storage
---
audio through the hi-fi system. Aside from the omission of a phono stage input, you can hook up and play almost anything.
Its unique user interface has a nice action and works intuitively with the hi-res display to give volume control and icon-based source selection. The unit starts up quickly enough and works seamlessly after you've set up the network functionality. A basic remote is included, but you'll need to install the app on your smartphone or tablet to work the NQ properly.
The Edge W power amplifier offers a claimed 100W RMS per channel of power at 8ohm, and twice that into 4. Despite being a vast behemoth that looks closer to an American super-fi power amp costing 10 times its price, it has been designed in a minimalist way with just 14 components in the signal path, says Dominic Baker (see boxout). Much of its weight comes
It remains studiously neutral, stepping aside to let the music do the talking
from the chunky aluminium casework, complete with large heatsinks on either side of the case and twin toroidal transformers designed to cancel out the other's electromagnetic interference. Round the back, there are beefy speaker wire terminals, a choice of switchable RCA or XLR inputs and even a handy auto-power off control. It's built and finished very well, which explains the not inconsiderable weight – and comes with much-needed heatsink fin protectors, which are essential to use when removing it from the case to stop any injury to your hands.
Set up is easy enough, providing you take things slowly and methodically. Weighing 24kg, the bulk of the power amplifier is the main issue and you don't want to be moving it around if you can help it. The preamplifier is easier to setup using the Edge Remote app to remotely do a firmware update and then rebooting the first time you plug it in; this takes around five minutes. Once up and running it's very nice to use, even if it doesn't quite have the slickness of some high-end components I've seen.
Sound quality
Starting with the analogue inputs via a dCS Debussy DAC, the duo is impressive. There's a sense of easy confidence that you don't normally hear from products at this price, a feeling that the amplifier walks softly but carries a big stick. There's oodles of power to drive pretty much any speaker, and no sign of the Edge W huffing and puffing at high volumes. Tonally it's a pretty straight-laced combination; it's not especially warm or euphonic, yet you would never call it cold and harsh. Instead it sits close to neutral, with just a hint of a sweetness if you really listen for it. Rhythmically, it has a fleet-of-foot character, being fast and engaging if not absolutely the most athletic around. One really attractive facet is the presentation sounds all-of-a-piece; everything is well integrated with no sense of the bass dragging its feet. It's also good spatially, with a cavernous sound that's hard not to be impressed by.
Cue up a dense slice of progressive rock like Rush's Take A Friend, and it shows its physical presence. It has large reserves of punching power to handle even the most hard-to-drive loudspeaker. The song's bassline is
DETAILS
PRODUCT Cambridge Audio Edge W
ORIGIN UK/China
TYPE Stereo power amplifier
WEIGHT 23.6kg
DIMENSIONS (WxHxD) 460 x150 x 405mm
Quoted power output: 2x100W RMS (8ohm)
Inputs: 1 x RCAs; 1x balanced XLRs
Twin power transformers
Auto power-off facility
DISTRIBUTOR Audio Partnership PLC
TELEPHONE 0845 9001230
WEBSITE cambridgeaudio.com
fast and fluid, and the Edge combo carries it with a lot of weight, along with a sense of ease that comes by not having to try too hard. The music sounds gutsy and full-bodied, yet there's no bass boom or any sense of the amp sounding unbalanced. Indeed, the Cambridge Audio duo is light and crisp in tone; it's not a soft-around-the-edges 'marshmallow' of an amplifier.
With Supertramp's Take The Long Way Home, the tonal balance gets brighter and more foreword – as it should. The obvious contrast between the two recordings shows the NQ/W's fundamental lack of coloration and admirable transparency. It remains studiously neutral regardless of material, managing to step aside and let the music do the talking.
Moving from seventies rock to eighties pop, and this combo proves itself to be a seriously enjoyable musical performer. David Bowie Let's Dance shows how fast, lithe and agile it is on its feet, rhythmically speaking and I can easily hear the woodblock percussion playing along, and how this is a counterpoint to the tight, fast-attack, quick-release drum sound. At the same time, Bowie uses keyboard bass in parts of this track and electric bass guitar in others, and the Edge combo is agile enough to show which is which. Indeed, the reverb on the track's great Stevie Ray Vaughan guitar solo is clear to hear along with the brilliant rhythmic gait of his playing. The NQ/W offers both
CONNECTIONS-EDGE W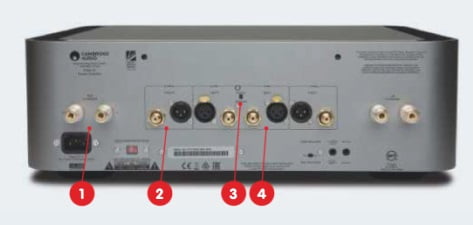 1 Loudspeaker binding posts (right channel)
2 XLR and RCA outputs (right)
3 Balanced/unbalanced switch
4 XLR and RCA inputs (left)
CUTTING EDGE
Minimising the number of components in the signal path has been key to the audio design of the Edge range, says technical director Dominic Baker. "In both the Edge NQ and W we have replaced capacitors normally used in the signal path with DC coupled technology. Capacitors have the biggest detrimental impact on the sound, because they have wide tolerances and are basically made from a wound metal foil with a dielectric in between. This makes them susceptible to microphony, so they transform mechanical vibration into unwanted electrical noise. Removing them results in a cleaner signal path that's less susceptible to distortion. We use servos to inject an equal and opposite amount of DC into the signal to cancel out any DC offset."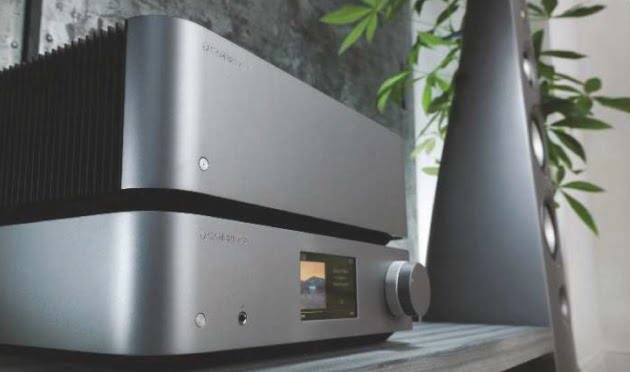 Great care has been taken over the power transformers, too. "Edge NQ uses a single toroidal, while the W employs two opposing ones to cancel out stray magnetic fields. A silicon steel screen tape is applied around each transformer to reduce stray fields, then any that is left is cancelled out by the opposing arrangement. The result is less electromagnetic radiation interferes with the sensitive input stage of the amp. This works at all volume levels because each transformer is delivering the same current, cancelling out one another's electromagnetic field throughout the whole power range."
---
impressive amounts of detail, as well as the vital ability to string it all together in a musically coherent way.
Via its internal DAC and streamed from my Western Digital NAS drive, the Edge pre/power serves up a sumptuously wide recorded acoustic from Kate Bush's Snowflake in 24/96 WAV format. This is truly immersive stuff, as I bask in the intricacy and vibrancy of the close-miked piano. Kate's voice hovers over this ethereally, located with great precision in the recorded acoustic.
A DSD stream of Simple Minds' Oh Jungleland shows a similarly huge, expansive sound, and this works with the Edge W's massive punch to deliver a vast 'stadium' effect. There is even a taste of this via the aptX Bluetooth input, which turns in a surprisingly engaging rendition of the retro techno dance of Nu Era's Oscar Styles. Rich, vibrant and bouncy, it's riotously good fun.
Conclusion
Cambridge Audio has surpassed itself with the new Edge NQ/W combination. It's lovely to look at, nice to use and is packed to the gunwales with features, too. It sounds seriously good for the money, with a happy, upbeat nature underwritten by real power and insight. It deserves to succeed, so here's hoping that it does
Q&A
Dominic Baker
Technical director, Cambridge Audio
DP: Why create the Edge series?
DB: For our fiftieth anniversary we felt that the time was right. Five decades ago our founders had a vision of creating hi-fi systems that delivered Great British sound into people's homes affordably. One of these talented engineers. Professor Gordon Edge, was the brains behind the innovation and design of our first product – the legendary P40 integrated amplifier. In recognition of this, we developed Edge. We have done high end before, of course.
Back in 1987 Cambridge Audio launched the CD1 two-box CD player – the first of its kind to have the transport and DAC separated, and the most expensive CD player in the world at the time.
Edge took three years to design, with no less than nine engineers working on it full time and a total of 20 involved. In fact, the concept was first discussed between the owner James Johnson-Flint, MD Stuart George and myself in February 2015.
Tell us some more about that new user-interface…
A key part of the aesthetic of Edge products, this combined volume knob and input selector is effectively a 'fly-by-wire' control interface. The selector's position is monitored by an MCU that decides which input relay to switch. These relays are situated at the rear of the amplifier on the input board, close up to the connectors where they should be rather than bringing the audio signal all the way up to the front of the amplifier and back to the rear again, risking picking up interference. The volume control is also monitored by an MCU, which then selects the correct path through an IC resistor ladder and it's at the rear on the input board. Designed and assembled in the UK, it comprises 31 precision-milled engineered parts.
How It
Arcam's £2,749 FMJ C49 preamp and £3,249 FMJ P49 power amplifier (both in HFC 409) are the closest natural rivals. This is a classy combo with crisp design and good if not exceptional build. The Edge combo wins comfortably on features, but it's more evenly matched sonically. The former has a slightly more incisive and detailed sound overall, yet it's a little less musically engaging, with the Edge W in particular having a more barrel-chested nature with better loudspeaker driving ability. Both combos are well worth a demo, and choosing between them will come down to your needs.
OUR VERDICT: EDGE NQ
LIKE: Clean, direct, enjoyable sound; connectivity
DISLIKE: No phono stage input
WE SAY: Versatile modern preamp with bags of style and great build at the price
OUR VERDICT: EDGE W
LIKE: Punchy, confident sound; detail and focus
DISLIKE: Nothing at the price
WE SAY: Classy yet gutsy solid-state power amplifier