How much mic fun can you get from  a budget receiver ? Mark Craven investigates. Read our DENON AVR-X1600H Review.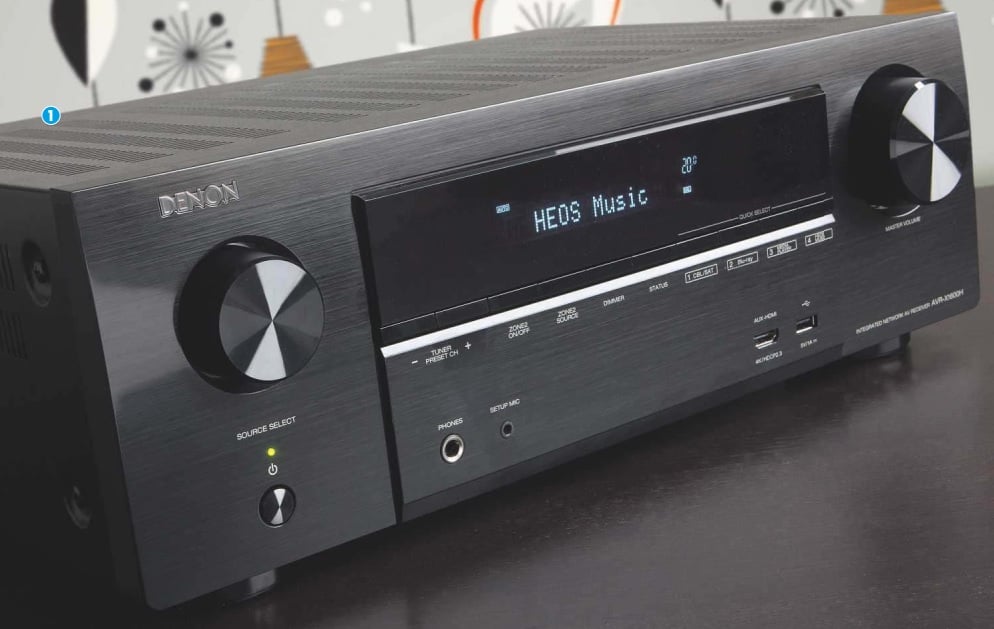 Av info
PRODUCT: Seven-channel AV receiver
Position: Denon's entry-level seven-channel model, above the five-channel AVR-X550BT
PEERS: Pioneer VSX-934; Denon AVR-X2600H
Denon's AVR lineup is designed to offer something for everyone. At the very top sits the AVC-X8500H, a 13-channel model catering to expansive systems in dedicated rooms. Drop down the range through 11-channel, 9-channel and 7-channel options, and eventually you'll arrive at the AVR-X1600H.
1. If your cans aren't wireless, use the AVR's full-size headphone output
7Review earns Amazon affiliate commissions from qualifying purchases. You can support the site directly via Paypal donations ☕. Thank you!
2. The remote's colour keys give quick access to sound presets
This currently sells for almost an eighth of the price of its flagship sibling, but shares some of the same functionality.
Most obviously, it flaunts Denon's HEOS multiroom technology, but you don't have to be running a multiroom system to make use of it – the intuitive and generally stable-running HEOS app integrates access to subscription music services (Spotify, Tidal, Deezer, Qobuz, Amazon Music), plus internet radio, and works as a controller for the receiver's Bluetooth, USB and networked audio playback, and as a handy source/volume changer.
In short, HEOS adds a whole level of extra functionality, while the inclusion of AirPlay 2 provides an alternative multiroom/streaming hookup for Apple devotees.
The AVR-X1600H's other features also impress considering the price. Physical connectivity includes six HDMI inputs (one front-mounted), backed up by composite AV and digital optical audio ports. There's only one HDMI out, but it's hard to imagine prospective buyers demanding two – nor is the loss of a component video connection (found on Denon's step-up X2600H) a deal-breaker. More useful (certainly as a future upgrade path) is the provision of twin subwoofer outputs, and the receiver's MM phono turntable input.
The design is typically Denon, meaning the AVR-X1600H looks a lot like the AVC-X8500H, only smaller in stature and without a drawbridge to hide its setup mic input, headphone output, front-facing HDMI and USB ports, and control buttons. While that does make it a little messy, the LCD display is pleasingly large, and the brush effect finish gives it an air of glamour.
Internally, the receiver employs a seven-channel discrete amplifier stage claiming 80W per channel into 8 ohms (20Hz-20kHz measurement, 0.8% THD, two channels driven). Compared to the AVR-X2600H, that means a drop of around 15W per channel – but it's probably not worth getting hung up about power claims when considering affordable receivers likely to be partnered with affordable speakers in a small/mid-size setup.
Passing the bar
The AVR-X1600H is probably best thought of as either a cutting-edge replacement for a previous budget AVR, or a step-up from a soundbar/TV audio system. Regards the former, the provision of Dolby Atmos and DTS:X playback, and 4K HDR passthrough over HDMI (including Dolby Vision) – plus the aforementioned HEOS skills – make it easy to recommend if such features are in demand.
As for the latter, anyone coming from a stereo soundbar to fully fledged multichannel audio is going to love it.
The seven-channel design enables 5.1, 7.1 or 5.1.2 Atmos setups, with Audyssey MultEQ XT to provide a level of room EQ and Denon's setup assistant to guide you through the installation process. The latter is useful, as it runs logically and allows you to skip sections if you want (and you can return to it later on if you wish). The presentation, which majors on low-res text, isn't very flash though – the GUI on the Marantz NR1710, for instance, is slicker.
Denon's well-spaced binding posts don't make bare wire connections too fiddly.
Audyssey MultEQ XT won't excite committed calibrators, but it's always recommended to run the setup, especially if the placement of your speakers doesn't conform to ITU guidelines (which will be the case in many living room environments). The impact on my 5.1.2 sub/ sat array, post-Audyssey, was a tighter overall soundfield. During playback, centre and subwoofer level adjustments are provided – the former useful to boost dialogue – plus treble/bass tone control.
While a lot of effort has been made to streamline the user experience, the number of available sound modes here (and their names) might still baffle. For instance, depending on the source, you might have up to nine different DTS variants to choose from. The Auto option (activated by the Pure key on the remote) is therefore a great fallback, as it matches source to channels. Denon has some fun with its presets too: hit the Music key on the handset (or the Sound Mode icon on the HEOS app) and you can scroll through to find Rock Arena and Jazz Club modes. The former really does make it sound like you're queuing at the bar at the back of the venue and missing out on your favourite track.
Stereo stomper
The AVR-X1600H combines tangible amp power with a purposeful approach to sonic delivery. It's a trait that first becomes apparent with stereo music playback.
The funk basslines of Lenny Kravitz's Always on the Run (Tidal, 16-bit/44kHz) benefit from the Denon's love of the low-end, bringing a full-bodied feel to the sound, while Slash's staccato guitar riffs play out and intertwine in the L/R channels.
A criticism would be that the main vocal sounds a bit less forthright amidst the warm, rich tones;
J.J Cale's country meander Crazy Mama gives the receiver a chance to show more nuance.
Meanwhile, Metallica's well-produced Low Man's Lyric absolutely stomps along, with the bass and snare drums hitting with a tight, dynamic punch.
This attacking approach benefits film soundmixes. In The Hitman's Bodyguard (Blu-ray), when baddie Gary Oldman stabs someone through the hand with a pen (ouch), his sudden movement is accompanied by a thwack and a swell of the soundtrack, quickly followed by the squelch of tearing flesh. It's designed to be unnerving and dramatic, and this budget AVR is up to the task.
There's no doubting the AVR-X1600H's ability to envelope with surround/Atmos content either. Audyssey calibration keeps a rein on proceedings,

and the receiver steers and places FX believably. Even with its Atmos channel credentials maxing out at a modest 5.1.2, this can still be thrillingly immersive. Demo-grade sequences such as the Zero attack in Unbroken, or the underwater finale in Aquaman (both Ultra HD Blu-ray), gain scale and depth with those two extra overhead channels (in my case, Dolby Atmos upfirers – Denon's amp assign tool lets you specify front/back Atmos and overhead/upfirer).
As with other 2019 Denon and Marantz hardware, the X1600H includes Dolby Height Virtualization processing, for an Atmos effect from a flatbed of speakers. And as I found with the Marantz NR1710, it's an idea that sounds better in theory than in practice. There's a notable shift in the sonic signature with the processing enabled, but it muddies the sound and affects clarity.
A more intriguing feature is Bluetooth transmission, which has only recently been made available via firmware update. This allows you to listen to your movies and music via Bluetooth headphones – which obviously has appeal for late-night sessions, family households, etc.
Put into practice with the John Wick: Chapter 3 – Parabellum 4K BD and some inexpensive BT headphones, this feature proves extremely appealing. The film's multichannel mix is sent as a stereo downmix, but the intimate soundstaging offered by headphone listening means its retains plenty of effects localisation and immersion. As Wick sneaks around the Continental hotel, fighting off invaders, the violence feels up close and personal.
The setup process is a bit counter-intuitive, there being no handset key for Bluetooth transmission – you need to activate it within the receiver's General Settings menu. Here you also have the option of simultaneously sending the native film mix to your speakers as usual, or only to your headphones (with volume control handled by the latter). Denon says this flexibility isn't offered by any of its competition.
Considerable appeal
Compared to pricier and more powerful AVRs, the X1600H obviously has some weaknesses. Its delivery sounds livelier as you push up the volume, but with my Focal Sib Evo Atmos package I found it easy to sometimes ask it to do too much, causing the sound to become hard and strident. Its multichannel delivery also lacks that sense of absolute cohesion and spaciousness that step-up models will deliver.
Against that, however, there's this amplifier's price tag and feature set to consider. Sure, its user interface could do with a resolution spit and polish, and there's no Chromecast audio built-in, but with its HEOS integration and Bluetooth transmission features, the X1600H has two killer apps that have genuine user benefit. Additionally, some of the extra features offered by the pricier X2600H – ISF certification, 4K upscaling, more analogue AV connections – are likely to remain unused. This is superb value for money
Verdict
Highly Recommended
DENON AVR-X1600H Review
Another budget cracker from Denon. Wired and wireless connectivity is excellent, it's easy to use, and performance is energetic and appealing.
Add your review
Best DENON AVR-X1600H prices in the US ?

Upgrade to High-Power Home Theater Denon AVR-X1600H 7.2ch 4K Ultra HD AV receiver with 80W per channel HDMI (6in/1out) with eARC). Supports 3D audio formats Dolby Atmos Dolby Atmos Height Virtualization Technology DTS:X and DTS Virtual:X. Features 7.2ch AV receiver with 80W power per channel...

Best DENON AVR-X1600H prices in the UK ?

£

3,900.00
1 new from £3,900.00
out of stock

MORE DEALS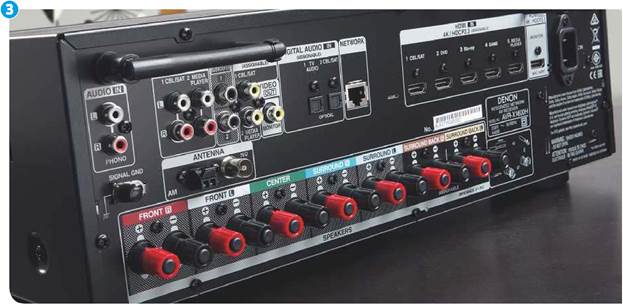 3. Well-spaced binding posts make speaker hookup a breeze
SPECIFICATIONS
DOLBY ATMOS: Yes DTS:X: Yes IMAX ENHANCED: No MULTICHANNEL INPUT: No MULTICHANNEL PRE-OUT: No MULTICHANNEL OUTPUT (CLAIMED): 7 x 80W (into 8 ohms) MULTIROOM: Yes. Zone 2 plus HEOS AV INPUTS: 2 x digital optical audio inputs; 2 x analogue inputs HDMI: Yes. 6 x inputs; 1 x output COMPONENT VIDEO: No VIDEO UPSCALING: No DIMENSIONS: 434(w) x 339(d) x 151(h)mm WEIGHT: 8.6kg
FEATURES: 2 x subwoofer pre-outs; Bluetooth transmitter; Bluetooth receiver; Dolby Height Virtualization; Apple AirPlay 2; MM phono input; USB; front-mounted HDMI input; Audyssey MultEQ XT; eARC; Dolby Vision HDR passthrough; source rename; HEOS app; headphone output; Ethernet; Wi-Fi
PARTNER WITH
JBL TUNE600BTNC: These on-ear Bluetooth (and noise cancelling) headphones are a solid choice for budget shoppers, being available for around £. There are no fancy features, just a commendably spacious and impactful presentation.