The Danish speaker maker really does have a model for every occasion, along with a knack for nailing the brief. Read our DALI Spektor 2 Review.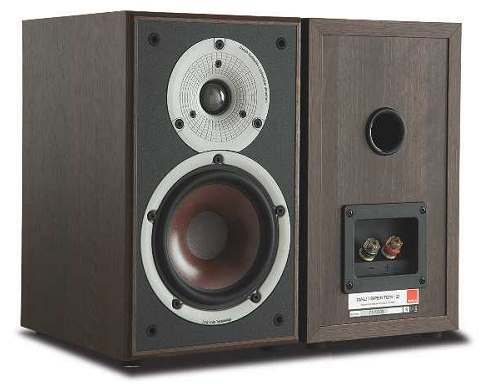 It might be just one step up from DALI's entry-level range, but the Danish brand's materials and methodology run through the Spektor 2 like the lettering in a stick of rock. Take the 130mm, rustic-coloured mid/bass driver. Just as with the units in the five-figure flagship Epicon range, its cone uses a mix of low-mass paper with wood fibre reinforcement, hence the unusual hue. The idea is that the embedded wood fibres give the diaphragm's surface an uneven structure, which is claimed to minimise resonance and improve resolution. The 25mm tweeter is also a recipient of trickle-down tech from the top, featuring an ultra-lightweight weaved fabric soft dome that DALI claims weighs half as much as the market norm. Although it isn't alone in making its own drivers, DALI is keen to point out it has designed a crossover that doesn't have to concern itself with frequency correction.
DETAILS
PRODUCT DALI Spektor 2
ORIGIN Denmark
TYPE 2-way stand mount loudspeaker
WEIGHT 4.2kg
7Review earns Amazon affiliate commissions from qualifying purchases. You can support the site directly via Paypal donations ☕. Thank you!
See also TOP 10 Subwoofers
DIMENSIONS (WxHxD) 170 x292 x 238mm
FEATURES
• 1 x 25mm soft dome tweeter
• 1 x 140mm MSP mid/bass driver
• Quoted sensitivity: 84.5dB/1W/1m (6ohm)
Unlike most here, DALI recommends that the Spektor 2 fires straight down the room with no toe-in.
Sound quality
No question about it, the AE100 is a talented act, but the diminutive DALI follows it in exactly the right way. Re-playing jazz bass legend Stanley Clarke's dazzlingly potent mini-concept track, Combat Continuum, the Spektor 2's exuberant sense of life and pace is immediately apparent. It isn't just that it has more treble energy than the Acoustic Energy, but that it also brings greater clarity and intensity to bear.
It bests the AE for bass power and extension, too. True, it can't quite match the British loudspeaker's smoothness or remarkable poise and balance at very high volumes. In fact, it becomes a bit too aggressive and in your face at party levels. But for most of the time it simply sounds more open, detailed and dynamic.
This is something of a double-edged sword with the simple piano, voice and strings of Desperado, the DALI drilling deeper into the recording so that Krall's enunciation becomes still clearer, the grand piano's sustain is richer and more reverberant and the massed violins sound more like individual instruments possessing greater harmonic structure. But the warmth and silkiness that the song depends on to really hook you in – that the AE100 handles so well – is just a little lacking.
What the Spektor 2 makes of Boz Scaggs' blues number The Feeling Is Gone, however, is quite remarkable. The great man has seldom sounded more adenoidal or soulful and the song simply thunders out with huge energy and drive, sounding
improbably massive given the size of the speaker. The Spektor 2's ability to track a rhythm and keep its finger on the pulse of the music is right on the money. For brio and musical involvement it shows the way and will certainly be hard to beat
OUR VERDICT
Recommended
DALI Spektor 2 Review
Looks a bit old-school, sounds anything but
PROS
Sparkling energy and transparency; huge fun
Add your review
Best DALI Spektor 2 prices in the US ?

$

499.00
5 new from $499.00
in stock

Best DALI Spektor 2 prices in the UK ?

£

249.00
13 new from £249.00
in stock


£

249.00
16 new from £249.00
in stock

MORE DEALS

See also TOP 10 Subwoofers
GO STRAIGHT AHEAD
Most of the speakers in this group require a few degrees of toe-in to sound their best. Not so the Spektor 2. DALI claims this makes it easier to integrate it into any room as both the driver materials and the geometry have been selected to achieve a wide dispersion pattern. Apart from anything else, this should make listening a more social experience, eliminating the need to sit in a narrowly focused 'sweet spot'. DALI claims "a well- integrated sound, even when sitting significantly off axis". An added benefit is hugely reduced harmonic distortion and diffractions causing frequency distortion, as these will always be stronger in an on-axis response, hence eschewing toeing-in.