The mid-price super-floorstander sector is highly competitive, but David Price says DALI's Oberon 7 is bursting with charm
Recently introduced, the Oberon loudspeaker line is a new range of affordable designs from Danish speaker manufacturer DALI. It comprises six models including the small standmount 1, larger standmount 3, small floorstander 5, plus centre channel Vokal and On-Wall models for multi-channel use. The 7 is the flagship and finds itself pitched in a highly competitive marketplace.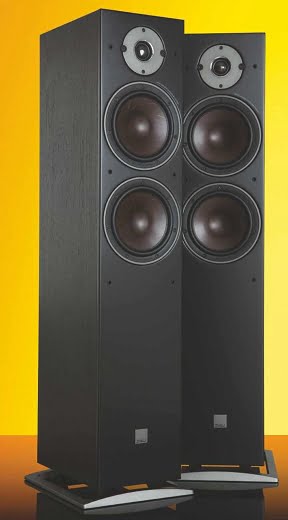 The MDF cabinet gets a crisp matt black or white finish, while the sides have contrasting dark walnut and
It can shift vast amounts of air, but unlike rivals has strength in depth
light oak wood-effect vinyl options. The front baffle is cleanly laid out, but DALI has dropped the ball with its grille retention system – I expect magnets, but it has gone with old fashioned unsightly recesses to take the grille fasteners. It looks worse on the white models because the locators are black and so stand out.
Still, the speaker sure looks nice with the grille (which is a minimalist cloth) in place. Depending on your age, the Mountain Grey version supplied with the white and light oak finish either looks ultra-modern or fashionably retro, while the Shadow Black is much more traditional and is what comes supplied with our black finished version. The cabinet is said to be heavily reinforced internally, and lined in acoustic damping material along the sides, top and bottom – but not on the rear of the front baffle. The Oberon 7 has a rear-mounted bass port, and there's a neat aluminium frame-type base supplied, which elevates the cabinet from the ground and makes it less imposing.
At the top of the front baffle is DALI's 29mm ultra-lightweight soft-dome tweeter. Engineered specially for this range, it makes use of an ultra lightweight woven fabric. The company claims it is less than half the average weight of most dome tweeters selling at this price point, at 0.06mg per mm2. It's a little larger in diameter than you'd expect at the price, too. Ferrofluid cooling is used, and there's a high-quality (220 gauss type) magnet fitted. The top of the pole piece has soft felt damping to reduce acoustic reflections. The speaker is a classic two-way design, handing over the baton at 2.3kHz to the mid/bass units.
7Review earns Amazon affiliate commissions from qualifying purchases. You can support the site directly via Paypal donations ☕. Thank you!
See also TOP 10 Subwoofers
As per company tradition, these sport wood fibre cones, which are essentially fine grain paper pulp, reinforced with wood fibres. They're 178mm in diameter – which the manufacturer is eager to point out is 15 percent larger than most other mid/bass cones at this price. The voice coil is a four-layer design with light copper-clad wire sporting an aluminium core and a thin-walled outer copper tube to reduce weight. The pole piece is said to be a unique combination of iron and SMC, minimising mechanical distortion, and there's an SMC disc atop the iron pole piece, claimed to lower third- order harmonic distortion. The result is a quoted frequency response of 36Hz to 26kHz with 88.5dB sensitivity, 6 ohm nominal impedance and power handling said to be 30W to 180W – impressive for any speaker at the price.
Sound quality
The DALI Oberon 7 sounds extremely well rounded for such a large but inexpensive floorstander. Positioning it to give a good sound is easy, with just a small bit of toe-in required and placement about 60cm out from the rear boundary wall. This done, it's immediately obvious this is an open
DETAILS
PRODUCT DALI Oberon 7
ORIGIN Denmark/China
TYPE 2-way floorstanding loudspeaker
WEIGHT 14.8kg
DIMENSIONS (WxHxD) 200 x 1,015 x 340mm
FEATURES
1x 29mm tweeter
2x 178mm mid/bass drivers
Quoted sensitivity: 88.5dB/1W/1m (6 ohm)
DISTRIBUTOR DALI UK TELEPHONE 08456443537
WEBSITE dali-uk.co.uk
sounding design with a subtly warm tone, smooth integration of drive units, lots of detail and a deep, articulate bass. Indeed it is really quite capable without being bland and characterless. Cue up Steely Dan's Home At Last and the speaker gives a large and fulsome sound that projects the stereo image well out of the box, pushing beyond the physical limitations of its cabinets with a decent amount of stage depth, too.
Impressive stuff, but it's the tonality that's really special for a product at this price. It might not offer the natural translucency of more expensive designs, but it is really quite detailed in its way, and better still, couth.
Great as it is, Steely Dan's Donald Fagen has a slightly nasal voice that's a little thin, meaning it can sometimes sound hard through budget speakers. Not so here. The Oberon 7 proves to have a very even tonality and none of the obvious 'buy one drive unit get another free' issues. It is largely seamless from bottom to top, with just the slightest hint of boxy coloration lower down. This is far from intrusive and in some ways you could say it is quite euphonic, adding a little extra 'fillip' to the upper bass, which in turn reinforces the sense of this being a large-sounding speaker.
Cueing up some classic nineties techno, I am surprised by just how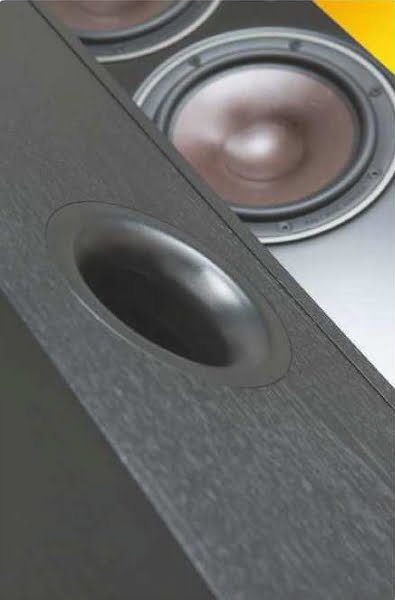 Placement of the Oberon 7 is surprisingly easy
In Sight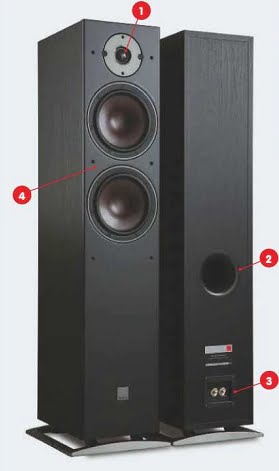 1 29mm soft- dome tweeter
2 Rear-firing bass reflex port
3 Single wire binding posts
4 2 x 178mm wood fibre mid/ bass drivers
snappy the performance is. It's a large cabinet with a lot to keep under control, but this doesn't seem to intrude much in the time domain at all. New Atlantic's I Know – with its big bass transients and thick swathes of synthesisers in the midband – proves a pleasure. Instead of getting bogged down in the bass as some
The DALI sounds well rounded for such a large and inexpensive speaker
cheap floorstanders can, the DALI puts up a useful display of control and constrained power. It is pacey and full of life, with real snap to hi-hats and rim shots, and the overall sense is of the singer syncopating well with the music. Again, there is a touch of time-smearing in the bass, but not enough to distract from a highly enjoyable performance.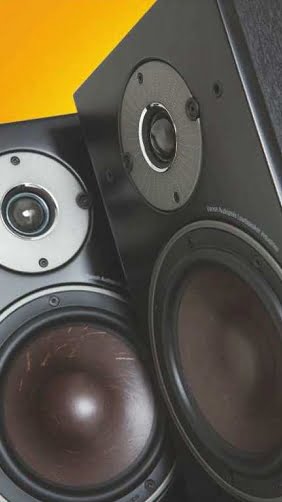 Imaging is good, but not great. Play some tense modern pop such as New Order's Regret and it does a solid job of conveying the detail in the mix, plus all the respective physical positions of the different strands.
Yet it's a little vague, so you don't get the pin-point 'etched into space' sort of feel to the way it recreates the recorded acoustic. Grant Green's Idle Moments – a lively slice of sixties post-bop on Blue Note – sounds expansive and imposing, but doesn't have an awful lot of focus to it. Instead the Oberon 7 creates a large wall of sound and prefers to go for scale rather than ultimate accuracy.
That really is its gift. It can shift serious amounts of air, more than you would believe given its price and size. Yet unlike others that are designed to pull off this sort of trick – to give you a lot of 'sound per pound' – it has strength in depth. There are no rough edges and it's pretty respectable in many ways. I love the way it handles Simple Minds' Ghost Dancing, showing real pace, power and propulsion, plus a lot of detail and no small amount of refinement. Even with my Arcam P49 power amp (HFC 409) doing some really heavy lifting, the DALI keeps its powder dry, getting louder in a calm and controlled way. Bass is firm and supple, midband fairly clear and well detailed, while treble smoothly integrates into the rest of the loudspeaker.
Conclusion
The only thing that sets the Oberon 7 apart from floorstanders at twice the price is that it doesn't have the focus and detail of a more expensive big box. In so many other respects, this is way better than it has any right to be at the price and will appeal to any cash-strapped audiophile in search of some serious bang for their buck
HOW IT COMPARES
A great product at the price, the DALI shares a highly contested market sector with a raft of talented rivals. Cambridge Audio's Aeromax 6 floorstander (HFC 391) gives it some stiff competition. Its secret is the balanced mode radiator treble/ midrange driver that runs all the way down to 250 Hz for a seamless sound. It's smoother and more open than the Oberon 7, but can't quite match its large lungs and pulling power-the latter goes louder and has real grace under pressure.
OUR VERDICT
Highly Recommended
DALI OBERON 7 Review
Talented budget floorstander with impressive big sound
PROS
Highly enjoyable sound; deep, extended bass frequencies
CONS
Looks are a bit plain' speaker grille fixings
Add your review
|
Read reviews and comments
Best DALI OBERON 7 prices in the US ?
Best DALI OBERON 7 prices in the UK ?

£

999.00
3 new from £999.00
in stock


£

999.00
6 new from £999.00
in stock

MORE DEALS

See also TOP 10 Subwoofers