The lesson today explains why you pick a 240mm radiator to fi to your overclocked CPU as opposed to a wee 120mm job.
And to help us illustrate that point is the new Cooler Master Nepton series of chip chillers. We've already spoken about how impressed we've been with the Nepton 240M, but this 120XL version perfectly highlights the extra cooling performance you get from a larger radiator.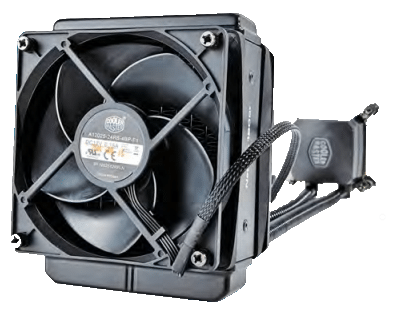 As we've said, none of the coolers ontest are bad, but the cooling performance of the 120XL is noticeably worse than the 240M. It's still cooler than the Antec, but the problem is the time it takes to return the CPU back to its idle temp after running at full pelt. Even at stock processor speeds the 120XL took over two minutes to get back to the idle temps. When the Nepton 240M, with effectively the same overall design, is able to deal with a stock-clocked 4770K in just eight seconds, you can see how much difference that extra rad space makes. Elsewhere though the 120XL is very much like its larger sibling, from the simple and effective mounting mechanism to the fans themselves. The way the 120XL attaches to the chassis is well thought out too, with a fiting that's versatile enough to allow you to mount the secondary fan either inside or on the outside if there's no room.
That all means we end up with a cooler that's simple to fix, but might leave you wanting in the cooling stakes. Where the 240M sits at the top of the tree this smaller Nepton sits behind all the other 120mm coolers we've tested.