Length or girth? Length please.
the Pair of therMaltake Water 3.0 coolers in this month's test offer two ways of looking at the whole liquid-chilling process – do you go for a super-long, 360mm radiator or do you plump for a 120mm fat-boy? This here Water 3.0 Pro is that fatboy, offering a radiator that's getting on for twice the girth of its Ultimate sibling.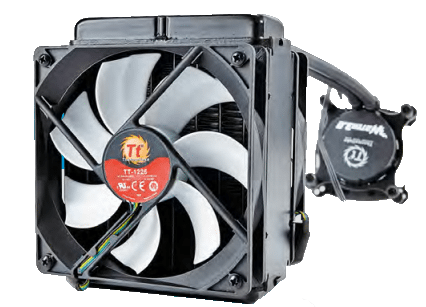 And, were it down to pure cooling performance alone, you could easily make a case for this chubby bast. It is the absolute coolest of all the 120mm coolers in the test, and is capably trading blows with the downright chilliest of even the 240mm jobs. It's not just about the peak cooling performance either – the time to get back to idle temps is impressively quick too, especially for a smaller radiator.
But that's not the whole story. The Water 3.0 Pro is easily the shoutiest cooler we've tested, taking one of the main reasons to opt for water cooling outside and giving it a bit of a shoeing. We'd generally say one of the benefis of a good water-based chip chiller is the fact it'll operate its fans at lower RPM than an active air cooler. That should mean your whole system gets a bit quieter. Not so with the Pro.
Whether it's looking after a stock or overclocked processor the Pro gets super loud as soon as you start pushing the CPU towards 100 per cent load. It's not even the speeds at which they rotate that's the problem; there's a whiney note to their pitch which makes them all the more noticeable.
So, while the actual performance is rather impressive, the noisy operation makes it diffiult to recommend.