When it comes to focal range, the Canon PowerShot G3 X Review is a knock out, but is that enough to punch to the top?
It's all about the zoom with Canon's hotly anticipated PowerShot G3 X.
With the longest reach in its class, the 24-600mm (equivalent) lens brings far-away subjects to the fore, easily trumping the Sony RX10 II 24-200mm and the Panasonic FZ1000 25-400mm. All three cameras share the same one-inch-type sensor and maximum aperture of f2.8. but while the Sony and Panasonic models maintain a fast aperture at the telephoto end. with f2.8 and f4 respectively, the Canon drops to f5.6. Despite this, the G3 X puts in an impressive performance across the focal range, producing sharp images with only a slight dip in detail at the edges of the frame at the longest setting. The magnesium alloy body feels robust and is weather resistant, so you can leave those plastic bags at home.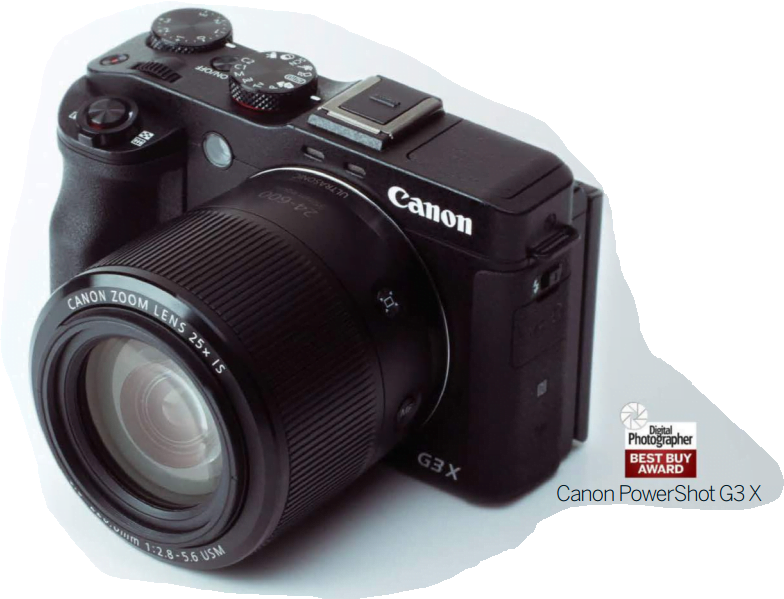 Existing Canon users will feel very comfortable with the control layout and interface. There is a useful exposure compensation dial on top and a front control dial – as seen on EOS DSLR cameras. This, along with the navigation wheel at the rear, enables you to change aperture and shutter speed quickly and easily in manual mode. Speaking of speed, the Canon PowerShot G3 X can fire JPEGs at 5.9 frames per second with the focus point locked in the first shot, or 3.2fps with AF tracking. There's the option to set the focus using the touchscreen to tap on the area you want to stay sharp – from a minimum focusing distance of 5cm – and it's super-fast thanks to the 31-point autofocus system. Manual focus peaking is also available, but it can be tricky to view in bright conditions. In those cases, you really begin to miss a viewfinder. There is the option to purchase an external EVF. but it's costly and adds bulk, and rivals from Panasonic and Sony have a built-in unit.
On the plus side, the LCD is a sizeable 3.2 inches and has a high 1.620.000-dot resolution. The display tilts upwards for shooting self-portraits. or downwards for composing high angles, but a fully articulated screen would have offered more creative freedom. Canon has included seven different filters, creative shot mode and background defocus mode.
The latter is a little unnecessary, given that the nine-blade aperture creates beautiful bokeh for isolating subjects anyway. Image quality is as close to professional as you're going to get with a superzoom, thanks to the large sensor. Noise is well controlled up to ISO 800. but ISO 1600 still offers usable results for small prints, and there is also the option to shoot in RAW.
Those who are interested in video can record Full HD footage with optical zoom and stereo sound, and at a number of frame rates, from 24-60p. but not 4K. Shooting in manual video mode enables you to take control of aperture and shutter speed. Both stills and videos are sharp, with the optical image stabilisation helping to combat any handheld wobbles.
7Review earns Amazon affiliate commissions from qualifying purchases. You can support the site directly via Paypal donations ☕. Thank you!
The far-reaching zoom, fantastic range of exposure modes and features, and impressive image quality mean that the G3 X would feel at home in any photographer's travel kit. If you can live without an EVF. then this is the superzoom to beat.
Top
Accurate exposure
The camera is quick to focus and exposes accurately in challenging situations
Above
Colourful captures
Colours are true-to-life and you can experiment with the range of creative effects on board
Above
Weather proof
With a stylish magnesium-alloy body it's protected against the elements
Left
Compact and versatile
The build is excellent quality, comfortable and robust
FEATURES
VERSATILE LENS WEATHER-SEALED
Get closer to the action with the Provides protection against the 25x optical zoom lens and built-in elements, sporting a magnesium image stabiiser. alloy body with rubber seals.
HD MOVIE MODE CONNECTIVITY
Shoot Full HD video with a range Built-in Wi-F and NFC mean that of frame rates. Microphone and users can easily share shots over headphone jacks ensure quality, social networks.
TILTING TOUCHSCREEN
The large LCD can be tited for shooting high angles and from the hip. It s also touchscreen.
LARGESENSOR
Inside the G3 X sits a one-inch 20.2-megapixel sensor and the DIGIC 6 processor.
SHARP SHOOTING
Canon has compensated for such a long lens – extending to 600mm – with dual-axis optical stabilisation available for stills, and five-axis Dynamic IS in video, with a choice of low. standard and high settings.
SPECIFICATIONS
Megapixels 20.2
Max resolution 5472×3648
Sensor information 1-nch back-iuminated
CMOS
Lens data f2.8-f5.624-600mm
Focus/macro 5cm-lnfinity/5cm-50cm
Shutter speed l-l/2.000sec
ISO sensitivity A. 125-12800
Exposure modes SA.P.A. S.M.HA.
CS. Scene Metering options CW.S.E Flash modes
A.Fon.Foff.SS Connectivity USB Weight 733g (with battery) Dimensions 123.3×76.5×105.3mm Batteries Li-ion Storage SD.SDHC.SOXC LCD 3.2 inches Viewfinder None
Review
Features
Has a high-resolution touchscreen and versatile24-600mm lens, but it lacks a built-in viewfinder
Build quality
The weather-sealed body means that you can be confident shooting in all conditions. It feels superb
Handling
Customisable controls, command dial and an exposure compensation dial speeds up shooting in manual
Quality of results
The large sensor helps to produce excellent image quality. Noise is kept under control and bokeh is beautiful
Value for money
With more zoom for your money and a host of features, the model offers great value
Overall
There's plenty for an experienced photographer to love. Robust build quality, excellent zoom range and pro image quality – if only it had a built-in EVF
Canon powershot g3 x review samples images