With tweeter-on-top tech and a Continuum Cone midrange driver, could this be B&W's signature dish?
Overflowing with trickle- down tech from the flagship 800 Diamond Series, B&W's 700 range benefits from a lot of goodies, the most significant being the new Continuum Cone midrange driver, with less distortion than the Kevlar material it replaces. In this 702 variant the largest floorstander in the range that means a 150mm unit.
DETAILS
Product
B&W702 Signature
Origin
UK/China
Type
3-way floorstanding loudspeaker
Dimensions (WxHxD)
200×1,087x364mm
Weight
29.5kg
Features
1 x 25mm dome tweeter
1 x 150mm midrange driver,
3 x 165mm bass drivers
Quoted sensitivity: 90dB/1W/1m (8ohm)
Distributor
Bowers & Wilkins
The 700 Series also sports 'tweeter- on-top' technology, where the dome is mounted in a cone-shaped billet of aluminium that's acoustically isolated from the cabinet by gel. Inside this, B&W's new Carbon Dome tweeter is fitted, with a lighter and stiffer 25mm diameter, 30 micron-thick diaphragm that has been stiffened by a carbon coating. In the 702, three 165mm Aerofoil Profile bass units are bolted to the front baffle, with cones using paper rather than carbon fibre skins,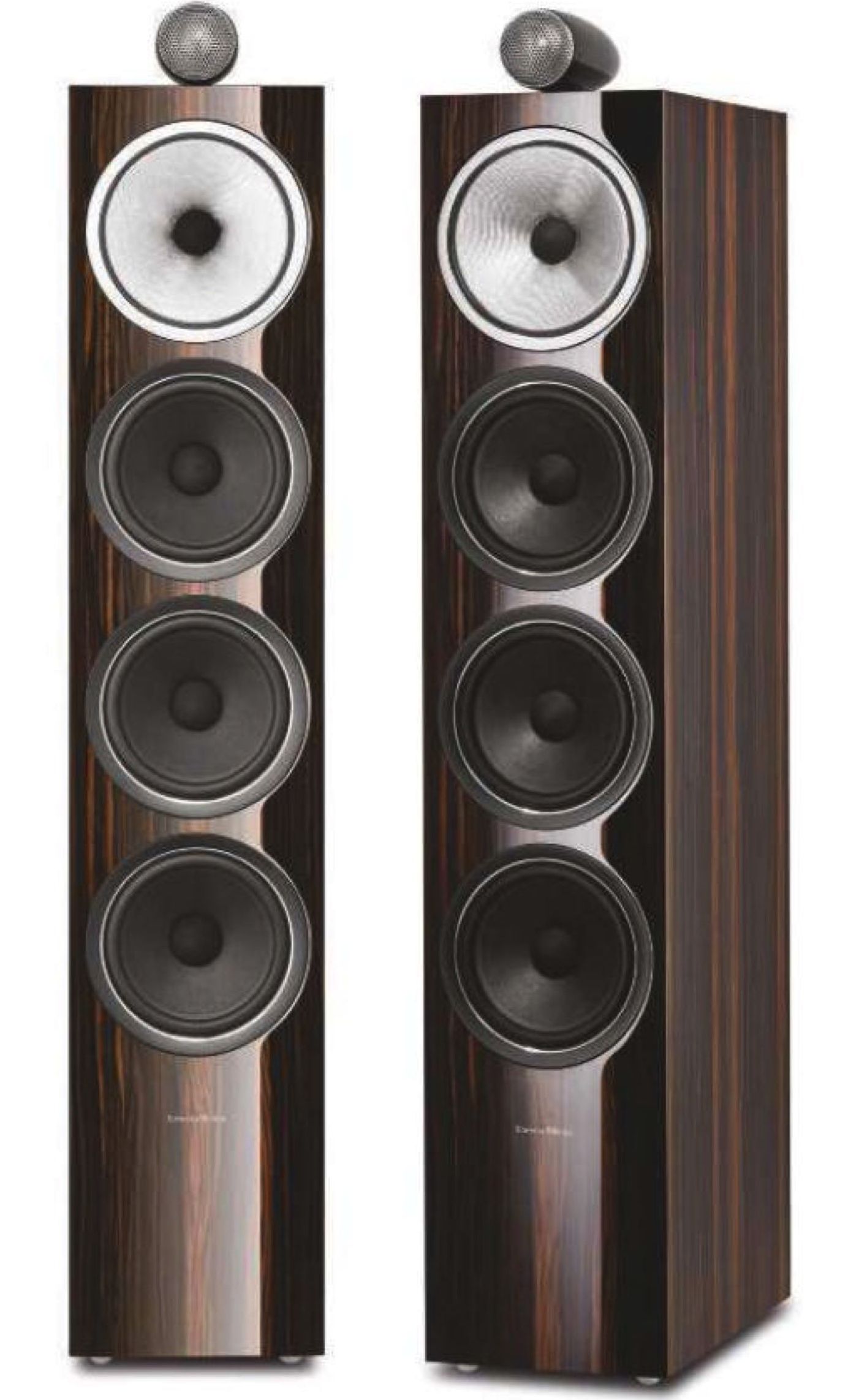 with the sandwich filling material being EPS, rather than the syntactic foam of the 800 Series.
The premium-priced Signature version sports a reworked crossover with specially treated Mundorf capacitors, better heatsinking and an upgraded LF capacitor in the bass section. One finish is offered, a lovely Datuk Gloss ebony-coloured veneer.
This is an easier speaker to drive than most here, thanks to its large cabinet volume, modern drivers and B&W's Flowport bass port. It's rear-mounted, so you'll need at least 30cm from a rear wall. In my room, it likes a little toe-in, too. A foam port bung is supplied, but isn't needed.
Sound quality
Imagine the ATC minus its superb bass grip and generally pugilistic character, plus some extra refinement thrown in – and you're somewhere towards describing the B&W's sound. In some respects it's better, others not – but it's certainly more of a vanilla speaker than some here. It's not that it lacks character, it is just more of a mainstream product that will please most of the people, most of the time.
7Review earns Amazon affiliate commissions from qualifying purchases. You can support the site directly via Paypal donations ☕. Thank you!
See also TOP 10 Subwoofers
RECOMMENDED VIDEOS FOR YOU...
With the Simple Minds track you can't help but be impressed. It has a big, controlled sound that fills my large-ish room with ease. It's highly able in the bass, midband and treble; the very low end proves looser than the ATC and Kerr, but the upper bass is crisp enough. This extends to a detailed and etched-sounding midband, with lots of low-level information. The new tweeter is really nice and delivers a smooth, spry cymbal sound with plenty of atmosphere to vocals and synths.
A mainstream product that will please most people, most of the time
There's a slight nasal colouration to the upper bass and midband, but it's no worse than most here – Kerr K320 aside. The worst aspect is the 702 Signature's slightly matter-of-fact tonality; it seems to extract some of the richness in warm analogue pieces such as the Harold Land track. Some might see it as it being unsentimental and neutral, others might think it a little artificial and processed.
Conclusion
Either way that new Continuum Cone sure is lovely to listen to and makes this a civilised speaker. Its tonality really suits both the Vaughn Williams and Goldie pieces. In the case of the former, it's a rousing rendition with plenty of air and space and fine soundstaging. The latter has great speed and plenty of punch. Overall, it's hard not to like.
Verdict
Recommended
B&W 702 signature review
A classy, capable all-rounder
PROS
Clean, crisp and detailed; power
CONS
Not the most romantic sound
Add your review
Best B&W 702 signature prices in the US ?

The 700 Series' flagship floor-stander features a wealth of state-of-the-art technologies, including a solid body Carbon Dome tweeter housing. With three dedicated Aerofoil-Profile bass drivers and a solid body tweeter housing on top, the 702 S2 brings the goosebump-inducing clarity and detail of...


The 702 Signature adds even more technology to its arsenal to provide you with sound that can bring on the goosebumps.It's finished in exclusive Datuk Gloss and features optimized crossovers, three Aerofoil Profile bass drivers, a Continuum cone midrange and a Carbon Dome tweeter housed in a...

Best B&W 702 signature prices ?
MORE DEALS

See also TOP 10 Subwoofers