For over 40 years this family-run speaker specialist has epitomised the best of Danish design. This newbie continues the tradition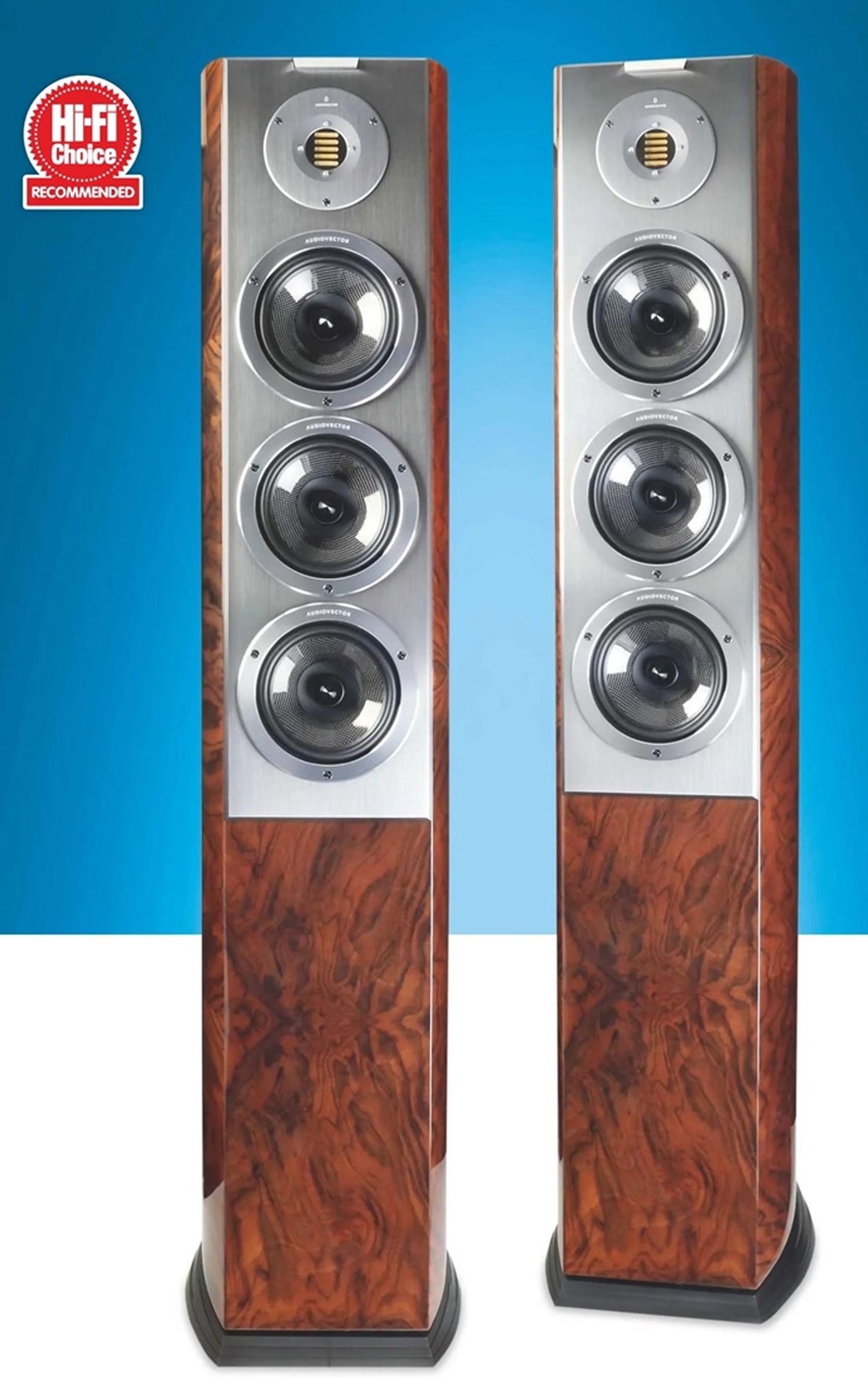 This month's Exotica is the very definition of luxury and the son of dreamland purchase that is beyond the reach of most mere monals. Unless you have the expendable income of a Premiership footballer or Russian oligarch, you'll need to stan getting lucky with those lottery numbers. Very lucky… Everything about the Audiovector R 8 Arrete' is impressive, from the size and scale of the cabinet to the seemingly fiendish complexity of the design, which appears to have drivers firing and venting in all directions. The piano-lacquered Italian Burl Walnut veneer, seen here, is gorgeous too, and offered alongside Italian Grey, black and white finish options. Read our AudioVector R 8 Arrete Review.
But although this floorstander looks and feels like a flagship model from the Danish company, its walletstraining price tag is still a world away from its big brother, the £ R 11 Arrete'. If all that's too rich for you, the entry-point for the Arrete' range is the R 1 standmount, at just under £, although this and the R 3 and R 6 floorstanders forego the luscious gloss of the R 8 we have before us here.
Take a walk around the R 8 Arrete, and what initially looks like a relatively conventional, if heroically built, speaker soon reveals itself to be something massively more complex. Yes, the aluminium baffle may appear to house all the drivers – the AMT ribbon tweeter and what are surely a mid/bass driver and a pair of bass drivers – but that's just the tip of the technology iceberg. As the venting on the rear panel, also made from aluminium, and the eye-catching finned plinth suggest, there literally is more to this than meets the eye.
Specifically, Audiovector's top-of-the-baffle AMT tweeter includes an 'integrator grid' to better match its dispersion with the drivers below, while also venting to the rear via a handful of slots in that curved alloy spine. Those three front-firing drivers are all mid/bass units, working from around 250Hz-3kHz, their 165mm cones made from carbon and aramid fibre and synthetic resin, to give a light, stiff and well-damped diaphragm. All the drivers here use titanium voice-coil windings.
DETAILS
PRODUCT
Audiovector R 8 Arrete'
ORIGIN
Denmark
TYPE
Four-way floorstanding loudspeaker with isobaric bass loading
WEIGHT
70kg
DIMENSIONS (WxHxD)
327 x 1,442 x 533mm
FEATURES
· AMT
'ribbon' tweeter · 3x
165mm forward-Firing mid/bass drivers · 100mm
rear-firing mid/bass driver · 165mm
isobaric rear-firing bass driver coupled to 200mm downwardfiring bass driver · Quoted
sensitivity: 92.5dB1W/1m (8ohm)
DISTRIBUTOR
Renaissance Audio
WEBSITE
audiovector.com renaissanceaudio. co.uk
But there's another mid/bass unit… this is a 100mm driver, firing rearward through more slots in the spine of the speaker, and working with that backwave venting for the tweeter as pan of Audiovector's 'Soundstage Enhancement Concept'. Delve deeper and you'll find the company is very fond of its proprietary technologies and 'Concepts'. The venting, for example, is pan of what it calls its Low Compression Concept, which involves opening up the cabinet as much as possible to avoid pressure hot spots.
So that's the treble and mid/bass covered, but where's all the really low stuff coming from? The answer is in an isobaric bass configuration, firing downwards and venting both to the rear and through those plinth fins. This uses another of those 165mm drivers, mounted internally, and acoustically coupled to a further 200mm unit, visible if you ever feel strong enough to turn the speaker over and peer up through the base.
7Review earns Amazon affiliate commissions from qualifying purchases. You can support the site directly via Paypal donations ☕. Thank you!
See also TOP 10 Subwoofers
RECOMMENDED VIDEOS FOR YOU...
Luxurious finish
Other technical aspects of note include NCS (Natural Crystal Structure), which refers to the cryogenic treatment (to -238'C) of all the speaker's copper cabling, so: "the copper molecules realign themselves to their natural positions… reducing resistance". There's also Audiovector's Freedom Grounding Concept, realised in an extra 4mm cable binding post mounted below the main bi-wire/ bi-amp terminals, which acts to eliminate circulating currents in the driver's alloy baskets. Oh, and there's the Individual Upgrade Concept, which provides a path for users to move up to a better model or take advantage of any improvements made during the life of their product.
While much of this seems very conceptual, the reality is a speaker with an imposing presence in the room and a real sense of where all the money has gone in the design, engineering, hand-manufacture and luxurious finish. And it's worth noting that while most sofas and chairs will likely put the listener's ears below the AMT tweeter's axis, the effect when listening proves pretty negligible when moving oneself up and down. So really, wherever you're comfortable, the speaker works very well.
Sound quality
Although Audiovector quotes 92.5dB sensitivity, this is a little optimistic. The load is quite tough too, but then it's unlikely a speaker at this level is going to be used with a modest amp. For our listening, the R 8 Arrete' seems well-suited to the dose of clean power delivered by the superb Constellation Centaur II power amplifier which, with well in excess of 600W/4ohm in tow, has more than sufficient gusto to keep it dancing on its toes!
This loudspeaker loves a bit of power to wake it up and open up its sound
The R 8 Arrete' is best used firing almost straight forward, but with a slight toe-out, so the axes meet somewhere behind the listener's head. This gives the best focus, at which point – despite those drivers firing in all directions – they hang together exceptionally well. Listening to Govt. Mule's live performance of Shine On You Crazy Diamond, the impression is of a big and bold live sound with plenty of definition. It's a full, well-integrated presentation, with the guitar and sax powering out of the mix with excellent character.
Certainly this loudspeaker loves a bit of power to wake it and open up its sound, yet it is refined and relaxed with the Ivan Fischer/Budapest Festival Orchestra's playing of Brahms' 2nd Symphony, with lovely instrumental timbres in strings and woodwind. And the sense of space and air is apparent in Karl Richter's interpretation of Bach's Toccata Dorische In D Minor, a 1957 recording remastered in 2022. The organ has excellent scale and presence without the need for extreme volume levels, and there is real weight in the bass.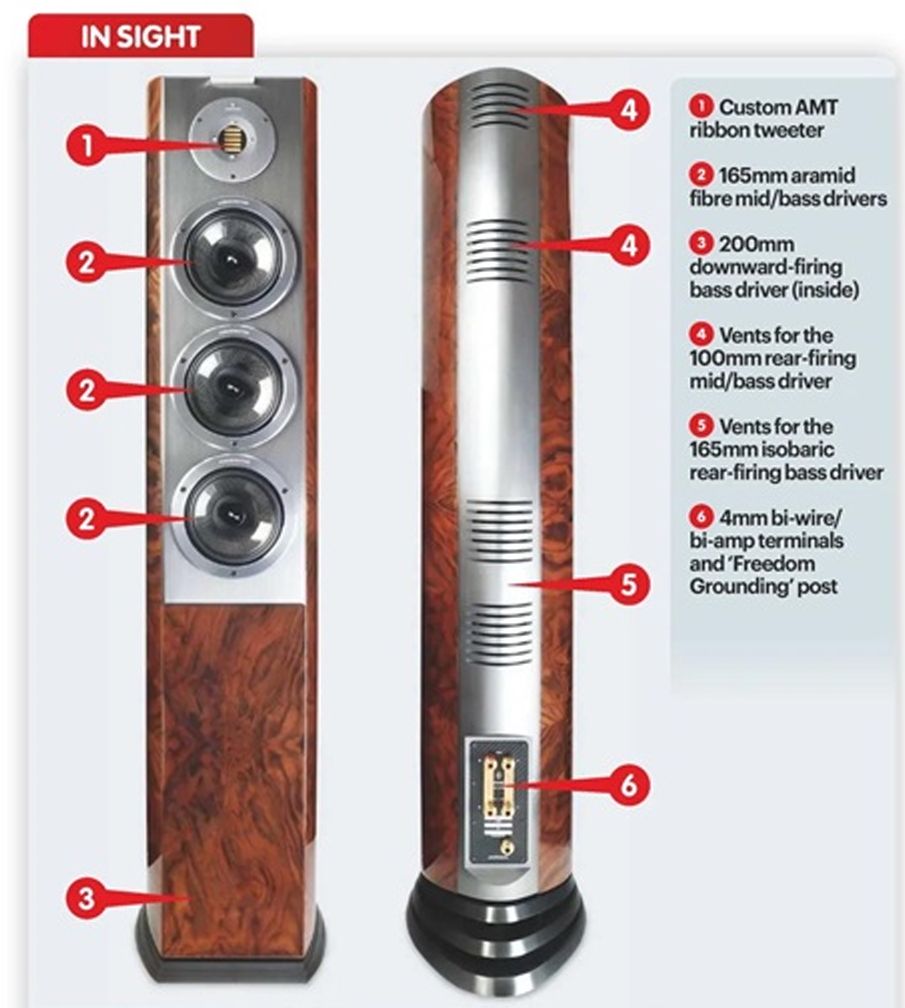 —————————–
FOUNDATION STORY
The story behind the founding of Audiovector in 1979 is a familiar one: Ole Klifoth said: "I couldn't find the speaker of my dreams, so I decided to build it myself". Using his criteria of: "linear dynamics, linear phase and low compression'" his goal was to produce natural-sounding loudspeakers for music lovers and the ideas embodied in the company's first model, the Trapez, still inform the brand's designs more than four decades later. And it has led to some radical thinking in the way the company builds speakers, seen in those various 'Concepts' mentioned in the main review, and including the use of precision-cut 'Nanopore' foam to line the walls of the enclosure.
Fitted to the curved shape, this means that, as well as curtailing standing waves through its cabinet, the speaker requires little further internal damping. The design of the Arrete series is referenced by the flagship R 11 model, developed in 2007 by founder Klifoth and designer Jacob Tryde (now of Alexiou & Tryde Design ApS), not just as a flagship model but also to provide a benchmark for all the company's subsequent designs.
——————————–
There's speed to the performance too, as is clear with Vangelis' Pulstar. Every line of the mix is easily audible, while at the same time the charging drive is clearly maintained despite all the prog histrionics going on above it in the highly dramatic presentation.
Bring things back down to more subtle instrumentation and the R 8 Arrete' is superbly focused with the ambience and musicianship of Keith Jarrett's Bordeaux Concert. The scale of the piano sounds persuasively realistic, set in a refined live acoustic with every touch of finger on key crisply resolved. This fine presence adds to the considerable impact of the recordings and the knowledge that this would be one of Jarrett's last performances adds to the poignancy – and the desire to keep revisiting the album via a speaker this special.
The clarity of the R 8 Arrete' proves well suited to Taylor Swift's Maroon from Midnights (3am Edition). The speaker delivers both a hugely enjoyable rendition of the somewhat woozy sound, but with exceptional imaging of the voice. And on the Lana Del Ray duet Snow On The Beach there's fine discrimination between the two voices, despite the reverberant acoustic that's typical of the album's overall production.
Such uncanny, near-holographic imaging is also much in evidence on Joe Bonamassa's The Ghost Of Macon Jones from 2018's Redemption album. The sound is fast and tight with a really effective growl and snarl to the presentation; suitably rough-and-ready-sounding, but with the speaker clearly exerting complete and total control to deliver its immediate effect.
—————————-
HOW IT COMPARES
If you are lucky enough to be looking at competitors for Audiovector's £k+ R 8 Arrete' then you'll not just have some spare cash burning a hole in your pocket as much as a full-on furnace. Turning up the heat on the R 8 are Magico's exquisite S5 MKII three-way floorstander at £k and Wilson Audio's Sasha DAW at £k with its adjustable mid/treble head assembly. All three of these speaker brands have their own philosophy of design and, to an extent, 'house sound' with the S5 delivering an ostensibly clean, dynamic and very transparent sound while the Sasha DAW tends to wrap you in the music, breathing subtle detail into your ears. However, if you want a true tower of power' made a little closer to home then there's little to touch PMC's £k fact fenestria. This striking piece of engineering delivers speed and detail, along with exceptional soundstaging, making for an involving and effortless listen.
——————————–
The natural, open-voiced delivery of the R 8 Arrete' also delivers absolutely wonderful string tones, so that Ensemble Allegria's recording of Benjamin Britten's Variations On A Theme Of Frank Bridge offers exceptionally crisp yet fluid performances enhanced by the striking sense of the musicians laid out before the listener. There is such speed and drive in the March of Variation 2 and Variation 5's Bouree, while the final Fugue builds superbly with real attack in its growing scale.
The speaker is also completely at home with the BBC Symphony Orchestra/Martyn Brabbins recording of Vaughan Williams' 6th Symphony, with fabulous drama and superb brass timbres on show throughout. The massive orchestral scale is delivered without any loss whatsoever of definition and insight, turning to wonderful fluidity as the movement's tone begins to gently calm.
Conclusion
Finally, the focus here creates an amazing atmosphere with the Michael Wollny Trio's captivating version of the old traditional standard She Moved Through The Fair off the Ghosts album. We're talking here of really lovely impact to each note on the piano, while the bass and vestigial percussion are beautifully balanced, that perfect imaging really grabbing the attention. It's all so very clear, but results in an extremely satisfying and captivating musical whole as well.
If you have this sort of money to spend on hi-fi, the R 8 Arrete' could very well be your desired destination. Otherwise, it's nice to dream
OUR VERDICT
Recommended
AudioVector R 8 Arrete Review
A remarkably rewarding listening experience
PROS
Nearholographic imaging
luxurious design
CONS
Needs a powerful amplifier and more powerful wallet
Add your review
Best AudioVector R 8 Arrete prices ?
MORE DEALS

See also TOP 10 Subwoofers