If you've never heard of Aretai, its brilliant standmount is sure to help you remember the name reckons David Vivian. Read our Aretai Contra 100S Review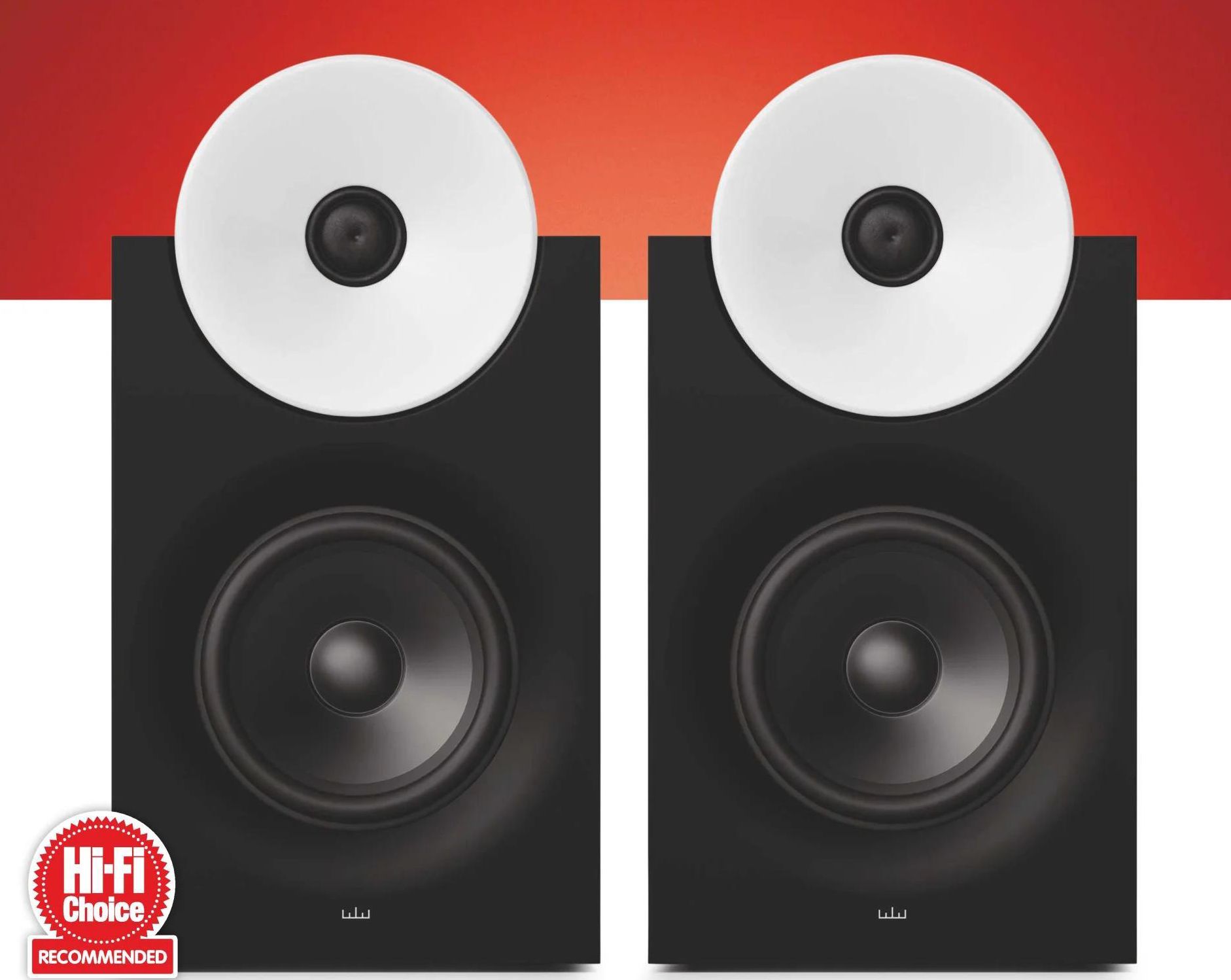 Clearly, this speaker is not just another inscrutable black box. A compact, nuggety, matt-painted cube with a large, white trumpet of a waveguide-come-hom, it looks as if it could have been air-lifted straight from the classiest end of the Munich High-End Show. And that's the visual hook right there: opening mission for the relative newcomer from Riga, Latvia accomplished.
DETAILS
PRODUCT
Aretai Contra 100S
ORIGIN
Latvia
TYPE
2.5-way standmount loudspeaker
WEIGHT
15kg
DIMENSIONS (WxHxD)
210 x400 x250mm
FEATURES
Ring-type tweeter in 157mm waveguide
52mm mid/bass driver
52mm rear-firing bass driver
Claimed sensitivity: 85dB/1W/1M(4ohm)
DISTRIBUTOR
ValHiFi
WEBSITE
aretai.com valhifi.co.uk
Further proof of process via pudding eating comes later, but initial curiosity only grows the closer we look at the Contra 100S, the entry-level model and only standmount in the fledgling company's three-strong Contra lineup. The distinctive waveguide/horn measures a generous 157mm in diameter, but it's the way its structure so neatly breaches the top surface of the enclosure that's eye-catching. Then again, so is the £ price tag.
Something of a quart in a pint pot, the Contra 100S is a 2.5-way design, a pure bass driver residing at the rear of the enclosure to team up with an identical 152mm polypropylene-coned mid/bass unit firing from the front. Both main drivers sit in shallow waveguides machined out of the MDF enclosure's front and rear baffles
Information retrieval is parlayed with wonderfully natural texture and balance
The 'feature' horn surrounding the large ring-type tweeter is shallow to avoid beaming and cuppy effects, but crucially makes for better dispersion and sensitivity. Unusually, the crossover point is set high at 6kHz rather than the more conventional circa-2.5kHz, with gentle roll-off characteristics judged to allow a little more overlap between it and the mid/bass driver and so achieve smoother integration.
Like all the most aspirational speaker designs, it's the brand's overarching 'sound philosophy' that, in more ways than one, sets the tone. In Aretai's case, it's called the Northern Sound Philosophy and aims to be flawlessly genre agnostic while sounding natural rather than 'hi-fi', something the company contends can only be achieved to a noticeable degree by addressing the question of direct and indirect sound. Hence the adoption of a rear-firing driver. The idea is that reflected (indirect) sound should have the same balance as the forward-firing driver output for the perceived sum to be truly coherent. Room reflections from forward-firing drivers alone are, naturally and unavoidably, out of step.
There are other 'must haves' for Aretai: the ability to transfer a large venue's acoustic character to a smaller space; the capacity to handle dynamic peaks cleanly; a low frequency response that goes down to at least 30Hz.
7Review earns Amazon affiliate commissions from qualifying purchases. You can support the site directly via Paypal donations ☕. Thank you!
See also TOP 10 Subwoofers
RECOMMENDED VIDEOS FOR YOU...
Using a layered construction to control resonance and a sealant plus glue against moisture ingress, the enclosure incorporates a viscoelastic D30 material to decouple the speaker's upward-angled plinth from whatever it's placed on.
With a claimed sensitivity of 85dB and 4ohm impedance, the Contra 100S requires a bit of driving but not so much that beefier tube amps need not apply. There are single gold-plated binding posts, while tri-wire terminals are available to order. Matt black box and white horn as supplied certainly makes for a striking looking cabinet, but other finishes include a selection of various veneers in matt or gloss.
Sound quality
Do you honestly expect the Contra 100S to sound run-of-the-mill? Nope, neither do I. It has skills for sure and some rare ones at that.
The first is how 'quiet' it sounds. I mean this by way of what I'm not hearing or, at least, think I'm not hearing. There doesn't seem to be much, if any, extraneous contribution from the enclosure or drivers or any conspicuous voicing-to-flatter tweaks. Nothing that could be described as buttering up or putting a zippity-do-da zing in the musical step. If fact, straight out of the blocks, it sounds slightly sluggish and overly chilled. But this is a slippery deception that wears off. The more you hear, the more you realise there's deep subtlety in the mix and it's more potent than any amount of sonic showboating.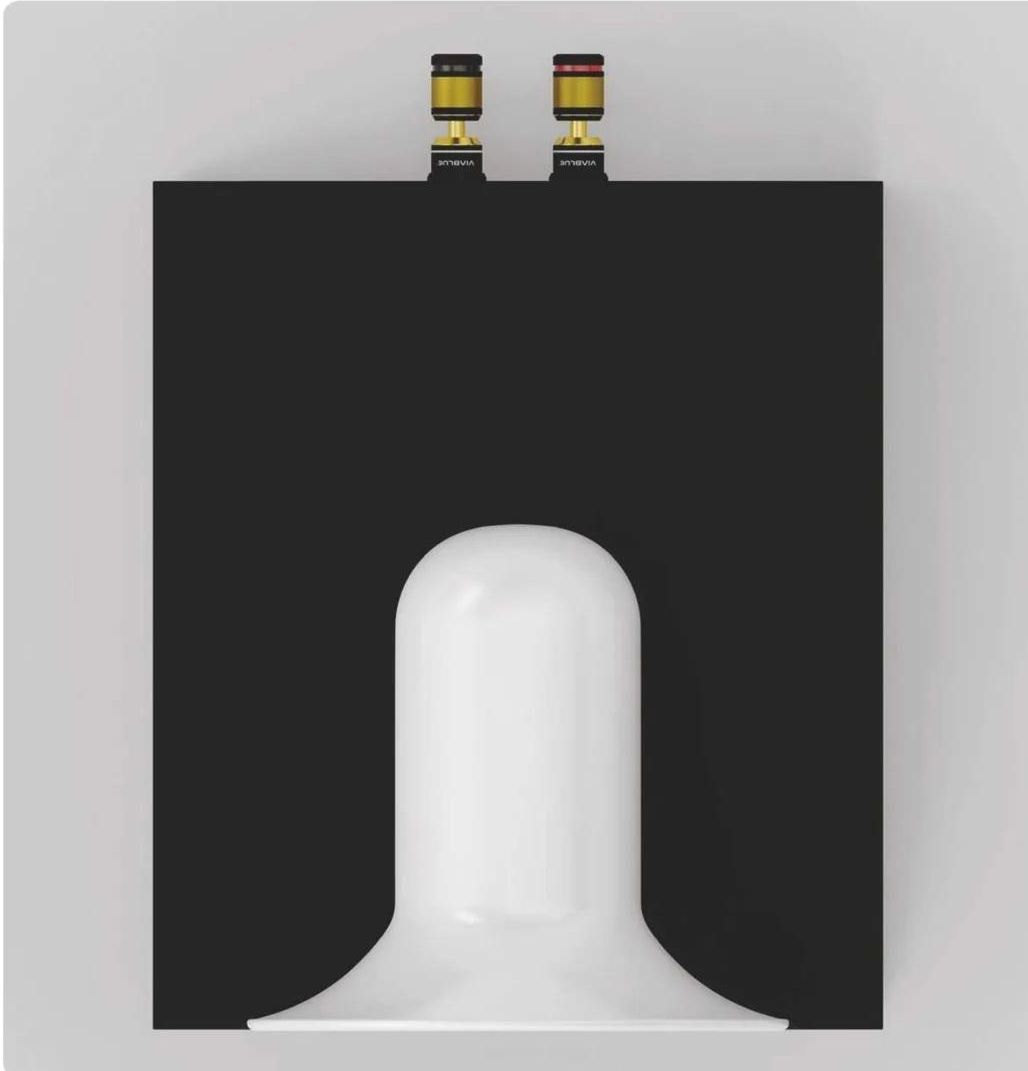 Slow burner? Sure. It takes a while to fully appreciate what the apparently underachieving Contra 100S is doing, but the approach is rooted in a superb standard of lucidity and flow in which information retrieval is parlayed with wonderfully natural tonal texture and balance. With a powerhouse track like Joey Landreth's Two Trains from the album All That You Dream, it's possible to point to bags of detail, whipcrack timing and a deep, fast, articulate bass, but none of it pushes for prominence unless dictated by the dynamic envelope which, again to the Contra's advantage, exhibits not just plenty of freedom but a fine sense of nuance at the micro end of the scale. Just as Aretai's room-conscious design tenets for the Contra 100S predict, this is coherence of a very high order.
Part of the credit, of course, must go to the electronics upstream, in this case a Rega Saturn Mk 3 CD player and Electrocompaniet ECI 80D (HFC 490 and 473 respectively) integrated amplifier, a combo imbued with very compatible powers of musical fluency and a natural fibre kind of tonal warmth and texture. Not planned, but fortuitous system synergy, here.
It's immersive in a way few other standmounts I've heard can match
Equally excellent is the penchant for a spacious soundstage and precisely focused imaging therein, traits that come to the fore with Quiet Afternoon from Stanley Clarke's 1977 live set at the Roxy Theatre in Los Angeles. It starts quietly anyway before splintering into the usual, fusion-fuelled virtuosic instrumental battering, but the recording's dynamic spikes and troughs and securely captured venue ambience are beautifully rendered by the Contra.
It's immersive in a way few other standmounts I've heard in my smaller listening room, including LS3/5As, can match. Stereo perspectives are stunningly believable.
Conclusion
No, the Aretai Contra 100S is not your typical standmount. Not even your typical high-end standmount. It isn't an attention grabber. Not just that, it's one of the least 'hi-fi' sounding speakers I've reviewed in over 30 years. In a swift dealer demo, you might well be inclined to walk away given its refusal to gratuitously sparkle. But stick with it and the Aretai exhibits musical abilities and a depth of charm it's impossible to ignore and oh so easy to sink into. One for the long haul, maybe, but a superb proposition without question.
OUR VERDICT
Recommended
Aretai Contra 100S Review
Pricey, yes, but true charisma seldom comes cheap
PROS
Design
build
unshowy sonic realism
CONS
Sympathetic front end preferred
Add your review
Best Aretai Contra 100S prices ?
MORE DEALS

See also TOP 10 Subwoofers
HOW IT COMPARES
Rarified pickings at £k you might think, but venture £k north and there's the remarkable Wilson Audio Tune Tot (HFC 447). It's a more conventional two-way offering but built to Wilson's exacting standards with volume capability and dynamics near the top of the job sheet. The results are frequently breathtaking for such a bijou box and here the Aretai rather struggles to compete. But when it comes to painting an immersive, tonally exquisite soundscape with reach-out-and-touch imaging, the Contra 100S excels.