If listening to records is all about involvement, this turntable invites you to feel properly engaged but needs a helping hand to get going. Read our AnalogueWorks TT Zero Review.
DETAILS
PRODUCT AnalogueWorks TT Zero
ORIGIN UK
TYPE Belt-drive turntable
WEIGHT 11kg
DIMENSIONS (WxHxD) 468 x108 x369mm
FEATURES
7Review earns Amazon affiliate commissions from qualifying purchases. You can support the site directly via Paypal donations ☕. Thank you!
See also TOP 15 turntables
• 33 & 45rpm
• Jelco TS-550S 9in tonearm
• Audio-Technica VM740ML MM cartridge
DISTRIBUTOR Divine Audio Ltd.
TELEPHONE 01536762211
WEBSITE analogueworks.co.uk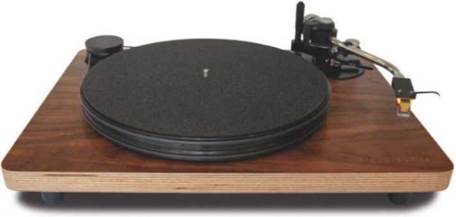 1 Motor and pulley for speed selection
2 S-shaped Jelco TS-550S tonearm
3 Audio-Technica VM740ML cartridge
4 High-mass aluminium platter
Describing itself as a small team of music lovers based in Northamptonshire, AnalogueWorks rather underplays the care and ambition it pours into its range of turntables. Actually, the mission statement goes on to drop a larger hint, the stated goal being to create (by hand) usable, musical and beautiful belt-drive turntables employing low-torque motors, best engineering practices, common sense, careful listening and a marriage of materials. A degree of bespoke-ness with tonearms and cartridges is also part of the remit.
The TT Zero represents a reasonable starter package, the spec incorporating a Jelco TS-550S 9in tonearm, Audio-Technica VM740ML moving- magnet cartridge and Easy VTA adjuster. Built around a solid birch ply plinth, the Zero has a high-mass aluminium platter supported in a leaded bronze bearing that you have to spin up to speed by hand as it has insufficient torque to overcome the platter's inertia from rest. If you want to get 'hands on', this is your deck.
As with all AnalogueWorks turntables, the TT Zero adheres to three main design tenets: the over engineered, ultra-low friction, single-point bearing; the high-mass, speed stable, platter and the solid birch ply plinth, which minimises vibration and acoustic feedback. According to AnalogueWorks' Tim Chorlton, all the materials and shapes have been chosen to balance or prevent resonance, but the aesthetic upshot is very pleasing, too. He also mentions that replacing the standard Black Eye power supply with the Wave Mechanic One PSU, is an easy and effective upgrade.
Sound quality
From the start the TT Zero is pristine without being bright, has fine tonal discrimination and starts and stops when and where it should. As EBTG's Missing kicks off, I'm taken by the expansive stereo, the solid grasp of rhythm and the big, pure presence of Tracey Thorn's vocal. This half-speed Abbey Road Studios re-master of Amplified Heart has it all going on, sounding open and airy with plenty of sparkle and bite, a low noise floor, a lucid rhythmic gait and clean, controlled, tuneful bass.
Moving onto Beautiful Freak, my attention is initially drawn to what sounds like mildly emphasised sibilance as Mark Oliver Everett narrates his way through Susan's House. But it soon dawns that it's the way 'sss' really sounds and that some of the other decks, most notably the Alva TT, are doing a silky-smooth number that, while unobtrusive, is a bit synthetic. All right, it's a heavily processed track with a deliberately skewed dynamic that isn't meant to sound cohesive, but unpicking the strands and samples is half the fun and something that the TT Zero does with impressive ease and no hint of blur or smear.
Boz Scaggs' smooth, affectingly adenoidal tenor hits the spot on the rather lovely Rock And Stick with its jazzy massed guitar arpeggios and burst of baleful harmonica conveyed with fully realised expression and note shaping by the song's writer Jack Walroth. With super-crisp drumming and well-proportioned bass, the TT Zero certainly doesn't do overblown
Recommended
AnalogueWorks TT Zero Review
A very serious turntable at an entirely reasonable price
PROS
Captivating sound quality;
birch ply plinth;
build
Add your review
Best AnalogueWorks TT Zero prices ?
MORE DEALS

See also TOP 15 turntables