Does this upgraded entry-level speaker range still offer the best bang for your buck? Steve Withers finds out Budget models made better. Read our ACOUSTIC ENERGY 100 SERIES MK2 5.1 Review.
Acoustic Energy says it enjoyed 'amazing success' with its original 100 Series of entry-level speakers, but the British company has now decided the time is right for an evolutionary update with the Mk2 range. Or based on the '2' marketing, should that be the 100 Series squared?
1. The AE120 Mk2 floorstander and AE100 Mk2 bookshelf model both measure a slim 16.5cm wide
Whatever nomenclature you choose for this lineup, it's a redesign that takes some of its cues from Acoustic Energy's pricier 500 Series, most obviously by rethinking the placement of mid/bass and tweeter. All the speakers use the same 1in fabric dome high-frequency driver and the same paper cone mid/bass driver, but the trim of the former now slightly overlaps that of the latter. This repositioning is part of a new approach to integration (which also includes a waveguide for the dome tweeter), necessitated by an increase in the size of the 100 Series woofers from 4in to 5in.
There are changes to the cabinets too, although they are again slender (16.5cm) for an easy installation. Slot ports, with newly tooled vents to better smooth the airflow, are mounted on the rear of enclosures made from HDF (High Density Fibreboard) rather than MDF. AE says this material change allowed it to step up to 5in drivers without the speakers gaining much girth, because HDF cabinet walls can be thinner without losing mass or stiffness. The result is a larger internal volume to provide deeper bass response from a minimal increase in external size.
Everything under a grand
The 100 Series Mk2 includes a brace of floorstanders: the three-way AE1202 and two-and-a-half-way AE1092 at £ and £ a pair respectively. There's also the two-way AE1072 centre speaker (£), and AE1002 standmount model at £ a pair. The most recent arrival to the series is the AE105 (£ a pair), a versatile two-way speaker primarily designed for wall-mounting. There are no Dolby Atmos-enabled options, so it would appear Acoustic Energy has yet to embrace immersive audio.
Completing the range is the AE108 (£), a usefully compact, sealed subwoofer with 10in down-firing driver that uses a doped and stiffened paper cone. The sub feeds off 150W of Class D amplification, claims a frequency response of 30Hz-110Hz, and comes with carpet-piercing spikes that include rubber caps for use on hard flooring.
7Review earns Amazon affiliate commissions from qualifying purchases. You can support the site directly via Paypal donations ☕. Thank you!
See also TOP 10 Subwoofers
Av info
5.1 floorstanding speaker system
Affordable Acoustic Energy option, below 300 Series
Triangle Borea; Polk Audio Monitor XT; JBL Stage
If you're interested in building a multichannel system, Acoustic Energy offers a number of deals. The £ package reviewed here is composed of a pair of AE1202s, an AE1072, two AE1002s, and the AE108, which is a saving of £ compared to buying everything individually.
The design aesthetic is understated but stylish, and the build quality is excellent considering the asking price. The selection of finishes is limited, with just a choice between black or walnut veneer (plus a white option for the AE1002). Regardless of which you choose, the speakers come with black fabric magnetic grilles, and there are good-quality binding posts at the rear.
Tickled Pink
The flagship AE1202 features a number of upgrades not found on the other speakers in this package, including a cabinet that's mass loaded to help dampen vibrations, while internal bracing is added to reduce discolouration in the midrange. These slim and elegant tower speakers certainly feel solid and inert, while a discreet black plinth provides extra support. Listening to them in stereo with Pink Floyd's Dark Side of the Moon, they crafted a soundstage that was detailed and focused.
On 'Time', the ticking clocks at the beginning are well separated across the front, while rototom drums weave their way through with agility. It all builds to a crescendo as the alarms go off, although here Acoustic Energy's floorstanders reveal a slight softness at these frequency extremes.
However, the overall presentation is excellent, with a coherent midrange and impressive bass extension. This is ably demonstrated by the same album's 'Money', with its propulsive bass line, soaring guitar solos, and aggressively delivered vocals.
Switching to the multichannel SACD version, it becomes clear that this package is well balanced, with all the cabinets producing a warm sound that works across a wide range of music. The tonal and textural >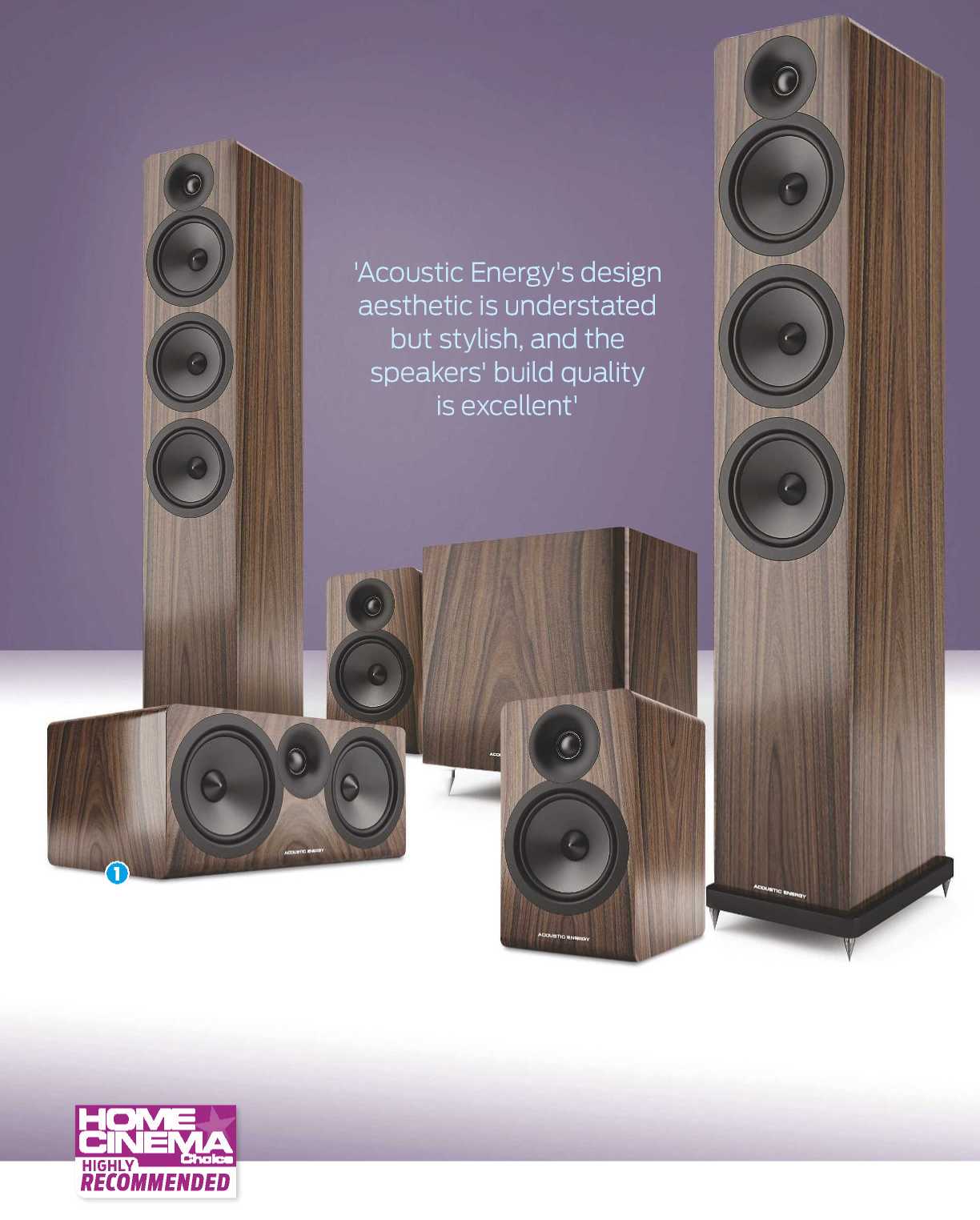 information rendered during the mournful 'Us and Them' is a delight. There's no denying that this upgraded version of the 100 Series has kept the earlier generation's sense of fun, and they're still easy to drive, but there's also a more mature quality that's very reminiscent of the 300 Series (HCC #306). In addition, there's a sophistication that you don't often get at this price point, making the system a winner for anyone on a relatively tight budget.
Apres-ski action
I haven't seen True Lies in years, but its sudden appearance on Disney+ afforded a chance to revisit this Cameron/ Schwarzenegger collaboration. Its comedy terrorists might not have aged well, but the action set-pieces have, and during the opening ski chase through the woods, the 100
Jets roared across the soundstage with weight and energy, and missiles hit their target with a pleasing thump' Series skilfully handles the crack of gunfire, and the snap of bullets ripping through trees before hitting banks of snow.
The justly famous Harrier jump-jet attack in the Florida Keys features jets roaring across the soundstage with weight and energy before firing their missiles. The approach of the aircraft is juxtaposed with a fight in a limousine, and the even-handed sound of all the speakers places you inside the runaway car. As the missiles hit their target there's a pleasing thump from the subwoofer, although the two floorstanders also add the impact.
If there's one weakness in this sonic chain, it's the AE108 sub. There's nothing wrong with it – its responsive and digs fairly deep – but there are undoubtedly better options from brands that specialise in bass boxes. Having said that, it does partner with the other speakers well (not just in terms of styling) and helps to create a solid low-end foundation for the overall soundstage.
The release of True Lies gave the James Bond franchise a long-overdue rocket up the tuxedo, and the most recent entry in that franchise is the perfect example of a modern action blockbuster. The scene in No Time to Die (4K BD) where Bond is ambushed in his classic Aston Martin DB5 is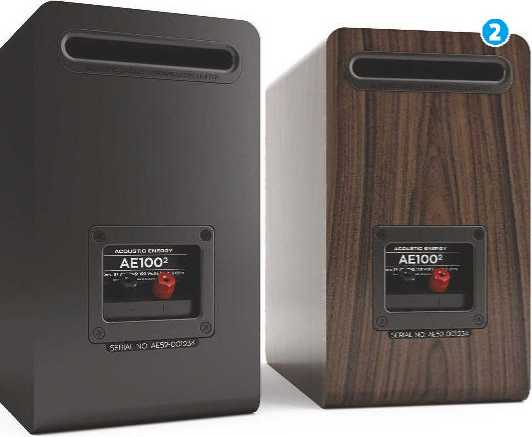 2. Remodelled slot-ports sit above recessed binding posts on the rear of the AE100 Mk2
SPECIFICATIONS
AE120 Mk2
DRIVERS: 1 x 1in fabric dome tweeter; 1 x 5in paper cone mid; 2 x 5in paper cone bass ENCLOSURE: Rear slot-ported FREQUENCY RESPONSE (CLAIMED): 39Hz-26kHz
SENSITIVITY (CLAIMED): 90dB IMPEDANCE (CLAIMED): 6ohm POWER HANDLING (CLAIMED): 200W DIMENSIONS: 165(w) x 950(h) x 250(d)mm WEIGHT: 19kg
AE107 Mk2
DRIVERS: 1 x 1in fabric dome tweeter; 2 x 5in paper cone bass/mid ENCLOSURE: Rear slot-ported FREQUENCY RESPONSE (CLAIMED): 55Hz-26kHz SENSITIVITY (CLAIMED): 89dB IMPEDANCE (CLAIMED): 6ohm POWER HANDLING (CLAIMED): 175W
DIMENSIONS: 380(w) x 175(h) x 250(d)mm WEIGHT: 4.6kg
AE100 Mk2
DRIVERS: 1 x 1in fabric dome tweeter; 1 x 5in paper cone bass/mid ENCLOSURE: Rear slot-ported FREQUENCY RESPONSE (CLAIMED): 51Hz-26kHz SENSITIVITY (CLAIMED): 87dB IMPEDANCE (CLAIMED): 6ohm POWER HANDLING (CLAIMED): 120W
DIMENSIONS: 165(w) x 290(h) x 250(d)mm WEIGHT: 4.6kg
AE108 Mk2 (subwoofer)
DRIVERS: 1 x 10in bass driver ENCLOSURE: Sealed ONBOARD POWER (CLAIMED): 150W (RMS) FREQUENCY RESPONSE (CLAIMED): 30Hz-110Hz REMOTE CONTROL: No
DIMENSIONS: 290(w) x 290(h) x 290(d)mm WEIGHT: 8kg FEATURES: RCA line-level inputs; RCA line-level outputs; level control; 50Hz-110Hz crossover; 180-degree phase switch; auto power
TESTED WITH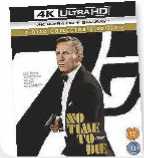 NO TIME TO DIE: Daniel Craig's final outing as James Bond might have divided the fanbase, but it's a well-made and exciting thriller. Native 4K with HDR10/Dolby Vision visuals bring all the action to your AV den in style, while the full-throttle Dolby Atmos soundtrack will leave you shaken and stirred.
a great demo for a sound system, and the 100 Series didn't come unstuck. The speakers picked out the tolling bell at the start of the sequence, then gave the car's engine a guttural quality as it roared down the streets of an Italian hillside village. When Bond is cornered and the villains shoot at bulletproof glass, there are some impressively punchy low-end hits as the bullets pummel the windshield. The timing is excellent, and despite the cacophony of effects the dialogue in this sequence is always clear while sounding integrated.
Hip to be square
These upgraded speakers carry on the good work of the previous generation, with an elegant design and build quality that more than tallies with the price point. But what's most impressive is how Acoustic Energy has evolved the concept, with larger drivers and improved cabinets, to engineer a performance that's exciting and fun but also a little more 'grown-up'. Hopefully it will consider adding an upfiring module for those invested in immersive audio. Regardless, if you're shopping on a budget, the 100 Series will have you squared away
Verdict
Recommended
ACOUSTIC ENERGY 100 SERIES MK2 5.1 Review
These upgraded speakers are worthy successors to the previous generation, retaining all the fun and affordability, but adding a more mature delivery reminiscent of the 300 Series.
Add your review
Best ACOUSTIC ENERGY 100 SERIES MK2 5.1 prices ?
MORE DEALS

See also TOP 10 Subwoofers