This looks like a serious bit of kit.
That's because it is. The H is the newest addition to the Typhoon drone range. The features on this stealthy-looking aerial shooter will definitely give competitors a run for their money.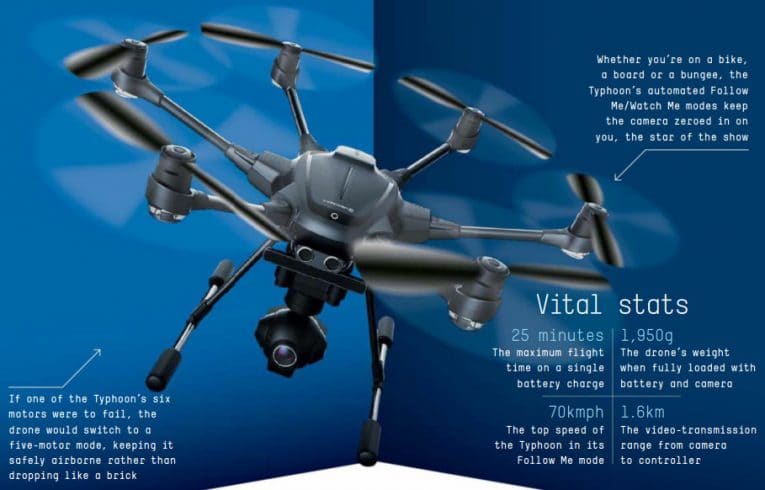 Yeah? What makes it so special?
For starters, the H's antivibration, gimbal-mounted CG03+ camera can produce smooth 4K video and stunning
12MP stills of your epic views. The drone also has six props for stability, and retractable landing gear for unobstructed 360-degree footage. Most impressive of all is the front-mounted Ultrasound RealSense Sensor, which means the drone can detect – and avoid – in-flight obstacles. Clever, eh?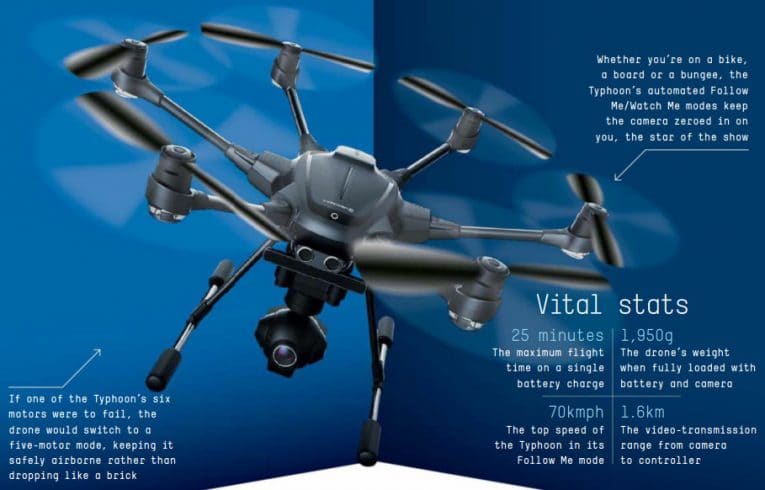 That controller looks the business.
You bet your ass it does. Whereas many other drones
7Review earns Amazon affiliate commissions from qualifying purchases. You can support the site directly via Paypal donations ☕. Thank you!
require a tablet or smartphone to run a dedicated control app, the ST16 Personal Ground Station remote controller features a built-in seven-inch Android touchscreen used for controlling aircraft, gimbal and shoot settings, as well as displaying the 720p video downlink from the drone's camera.
Hmm, all that technology might stretch my abilities…
Nonsense! The Typhoon has plenty for professionals to sink their teeth into, but multiple automated shoot functions, including Point Of Interest and Curve Cable Cam, fly the drone along pre-plotted flight paths, leaving your hands free to control the camera and capture that winning shot. Honestly, you'll be amazed by the results.
Vital stats
25 minutes
The moximum flight time on a single battery charge
70kmph
The top speed of the Typhoon in its Follow Me mode
l,950g
The drone's weight when fully loaded with battery and camera
1.6km
The video-transmission range from camera to controller
Whether you're on a bike, a board or a bungee, the Typhoon's automated Follow Me/Watch Me modes keep the camera zeroed in on you, the star of the show.
If one of the Typhoon's six motors were to fail, the drone would switch to a five-motor mode, keeping it safely airborne rather than dropping like a brick
Professional Carry Case for Yuneec Typhoon H520 - Made in Germany - Waterproof and Dust Proof by MC-CASES - IP67 Sealed -
as of December 8, 2023 9:09 am
Features
This case was developed in cooperation with Yuneec Europe, to serve all requirements for professional organizations such like Police, Search and Rescue Teams, Fire departments, inspection services, professional videographers and many more..
Black, robust, water- and dust-proofed trolley hard case with wheels and extanable handle specially made for the Typhoon Yuneec H520 Copter. This case makes it possible to transport the Typhoon H520 including the ST16 Remove Control, 3 cameras, 8 batteries, 2x ST16 Batteries, Propellers, A10 Charging Station, CGO-ET, E50 and E90 (each one has one compartment), Sun Shade, diverse cables for A10 and Copter, Memory Cards.
The large multiuse compartment in the second level of the case also offers plenty of space to carry large / longer accessories in your suitcase.
The foam (black top foam which is wipeable and gray bottom foam) inlay is made of very high quality and solid foam from German production (water jet and milling). The foam is the perfect protection against shock and vibration and ensures maximum security for your Yuneec Typhoon H520, also on a trip or as checked baggage on the plane this lockable case is lockable with an TSA lock (optional, not containing) and can be transported without problems
The black trolley case weights about 9 kg and the dimensions are 687 x 528 x 366 mm. The case is certified as underwater and dust protected according to IP67.
Yuneec ST10P4KEU Remote Control For Typhoon Q500 4 K, Black
1 used from £144.95

as of December 8, 2023 9:09 am
Features
all-inclusive Transmitter and Receiver with 5.5 Inch screen
Telemetry data in real time on the screen when the flight
Frequency of trasmisisone video 5.8GHz
Possibility to be checked manually all parameters of the camera
Typhoon Q500 Controller For 4 K